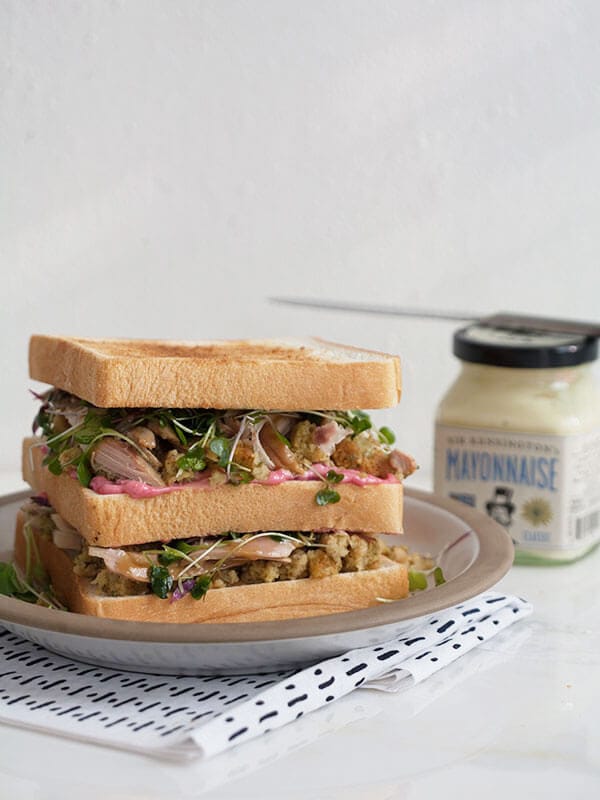 For me the day after Thanksgiving is about celebrating leftovers. While some people decide to spend the day trampling each other for a discounted flat screen, I like to hang out in my pajamas and build the most important sandwich of the year.
You've made a version of sandwich before. But this year I'm making it a lil' bit more special by teaming up with my favorite condiments brand, Sir Kensington's. Their ketchups are flavorful and fresh tasting, without being overly sweet. Their mayonnaises are rich and smooth, taste homemade and use all-natural ingredients—very good stuff!
By mixing their delish mayonnaise with a few spoonfuls of cranberry sauce, you instantly have a beautifully-hued cranberry mayonnaise. It's sweet and decadent and perfect for dry-ass turkey.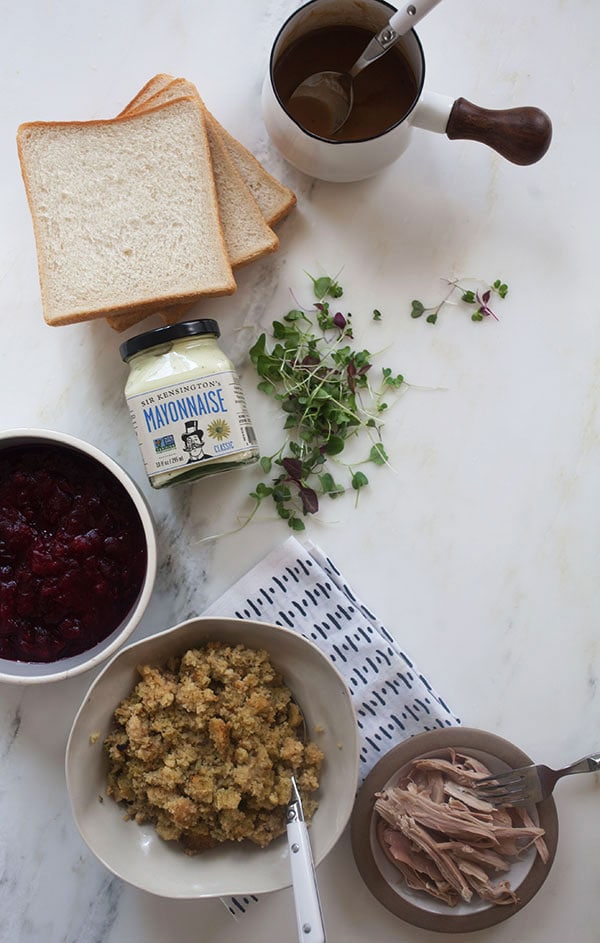 I also advise putting a bit of gravy on the turkey. That helps too. And you'll need stuffing and some creamy mashed potatoes if you're feeling crazy.
I like to use Japanese bread that I pick up from Little Tokyo. It's perfectly square, almost like good pullman, it's a little eggy and super soft. I luv it. Of course, brioche or even good wheat bread would also work gloriously.
There's also a bit of microgreens dressed in olive oil and a pinch of salt for some added freshness. If you had green beans or any sort of leftover salad from the table, get creative and add those.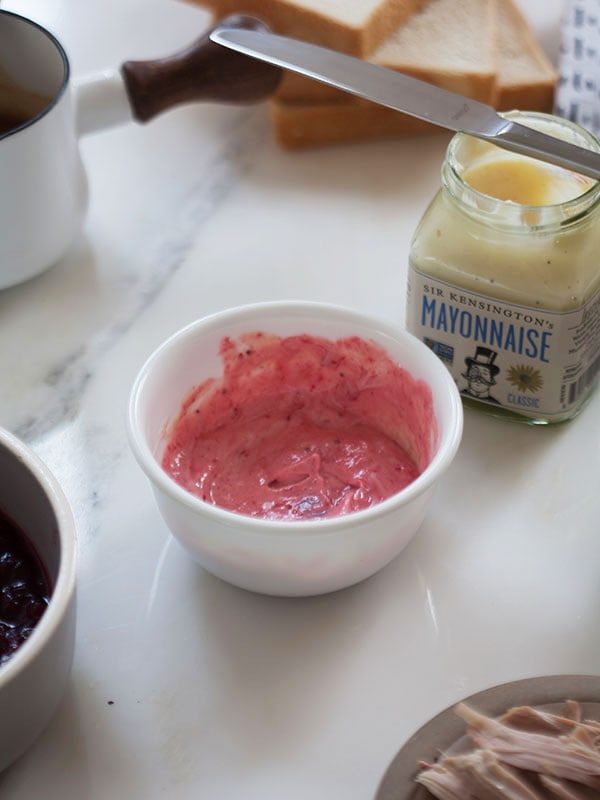 And since I'm always feeling a little crazy and sad that Thanksgiving is over, I like to build the sandwich higher than I normally would make a sandwich, which means three layers are an absolute must.
I had a bit of leftover cranberry mayonnaise and used it the next day as a dipping sauce for French fries and it was AMAZING. Tart and rich might be my favorite combination ever.
You can pick up Sir Kensington's at your local Whole Foods. And since the jars are attractive, I also think these jars would be good gifts. I mean, if someone showed up to my holiday party and gave me a jar of Sir Kensington mayonnaise as a hostess gift, I'd know that person understands me as a human.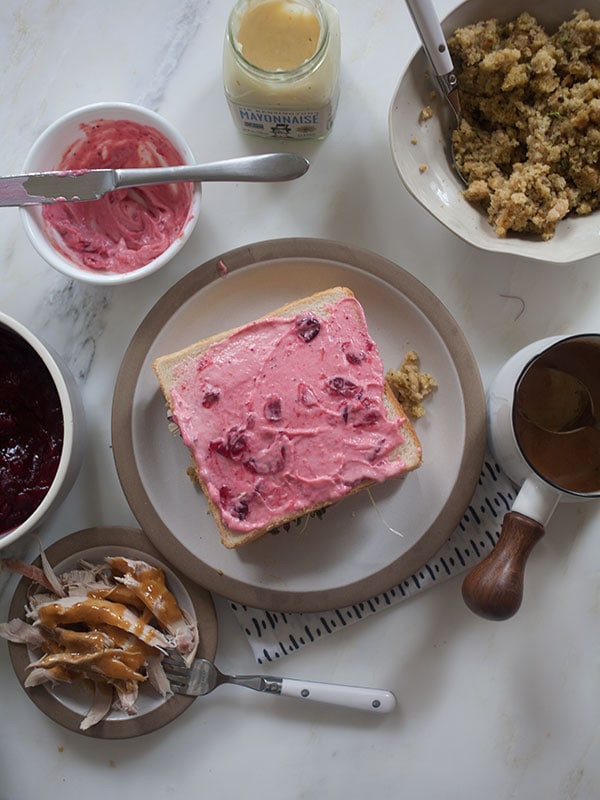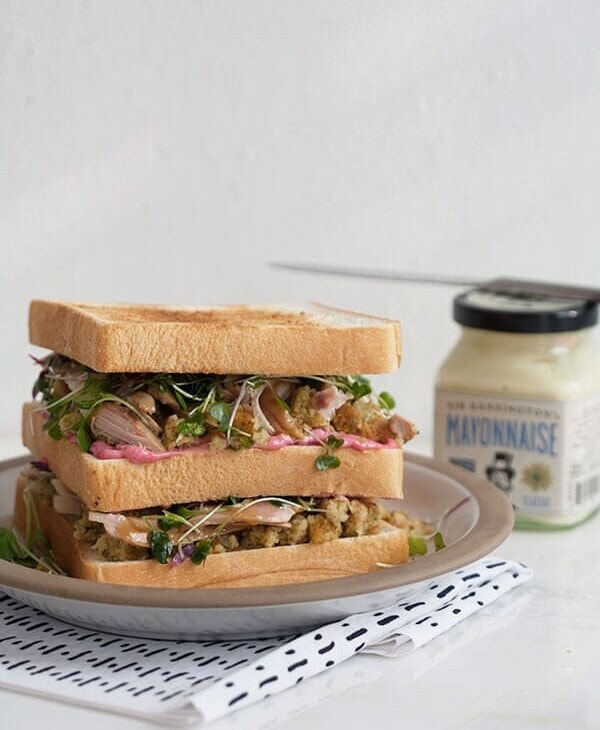 Print Recipe
Thanksgiving Leftover Sandwich with Sir Kensington's
Serving Size:
Thanksgiving sandwich
Ingredients
¼

cup

Sir Kensington's mayonnaise

2

teaspoons

cranberry sauce

2

slices

of good bread

such as pullman, brioche or soft wheat bread

Handful of micro greens

1

teaspoon

of olive oil

Salt 

Drizzle of gravy

Spoonful of stuffing

Spoonful of mashed potatoes
Instructions
In a small bowl, mix together mayonnaise and cranberry sauce. Lightly toast the bread if you like. Next, slather three slices of bread with the cranberry mayonnaise. Set aside. 

To a small bowl, mix together the micro greens with the olive oil and a pinch of salt. On a small plate heat up the turkey, if you like, I kinda like it cold. Drizzle on warm gravy. 

To build the sandwich, add the stuffing, turkey, mashed potatoes and micro greens. Build it high! Add more cranberry mayonnaise, if you like. 
(This post is sponsored by Sir Kensington's. Thanks for supporting the sponsors that keep A Cozy Kitchen cozy.)