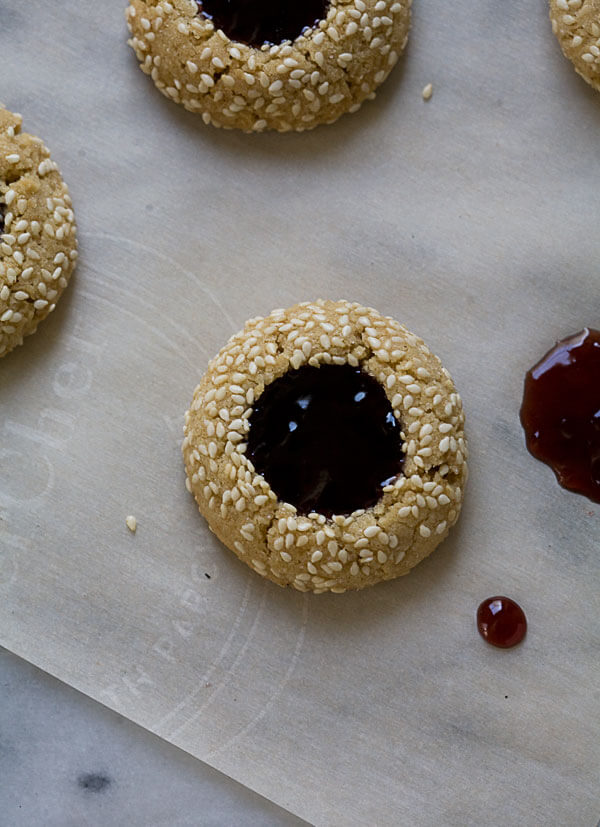 These cookies are like a grown up version of peanut butter and jelly.
If you've ever bought a big jar of tahini for hummus and then scratched your head thinking what else you'd use it for, well, this izzzzz it. I remember ions ago, I tried to make hummus without tahini and thought it tasted great. I was like, why would I even need to buy that extra jar of tahini for $8. I obviously had no clue about life in general. Years later I wisened up and bit the bullet and bought tahini. The addition of tahini in hummus was revelatory. And I realized that hummus isn't hummus without tahini.
These cookies celebrate the flavor of tahini. They have a bit of a bite, are slightly tangy, nutty and their texture is awesome (thanks to the sesame). These cookies are perfectly sweet which works great with all those flavors. And I mean, look at how cute they are!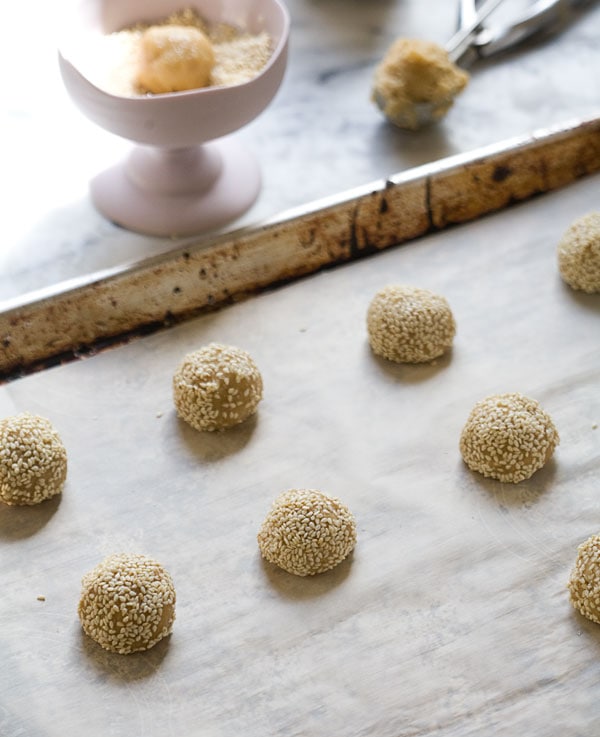 Can we have a short discussion about how I cannot believe/I don't want to believe that we're halfway through August?! Yesterday while in Palm Springs, and in 100 degree weather, I saw Thanksgiving stuff at Rite-Aid!!! WHY! We're so not there yet. I feel like I've always been a late bloomer. I'm not ready for summer to be over, though I absolutely love Fall/Winter/all things cozy.
Also, kids are already back in school. How is this possible?! I feel like when I was a kid I went back in very ate August. We need to let these kids live, man. They need a full fledged summer.
I'm going to stop complaining now and go eat a bunch of cookies. Bye. I'll be back tomorrow with popsicles. It's popsicle week on the blogosphere. You knew this, right?!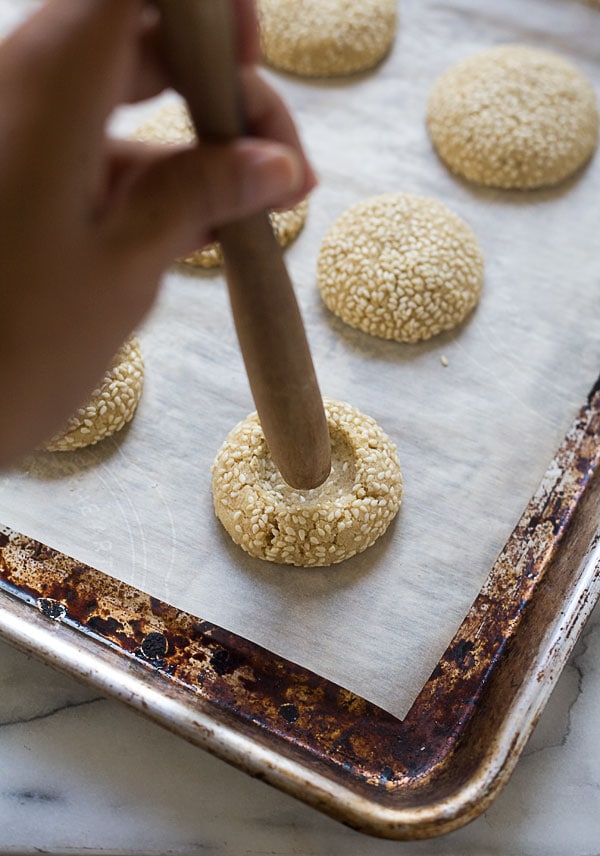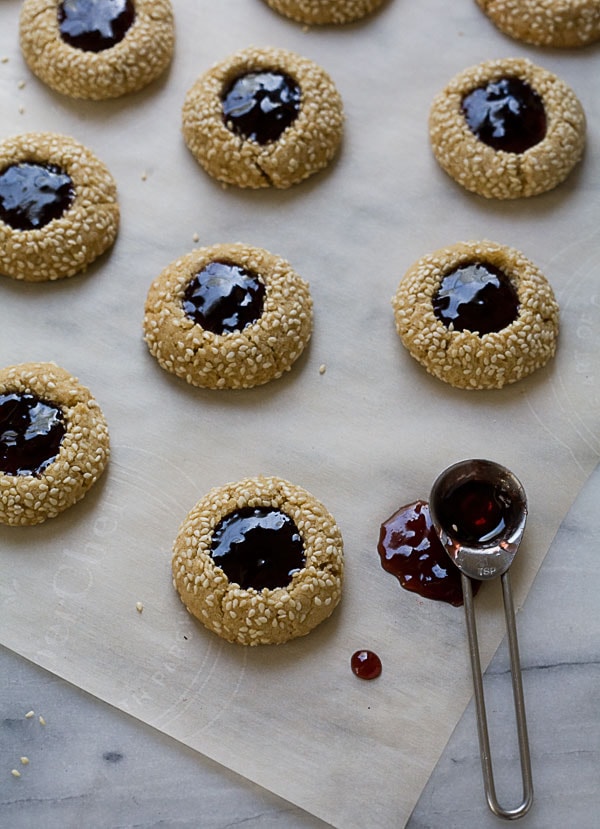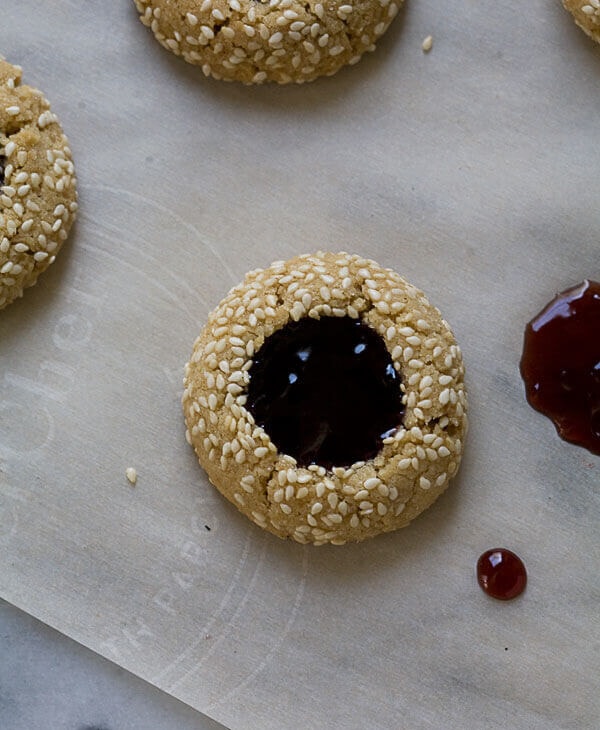 Print Recipe
Tahini Concord Grape Thumbprint Cookies
Ingredients
1 1/4

cup

all-purpose flour

1/2

teaspoon

baking powder

1/2

teaspoon

baking soda

1

teaspoon

salt

3/4

cup

smooth tahini

1

stick unsalted butter

softened

1/4

cup

packed brown sugar

2

tablespoons

sugar

1

large egg

1

teaspoon

vanilla extract

1/2

cup

sesame seeds

3

tablespoons

sugar

Concord jam
Instructions
In a medium mixing bowl, combine the all-purpose flour, baking powder, baking soda and salt. Set aside.

In a large bowl, using a hand-mixer, beat together the tahini and softened butter until very smooth, about 30 seconds. Add the two sugars and beat once more until smooth, about 30 seconds. Next, beat in the egg and vanilla extract. In two batches, add the dry ingredients until no speckles of flour are visible. The dough should be soft and supple. Transfer to the fridge to chill for about 10 minutes.

Meanwhile, preheat the oven to 350 degrees. Line a baking sheet with parchment and set aside. To a small bowl, combine the sesame seeds and sugar.

Using a 2-ounce cookie dough scooper (or a tablespoon), scoop out a ball of dough. Roll the dough into a circle using the palm of your hands. Roll the ball of dough in the sesame/sugar mixture until it's completely covered. Transfer to the cookie sheet; repeat the scooping and rolling process until you've worked through about half the dough (you'll need to bake these cookies in two batches), being sure to space the cookies about 3-inches apart (they'll spread a bit).

Transfer to the oven and bake for 10 minutes, until the cookies have spread slightly. Carefully remove the baking sheet from the oven and using the opposite end of a spatula, make an indentation in the center of the cookie. If the hole isn't big enough you might have to make a crater using a few taps with the edge of the spatula. Return the cookies to the oven and bake for an additional 5 minutes more, and until the edges are lightly golden brown. Allow to cool for 5 minutes on the baking sheet (they'll be very fragile right when they come out of the oven) and then transfer them to a cooling rack until they're room temperature. When cooled, add a teaspoon of jam to the center of the cookies. These cookies will keep in an airtight container for up to 5 days.