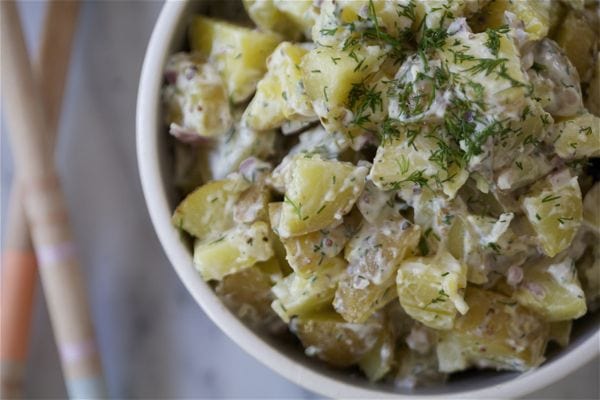 Soooo…here's the thing. It's not that I hate normal potato salad. I mean, if I'm at a 4th of July party or Super Bowl party and it's there, I won't hesitate to put it on my plate (with all the other stuff), but you can bet that it'll be the last thing on my plate, and I might t ake a few bites. Might. Cole slaw on the other hand? Gimme. Baked beans YES! Fried jalapeño poppers? Double yes.
Here's the deal with normal potato salad: the potatoes inside, like, internally are sort of bland. Once you get past the awesome mayonnaise/sauce stuff, the potatoes are just boiled, dry and kind of whatever. Potato salad in general is little meh to me until…wait for it…until NOW!
These potatoes aren't boiled. We're doing a salt crust. It's simpler than it sounds. And fun. And, it takes just as long as it would to put them in a pot with boiling water. The result is a million times better. The potatoes end up with a slightly salty interior. And they actually end up tasting more like potatoes. More earthy. More flavor. More potato-ey.
I'm in love.