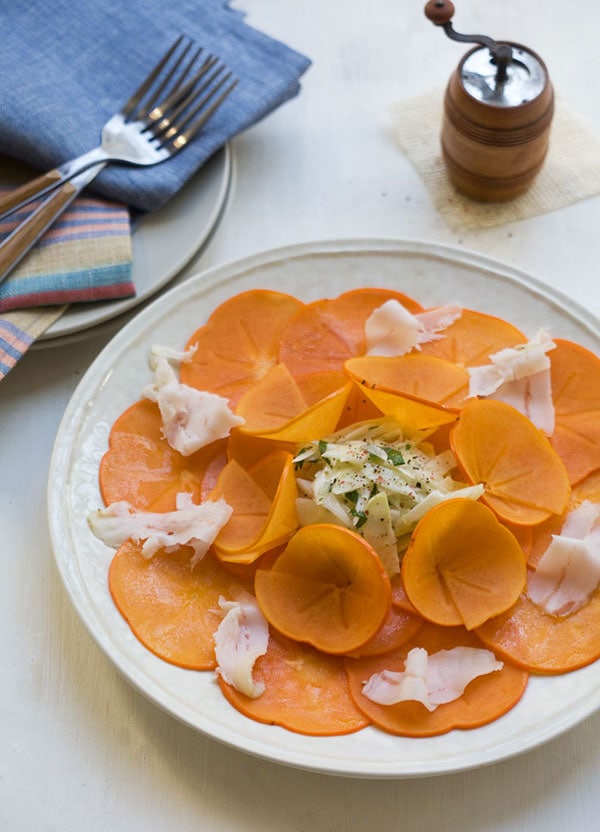 This past weekend I learned a few things:
1. If your dog is annoying you, an empty-ish (plastic) jar of almond butter will distract him/her for hours. HOURS, I tell you. Amelia sat under the couch and tried her hardest to reach the bottom of the almond butter jar. She failed, thus creating about four hours where I didn't see her/hear her. Glorious. Pretty sure she was drunk on almond butter.
2. Pinterest will shave hours off your life. Hours. Lots of 'em. I feel like I'm actually liking Pinterest for maybe the first time ever.
3. Bar Method, my recent workout endeavor, will seem easy and calming and girly, but then the instructor will push you to work those lil' muscles you never knew existed. and then the next day you'll wake up barely able to move. It's a good thing, apparently.
3. Persimmon and salt-cured fat (aka lardo) taste soooo good when they're on the same plate! AHH! This salad is my new obsession.
This salad makes my Thanksgiving salad dreams come true. I'm a notorious lettuce-salad-hater. It's from years and years of being forced to make the dinner salad growing up. They were sad. They were depressing. (Sorry mama.) And they were always made with terrible lettuce.