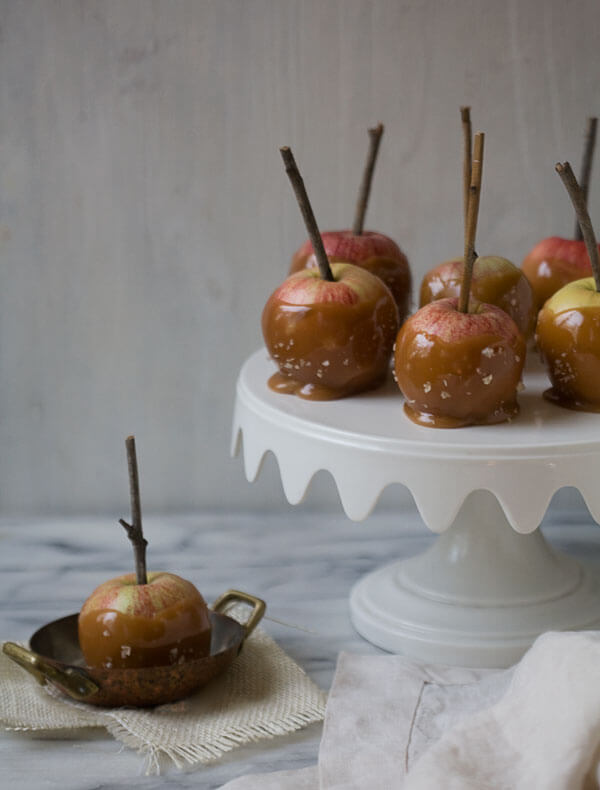 Cookies that look like bloody fingers and cupcakes garnished with "eyeballs" is not really my idea of a good time. Why in the world would I wanna eat a cookie that resembles a bloody finger? Why would I want to eat a bulging eyeball? That sounds disgusting. And it also sorta scares me. Halloween legit frightens me. Right now Pinterest is a very scary place. But these Bourbon-Spiked Caramel Apples with Smoked Sea Salt are a fun treat that are NOT scary. They're delicious and cute.
What's weird is that as a kid I was OBSESSED with Goosebumps and the Fear Street series. They were the absolute best. I loved them so much, and would read them so quickly, that my parents would plea with me to make the books last. My reading skills were legit. And I thought everything was a race.
While I'd definitely take another holiday over Halloween, over the next few weeks I'll be sharing Halloween-esque recipes because I'm working on being a more positive person. Also, a major incentive is that I get to dress Amelia in Halloween costumes. So far I've tried to get her to wear this pumpkin hat thingy and she's not having it. Unfortunately, she doesn't have much of choice.
Continue Reading