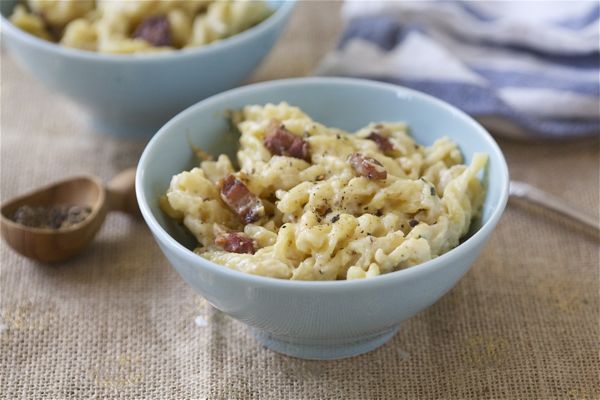 I have different categories of recipes just chilling in my brain. There's the OMG-I-need-a-cookie-with-salt category. There's the I-need-breakfast-for-(super late)-lunch-at-4pm. BUT, my most utilized category is the 15-minute-meal-that-can-be-made-sans-store-trip-becuz-OMG-am-I-lazy.
I'm thinking of making this a real, legitimate recipe category on this here blog. If it did really exist, carbonara would be my personal favorite. It can be made in 15 minutes, there aren't a ton of ingredients and I usually have all of them on hand.
Is it the most healthy? Nah. No. UGH. But, most delicious? Yes. Duh. UGH. On a freezing cold night, carbonara is like a hug in a bowl. Turning the dish into a mac and cheese makes this thing like a gigantic bear hug (that might get awkward) in a bowl.
If this sounds at all appealing, head over to Wisconsin Cheese's site for the full recipe!