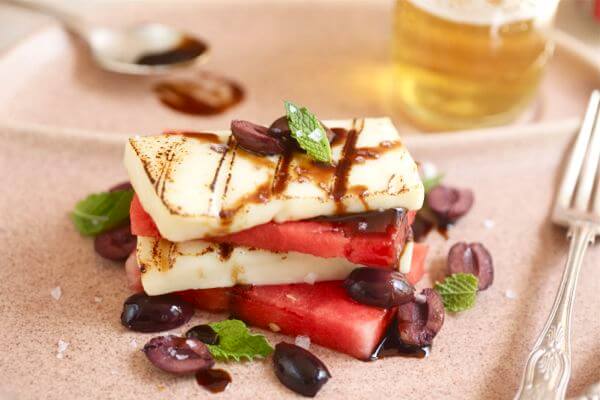 Yesterday I saw Halloween candy at the drug store. Just no. NO! Summer is not over! It's still 90 degrees out and peaches and plums and watermelon are still in abundance. Sure, I'm kind of sick of sweating, but I'm not ready for pumpkins, apples, sweaters and halloween. I'm not, so stop trying to force the future on us. We'll get there…let us be.
A few years ago, I whipped up one of those very common watermelon and feta salads and got pretty obsessed. They became the thing I took to every BBQ or get together I attended. Super easy to throw together and everyone would always be really doubtful about watermelon and feta going together, and they'd always end up being so psyched about the salad.
This is a take on that salad, but with grilled cheese because grilled cheese is grilled cheese. Duh. Very big no-brainer. Grilled cheese is delicious, always.