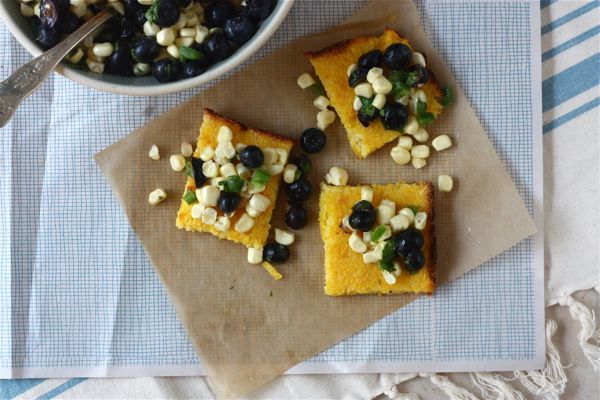 I read cookbooks like normal books. Like a novel with a cup of tea. I pay special attention to the dedication and awknowledgements, mainly because I'm naturally a very nosy person. I love reading the way certain authors write their recipes. I love reading all about the supplies and tips I'm supposed to keep in mind. And I love reading about a recipe's story in the head notes. If you're here, you're probably super weird like me too and get great enjoyment in reading this stuff.
So needless to say, when I received the new cookbook from Sprouted Kitchen, I was pretty pumped to read the thing from front to cover. The book is a direct extension of their blog – beautiful pictures with delicious and healthy recipes.
As I thumbed through each chapter I stopped at "Happy Hour." My favorite type of chapter. This one jumped out at me–it's perfect for late-summer when it's almost too hot to eat. Baked polenta squares, which are cooled, topped with blueberry and fresh corn relish. Yes. Just yes.