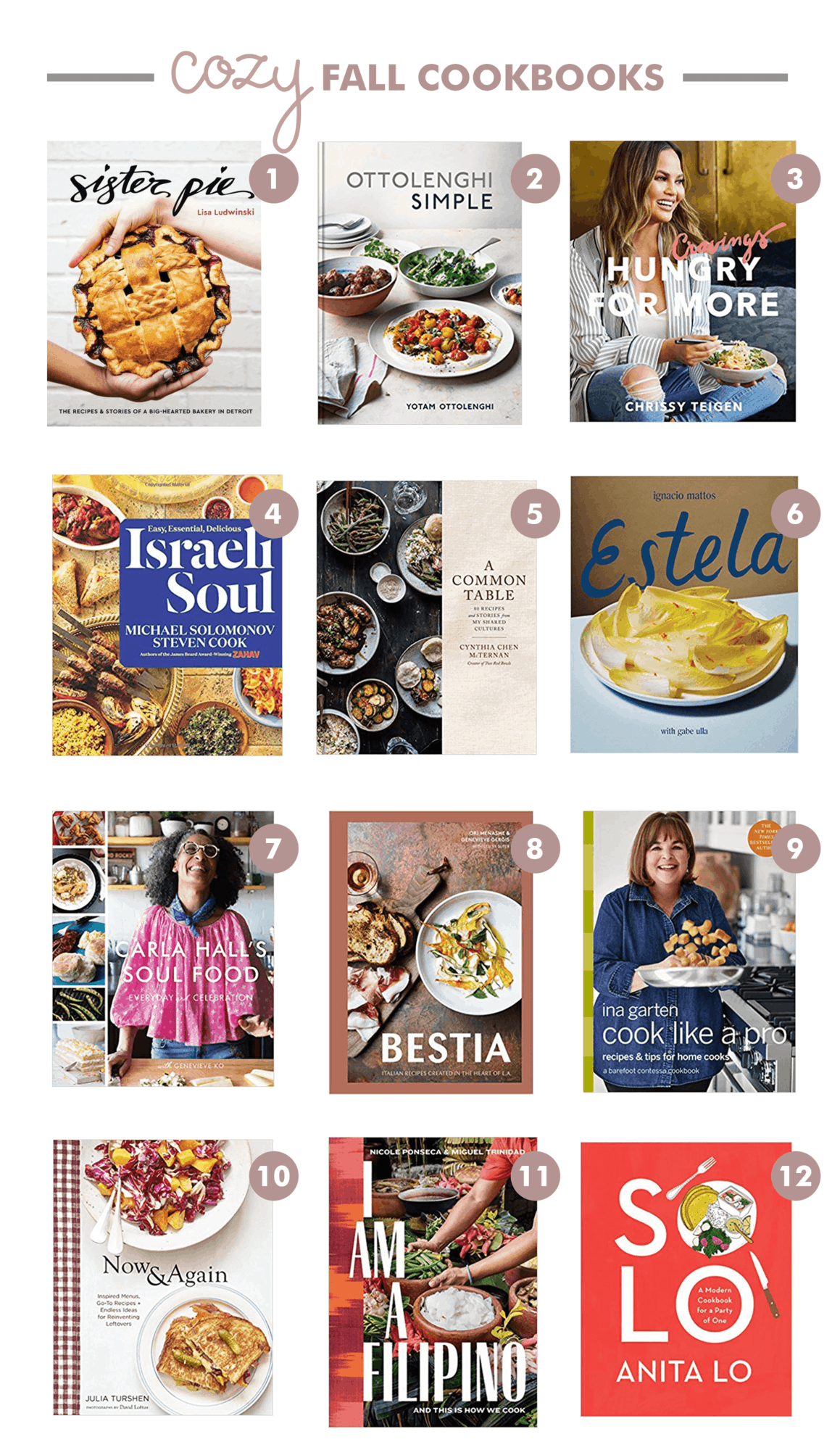 1. Sister Pie – I baked up their hand pies and they were awesome. I love this book!
2. Ottolenghi Simple – I love everything that he cooks. Sometimes I'll go on Ottolenghi's Instagram and just stare at his food. I love the sound of a book full of his simplified, easy, weeknight recipes. I can't wait to cook from this book this over and over and over.
3. Cravings Hungry for More – I love me some Chrissy and I think this book is gonna be my go-to gift this holiday season.
4. Israeli Soul – I've never eaten Michael Solomonov's food. I need to get to Philly at some point, but I've cooked a few of his recipes from his last book and they did not disappoint. SO GOOD.
5. A Common Table – I love Cynthia's recipes and Instagram feed so I'm super excited about this one. The food is Chinese food meets Korean food with a love story in the background—can't wait.
6. Estela – This book looks so beautiful, as does all of Ignacio Mattos' food.
7. Carla Hall's Soul Food – I am here for Carla Hall's spoonbread and okra soup. I looooove Southern food and am excited to try her iterations of American classics.
8. Bestia – Whenever people ask for a restaurant recommendation in Los Angeles, my first is always Bestia (and now their new place, Bavel). It's always booked solid, and for good reason. I'm super excited to cook from their new book, Bestia.
9. Ina Garten Cook Like a Pro – I was thinking about the people who taught me how to cook and early on, it was Ina. Her show gave me courage and inspiration to try sort of hard dishes. The ease of her recipes—even the more difficult ones—gave me the bravery I needed in order to braise a $30 piece of meat lol. Love her so much.
10. Now & Again – I have Julia Turschen's first book and her meatballs were SO good. I'm excited to get my hands on this new one because I think she writes recipe so very well.
11. I Am A Filipino – Filipino food has become the new hot food and I am here for it! I love Filipino food but have yet to try and make it at home. I think this book will give me the direction I need.
12. Solo – I always love recipes for one (or two). They take a lot of creativity and ingenuity. And this cover is super pretty.