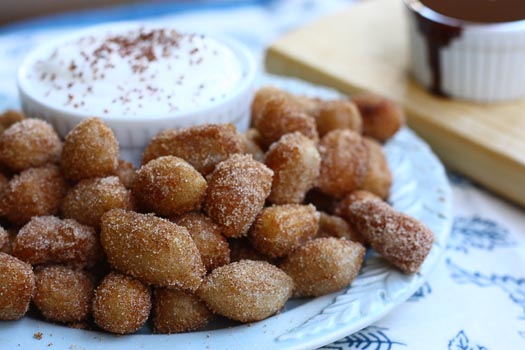 Happy Wednesday, beautiful people.
Factoid for you: Getting my car serviced stresses me.
To deal, I totally made Churro Tots. Throw in stress eating and calls to dad, and it some how made everything okay. I encourage it!
Last week I went to a cookbook release party at Border Grill and they had churros…in tot form! I was blown away by their cuteness–had to replicate it stat for you all.
I basically made a tweaked and adjusted version of this pate a choux recipe. And then fried small balls of the dough. It was a breeze. Messy, but a breeze.
I'm not a really clean cook. I'm not super organized. But I'm sure you knew this. Being organized with this recipe is kind of a must.
I know I know, you're probably thinking: "Organized, schmorganized." But it'll make your life a whole lot easier. Let's talk about it. Let's get through it together.
Get your dry ingredients together in small prep bowls: AP flour, cinnamon, sugar and salt.