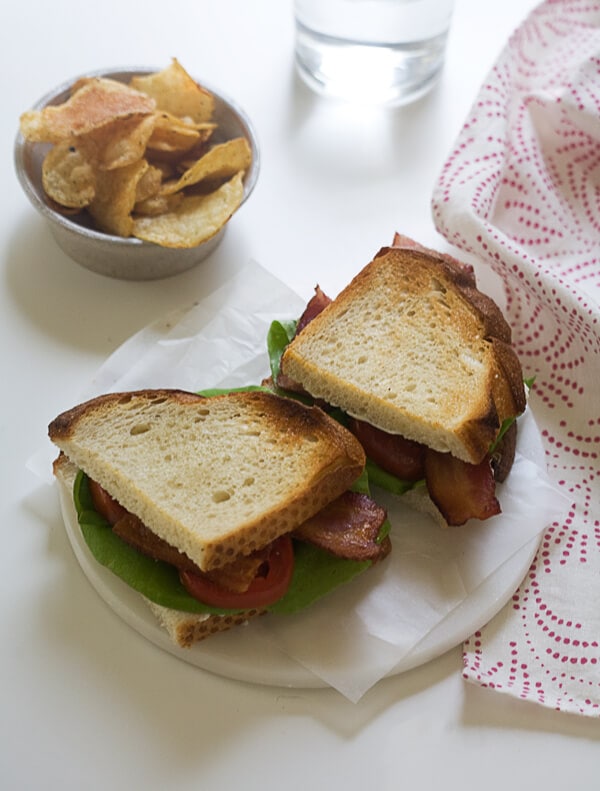 My love for BLTs has existed since I was in my mom's tummy. Story has it that my dad was so obsessed with BLTs, while my mom was pregnant, that a day didn't go by he wouldn't make one. My mom slowly became repulsed by the smell of bacon to the point of nausea, to the point where my dad was forbidden to make his beloved sandwich.
My mom is now vegan and I've never met a BLT I didn't like. My dad's BLT obsession resulted in two very different outcomes!
This Blue Cheese BLT is a fun rendition of the traditional sandwich. The blue cheese is made into a spread that goes on both sides of the bread. Then it's sort of normal from there: good-quality, thick-cut bacon, sour dough bread, butter lettuce and a few slices of perfectly ripe tomatoes.
But here's the thing that you MUST add: potato chips. Yes, potato chips TO the sandwich. I know the recipe doesn't say to add them but if you do you'll understand what I'm talking about.
Potato chips to any sandwich, PB&Js included, add so much. Texture, salt, flavor…the list goes on. And on.
This recipe along with a few others are a part of a batch of recipes I developed for the company Salemville. It's a blue cheese company whose cheese are hand-crafted an Amish community in Cambria, Wisconsin. The blue cheese is funky and creamy and so so delicious.