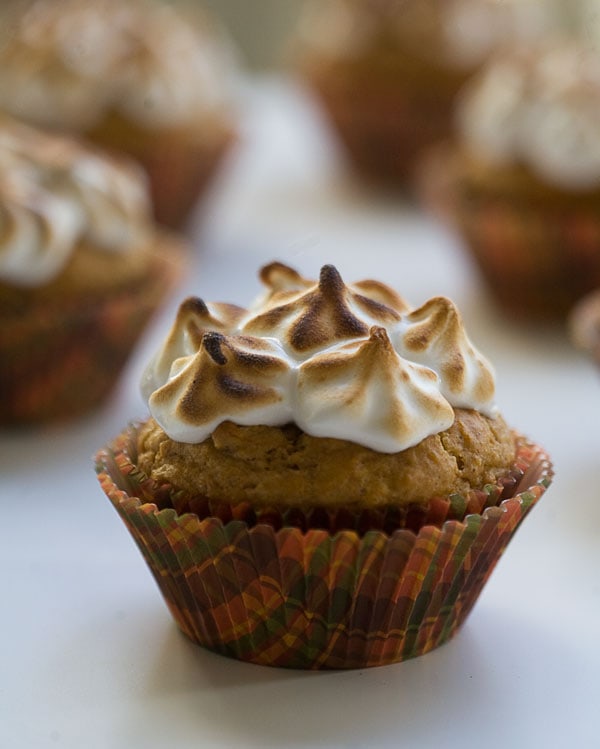 These muffins may or may not just be an excuse to use the muffin liners I bought back at the beginning of October. Their pattern looks like a bad 80s couch that probably lives at a relatives cabin. I'm VERY into them.
I'm kinda surprised I bought them because I don't even like cupcakes. I mean, they're a'ight, but if I had to choose, I'd just make a layer cake or something. Those are prettier anyway. But these are muffins. They're different. I usually have an attitude with muffins that skate the line between muffin and cupcake, but we're on vacation right now so let's just live.
These cupcakes come together with a quickness, especially if you already have sweet potato puree in the fridge leftover from Thanksgiving. If it's spiced with bourbon or nutmeg or cinnamon and sugar, no biggie. Throw it in. It'll work just fine. Of course, your muffins might be a bit more spiced and bourbon-ey, but that's actually a good thing.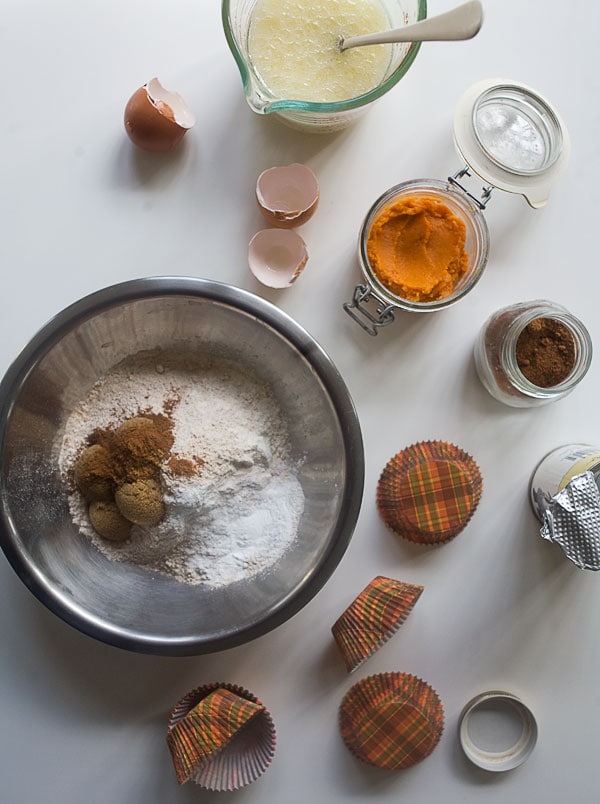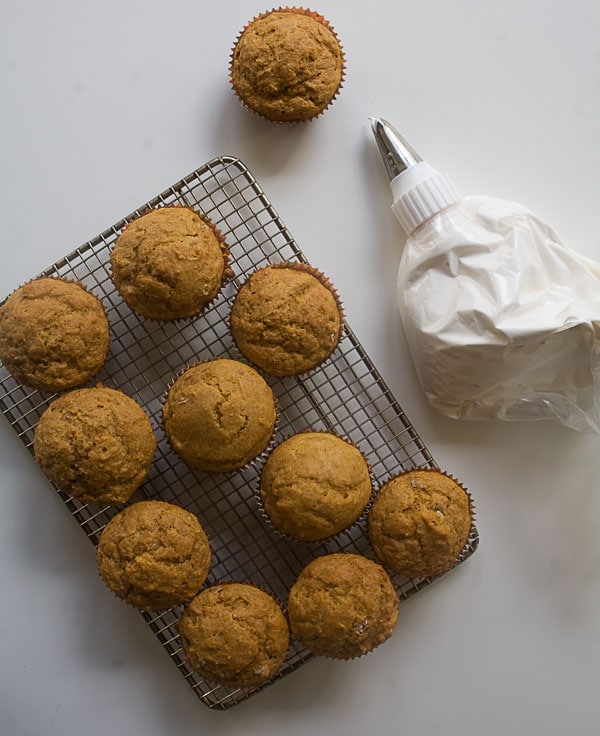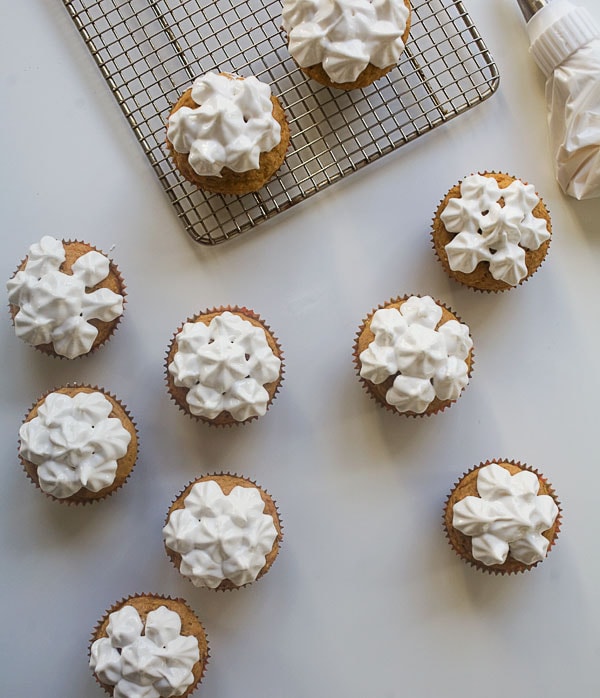 I've always struggled with sweet potato baked goods being dense, and I will say that the crumb isn't as fine as a cake, but more like, well, a muffin. It's an appropriately large crumb. The spices come through, but don't make your nose itch. And the marshmallow frosting is a play on the sweet potato casserole with scorched marshmallows. Classic lil' combo.
I think this is the part where I tell you all what I'm grateful for.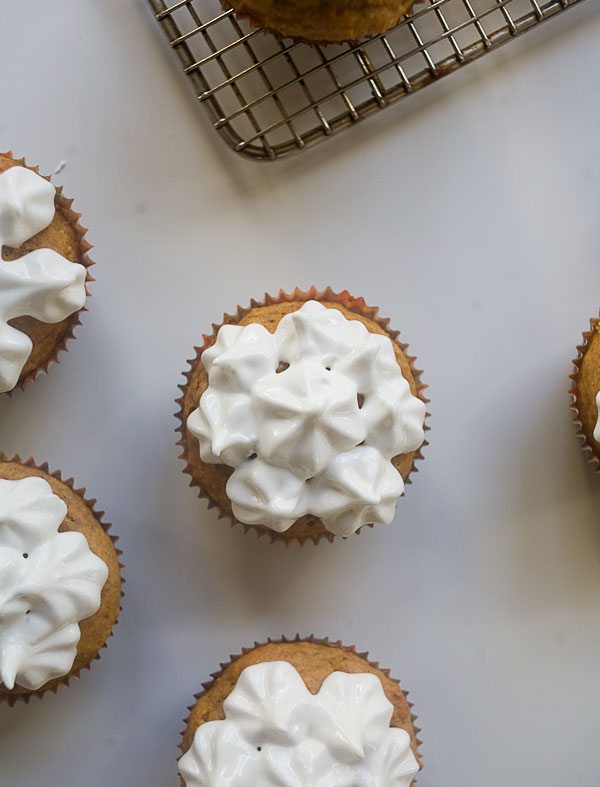 Well, for starters, I'm grateful for this space. I always will be. It's brought so many amazing opportunities and people into my life. I think it's evidence, mainly to myself, that following a passion and a love for something is always a positive thing. Sincere intentions have always proven to be good for me.
So, thank you for being here and supporting me. I really am grateful for all of you. And lastly, I'm really grateful that I have a person in my life who understands me. I think that's all what we're seeking, anyway. A person; the person. I'm grateful I found him.
Wishing you all a beautiful Thanksgiving!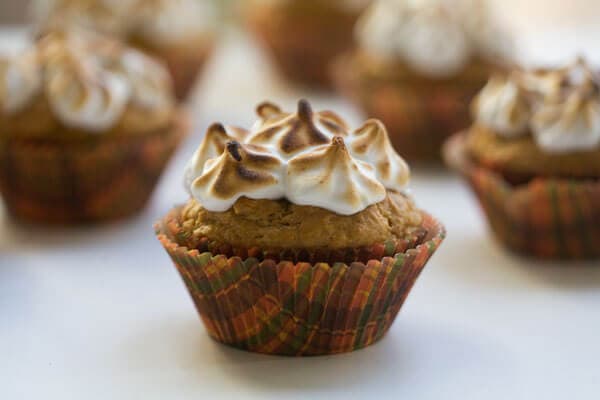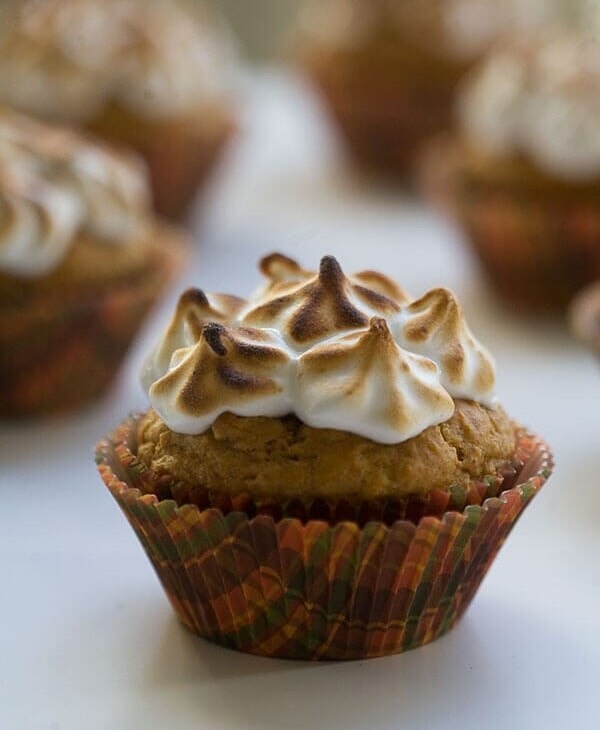 Print Recipe
Sweet Potato Muffins with Marshmallow Frosting
Ingredients
Dry mix:
1

cup

whole wheat flour

1

cup

all-purpose flour

½

cup

light or dark brown sugar

tightly packed

1

tablespoons

baking powder

½

teaspoon

salt

1

teaspoon

cinnamon

¼

teaspoon

ground ginger

Pinch

freshly grated nutmeg
Wet mix:
1

cup

whole milk

2

large eggs

¼

cup

vegetable oil

plus 2 tablespoons

1

teaspoon

vanilla extract

*½ cup sweet potato purée

from about 1 large sweet potato
Marshmallow Frosting:
3

large egg whites

1

cup

white granulated sugar

½

teaspoon

cream of tartar

⅛

teaspoon

salt

¾

teaspoon

vanilla extract
Special equipment:
Electric Mixer

Double boiler or a heat-proof

stainless steel or glass bowl that fits inside a medium saucepan
Instructions
Preheat the oven to 350 degrees F. In a medium bowl, mix together the dry ingredients: whole wheat flour, all-purpose, brown sugar, baking powder, salt, cinnamon, ginger, and nutmeg.

In a measuring cup or bowl, measure out the milk; add the eggs, vegetable oil, vanilla extract and sweet potato purée. Beat the mixture together until thoroughly combined. Pour the wet ingredients into the dry ingredients and mix until just combined, being sure to not over mix the batter (this will result in tough muffins - and who wants tough muffins?).

Line your muffin tins with liners and spray each muffin tin with cooking spray (they will stick to the muffin liners). Divide the batter between the muffin tins, filling each one about ¾ of the way full. Transfer to the oven to bake for 20 to 25 minutes, or until a skewer comes out clean. Place on a cooling rack to cool completely before topping with icing.

To make the frosting, add the egg whites, sugar, cream of tartar, salt and vanilla extract to a medium bowl. Place the bowl over a pot of simmering water, being sure the water doesn't touch the bottom of the bowl. Using an electric mixer, beat the mixture together until it becomes shiny, light and fluffy, about 5 to 7 minutes. (Yes, it actually takes that long so be sure to watch the clock.) When it's done, pour in the vanilla extract and beat until thoroughly mixed. Transfer the frosting to a piping bag with a star tip (or any tip of choice) attached and pipe the frosting onto the muffins.

Using a kitchen torch, carefully scorch the tops until they're golden brown. Muffins should stay moist for up to 2 days if kept in an airtight container.

*If you don't have sweet potato purée and would like to make your own for this recipes, here's what you do: Preheat the oven to 375 degrees F. Place the sweet potato on a baking sheet and roast for 30 to 40 minutes, until the sweet potato is tender when poked with a knife. Allow to cool completely. Peel the sweet potato and run its flesh through a potato ricer. Proceed with the recipe.

Yields 12 muffinsnd spray each muffin tin with cooking spray (they will stick to the muffin liners). Divide the batter between the muffin tins, filling each one about ¾ of the way full. Transfer to the oven to bake for 20 to 25 minutes, or until a skewer comes out clean. Place on a cooling rack to cool completely before topping with icing.

To make the frosting, add the egg whites, sugar, cream of tartar, salt and vanilla extract to a medium bowl. Place the bowl over a pot of simmering water, being sure the water doesn't touch the bottom of the bowl. Using an electric mixer, beat the mixture together until it becomes shiny, light and fluffy, about 5 to 7 minutes. (Yes, it actually takes that long so be sure to watch the clock.) When it's done, pour in the vanilla extract and beat until thoroughly mixed. Transfer the frosting to a piping bag with a star tip (or any tip of choice) attached and pipe the frosting onto the muffins.

Using a kitchen torch, carefully scorch the tops until they're golden brown. Muffins should stay moist for up to 2 days if kept in an airtight container.

*If you don't have sweet potato purée and would like to make your own for this recipes, here's what you do: Preheat the oven to 375 degrees F. Place the sweet potato on a baking sheet and roast for 30 to 40 minutes, until the sweet potato is tender when poked with a knife. Allow to cool completely. Peel the sweet potato and run its flesh through a potato ricer. Proceed with the recipe.

Yields 12 muffins