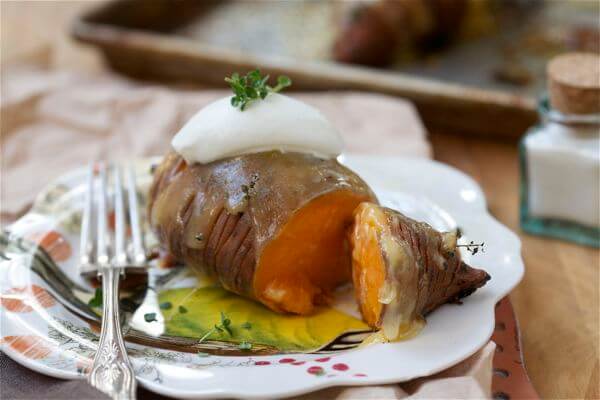 Oh hai, cheese and butter and more cheese and butter!
I have a lot of dude friends who ask me for cooking advice. I usually get calls or texts that are like, "I have onions and milk and eggs in my fridge. What can I make?" And then I'm usually like, "Umm...nothing dude, sorry. You're gonna need to drive to the store and then buy stuff and then come home and cook it." They're usually super bummed that I couldn't turn those three ingredients into meatloaf for them.
Last week I was at a dinner and I was throwing out ideas for a dude friend to make and he was like, "Don't give me ideas, I want specific instructions, written out, being dictated at me."
Which I get. It kind of goes back to that notion that there aren't really any bad cooks out there, just bad recipes, poorly written directions and bad food combo ideas.
This sweet potato baked with butter and cheese is a no-brainer. This is one of those recipes that you could just look at the pictures in this post and know how to assemble the thing and bake it.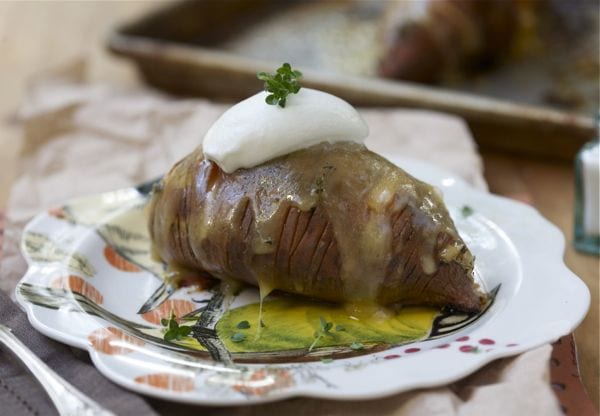 Another little bonus with this recipe: it's good when you're cooking for just yourself. I cook for just me ALL THE TIME. All the time.
I actually kind of like it. I mean, I live by myself and don't go out to eat with friends every night. There are a ton of nights when it's just me, cooking for one, chilling out in front of the TV. I'm into it.
But for some reason, I dunno what it is, when it's just me, I don't really want to put forth that much effort. If someone else is coming over, great! I'll cook a whole meal, but for just me? Eh, I'd rather chill out.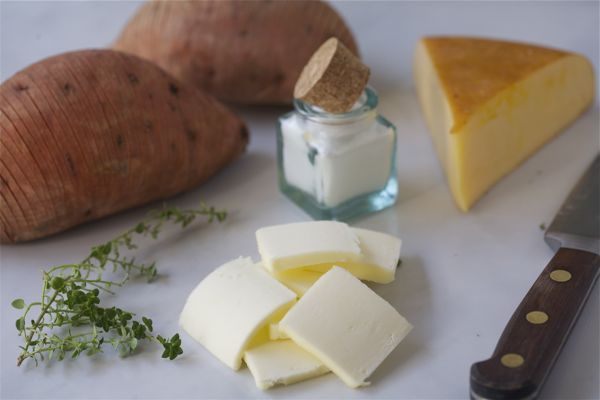 This recipe is puuurfect for one. It does take a little bit of time (about an hour and a few minutes), but it's all downtime.
You can get home from work, slice the potatoes, stuff them with butter and cheese, stick the whole thing in the oven and walk away.
Go take a shower. Go prep your favorite shows. Go put on one of those peel masks, which I've only seen in movies and never actually done! Or maybe even put a bunch of lotion on your feet and hands and put on those weird mittens/socks.
(I've done the mitten/sock thing and it's a super weird look, but highly effective!)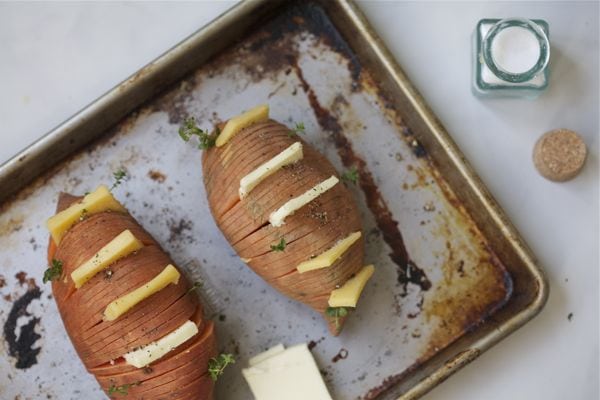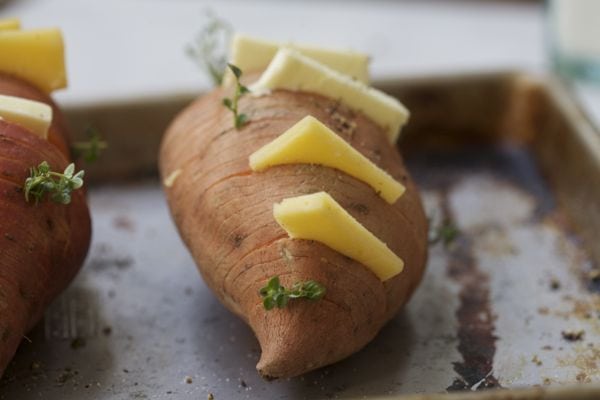 My favorite part is smoked gouda and sweet potato. The butter is cool, but the real flavor winner are those two playing off of each other. The smoked gouda is, well, smokey and cheesy and the sweet potato is, uh, sweet. Sweet and smokey are good together. Add cheesy? Heaven.
P.S. If you don't have sweet potatoes in your kitchen, but you have cheese and butter, then I gotchu' covered. I made a version of these hasselback situations last year for The Pioneer Woman's Blog, Tasty Kitchen.
There's step-by-step photos! And lots of comments saying it's awesome. Get into it all.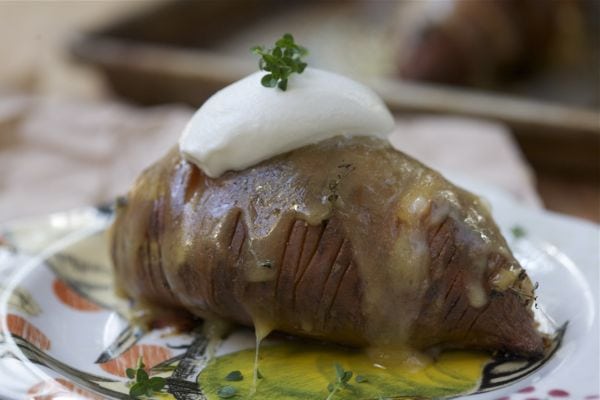 Sweet Potato Smoked Gouda Hasselback

Print this recipe!
2 ounces smoked gouda cheese, divided
½ stick butter (2 ounces)
2 sweet potatoes
2 sprigs of thyme
Salt
Pepper
2 tablespoons olive oil
Sour cream
1. Preheat the oven to 375F. Slice 1 ounce of the cheese and butter into ⅙-inch slices and transfer to the freezer for 10 minutes, until firm.
2. Now, very patiently and using a sharp knife, make slices across the potato about ⅛ to ¼ inches apart, being sure to not cut all the way through. The top of the potato will have the slices, while the base stays intact.
3. Next, gently open the potatoes' crevices and shove the cheese and butter, alternating between the two. Add the little sprigs of thyme wherever you can get them to fit. Transfer the potatoes to a lined baking sheet. Top with a good amount of salt and pepper. Cover the potatoes with a piece of foil, being sure it's more of a tent rather than a tight squeeze. You don't want the cheese to get stuck to the foil. Bake for 1 hour.
4. Meanwhile, grate the remaining 1 ounce of cheese. At the 1 hour mark, test the potatoes' doneness. Using a knife, poke the bottom of the potatoes--it should feel tender. Remove the baking sheet from the oven and top each potato with a heavy handful of cheese. Return to the oven (uncovered) for an additional 10 minutes. Serve with a dollop of sour cream on top.
Yields 2 Hasselbacks