I have a few thoughts on my brain currently. No, they're not intelligent thoughts. They're just thoughts. This weekend is the first "football weekend" of the season and today I'm bringing you a salad. I guess this should tell you how invested I am in football.
I'm not one to have a bunch of traditions like eating breakfast in bed on Saturday (do real people actually do this?) or lighting candles at 5pm and getting in a hot tub to unplug...blah blah. But i will admit that starting traditions are kinda fun.
This fall my new tradition is rewatching Felicity. I started last night. Since LA is still being a jerk with its heatwave, I set a fan right in front of my face and watched Felicity while I ate delivery pizza. I call that one very awesome tradition, man. Fall reminds me of starting school. And Felicity starting school, moving to New York and being a psycho about Ben just brings warm nostalgic feelings in my tummy. But seriously, how crazy is Felicity in the beginning. Like, stalker status.
This fall I have a few trips planned and I'm pretty excited about them. The first is a trip to Israel, though that might change depending on our relations with Syria. We shall see how things play out. The trip was booked a few months ago, before things had escalated to what they are now.
In my attempt to educate myself about the food in Israel, I started to do some research online and off (via visiting restaurants here in LA). I ended up opening Jerusalem, the book written by Yotam Ottolenghi and Sami Tamimi.
When I was gifted the book by the lovely people at Ten Speed last year, I had made a few recipes out of it, but I didn't really read it front to back like I usually do when it comes to cookbooks. I wished I hadn't waited so long; it truly is a beautiful read.
Food is so personal to so many people. I think some of the only negative comments I've received on this blog are when I've made an ethnic dish and someone feels like I made it "wrong" or didn't credit the "right country." This happens even with the food I grew up on: Peruvian and Colombian.
Peruvians and Colombians will claim credit to dishes that don't necessarily belong to "them." What you learn is that they don't really belong to anyone. The history is so rich, goes back such a long way that claiming said dish is hard to do. And most time, terribly futile.
I found it interesting, though not surprising, that this exists a lot in Israel. As I was flipping through the book I was stopped in my tracks by this salad. I recently picked some figs off my neighbor's tree and was trying to find them a home. I picked up the rest of the ingredients and started to make it.
I feared that it might be too sweet. Figs and sweet potato are both sweet, obviously, but to my delight it wasn't at all. The pepper gives it a lovely kick of heat, while the green onions and cheese give it some nice savory elements.
Give it a whirl, if you like. It's a good one. Easy preparation, not a ton of ingredients and tasty, too.
I promise I'll bring some sort of super American football recipe soon. I love me an onion dip and some wings.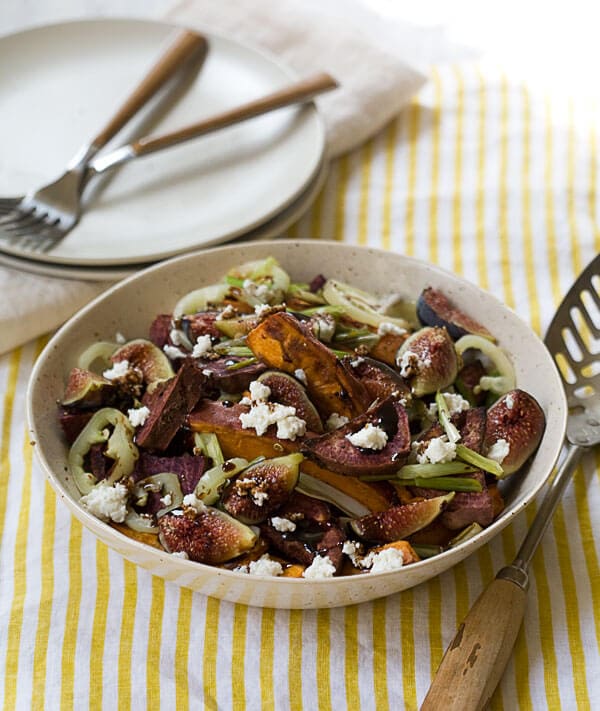 Print Recipe
Roasted Sweet Potato and Fresh Fig Salad
Ingredients
4

small sweet potatoes

2 ¼ pounds

Olive oil

Freshly ground pepper

Salt

3

tablespoons

balsamic vinegar

1 ½

tablespoons

sugar

12

green onions

halved lengthwise and cut into 1 ½ inch segments

1

red or green chile

thinly sliced

6

ripe figs

quartered

3

ounces

goat cheese

crumbled
Instructions
Preheat the oven to 400 degrees F.

Wash the sweet potatoes, halve them lengthwise and then cut each half again similarly into 3 long wedges. Mix with 3 tablespoons of the olive oil, 2 teaspoons salt and some black pepper. Spread the wedges out, skins die down, on a baking sheet and cook for bout 25 minutes, until soft but not musty. Remove from the oven and leave to cool down.

To make the balsamic reduction, place the balsamic vinegar and sugar in a small saucepan. Bring to a boil, then decrease the heat and simmer for 2 to 4 minutes, until it thickens. Be sure to remove the pan from the heat when the vinegar is still runnier than honey, it will continue to thicken as it cools. Stir in a drop of water before serving it it does become too thick to drizzle.

Arrange the sweet potatoes in a big salad dish. Heat a tablespoon of olive oil in medium saucepan over medium heat and add the green onions and chile. Fry for 4 to 5 minutes, stirring often to make sure not to burn the chile. Spoon the oil, onions and chile over the sweet potatoes. Dot the figs amount the wedges, crumble the cheese over the top and then drizzle over the balsamic reduction. Serve at room temperature.
Recipe: A few thing tweaked from Jerusalem