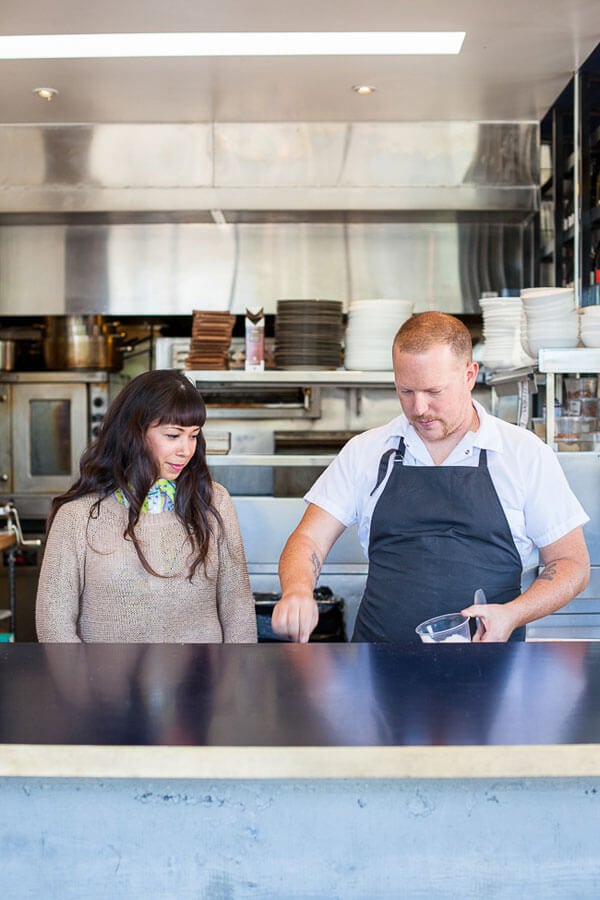 I was first attracted to this restaurant by its name, specifically the "snack" part. The child in me has always been obsessed with snacks. Superba does have a selection of snacks on the menu, but this restaurant does so many things well, specifically pasta.
Italian classics are given new, adventurous twists. The smoked bucatini carbonara is mind blowing. Honestly, when I had smoked pasta for the first time my mind was a bit blown. Superba's cold smoked carbonara might be my favorite preparation of the dish to date. And their friend chicken is hand down my number one fried chicken in all of Los Angeles. If you're familiar with Korean fried chicken (my fav out of all the fried chicken genres), then you'll love this. It's crispy, sweet and a little spicy. I could write an entire dissertation on my love of Korean fried chicken, which I won't because were here to talk about chocolate pasta, which is equally as exciting.
Last year I went to Superba with a group of friends and the dish that caught my dessert-loving eye was the chocolate pasta. I suggested it and everyone had a bit of a brattitude about it. The pasta sounded "too weird," "too strange," but when it arrived at the table, it became the instant favorite.
While chocolate pasta might sound a bit brand new, perhaps even a bit weird, Chef Nerroni explained that it's actually very traditional. Chocolate pasta first originated in Sicily after the Moors occupied the island. They had in their arsenal culinary gold: chocolate.
The cocoa powder adds a rich, deep quality to the pasta. Last year, the pasta was topped with braised oxtail and sour cherries (ugh my favorite), but I love this rendition, too. I loved that the sour cherries added a bit of a sweet element to an otherwise savory dish; the butternut squash works in the same way, adding a touch of sweetness.
On Wednesday I'll be sharing the recipe for chocolate pasta. I was taught some tricks of the pasta-making trade. I'm excited to share.
Also, how good is this Geoff McFedtridge wallpaper?! This place screams the casual yet modern, beach-y vibe that Venice, California does so well.
Superba Snack Bar 533 Rose Ave, Los Angeles, CA 90291.
(Photos by Jennifer Chong. Check out our last restaurant post with Short Cake: here and here.)