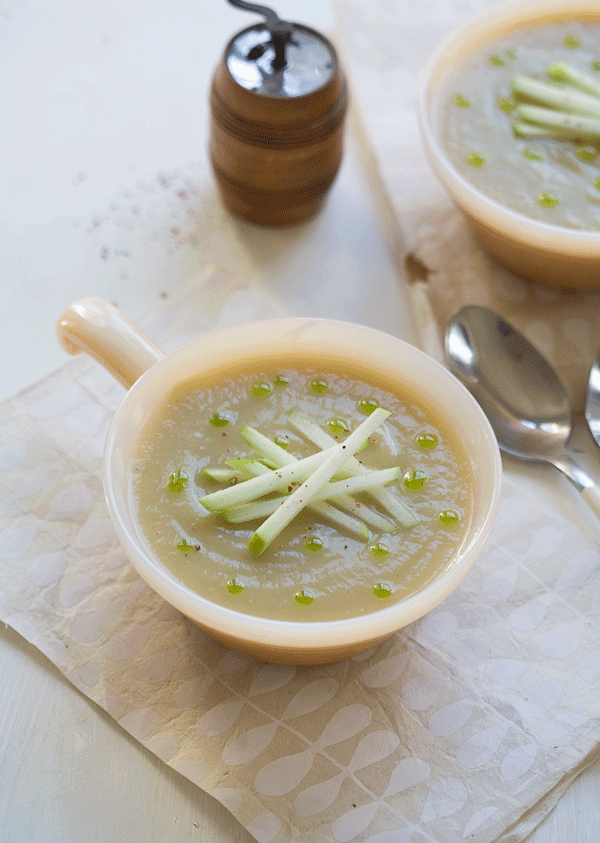 In an alternate universe, I have long hippie-flowing hair, I can wear long dresses (I'm so very short) and have the super power to go on walks in the forest and name every single flower I come across. I can gather a random medley of flowers, take them home and effortlessly arrange them in one of those antique-y looking vases. In this alternate universe where I'm a flower-whisperer, I'm guessing I probably HATE sunflowers. (I feel like most florists whom I've met do.) I'm a flower snob, guys.
In my non-alternate universe, I kinda like sunflowers. They're definitely not my go-to flower at the market, but I like them in fall. They're so warm and cheery and harmless. I will admit, they're definitely homely, but I think that's part of their charm. For the longest time I had no idea what that sunchokes were related to sunflowers. Honestly, for a long time I had no idea what the hell a sunchoke actually was. I thought it was an artichoke. I dunno. When I found out the two were related it all made sense. Sunchokes do sort of taste like nutty, the way a sunflower seed tastes. You can eat them raw, shaved in salads or pan sautéed and thrown in a hash with an egg, but I love them in soups. They make the creamiest, silkiest of soups.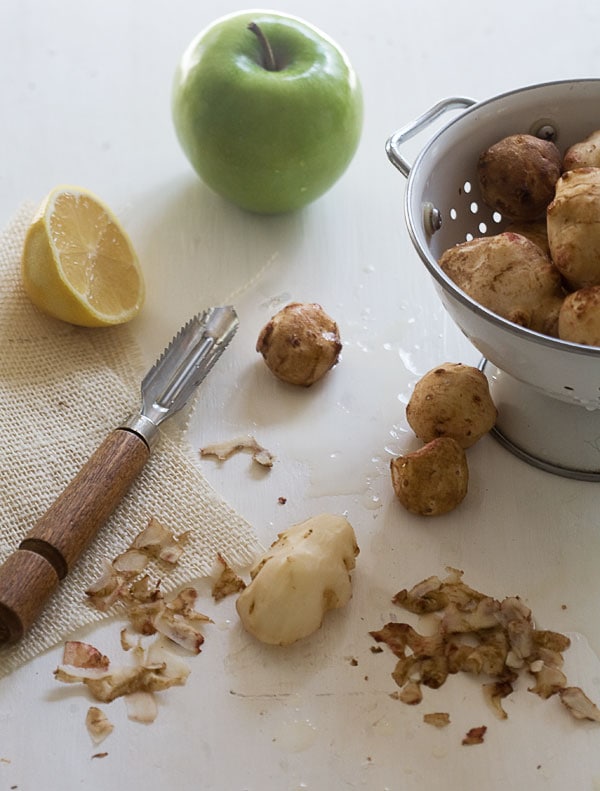 This soup is my first Thanksgiving recipe I'm hurling at you! It's the first of many. I love making a soup for Thanksgiving; mainly because it's so easy to make ahead. Make it the day before! Then just reheat before serving. It makes things super easy.
Sunchokes almost look like raw ginger, right?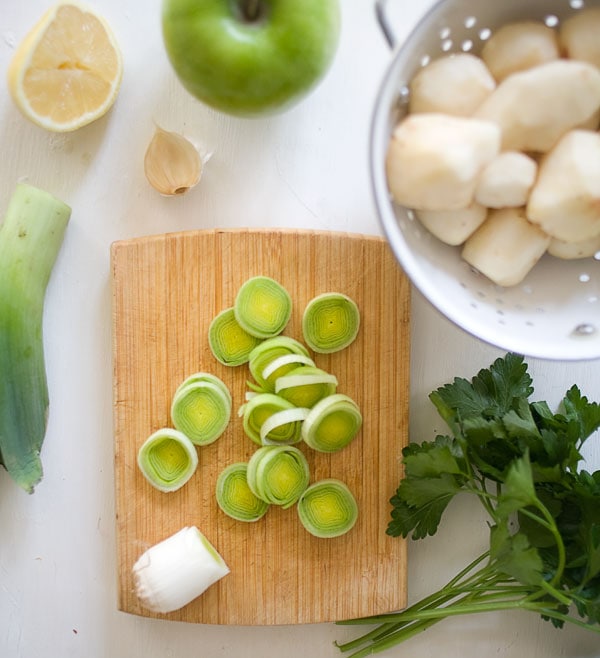 I love the light onion-y flavor from the leek, and the addition of tart apple is so welcomed and awesome. This soup can easily be vegan if veggie broth is used in place of the chicken stock,
This soup is simple in its preparation; same ol' same ol': cook stuff in broth, transfer to blender to get all smooth, transfer back to pot to warm. But it's flavor, I assure you, is so special.
My favorite part of this entire soup might be the addition of raw apple on top and the freshness the Italian parsley oil adds. I sometimes skip the extra garnishes that people suggest, but please use these! They're so great.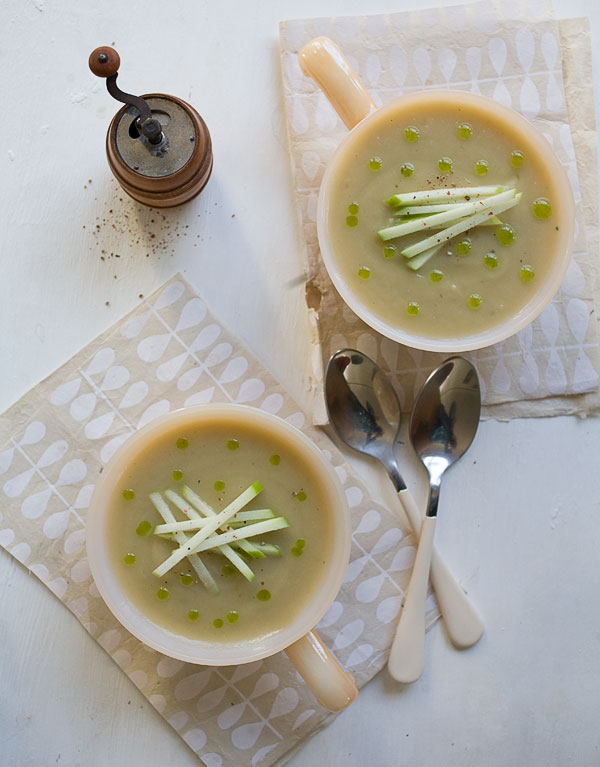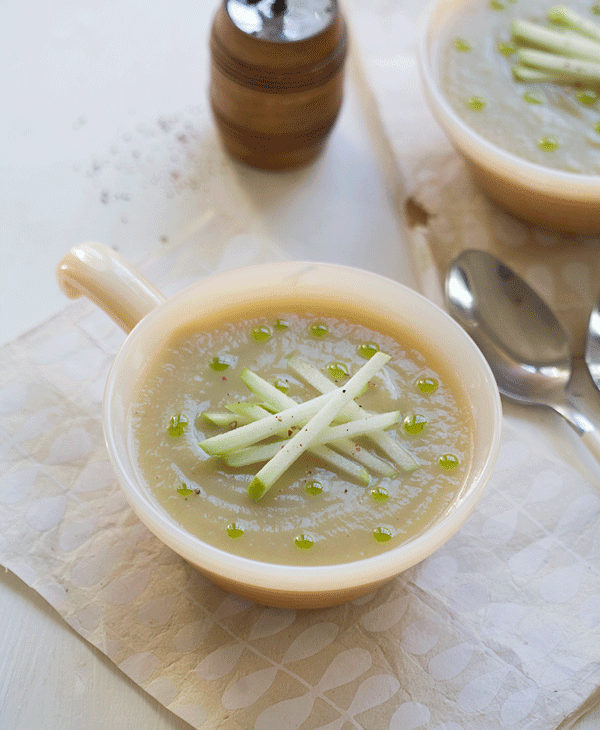 Print Recipe
Sunchoke Apple Soup
Ingredients
2

pounds

sunchokes

peeled and cubed

1/2

lemon

1

large Granny Smith apple

divided

2

tablespoons

unsalted butter

1

leek

thinly sliced

2

garlic cloves

roughly chopped

1/2

teaspoon

dried or fresh thyme

1/2

teaspoon

freshly ground pepper

Salt

4

cups

low-sodium chicken broth

or veggie broth

1

cup

Italian parsley

1/2

cup

sunflower oil

or olive oil
Instructions
To avoid discoloration, toss the sunchokes with a squeeze of lemon juice in a medium bowl. Reserve a quarter of the green apple for garnish and rub its sides the lemon to also avoid discoloration. With the remaining apple, peel it, cut out its core and chop it up loosely. Add it to the cubes of apple to the bowl with the sunchokes; toss so the apple cubes are covered in lemon, too.

In a medium saucepan, melt the butter over medium-low heat. Add the thinly sliced leek and cook until soft, about 5 minutes. Throw in the minced garlic and thyme and cook until fragrant, an additional minute or so.

Next, add the sunchokes and apple. Top the sunchokes and apple with a few pinches of salt and pepper. Pour in the chicken broth and bring the mixture to a simmer. Turn the heat down to low, and simmer, while the pot is covered, until the sunchokes and apple have softened, about 30-40 minutes.

While the soup is cooking, let's make the Italian parsley oil. Transfer the Italian parsley to the blender or food processor; pulse until chopped. Pour in the oil and blend until very smooth. Transfer the mixture to a small bowl and allow it to sit while the soup is cooking.

If you have an immersion blender, use it! If you don't (I don't), transfer the soup, in batches, and blend until very smooth. Transfer back to the pot, warm the soup over low heat and salt to taste.

Just before serving, strain the parsley oil, discarding the parsley pulp and reserving the oil. Cut the reserved quarter of the green apple into matchsticks. Divide the soup between bowls; garnish each soup a small handful of green apple and a drizzle of Italian parsley oil.