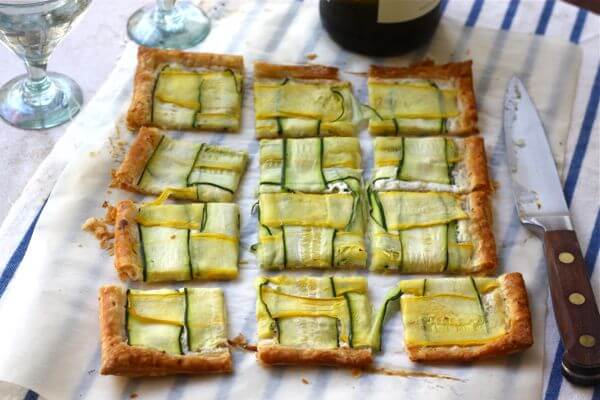 Where do you live? I'm not trying to stalk you, promise. It's just that sometimes I have no idea how far of a reach this little blog has. And since I write this blog in my apartment in Los Angeles, California, and we talk in the comments, via email, on Instagram, etc., etc., my brain just assumes you are all down the street from me. I bet you're not. You might be really far away, in a place that isn't currently experiencing a ridiculous heat wave. Lucky you.
A few days ago, when LA decided to be a beautiful 97 degrees F, I stuck my head in the freezer. It was one part melodrama and one part necessity. Mostly melodrama, I think.
As I was in there, with the cold air hitting my face aka heaven, I took a peek around. Lots of frozen corn. Why?! Dunno. Lots of ice cream. Normal. And then there was a single sheet of long forgotten puff pastry. WHOA! YES! Tart time!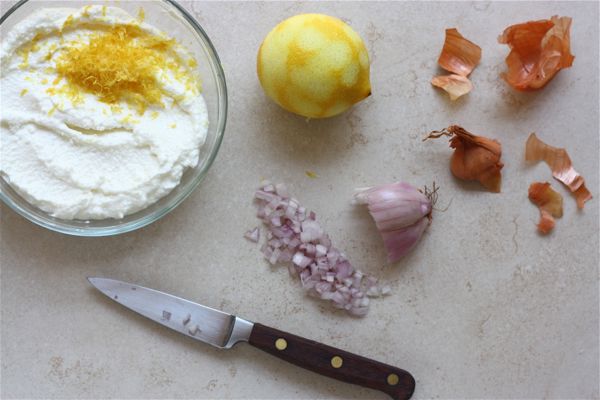 This tart begins with mixing filling.
Ricotta, lemon zest, lemon juice, some minced shallots and a good amount of salt and pepper. Easy. Delicious.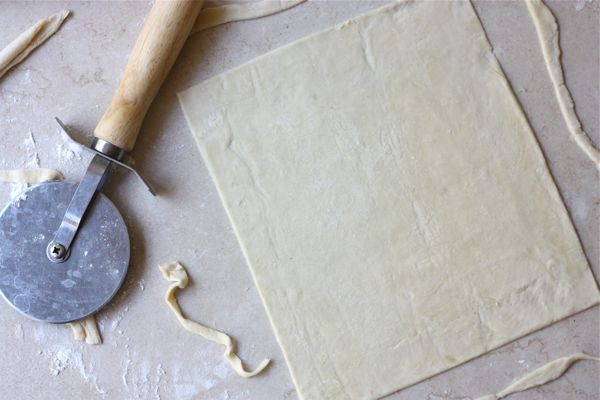 The puff pastry gets rolled out. And gets a bit of a trim. I included exact measurements below, but really if it's a little bit bigger or smaller, no biggie.
Now, you want the edges to be puffy and pillowy, not the center. This is when you score! Take a knife, and create a ¼-inch border. And then using a fork poke holes in the center.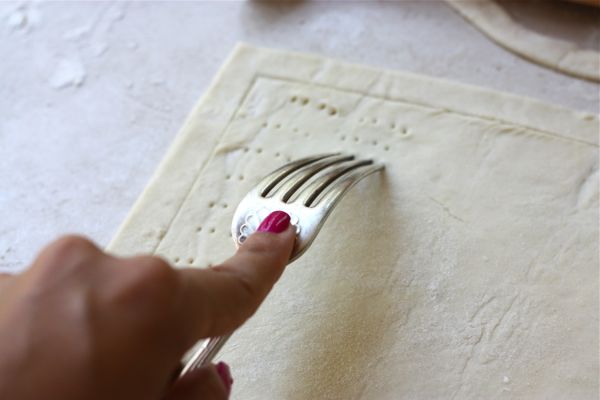 Okay. So, if you don't want to lattice the squash and zucchini ribbons, not a big deal. You can simply set them side by side.
If you're in the mood to lattice, then you just lay the zucchini side by side. And then weave the squash slices under and over.
This is not a perfect lattice. If you look carefully at the picture below it is not perfection. Yellow squash are wonky sizes! It's just the reality of nature, you know. So you may have to nip and tuck a few of the slices. Don't worry, it'll still look pretty, guaranteed.
If you need more of a visual to lattice, this YouTube video is pretty helpful.
Also, if the zucchini and squash go past the ricotta/border, don't worry. The zucchini and squash will definitely experience a little shrinkage in the oven.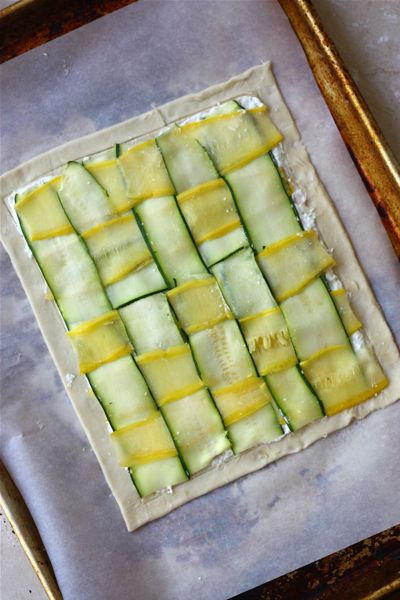 Bake for 10 or so minutes and boom! Summer prettiness. Lattice everything!
Now, back to my first question: where do you live? Are you my neighbor? Because I will definitely let you borrow a cup of sugar...and will share stuff like this tart, too. Duh.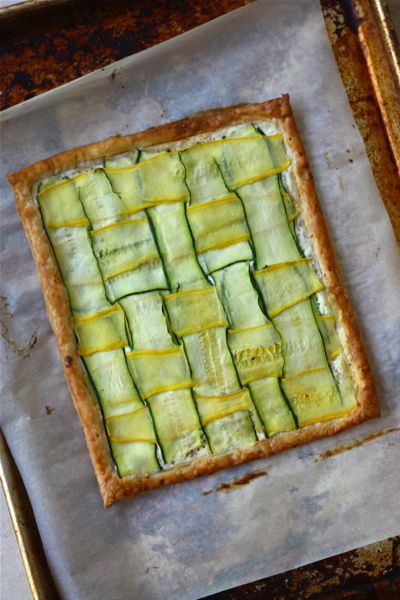 Summer Squash Ricotta Tart
Ricotta Filling:
½ cup ricotta
½ shallot, minced
Zest and juice from ½ of a lemon
Salt and pepper
Tart:
1 sheet of frozen puff pastry, slightly thawed
1 medium zucchini
2 yellow squash
1 large egg, plus a teaspoon of milk (for egg wash)
1. Preheat oven to 400 degrees F. Line a baking sheet with parchment and set aside.
2. In a small bowl, add the ricotta, minced shallot, zest and juice from the ½ of a lemon. Save the other half for lemonade--it's summer! Add salt and pepper to taste. I added about ½ teaspoon of salt and a few cracks of freshly ground pepper. Set this aside, too.
3. Using a mandoline or vegetable peeler (I used this vegetable peeler - only $4!), thinly slice 1 zucchini and both of the yellow squash. I found that not every slice was usable. There were definitely a handful of slices that came out all messed up and scraggely. No biggie - just save the scraps and add them to your morning eggs.
4. Roll out the slightly thawed out frozen puff pastry to about 1/16 inch thickness. Trim the edges so you have a rectangle. Mine measured about 8 ½" x 10".
5. You don't want the puff pastry's center to puff up, only the border. So, take a paring knife and score a ¼-inch border; and then, using a fork, score the center of the puff pastry.
6. Add a few tablespoons of ricotta mixture to the center of the puff pastry, pushing it out to the sides and stopping just before you reach the outline you just made. Add a bit more ricotta until it's about ¼-inch thick.
7. Lay slices of zucchini side by side. Using the yellow squash, weave a lattice pattern over and under the zucchini. Depending how long the zucchini ribbons are, you may need to make a second layer, below the first. Repeat laying the zucchini slices side by side and weaving the slices of yellow squash underneath and over the zucchini slices. The zucchini and squash will shrink a little in the oven so it's okay to have a little excess zucchini/squash hitting the border. Brush the border with the egg wash and transfer to the preheated oven. Bake for 10-12 minutes, until the edges are golden brown. Remove from oven and slice. It's delicious served warm or room temperature.
Inspiration from Martha Stewart