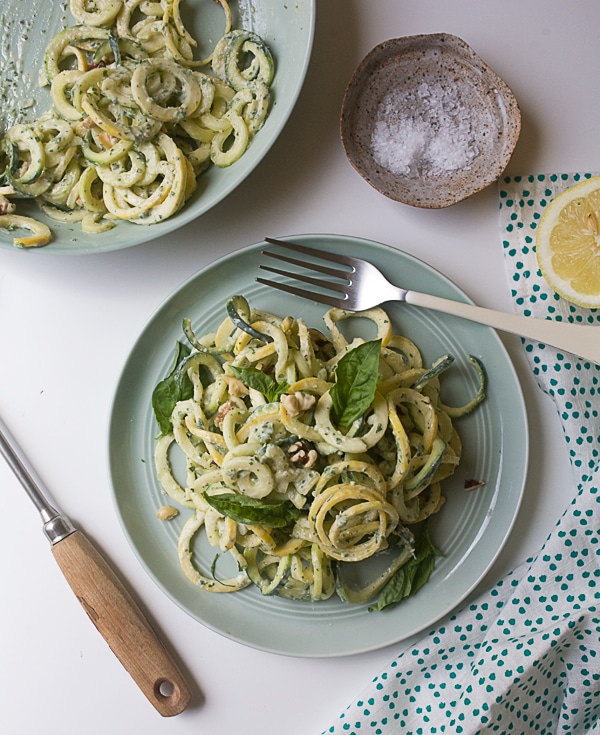 I like to think that the woman population is broken into two categories: women who love nothing more than to spend hours at Target, perusing the aisles for all of the things…and women who get itchy at just the thought of having to enter.
I belong to the second group. Yesterday I went to buy a pretty white floor lamp, which isn't online or else I'd have you tell me if it's cute or not, and I formulated a plan before I entered---I was in and out in 15 minutes! I got home thinking I was on top of my game…until I pulled the lamp out of its box only to find I had to assemble it, which normally shouldn't be a big deal but it took me well over an hour. It was a bad scene, I hadn't eaten, my blood sugar was low, meltdown mode was thisclose.
I kept making mistakes, which I think was partly due to the fact that I couldn't really see (I have bad vision when it's dark). I needed the lamp's light to put the lamp together! It's like when I need my glasses to find my glasses. Anyway, I got through my Tuesday night just fine, thank you for your concern.
After finally having enough light to see, I headed to the kitchen to eat this post's leftovers. It's a gem of a recipe from a gem of a cookbook from Kimberley Hasselbrink. Her new book, Vibrant Food, is all about eating color. Don't you ever look at a colorful plate of food and get excited. I have to say I do. This is why I'll always pick the purple cauliflower over the white cauliflower and why the farmer's markets here in Los Angeles make me so dang giddy.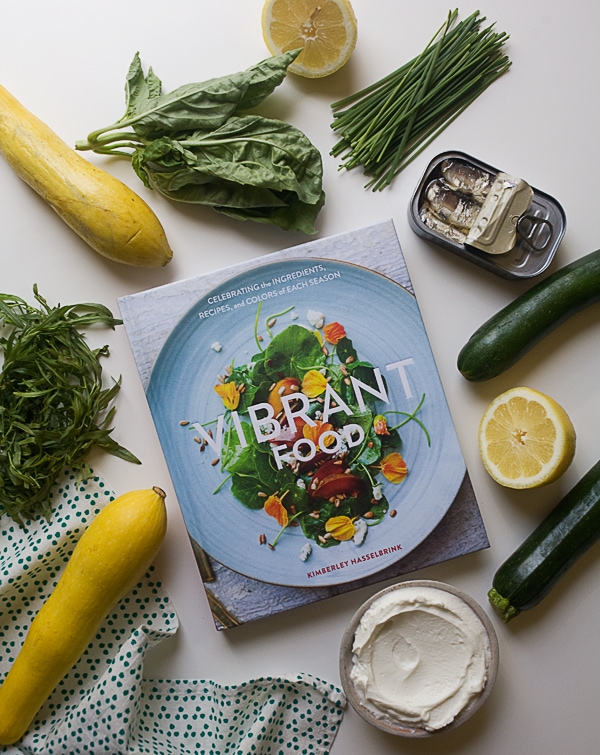 This book celebrates foods' natural colors and vibrancy in a really delicious way. The recipes are easy-to-follow, the combinations interesting and the food is just downright pretty.
All of the recipes are things you'll want to eat on a random Wednesday, which is honestly my favorite type of food to make. Very normal, everyday food, but with twists that make them special.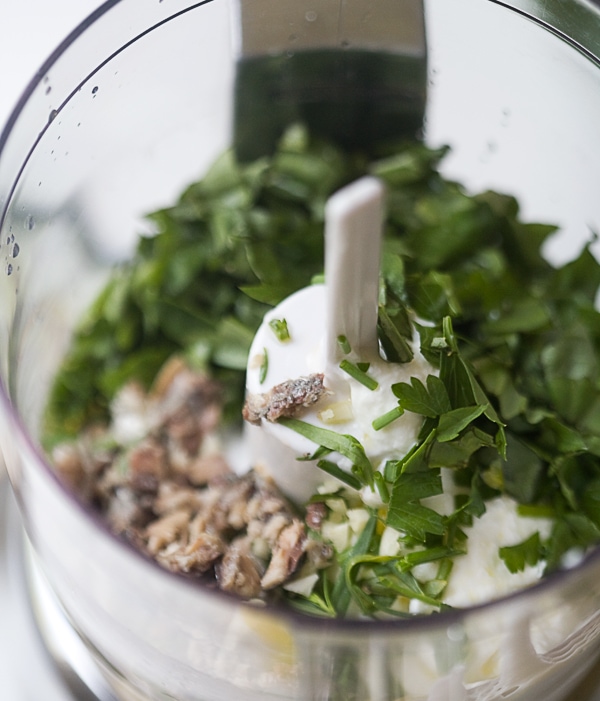 I love my Spiralizer, which technically belongs to my friend Lara.
I have to say, this post reminded me why I love the Spiralizier so much. P.S. It's actually on sale right now on Amazon! If you don't want to buy a Spiralizer, no biggie! You can use a julienne peeler (or the other side of your vegetable peeler).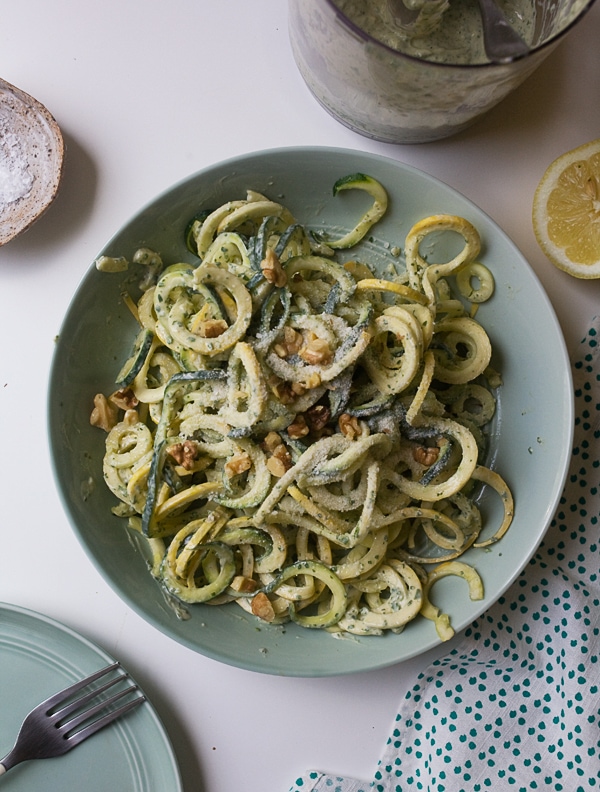 The green goddess dressing is SO good. The Greek yogurt with the fresh lemon and the red wine vinegar was a big ol' winner in my book. It's a healthy take on Green Goddess dressing and I absolutely looooooved it.
This is what I want my summer dinners to be full of: healthy pasta with delicious sauce that makes me feel as light as a feather.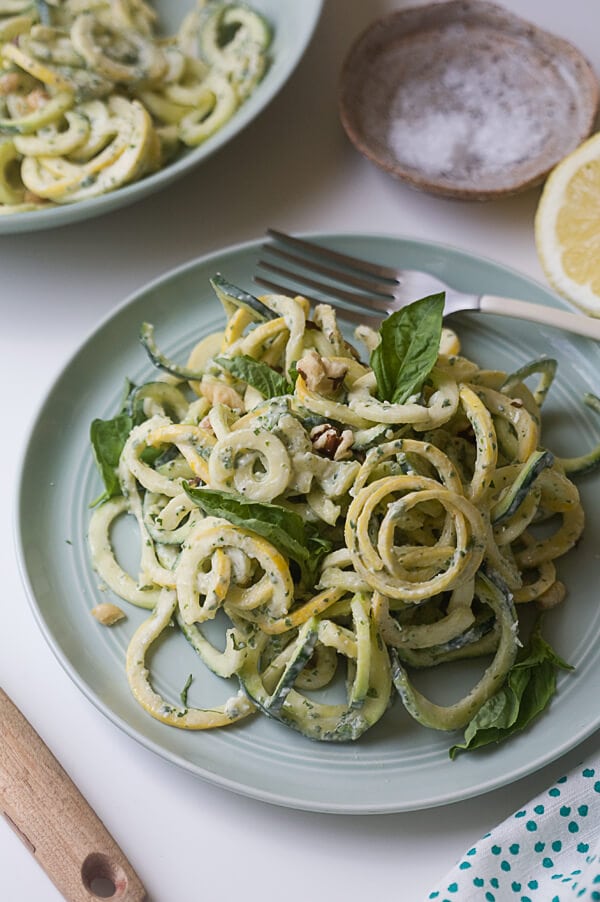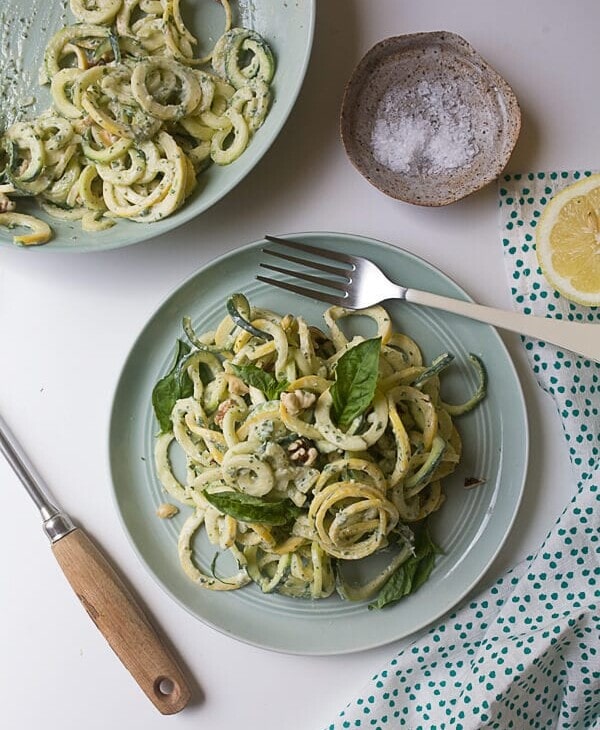 Print Recipe
Summer Squash Pasta with Green Goddess Dressing
Ingredients
2

pounds

mixed summer squash

yellow squash and zucchini

1

teaspoon

fine sea salt

plus additional for serving

½

cup

plain whole milk Greek yogurt

2

tablespoons

extra-virgin olive oil

2

tablespoons

freshly squeezed lemon juice

1

tablespoon

red wine vinegar

¼

cup

chopped fresh basil

plus more for garnish

2

tablespoons

chopped fresh flat-leaf parsley

2

tablespoons

chopped fresh chives

2

tablespoons

chopped fresh tarragon

1

small garlic clove

minced

1

anchovy

minced

¼

cup

shaved Parmesan cheese

¼

cup

raw pine nuts

I subbed in chopped walnuts because I'm bad at writing grocery lists

Freshly ground black pepper
Instructions
There are a few ways to make the noodles. You can use a spiralizer, which I used. I looove it! Or you can cut the squash into very thin strips using a julienne slicer. Alternatively, you can use a vegetable peeler or mandolin to make long ribbons. Sprinkle the squash with salt, toss gently, and place in a colander over a bowl for 20 minutes, allowing the excess liquid in the squash to drain. Carefully squeeze the squash over the colander. Pat with a clean, absorbent kitchen towel to dry.

Combine the yogurt, olive oil, lemon juice, wine vinegar, basil, parsley, chives, tarragon, garlic, and anchovy in a food processor. Blend until smooth and creamy.

Using your hands, gently toss the squash with about three-quarters of the dressing. Add the Parmesan and pine nuts (or in my case, walnuts) and toss again. If needed, add the remaining dressing; store any remaining dressing in the fridge for another use.

Season to taste with salt and pepper and garnish with small leaves of basil. This dish is best served immediately.
Notes
Recipe courtesy of Kimberley Hasselbrink's pretty book, Vibrant Food.