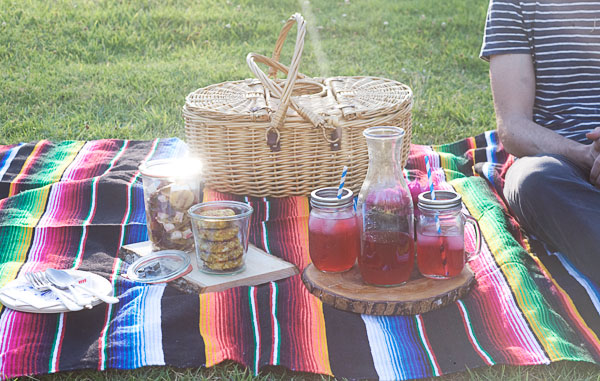 This lil' picnic story is in collaboration with Evernote Food. Running this blog, developing recipes for various companies, writing a book, etc. requires organization. It's actually not my strong suit, you should see my sock drawer, so Evernote helps me A LOT. I'm not trying to sound like a commercial but seriously my life would run very differently (read: a hot mess) without Evernote. I use it to organize recipes, write blog posts (pre-posting on this lil' blog), to-do lists, grocery lists and even my personal stuff. AND, I even used it to write my entire book. Yes, I wrote PANCAKES in Evernote before transferring it to a Word document. I'm what Evernote calls a psychotic "power user" (I added the psychotic part). My favorite part is that it's on the cloud which means I can access Evernote from my phone, even when I'm away from my computer–it's a dream.
They recently launched Evernote Food and I use it too! Going to restaurants and saving recipes is a big part of my life. Evernote Food let's me "tag" restaurants that are either on my "to-hit" list or places I've been to and want to save and remember–it's particularly helpful when traveling to a new city (hello summer vacation!).
When they got in touch with me it was a dream come true and I was all like, "you know I'm obsessed with Evernote, right?" They thought I was a little weird, but mostly were just stoked that I was super stoked about their product.
We decided to make some stuff together. And since it's summer we thought a fun picnic story would be great.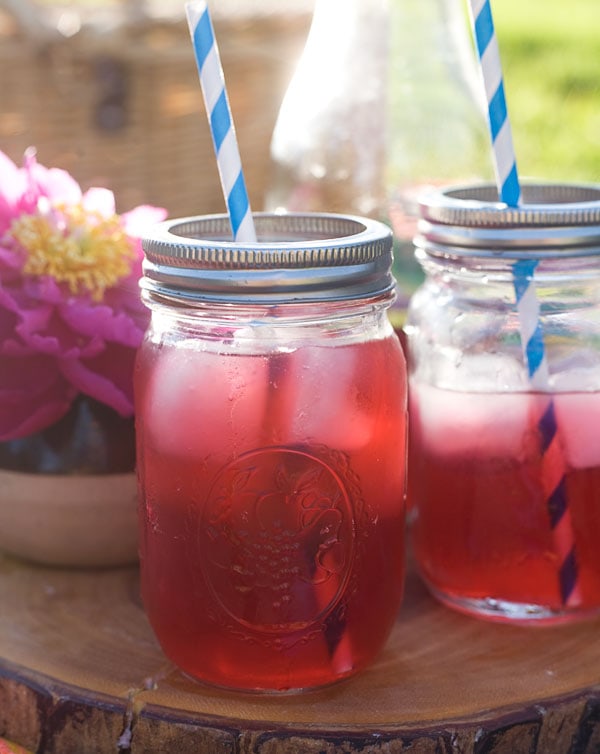 Whenever summer rolls I always love picnicking. My favorite picnic situation in Los Angeles is heading to the cemetery to watch movies. I have yet to do it this season, but it's definitely on my summer to-do list.
My second favorite is hitting up Elysian Park, near my house. If you remember, I threw a birthday party there a few months ago. It's a beautiful park, decorated with a ton of palm trees and it has its fair share of pretty grass.
I've been making jamaica (hibiscus) tea constantly for the last few months, so I decided to spike it and bring it along for a light, picnic cocktail. Check your park to make sure you aren't breaking the law–I don't want any of you to be taken away in handcuffs while you're in your pretty summer dress. (JK, you'd probably just get a ticket, but still!)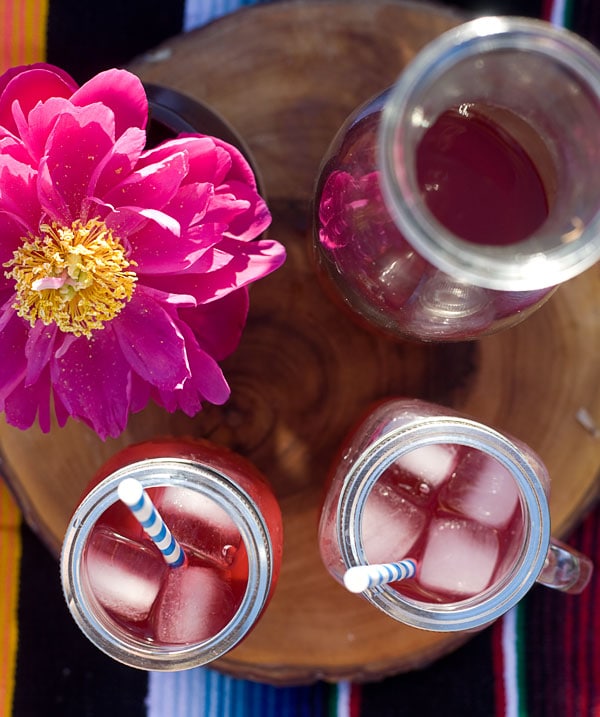 These curried cauliflower cakes are from my cookbook! I love them so much. What's funny is I haven't made many of these recipes for almost a year. I remember last summer tinkering with this recipe in my kitchen and now a year later I still love them. And Josh, who wasn't around much when I was testing recipes, loved them too.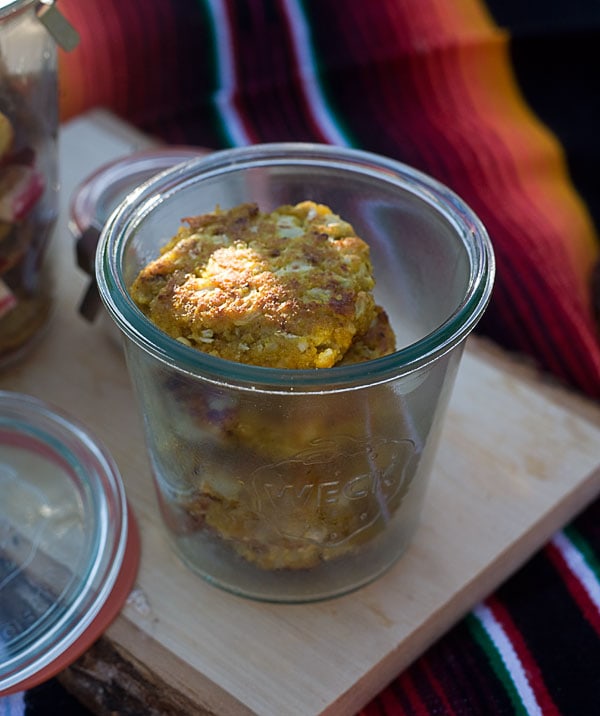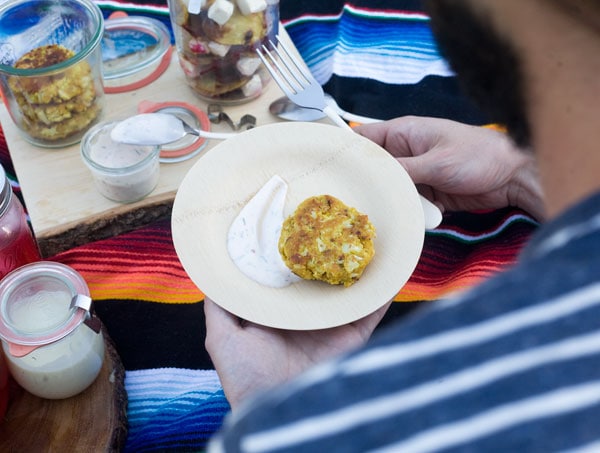 Potato salad is even better if you have a grill. Grilled potato salad with roasted beets and feta cheese? I love. The potatoes were crispy, the beets were sweet and the feta was rich and tart.
Another thing I love about these recipes is that all of them are great at room temperature. Nothing needs to be particularly cold or hot. So if they sit out for a bit it's not that big of a deal, though I wouldn't recommend leaving any of this stuff in the car for hours at a time, especially the pudding.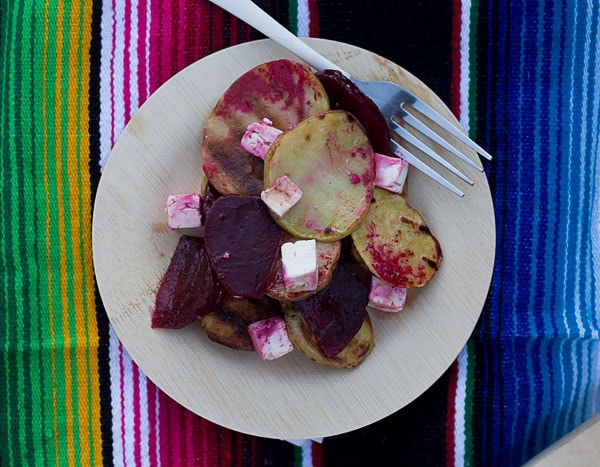 I ended the picnic off with this vanilla bean pudding that was topped with cherries that were stewed with a few bay leaves. I love little savory elements in sweet desserts. It's my favorite thing in the world.
While I did totally set up all this stuff and took pictures, acting like this is normal life, Josh and I decided to sit there and actually enjoy the picnic, talking, eating and drinking. It was a perfect way to spend a warm summer night.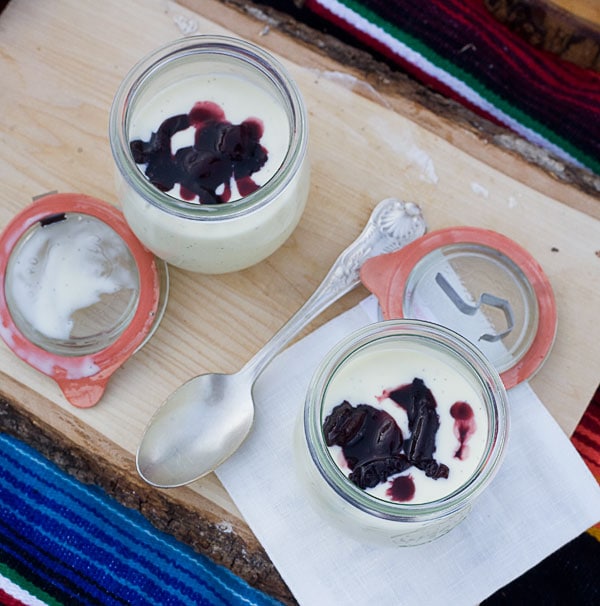 Hibiscus Cocktail
Serves 4 people
1/2 cup white sugar
3 1/2 cups filtered water
1/2 cup dried hibiscus flowers
1/4 cup lime juice (from 3 limes)
1 cinnamon stick
3 ounces, fluid cup vodka
1. To a medium saucepan, add the sugar and filtered water; bring the mixture to a slight boil. Remove from heat. Stir in the hibiscus flowers, lime juice and cinnamon stick. Cover the pan and allow the tea to steep for 15-20 minutes, until the mixture is fragrant and a deep red color.
2. Run the tea through a strainer, discarding the tea leaf mixture and transferring the tea to a pitcher. Add the vodka and adjust according to your taste. To serve, add a few ice cubes to each glass and divide between glasses.
Curried Cauliflower Cakes
1 head cauliflower (1 pound)
2 tablespoons olive oil
Salt
1/2 cup dry bread crumbs
2 large eggs
2 tablespoons all-purpose flour
2 tablespoons Greek yogurt
1 1/2 teaspoons Madras curry powder
1 teaspoons ground cumin
1/2 teaspoons ground turmeric
1/4 teaspoons ground cinnamon
Vegetable oil, for the skillet
1. Preheat oven to 400 degrees F. Place the cauliflower on a lined baking sheet and drizzle with olive oil. Season the cauliflower with 1 teaspoon of salt and transfer to the oven for 20 minutes, turning once to ensure roasting.
2. Transfer the cauliflower to a food processor and pulse until the mixture is coarsely ground.
3. Place the cauliflower in a large bowl and add bread crumbs, eggs, flour, yogurt, curry powder, cumin, turmeric, cinnamon and 1/4 teaspoon salt. Mix until thoroughly combined. Cover the bowl with plastic wrap and transfer to the refrigerator to chill for 3 hours.
4. Scoop 2 tablespoons of the cauliflower mixture into the palm of your hand. Form into a patty 3 inches in diameter and 3/4 inch thick. Continue to make patties with the remaining mixture.
5. Place the skillet over medium heat, and pour vegetable oil until it reaches about 1/2 inch up the sides. Once the oil is hot, carefully add the fritters, being sure to not overcrowd the pan. Cook for 2 to 3 minutes until golden brown. Gently flip and cook on opposite sides for a minute or two. Transfer to paper towels to drain and then place them in a preheated 200 degree F oven to keep warm. Repeat the process to cook the remaining fritters. Serve immediately.
Grilled Potato and Beet Salad
1 red beet, ends trimmed
4-5 golden potatoes, sliced
2 ounces feta cheese, cubed
1 tablespoon minced fresh dill
2 teaspoons good-quality olive oil
2 teaspoons balsamic vinegar
Salt
Pepper
1. Preheat the oven to 350 degrees F. Place a few teaspoons of water in a small baking dish. Add the beet and cover the dish with foil; transfer to the oven to roast for 30-40 minutes, until the beet is tender when poked with a fork. Remove, allowing the beet to cool slightly before handling; peel the outer later off, discarding it. Cut the beet into 1/4-inch slices and set aside.
2. Fire up your grill, or alternatively you could use a grill pan set over high heat. Brush the grill or pan with olive oil and add the slices of potato. Cook on each side for about 7-10 minutes. The time may vary depending on the thickness of your potato slices. Add the beet slices, along with the warm potato slices, feta cheese and dill to a medium bowl. In a small bowl, combine the olive oil, vinegar and a pinch of salt and pepper. Pour the dressing over the potato/beet mixture, tossing lightly. Transfer the salad to a bowl or large to-go container.
Vanilla Pudding with Cherry and Bay Leaf Compote
1/2 cup sugar
1/2 vanilla bean, caviar
3 tablespoons corn starch
1/4 teaspoon salt
2 cups whole milk
2 egg yolks
1. In a small bowl, mix together the sugar and vanilla bean caviar. If the vanilla bean caviar clumps up, use your fingers to break up the clumps, being sure to distribute the vanilla evenly throughout the sugar. To a small saucepan, add the sugar/vanilla mixture, corn starch and salt; and mix. Add the milk and whisk thoroughly. Heat the milk mixture until it feels hot to the touch.
2. In a small bowl, whisk together the egg yolks. Next temper the egg yolks by adding about 1/4 cup of warm milk mixture to the egg yolks, whisking the entire time. Add the milk/egg yolk mixture back to the saucepan and place over medium heat. Stirring constantly, cook the mixture for about 2-3 minutes, until it reaches a light simmer, is thick and coats the back of a spoon. Place a strainer on top of a bowl and run the pudding through the strainer, eliminating any lumps or cooked egg bits. Place a piece of plastic wrap on the pudding's surface and transfer to the refrigerator until cooled, about 2 hours. To serve, transfer to small jars or containers and top with the cherry compote.
Cherry Compote:
20 cherries (6 ounces), pitted and quartered
2 tablespoons sugar
1 teaspoon balsamic vinegar
2 small bay leaves
Pinch of salt
1. In a small saucepan, add all of the ingredients and mix. Place the pot over medium-low and cook for 10 minutes with the lid on. Turn off the heat and let steep for 10 minutes. Transfer to a bowl until you're ready to use.