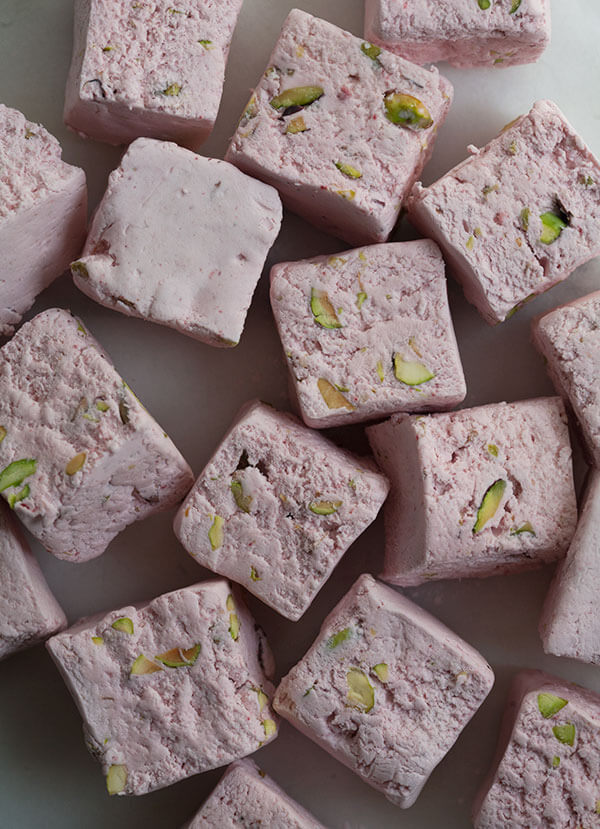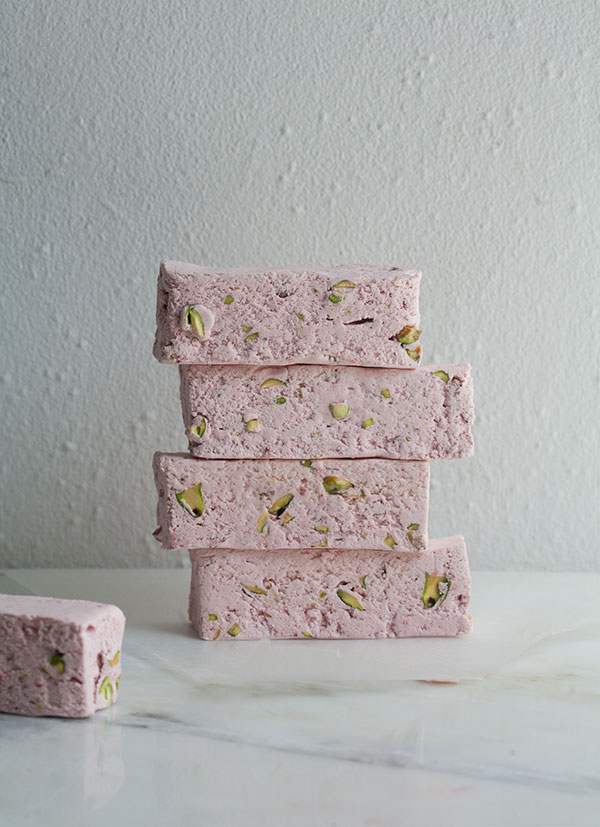 Today is June 1st, which means nothing at all except that time is moving so very quickly that it's gonna be Christmas in like a half a minute.
It's depressing.
In other less depressing news, there are a few big things happening this week. Number uno: it's doughnut week or something like that (I haven't Googled it). Number dos: it's Negroni week. I love both and if someone can figure out how I can have a doughnut and a Negroni and how they'd taste good together, LEMME KNO.
Have you eaten nougat before? It's kind of like taffy or divinity or maybe I'd even describe it like a stronger, firmer marshmallow.
It's firmer than a marshmallow but still soft and chewy. This particular nougat is spiked with strawberry flavor and pistachio. The strawberry flavor is added by pulsing freeze-dried strawberries into a powder and adding it to the egg whites just when you add the boiling sugar. It's melts into the candy, infusing it with a strong strawberry flavor. YUM.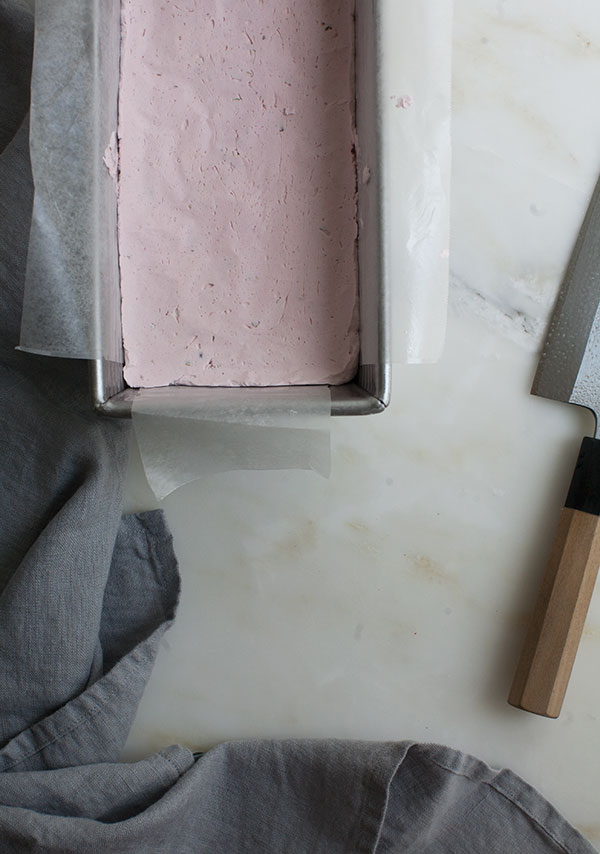 The pistachios are added at the end and I just have to tell you that I'm majorly obsessed with the color combo of pink and green—it's just pretty.
These nougat situations are good to give as a gift or make to take to a BBQ. They're fun and delicious and surprisingly easy. The only tip I'd give is to prep everything before—the process moves quickly so being prepared makes it so much easier.
I'm super excited about the recipes I'm gonna be sharing this week and this one marks the one of many. GET READY!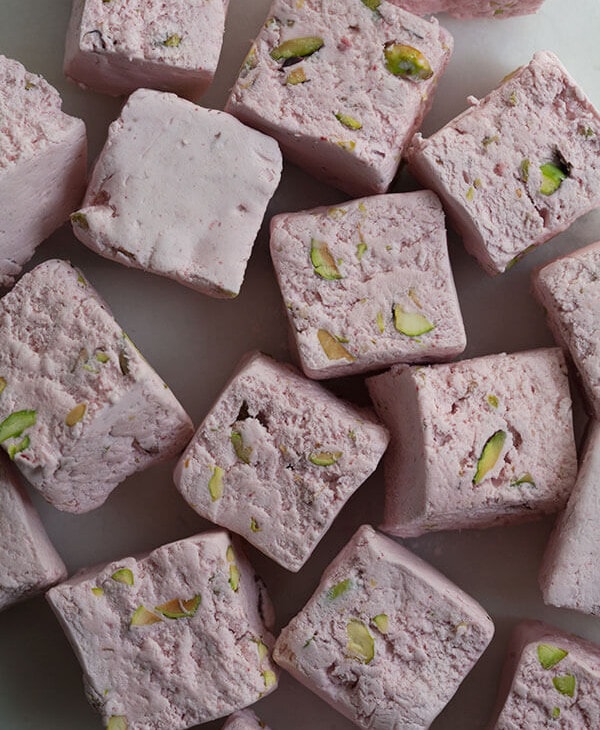 Print Recipe
Strawberry Pistachio Nougat
Serving Size:
pieces of nougat
Ingredients
1/2

cup

freeze-dried strawberries

2 1/2

cups

white granulated sugar

6

tablespoons

light corn syrup

2

tablespoons

honey

1/2

cup

water

1/4

teaspoon

salt

2

large egg whites

2

drops red food coloring

optional

2/3

cup

chopped pistachios
Instructions
Let's do some prep because this nougat goes quickly. To start, add the freeze-dried strawberries to a food processor. Pulse until the strawberries resemble a powder. Transfer to a small bowl and set aside. (It might be a little clumpy in texture but that's ok!) Next, line a 8x5-inch (a 9x5-inch will work too) loaf pan with wax paper or parchment, making sure there are a few inches of flaps on each side (this will make the removal of the nougat super easy). Spray a spatula with cooking spray. Ok you're all prepped—woot woot!

To the bowl of a stand-up mixer (if you don't own one you can always use a hand-mixer), add the egg whites and beat until they begin to get frothy and eventually turn into stiff peaks.

Meanwhile (it's helpful if you do step #2 and this step simultaneously), in a medium saucepan, combine the sugar, corn syrup, honey, water and salt. Give it a light stir until everything dissolves and then cook until the a digital thermometer reads 260 degrees F (this is often referred to as the "hardball stage").

While beating the stiff egg whites at a low speed, slowly pour in the syrup. Immediately add the powdered freeze-dried strawberries.

Turn the speed of the stand-up mixer to high and beat until the candy starts to thicken and hold a bit of shape, 4 to 5 minutes. Pour in the pistachios. Transfer the nougat to the loaf pan, using your pre-sprayed spatula—it'll be sticky! Top with a sheet of wax paper. Press the top of the wax paper so the top of the nougat is smooth and even. Allow to set at room temperature for about 2 hours.

Spray a sharp knife with cooking spray. When the nougat has set, lift up the sides the wax paper, remove the top sheet and cut up the nougat with a sharp knife into slices or 1x1-inch cubes.

Nougat will stay fresh for a week when kept in an air-tight container.