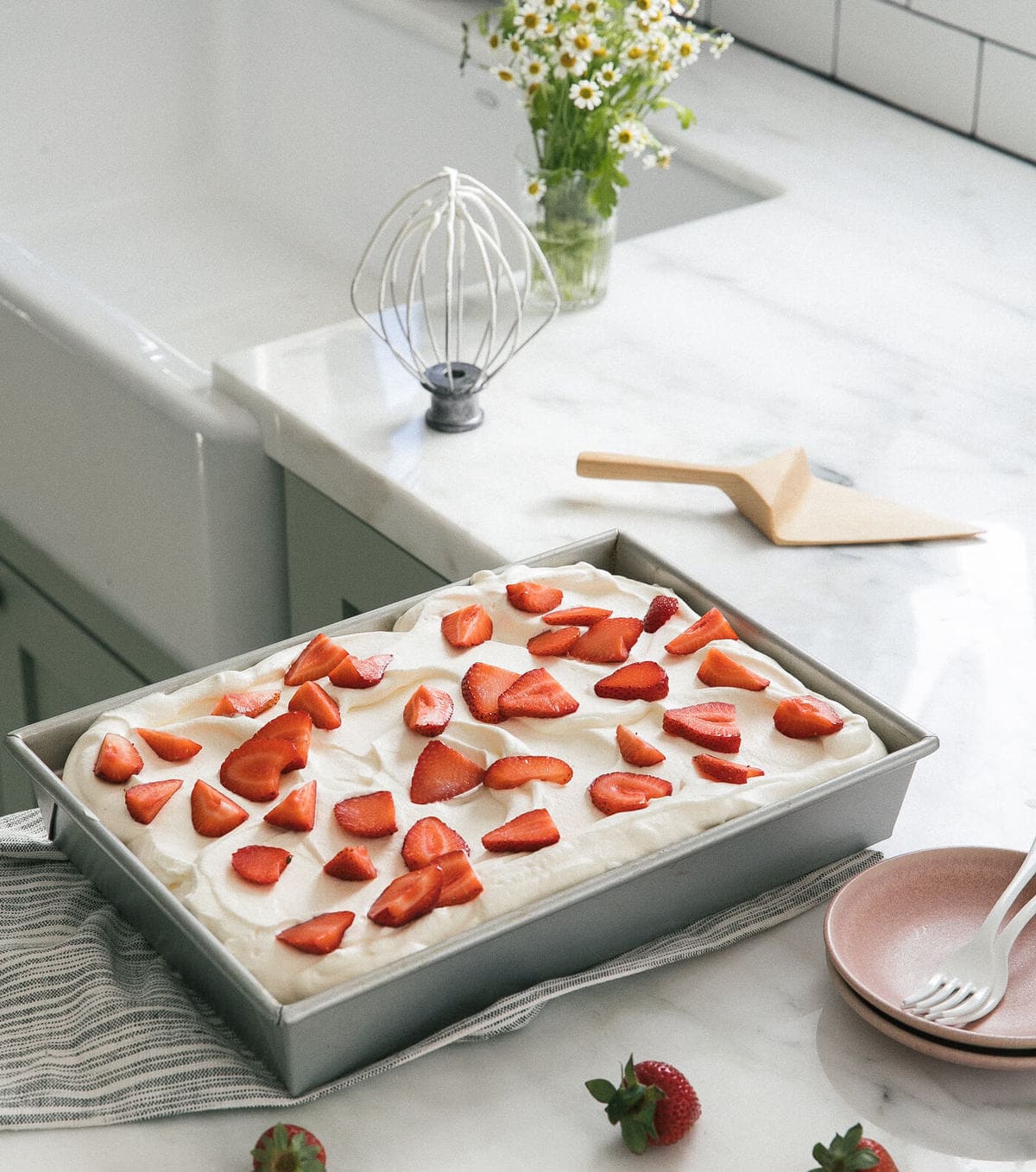 Have you heard of procrastibaking? It's a new term coined by the New York Times. Honestly, I feel like I invented it. I feel like I made a whole career from procrastibaking. That's what made me start this blog! I WAS RUNNING AWAY FROM MY JOB!
If you work from home, you really can spend your days procrastibaking. I mean that's probably what the majority of you are doing right now anyway…I'm a way for you to avoid work. Lol.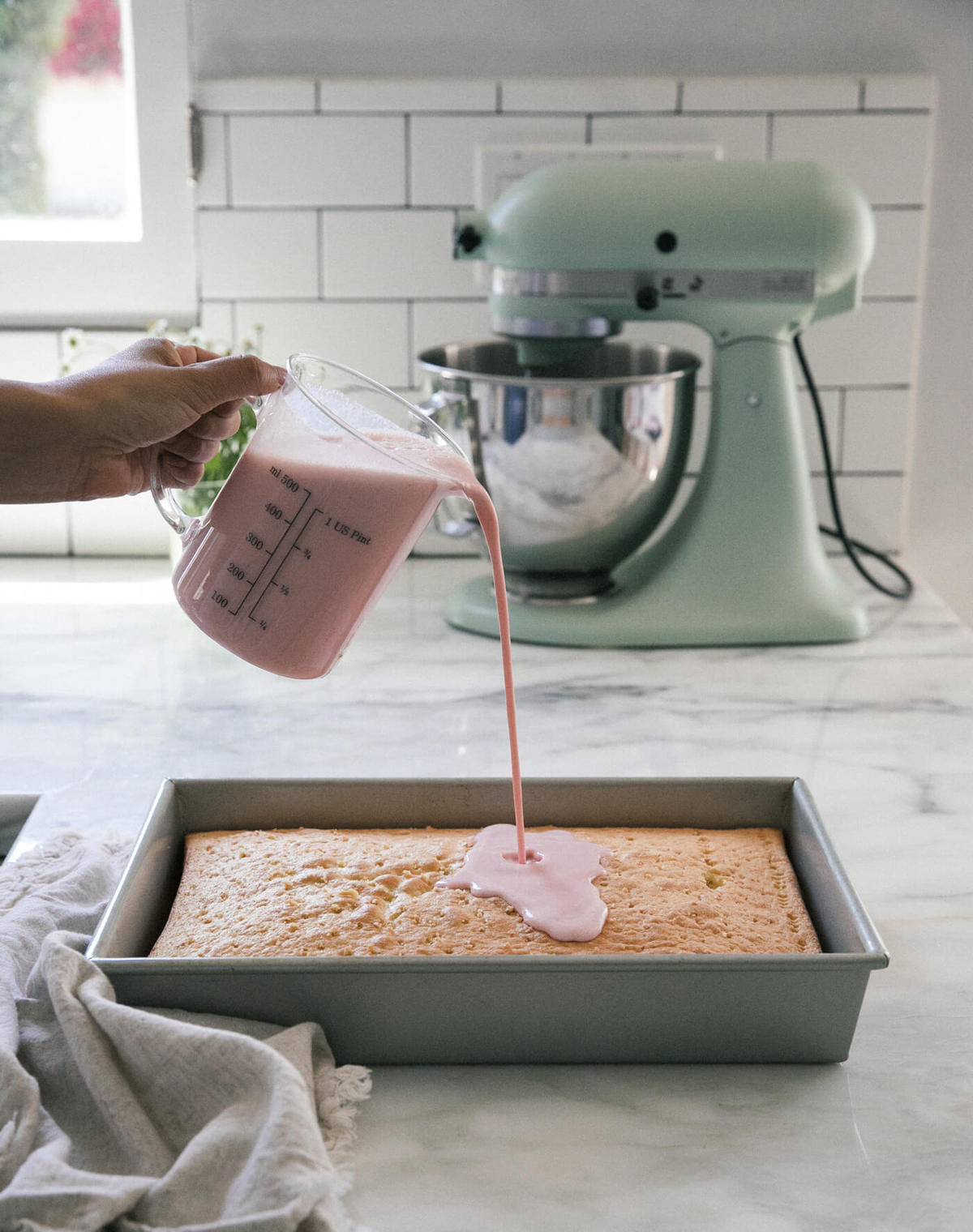 Consider me flattered!
This recipes comes from my love of those childhood cartons of pink milk at the cafeteria. Honestly, my mom always made my lunch so I wasn't really allowed to eat at the cafeteria. I had Capri-Suns anyway so I rarely was able to drink strawberry milk. VERY SAD!
But this is a love letter to strawberry milk because it's so good. And when we made it for this, we still thought it was fantastic and dreamy.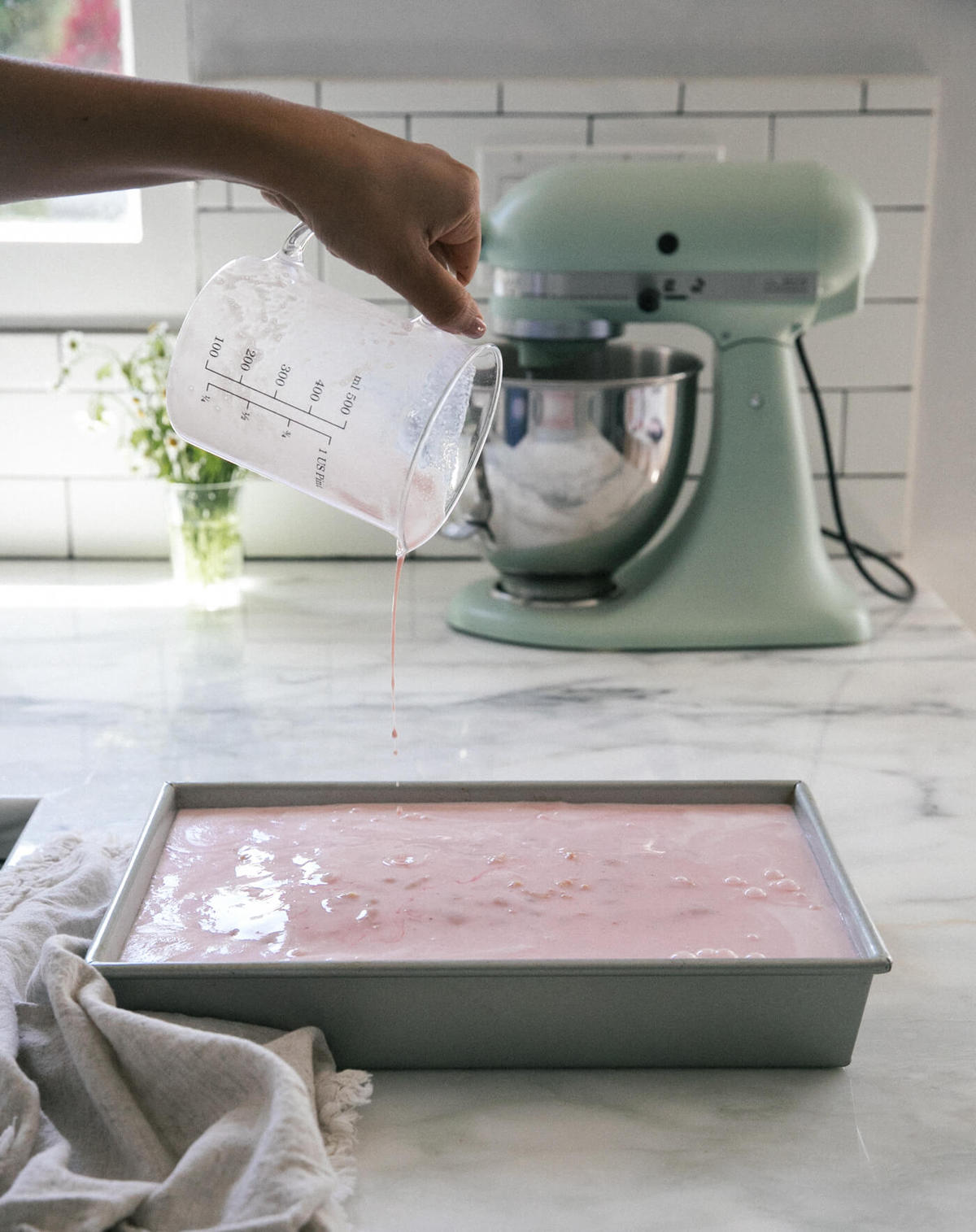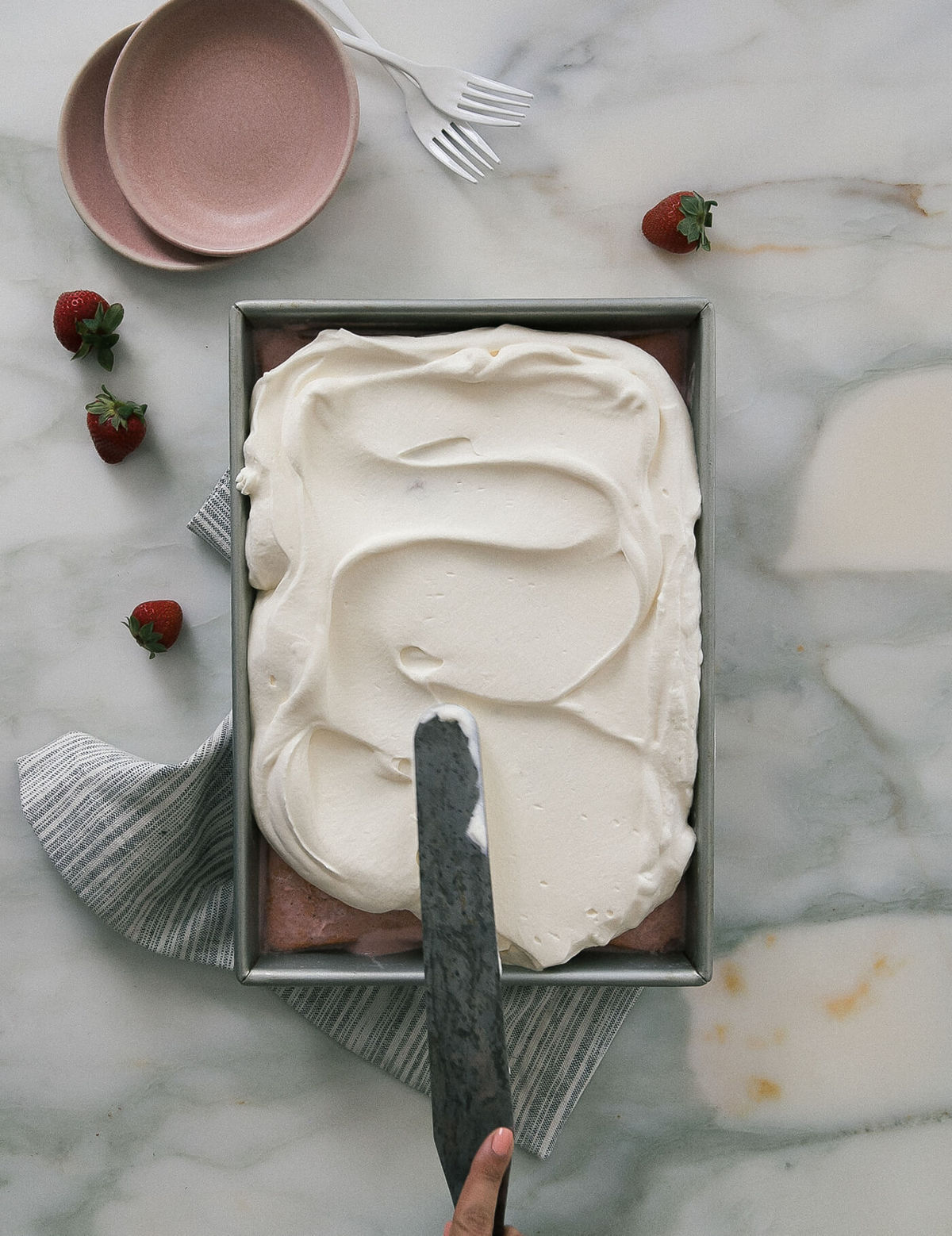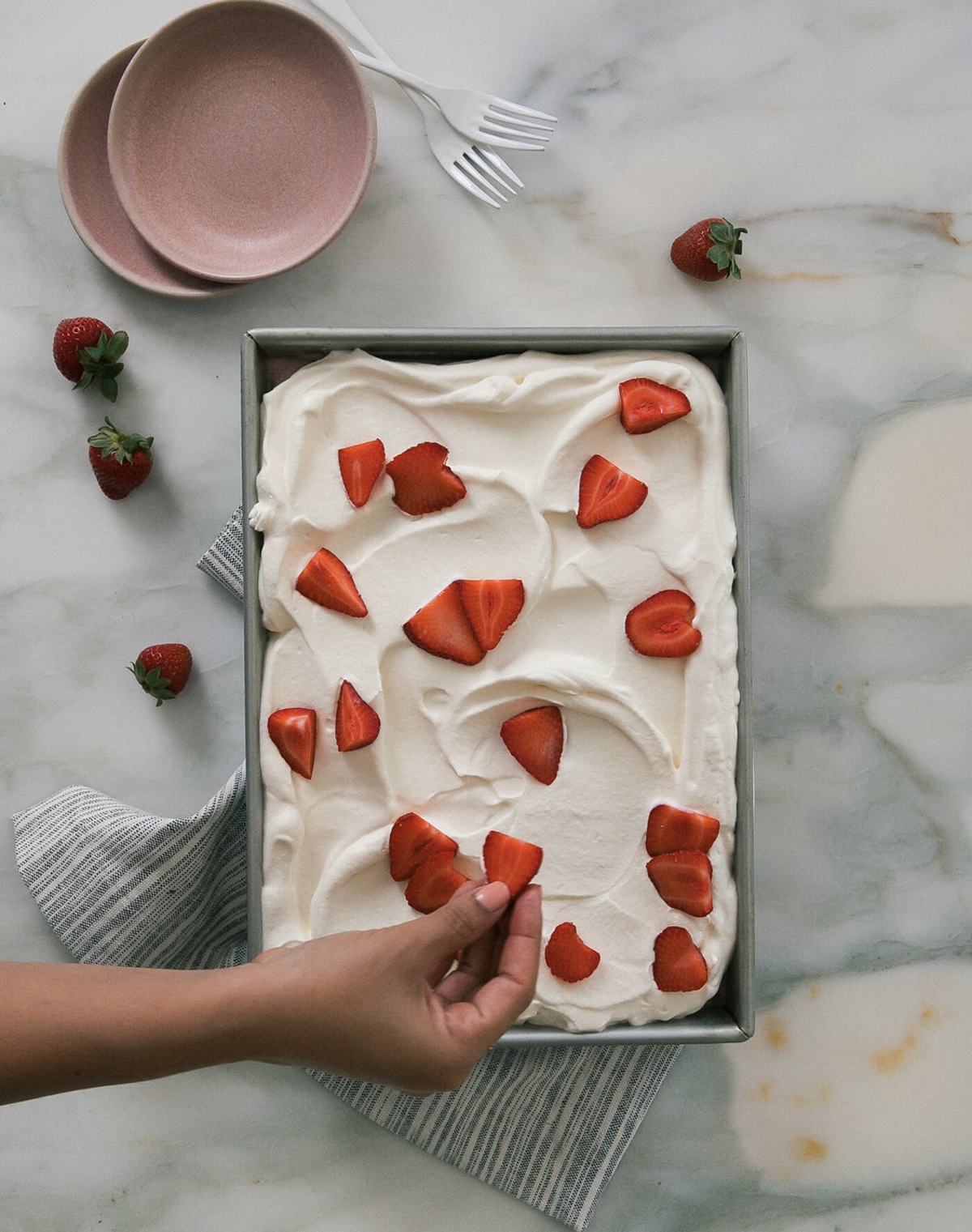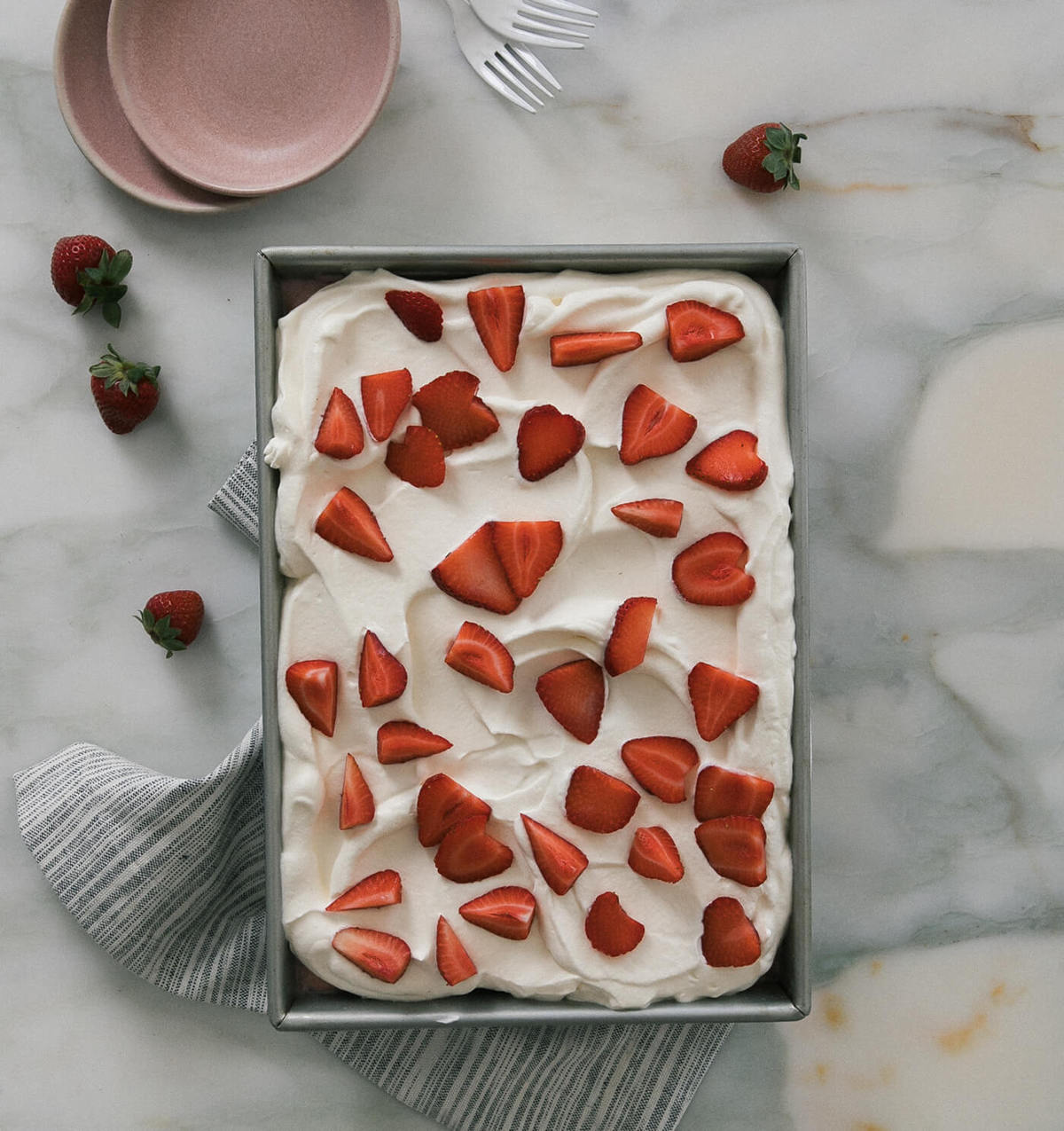 This recipe is pretty straight-forward. You puree some strawberries and milk together, let it sit so that shit marinates and then strain it. Then you make a very dry sponge cake, poke a bunch of holes into it and then pour the strawberry milk all over it. It'll soak up that gloriousness over a few hours and then it'll taste like strawberry milk goodness.
Simple needs we all have! Strawberry milk is on that list!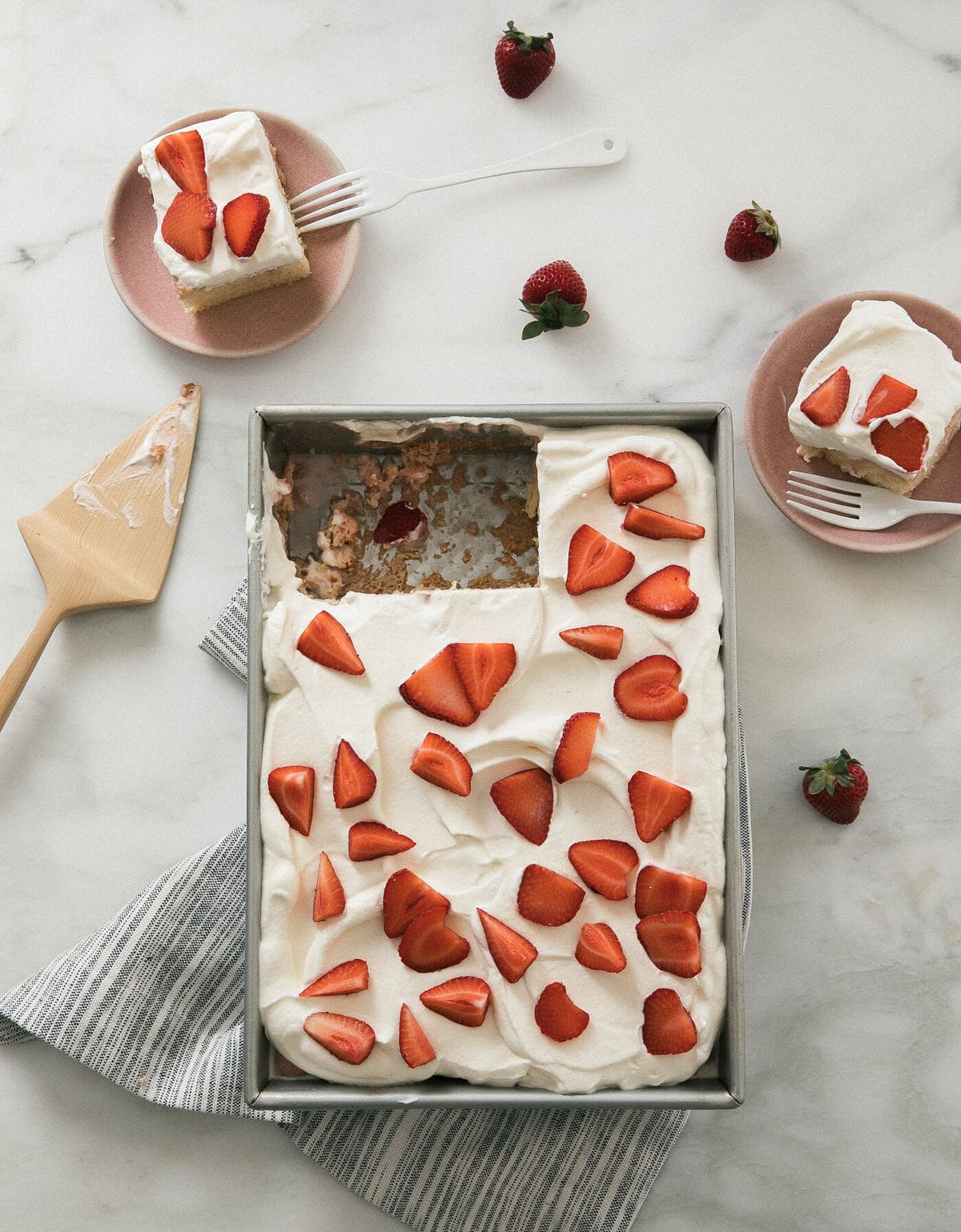 Ingredients
Strawberry Milk:

1 (14-ounce) can of sweetened condensed milk
1 1/4 cups whole milk
1/4 cup heavy cream
1/2 pound strawberries, stems removed

Tres Leches Sponge Cake:

1 1/2 cup all-purpose flour
1 1/2 teaspoon baking powder
1/4 teaspoon salt
6 large eggs, separated
1 cup sugar
1 teaspoon vanilla
1/3 cup milk

Topping:

1/2 cup heavy cream
1 tablespoon powdered sugar, sifted
Pinch of salt
1/2 pound strawberries, stems removed and sliced
Directions
To make the strawberry milk:

To a blender, add the sweetened condensed milk, whole milk, heavy cream and trimmed strawberries. Blend until pureed. Transfer the entire blender jar to the fridge to allow the strawberry puree to infuse the milk, about 1 hour.
I made this at the beginning of the recipe and then made the sponge cake and it was perfect timing. Run the strawberry milk through a strainer into a measuring cup or a bowl with a spout.

To Make the Tres Leches Sponge Cake:

Preheat the oven to 350 degrees F. Grease a 9x13-inch pan and set aside.
In a large bowl, whisk together flour, baking powder and salt. Set aside.
In a stand-up mixer with paddle attachment, beat egg yolks and sugar until pale yellow and double in volume. Mix in the vanilla and the milk on low speed just until combined, then fold the egg yolk mixture into the flour mixture.
Clean and dry the egg yolk bowl. Add the egg whites and beat with the whisk attachment on high until stiff peaks about 3 to 4 minutes.
Fold the egg white mixture into egg yolk and flour mixture.
Pour the batter into the cake pan and bake for 18 to 20 minutes. Let cool completely in the pan before proceeding with the rest of the recipe.

To Assemble + Topping:

Using a skewer or fork, create little holes on the top of the cake. Pour the strawberry milk mixture over the cake (it may seem like a lot but it will absorb!). Transfer to the fridge to 2 to 3 hours, ideally overnight.
Just before serving, make the whipped cream! To a bowl, using an electric mixer, mix the heavy cream and sifted powdered sugar. Top the cake with the fluffy whipped cream and garnish with slices of strawberry. Slice and serve.
https://www.acozykitchen.com/strawberry-milk-tres-leches/