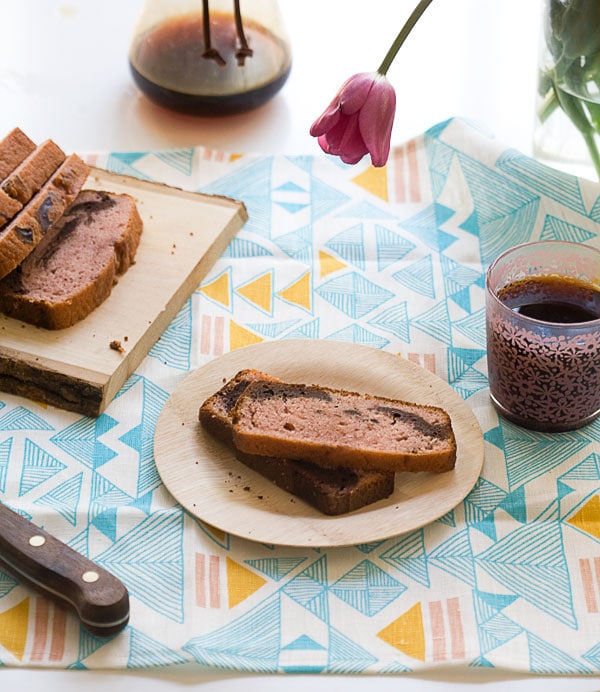 I've only recently become a weird morning person. I used to seriously turn off my alarm and then sleep the most anxious-ridden extra 15 minutes ever, knowing very well that I had to get up a few minutes later. Not a pleasant sleep but I'd still do it! WHY? So dumb. But now I set no alarm, and every single morning I miraculously wake up a little bit after 7am. (It also helps that I have a little beast of an animal I live with who whimpers at my face until my eyes finally open. So, I guess I do have an alarm clock, just not a traditional one.)
In college I had late night film classes and super early morning classes, which meant I was an awful person to be around before 10am. The one thing that would get me through the drudge of early morning stuff was the local coffee shop which had terrible coffee BUT an awesome marble loaf. It was seriously the only thing that kept me from sleeping through the first day's class.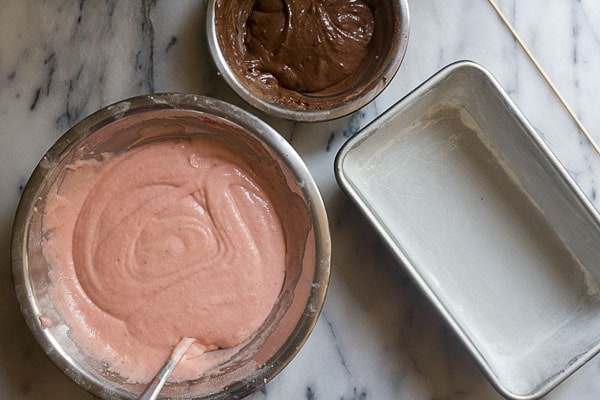 Marble loaf is kinda one of those things that skates the line between dessert and breakfast.
I'm not complaining (I'd never complain about something like that), because all it means is that you could make one loaf and have a few slices for breakfast with coffee and then have a few slices for dessert with a scoop of ice cream.
This thing is multi-funtional, guys. Like a good unisex t-shirt or something.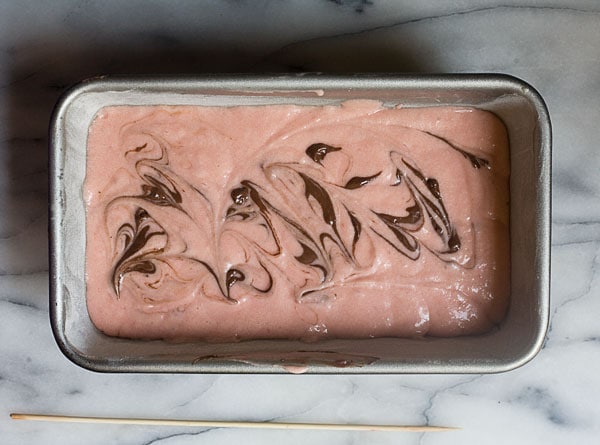 Now, before you disregard this thing because you see two colors of batter which means two batters must be made, which also means a ton of dishes and nonsense like that. No. I'd never do that to you.
One batter is made and then divided. The second batter is spiked with chocolate. The mixture is added in a checker-pattern and then a skewer makes it all marbly.
When you slice it in half, they'll be lots of ooooos and ahhhs because it's so dang pretty. And tasty too. The pink parts of this cake very much like fresh strawberry and the chocolate parts, well, taste like a chocolate pound cake.
I love this thing.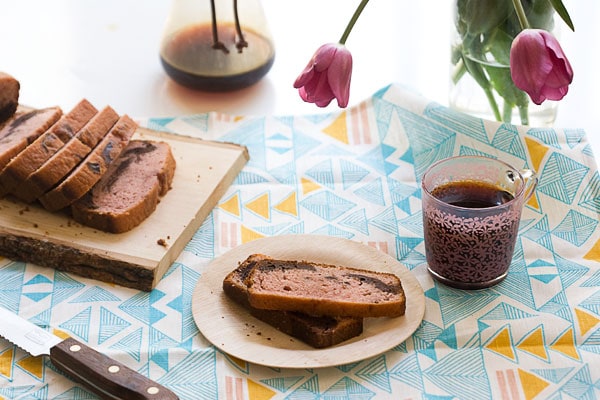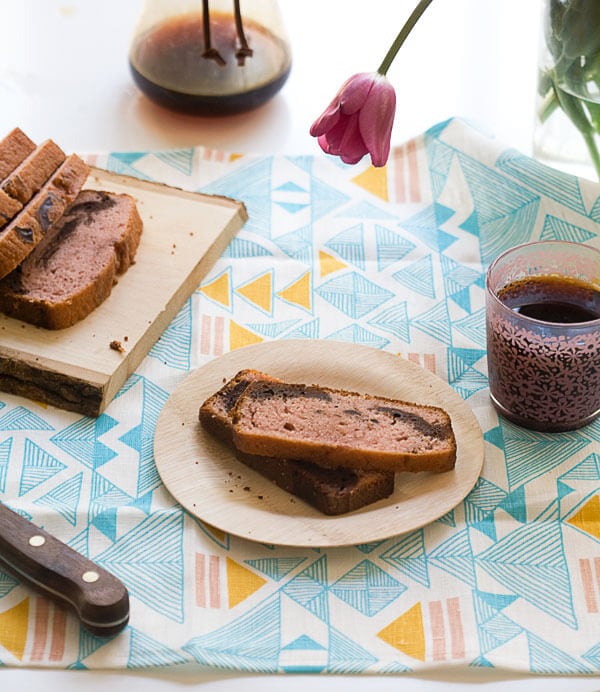 Print Recipe
Strawberry and Chocolate Marble Loaf
Ingredients
5-6

fresh medium strawberries

chopped with stems removed

½

cup

buttermilk

2-3

drops red food coloring

optional

½

cup

1 stick unsalted butter, room temperature, plus more for pan

1 ¾

cups

cake flour

not self-rising

2

teaspoons

baking powder

½

teaspoon

salt

1

cup

sugar

3

large eggs

room temperature

1

teaspoon

pure vanilla extract

¼

cup

plus 1 tablespoon Dutch-process cocoa powder
Instructions
In a food processor, add the strawberries. Puree until smooth. Run the mixture through a sieve, discarding the strawberry pulp. Measure out ¼ cup of strawberry puree and mix it with ½ cup buttermilk. If you want it to be a very pink hue, add 2-3 drops of food coloring into the buttermilk mixture and stir until combined. Set aside.

Preheat oven to 350 degrees. Generously butter a 9-by-5-inch loaf pan; set aside. Whisk together the cake flour, baking powder, and salt; set aside.

In the bowl of an electric mixer fitted with the paddle attachment, beat the butter and sugar until light and fluffy, about 5 minutes. Add eggs, one at a time, beating until combined after each addition and scraping down the sides of the bowl as needed. Mix in vanilla. Add flour mixture in 2 batches, alternating with the strawberry/buttermilk and beginning and ending with the flour. Set aside ⅓ of the batter (about 1 cup).

In a bowl, mix cocoa and ¼ cup plus 2 tablespoons boiling water with a rubber spatula until smooth. Add the cocoa mixture to the reserved cake batter; stir until well combined.

Spoon batters into the prepared pan in 2 layers, alternating spoonfuls of strawberry and chocolate to simulate a checkerboard. To create marbling, run a table knife (or wooden skewer) through the batters in a swirling motion.

Bake, rotating the pan halfway through, until a cake tester comes out clean, 40 to 45 minutes. Transfer pan to a rack to cool 10 minutes. Turn out cake from pan and cool completely on the rack. Cake can be kept in an airtight container at room temperature up to 3 days.
Recipe adapted from Martha Stewart.