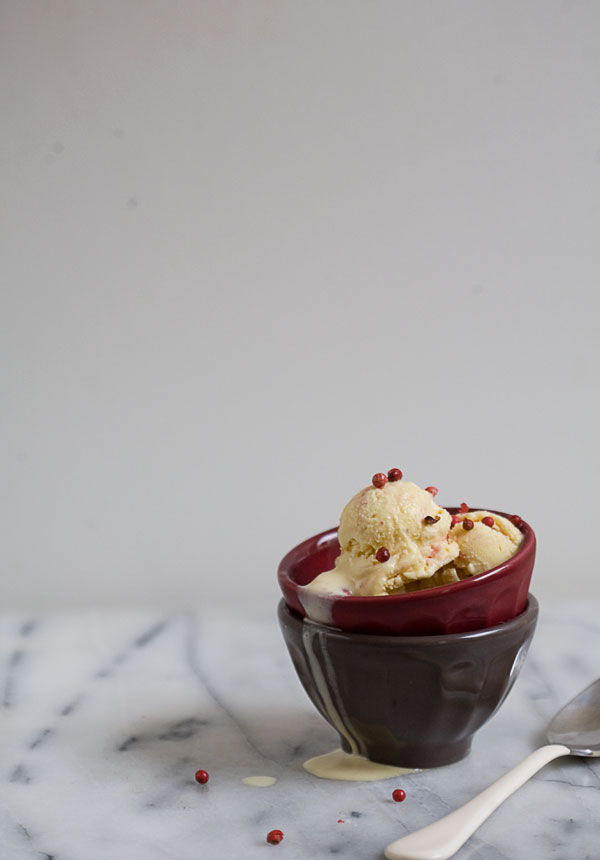 Have you ever had a pink peppercorn before? I first came across them years ago when I bought one of those pretty rainbow peppercorn grinders from Trader Joe's; it was filled with a variety of peppercorns: white, black, grey and pink. I remember taking all the pink ones out like a psycho woman and thinking how cool I'd be to make a girly version of cacio e pepe.
I was sort of bummed to find out that pink peppercorns didn't actually taste all that peppery, and were actually more floral than spicy. The cacio e pepe didn't really turn out how I'd hoped, but I was still obsessed with those pink peppercorns. I never forgot, man!
Strawberry and black pepper is a match made in heaven. It's a popular pairing that you might've already seen in jam or cakes or pies. So I figured the teeny spicy notes in pink peppercorns and their floral attributes might work well with strawberries. AND I was right.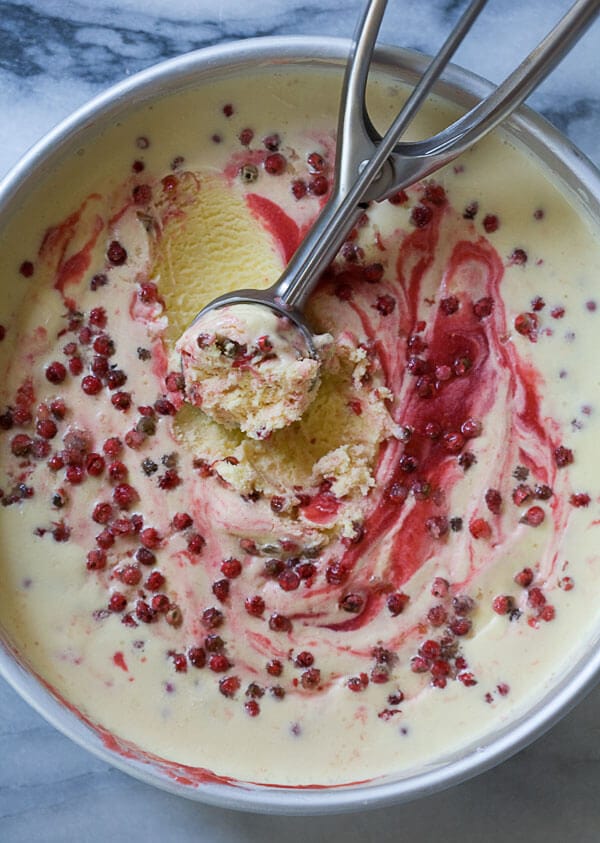 I tried one version where I steeped a bunch of pink peppercorns in the buttermilk custard but it didn't really work. Their flavor didn't really come through. I think pink peppercorns have a really subtle tasting note so adding them to the top of this ice cream is the move.
PS: If you're Los Angeles-based, go to The Spice Station to pick up pink peppercorns. One ounce was about $2. Very low risk. Here's a link to Amazon where you can buy them online. Any Whole Foods or gourmet market should have them, too.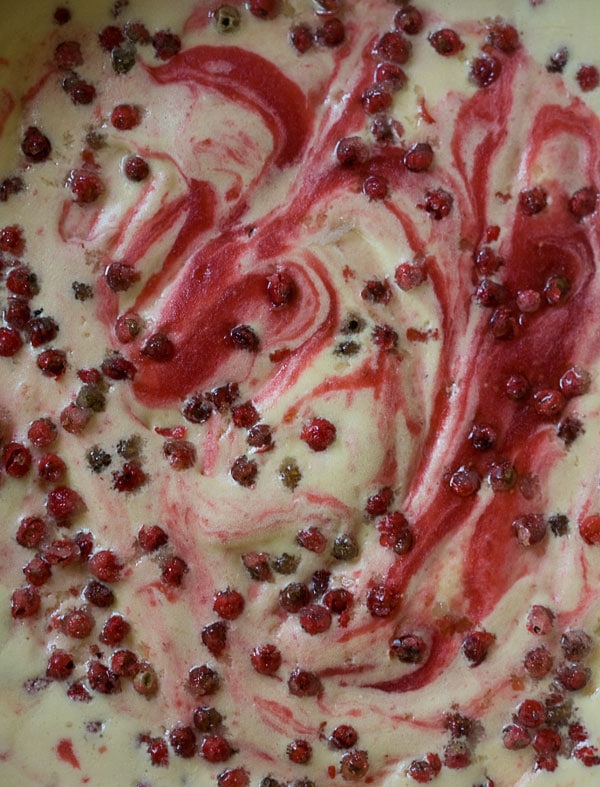 The base of the recipe is a buttermilk ice cream. And I'm obsessed with it. It was so good I could barely wait for it to chill in the fridge before churning this situation. I'd sneak in the fridge with a spoon and take a spoonful one after the other. I was a mad woman. Also, can we talk about how I have to be in a bathing suit in a few weeks. I seriously hate it. HATE. I feel like I might just embrace the one piece. Is that giving up?
Let's think about that later...let's get back to ice cream.
The buttermilk ice cream is a winner - not too sweet, not too rich, just right. The tang works so many awesome wonders with the sweet strawberry swirl and the floral crunchy candied pink peppercorns.
If you're going to pick something to destroy your diet with, this is your move.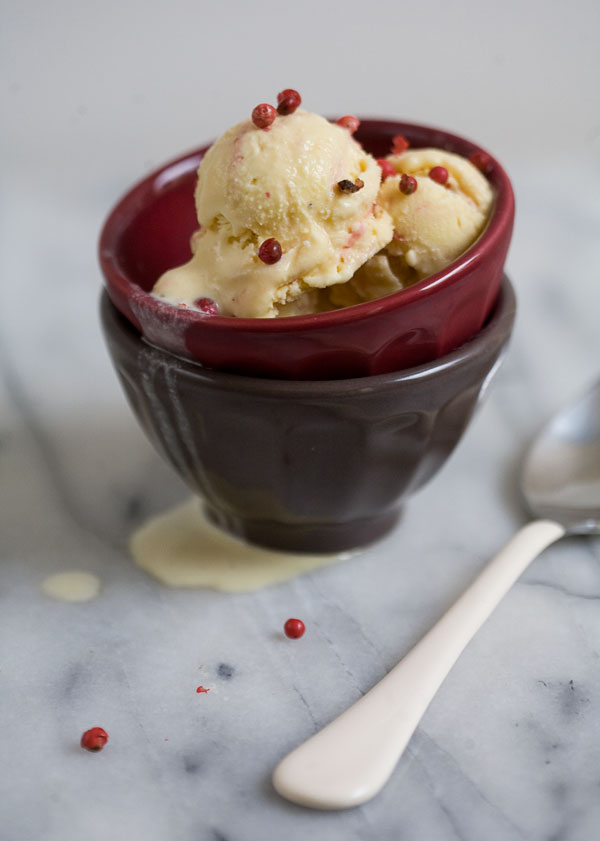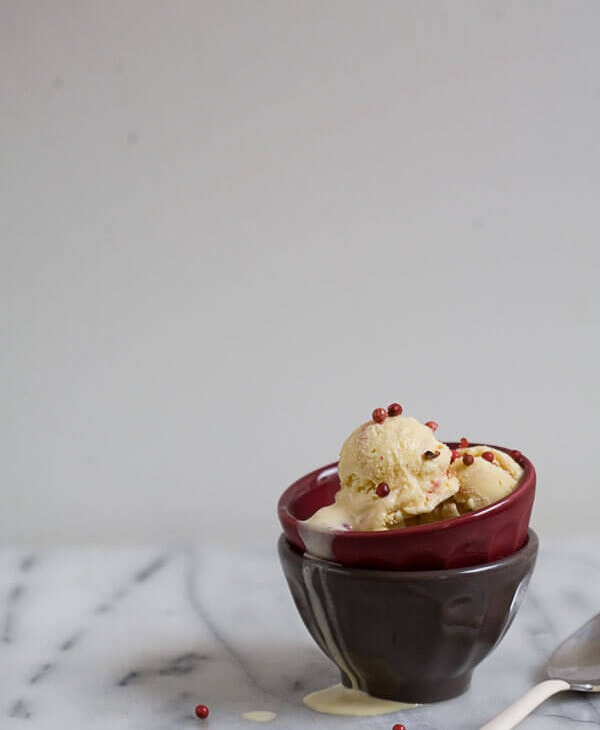 Print Recipe
Strawberry Swirl Buttermilk Ice Cream with Candied Pink Peppercorns
Ingredients
Buttermilk Ice Cream:
1

cup

heavy cream

¾

cup

sugar

¼

teaspoon

salt

4

egg yolks

1

cup

buttermilk
Candied Pink Peppercorns:
¾

cup

plus 2 tablespoons, sugar (divided)

¼

cup

water

2

tablespoon

whole pink peppercorns
Strawberry Swirl:
½

pound

strawberries

hulled and sliced

3

tablespoons

sugar

Pinch

of salt
Instructions
To a bowl, prepare an ice bath by adding 10 or so ice cubes and adding a few splashes of water. Set a slightly smaller bowl inside the bigger bowl and set a sieve or strain inside the smaller bowl. Set the whole ice bath contraption aside.

To a medium saucepan, add the heavy cream and sugar; heat over medium until the cream reaches a slight simmer. Once it reaches a simmer, remove from heat.

In a medium mixing bowl, beat the egg yolks together, thoroughly. Next you're going to temper the cream mixture. Whisking the entire time, add about ¼ cup of warm cream to the egg yolks. Add the remainder of the cream to the egg yolk mixture and whisk. Return the entire mixture back to the medium saucepan and place over low heat. Cook the milk and yolk mixture, stirring constantly, until the thermometer reads 170 to 175 degrees F and the mixture appears thick and coats the back of the spoon.

Pour the mixture through the sieve into the bowl. Lastly, stir in the buttermilk. Keep mixing until the mixture is room temperature. Wrap the bowl in plastic and transfer it to the fridge for 4-5 hours, or overnight, until very cold.

While the ice cream is chilling in the fridge, let's make the candied pink peppercorns and strawberry swirl! Add two tablespoons of sugar to a small bowl. Place a small saucepan over medium heat. Add the remaining ¾ cup sugar and water and mix until dissolved. When the sugar is dissolved, add the peppercorns and cook for 1 minute. Using a slotted spoon, remove the peppercorns from the syrup and add them to the small bowl of sugar, tossing and coating them evenly. Transfer the peppercorns and place them on a sheet of wax paper or parchment, being sure none of touching. Set aside.

To make the strawberry swirl, add strawberries to a food processor and pulse until pureed. Set a medium skillet over medium-low heat and add the strawberries, sugar and pinch of salt. Cook for about 5-7 minutes, and until reduced by about half. You should end up with a little over ½ cup strawberry concentrate. Place in the refrigerator until you're ready to use.

Churn the mixture into the bowl of your ice cream maker, according to your ice cream maker's instructions. When the ice cream is done churning, transfer one third of the ice-cream to a container and drizzle about one third of the strawberry swirl over it. Repeat the process, layering with the remaining ice cream and strawberry swirl. Top with the pink peppercorns. Freeze the ice cream until hard, about 8 hours or so.