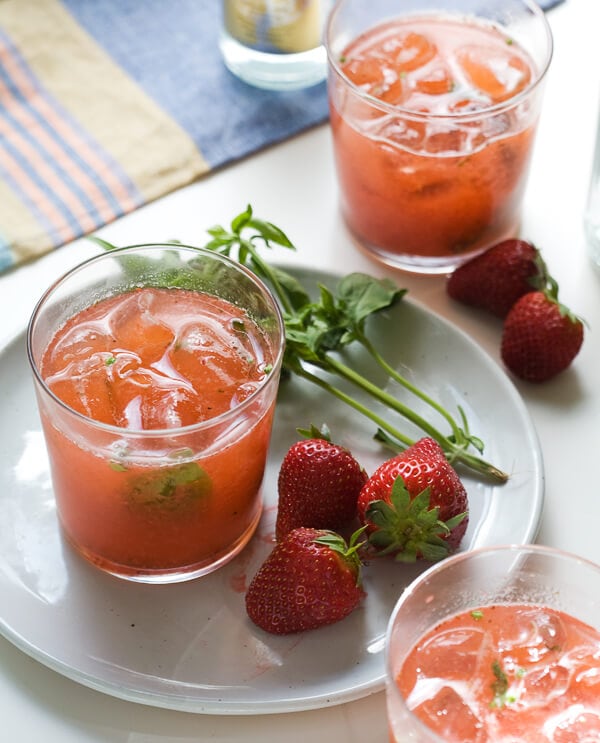 I was going start this paragraph by saying, "Cocktail season is here!" But then I stopped myself because we all know that it's always cocktail season on this blog. Duh. This cocktail in particular is seasonal, I suppose, though I see nothing wrong with using frozen strawberries, making this drank doable year-round.
Sure this looks like a pretty simple strawberry basil situation mixed with some gin, but I can assure you it's a bit more special. I can't get near strawberries without thinking of adding a dash of black pepper and a drizzle of balsamic vinegar. It's just too easy! So this cocktail has a bit of weird stuff added to it, but do you expect any less from me? No, you don't.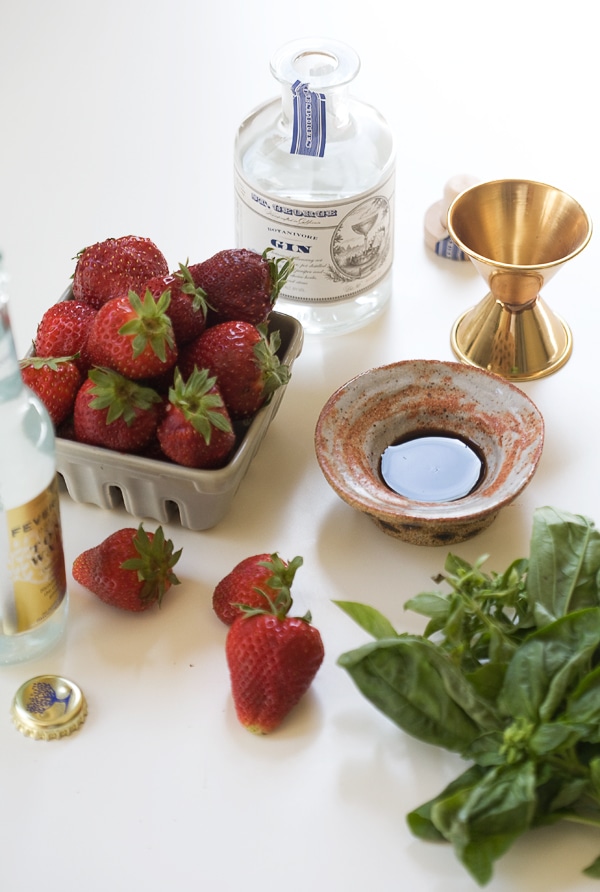 In other news, thanks for all your concern with Amelia. I'm happy to report that she's back to barking a lot, stealing shoes, drinking my afternoon tea when I'm not looking and so on. So she's better.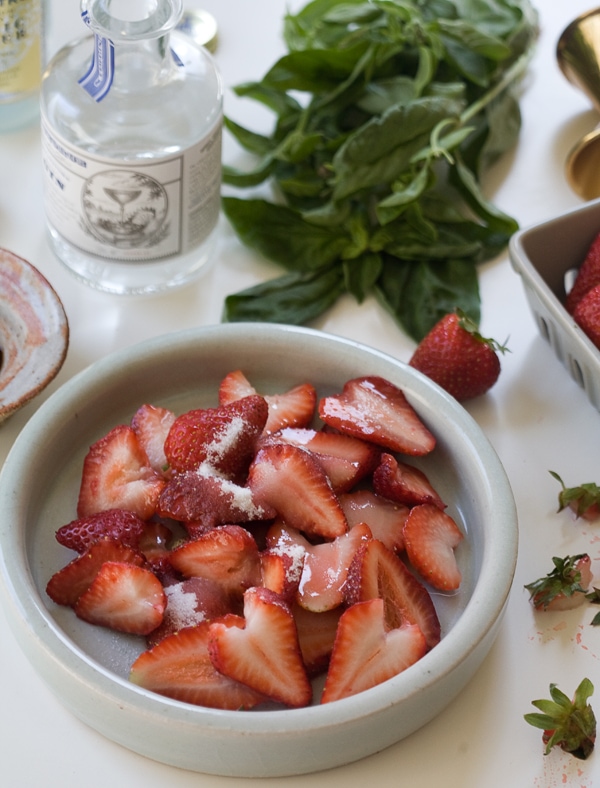 Tuesday was a scary night that involved only a few hours of sleep and me trying to recall every single bit of food she ate. Of course, she's known to eat all sorts of things off the ground. Just a few weeks ago I turned around at the park and she had her snout in old Chinese take out. Why someone left that much chicken lo-mein is beyond me, but Amelia was super grateful about it.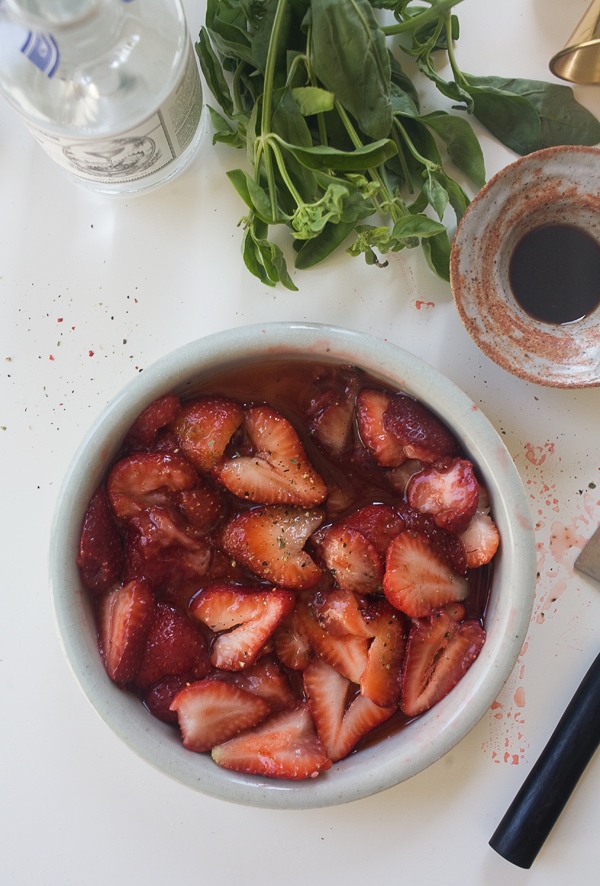 Back to this cocktail thingy...
This whole thing starts with macerating the strawberries in a bit of white sugar, salt, black pepper and balsamic vinegar; and then letting them chill for 15 minutes or so. This gets the strawberries going! The entire mixture is blended and then strained. (The straining is totally optional, I just don't like all those seeds).
I had no muddler. But that's ok because it's easy to improvise. The back of a wooden spoon did the trick just fine. A lot of herbs' flavor comes from the stems so be sure to mash the stems thoroughly. And since I love the little basil flowers, I added those as garnish on the top. It's effervescent, refreshing and slightly sweet.
Here's to a cute weekend.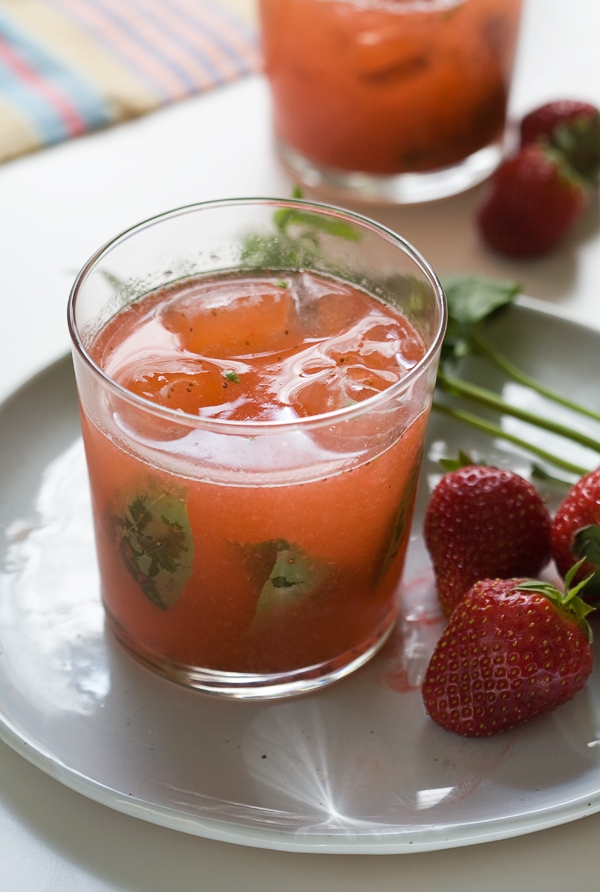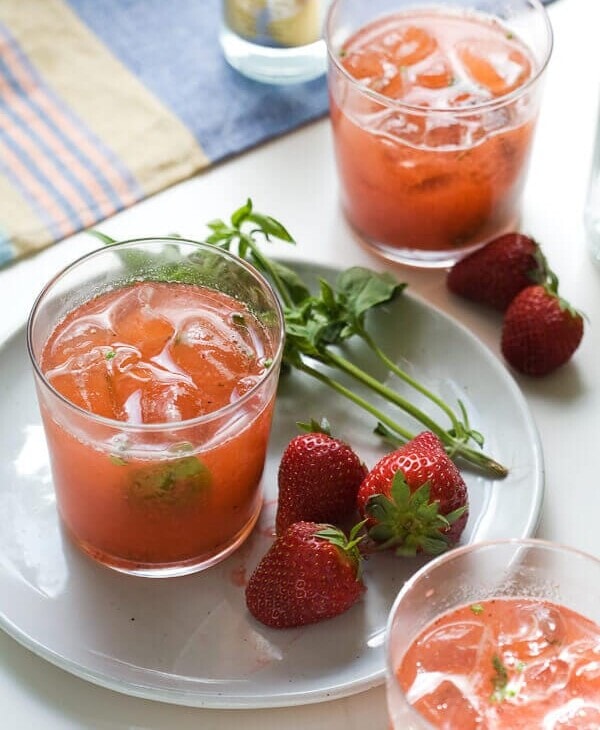 Print Recipe
Strawberry Basil Gin and Tonic
Ingredients
1

pint

fresh strawberries

no reason frozen can't be substituted, hulled and sliced

Scant ½ cup white granulated sugar

Pinch

of sea salt

½

teaspoon

freshly ground pepper

1

tablespoon

balsamic vinegar

Handful of fresh basil

4-6

ounces

of your favorite gin

my used St. George's Gin
Instructions
In a medium bowl, add the strawberries, along with the sugar, pinch of salt, pepper and balsamic vinegar. Allow the strawberries to sit for 10 to 15 minutes. To a blender, add the strawberries and all their juices. Pulse until the mixture resembles a puree. Give it a taste and adjust the sugar accordingly. Run the mixture through a sieve, discarding the seeds and pulp. You should end up with a scant ½ cup.

To assemble the cocktail, divide the basil leaves between glasses. Muddle the basil leaves, being sure to press the stems, with a muddler (or you can use the back of a wooden spoon). Fill all the glasses with ice cubes. Pour in 1 to 2 ounces of gin, 2 to 3 tablespoons of strawberry mixture and top with tonic. Give the mixture a good stir and garnish with basil flowers and a few turns of freshly ground pepper.