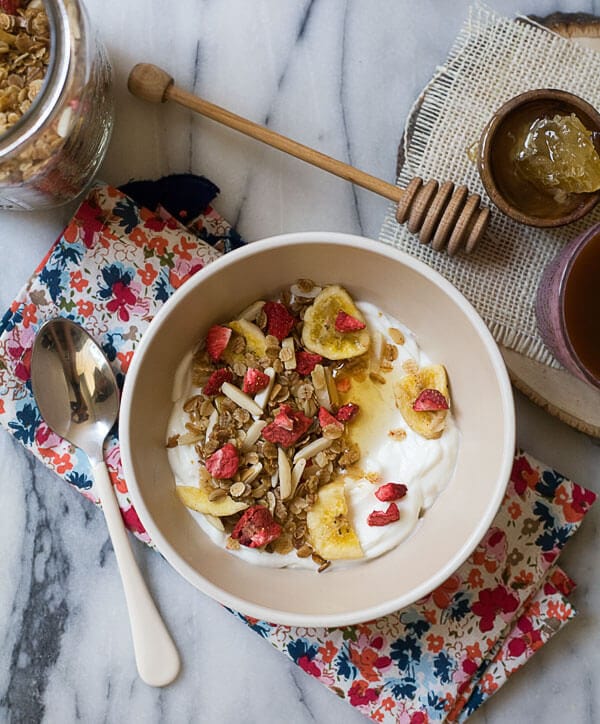 You know the bulk bin area at the grocery store? You know, the area where they have all the crazy nuts, different flours, dried fruits and oats. THAT place is my absolute favorite section.
I feel like my brain goes into overdrive and all I wanna do is try all sorts of stuff I'd never normally think to cook with. It's inspiration central. It's also the place where people loooove sticking their entire hands into the bins so they can try a little bit of this or that. WHY?! Not ok. As a society we should be a little better than this. I mean, at least use the scooper!
Right now I'm having a moment with freeze dried strawberries. I blame the astronaut ice cream I loved eating whenever we took family trips to the space museum. If you're new to the world of freeze dried fruit, it has the same exact texture as the astro ice cream but a totally different flavor. Think strawberries in overdrive. Yes, it's magical.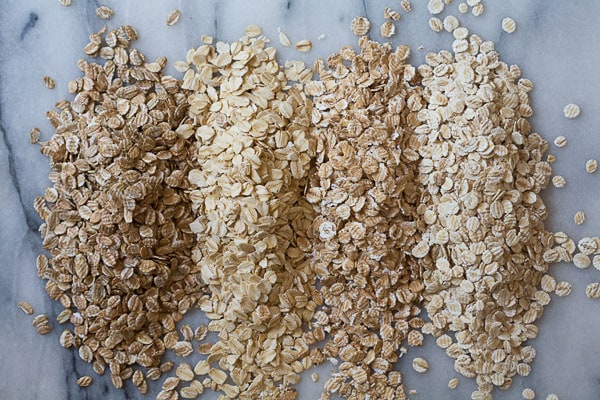 I love mixing up the grains in granola.
This combo includes (from left to right): barley flakes, wheat flakes, rye flakes and oat flakes.
Rather than buying big bags of each, I headed to the bulk bin section and ended up spending a few dollars for all of them. It's a place where you can get just what you need.
The four grains add such nice flavor to this granola. Also, sticking to this particular combo isn't necessary. Use what you're curious about or use what you like.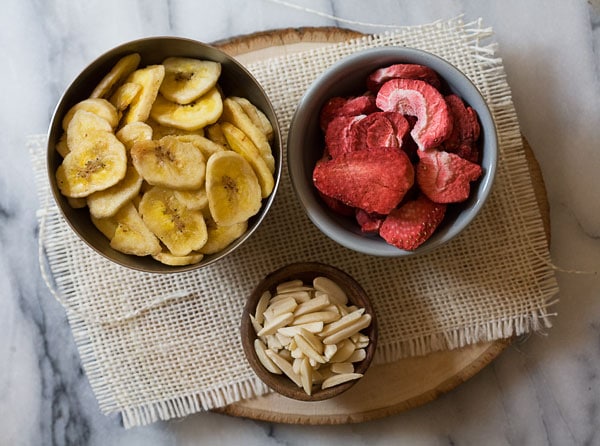 A lot of granola recipes call for melted butter, but honestly I kind of like just using straight up olive oil. I've found that I don't need the extra added butter. And sometimes it's kind of nice to just take a butter break. We all need a butter break from time to time.
After the granola is baked with maple syrup, olive oil, brown sugar, a few spices and some salt, it gets tossed with dried banana chips and the freeze dried strawberries.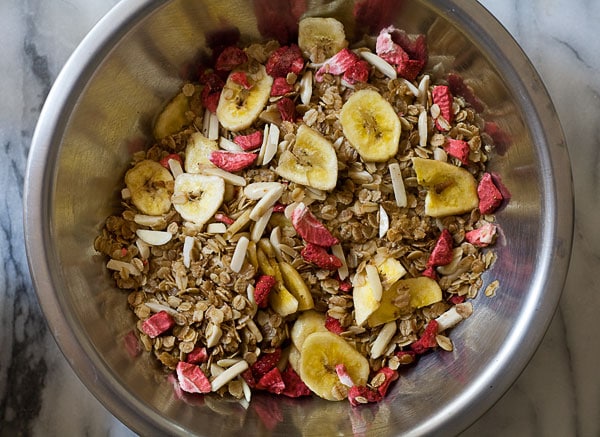 The strawberry flavor is intense! And the banana chips are sweet and actually taste so much like banana they almost don't taste real. The different variety of flakes gives this granola such a great nuttiness that I think the almonds could be totally optional.
I ate this granola on top of some tangy Greek yogurt with a heavy drizzle of honey. This granola reminded me why breakfast is my favorite meal of the day.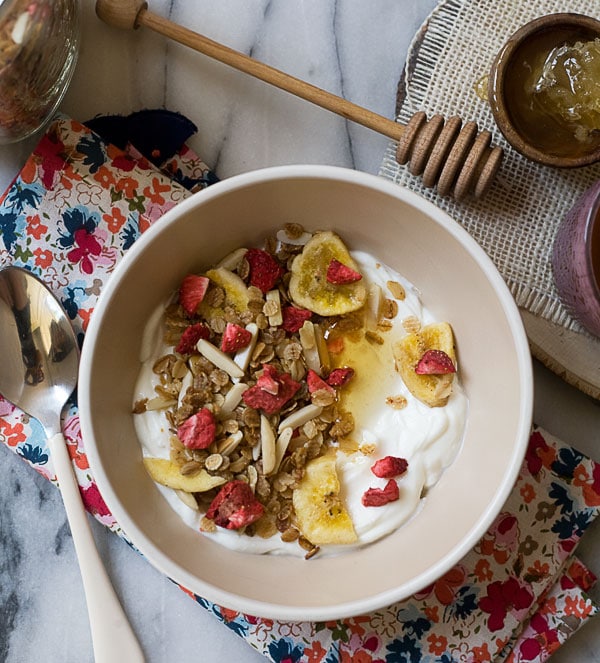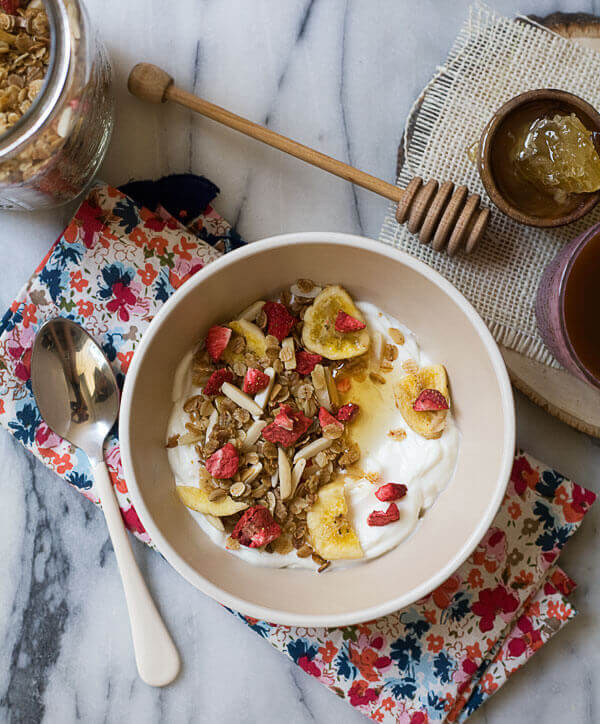 Print Recipe
Strawberry and Banana Four Grain Granola
Ingredients
1/2

cup

oat flakes

1/2

cup

barley flakes

1/2

cup

rye flakes

1/2

cup

wheat flakes

1/3

cup

brown sugar

1/4

cup

plus 2 tablespoons, olive oil

1/4

cup

maple syrup or honey

1/2

teaspoon

pure vanilla extract

1/4

teaspoon

freshly ground nutmeg

1/4

teaspoon

sea salt

1/4

cup

slivered almonds

optional

1/2

cup

dried banana chips

1/2

cup

freeze dried strawberries

diced
Instructions
Preheat the oven to 300 degrees F. Line a baking sheet with parchment and set aside.

In a large bowl, toss together the oat flakes, barley flakes, rye flakes, wheat flakes and brown sugar. Set aside.

To a small saucepan, mix together the olive oil, maple syrup, vanilla, nutmeg and salt. Cook over medium heat for about a minute, until the salt is dissolved and the oil looks glossy. In two batches, add the olive oil mixture to the flake mixture, tossing the granola each time to ensure it's evenly distributed.

Spread the granola onto the baking sheet and bake for 20-25 minutes, tossing it once at the 10-minute mark. Remove from the oven and let it cool to room temperature. Toss it with the almond slivers, banana chips and freeze dried strawberries. Store in an airtight container for up to two weeks. Serve atop a bowl of yogurt and a drizzle of honey--it's the move!