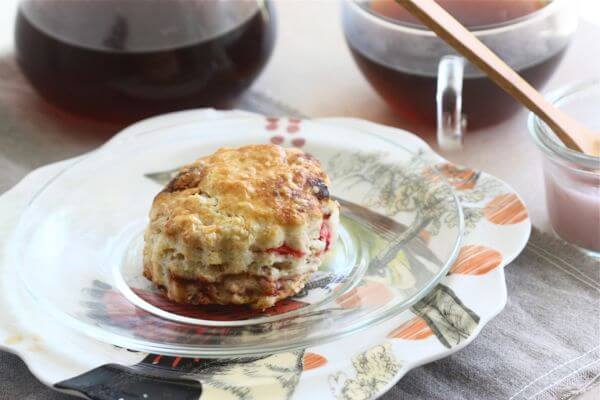 I have such a crush on Sundays. And I know it sucks that I'm telling you this, because it's Monday now, which is literally the furthest possible day from Sunday, so sorry in advance!
Cool Sundays always have laziness. That's a must. Maybe a few mimosas or bloody marys. Sundays; the only day when alcohol in the morning is totally kosher, am I right? Meals outside in the half sun – always just half sun, direct sun is super lame. Never do direct sun. Wrinkles! And then, when the sun goes does you can turn on the teevee and watch the best tv ever. Mad Men, Game of Thrones, Girls, etc etc. Hey fun, heyy!
Sundays always involve a little cooking, baking, or eating something awesome. It's a requirement. Yesterday I baked up these lovely things. They feel so summer-ey, and even though we're totally not there yet, they remind me of Wimbledon in early July.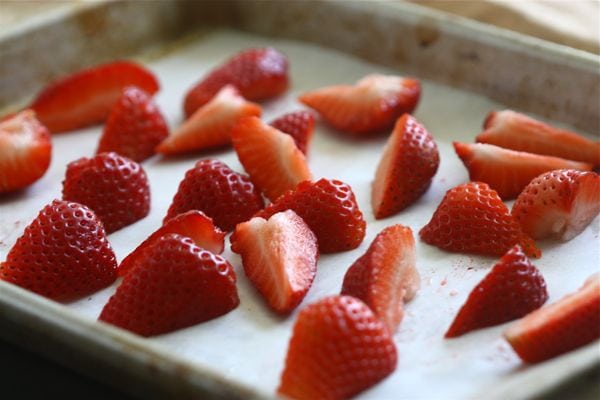 As a kid watching Wimbledon, my favorite part of the broadcast was always the intro when they'd show people in line getting strawberries and cream. The dude working the concession stand would ladle this rich, thick cream all over these beautiful bright red strawberries.
My dream of going to Wimbledon is half tennis, half strawberries and cream. Total truth.
These things you see pictured are totally my Wimbledon dreams in baked form: scones.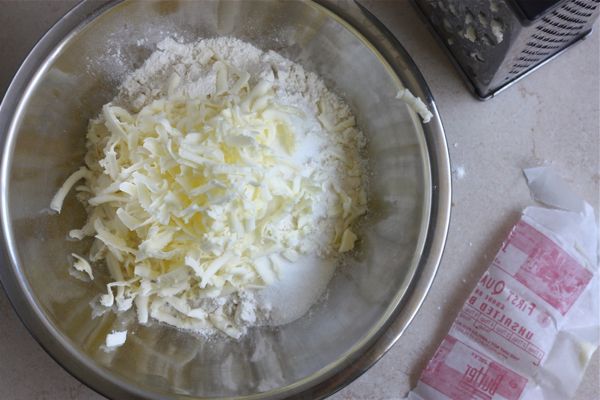 They start with a really good cream scone recipe. I tweaked the one from America's Test Kitchen. It's as solid as can be.
Also, if you're into food experiments, I highly recommend getting a subscription to America's Test Kitchen. When my friends call and are all like, Let's go out! There's this party. And I'm all like, Oh I can't I have work to do blah blah, sorry! You can usually just cut to me sitting in my pjs on my bed watching these nerdy videos about making the perfect waffles. Kind of sad. OR AWESOME.
More about scones and stuff.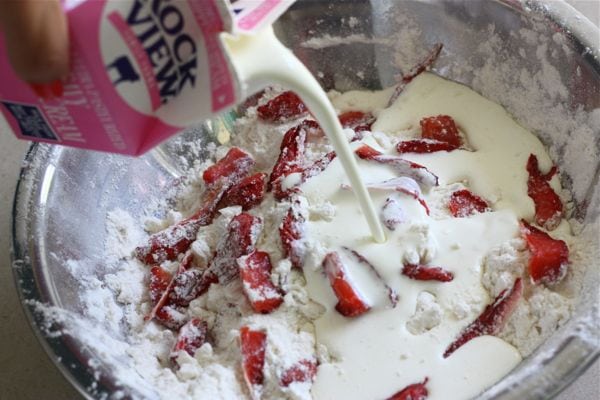 These things start with dehydrating the strawberries for a lil' bit. Strawberries have a lot of water, so a trip to the oven for 45 minutes at 200 degrees, dries them out a bit. That way you don't have soggy scones. Who wants soggy scones! No one. That's the worst!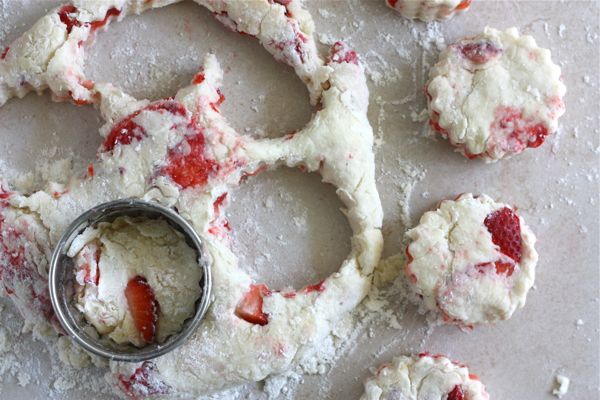 Flour. Leavening. Just the perfect amount of sugar. And super cold butter. All mixed up!
And then there's the dried out strawberries and heavy cream.
After they bake up, they're delicious. Fresh. Not too sweet, not too tart. Simply perfect. I like them how I like everything: with a cup of coffee. But I bet they'd be pretty awesome with a mimosa, too.
Strawberries & Cream Scones
8 medium strawberries, quartered
2 cups unbleached all-purpose flour
1 tablespoon baking powder
3 tablespoons white granulated sugar
1/2 teaspoon fine sea salt
5 tablespoons unsalted butter, cold
1 cup heavy cream
1. Preheat oven to 200 degrees F. Place strawberries on a lined baking sheet. Transfer the baking sheet to the oven and bake for 45 minutes, until strawberries are slightly de-hydrated. Set aside to cool.
2. Adjust oven rack to middle position and turn oven up to 425 degrees F.
3. Place flour, baking powder, sugar, and salt in large bowl. Whisk together until thoroughly combined.
4. Using a box grater, grate the cold butter into the flour mixture. Working quickly, and using your hands, mix the butter into the flour mixture until it resembles a coarse meal. Gently stir in strawberries. Pour in the heavy cream and mix until the dough begins to form, about 30 seconds.
6. Transfer dough and all dry, floury bits to a slightly floured countertop and knead dough by hand just until it comes together into a rough, slightly sticky ball, 5 to 10 seconds. Pat the scones flat to a 1-inch thickness. You can cut the scones into 8 wedges or you can use a biscuit cutter. I did the latter and ended up with 8 round scones. Place the scones on a parchment-lined baking sheet. Beat an egg with a tablespoon of water together and brush the tops' of the scones with the egg wash.
7. Transfer the baking sheet to the hot oven and bake until scones are light brown, 12 to 15 minutes. Cool on a wire rack for at least 10 minutes. Serve warm with butter.
Recipe tweaked from America's Test Kitchen