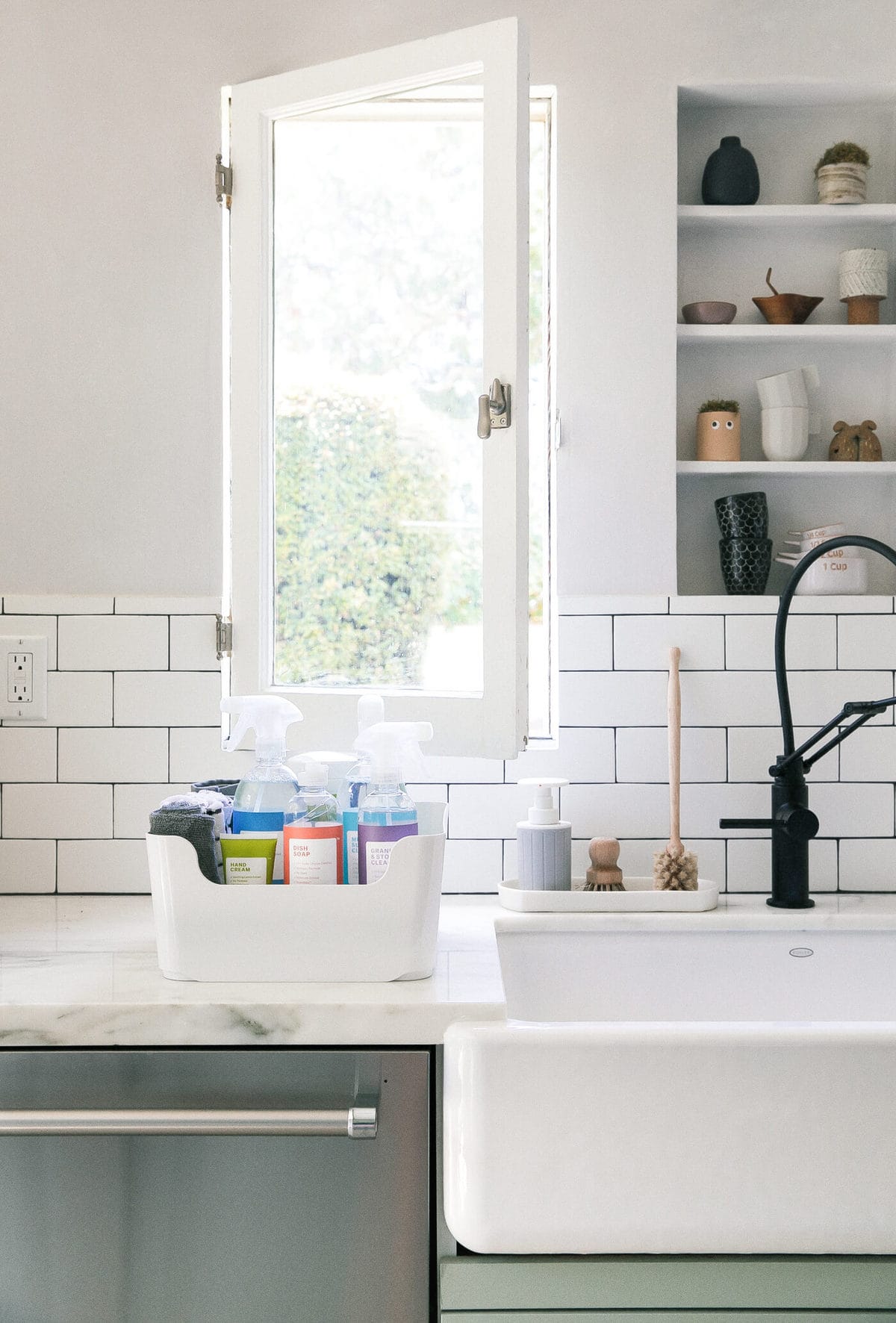 Spring cleaning is in full effect in casa cozy and if I'm being real, cleaning/organizational stuff is not my strength. I love for things to be tidy, organized and look like a Pinterest image at all times, but the truth is, cooking and shooting food makes a gigantic mess.
The kitchen looks like a bomb went off probably 80% of the time. At the end of each shoot/bake day, we clean up everything, but there's still, like, grime on the hood and frosting speckles on the back of the tile, so today I'm showing you what I'm doing to do a deep clean for Spring in the kitchen.
For this post, I teamed up with Brandless, which is my new favorite website to buy all things cleaning and more. Here are some reasons why Brandless is dope:
1. Everything on the entire site is $3 or less.
2. Shipping is a flat fee of $5 for orders of $35 or more. And for $36 a year you'll receive unlimited free shipping with their B. More Membership.
3. All of their cleaning supplies are nontoxic and smell like a dream. Seriously the smell combinations are delicious and will make your house smell like a field of flowers.
4. Ordering everything online makes it super easy.
5. All of their branding and labels are so pretty and cohesive.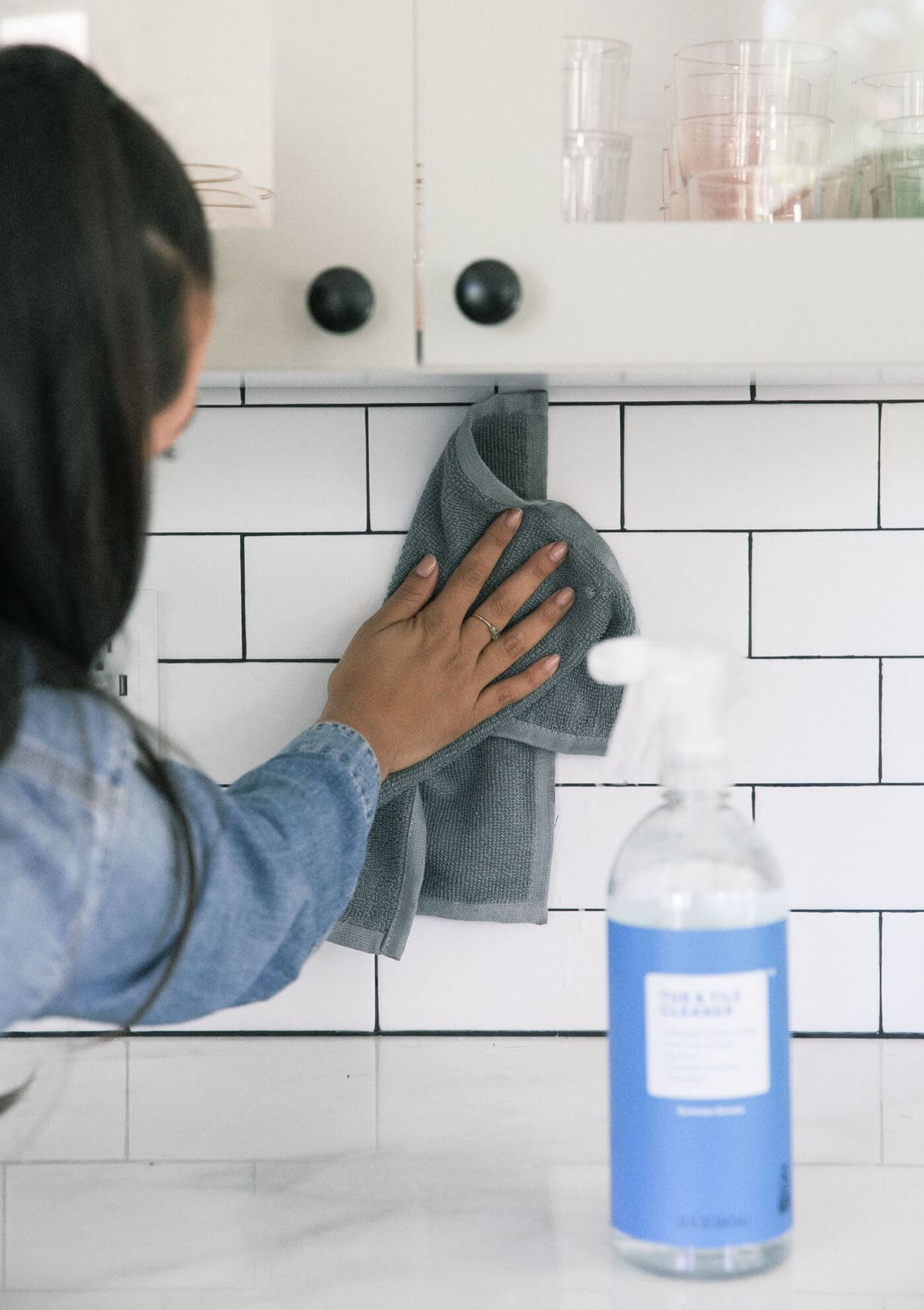 To make things fun, I decided to show you what I did in order to clean the kitchen.
I removed everything from the counters and gave the backsplash a good scrub using their Tub & Tile Cleaner. The tile wasn't THAT dirty but I did find a few blobs of dried up frosting (cute) and some smudges that are now gone.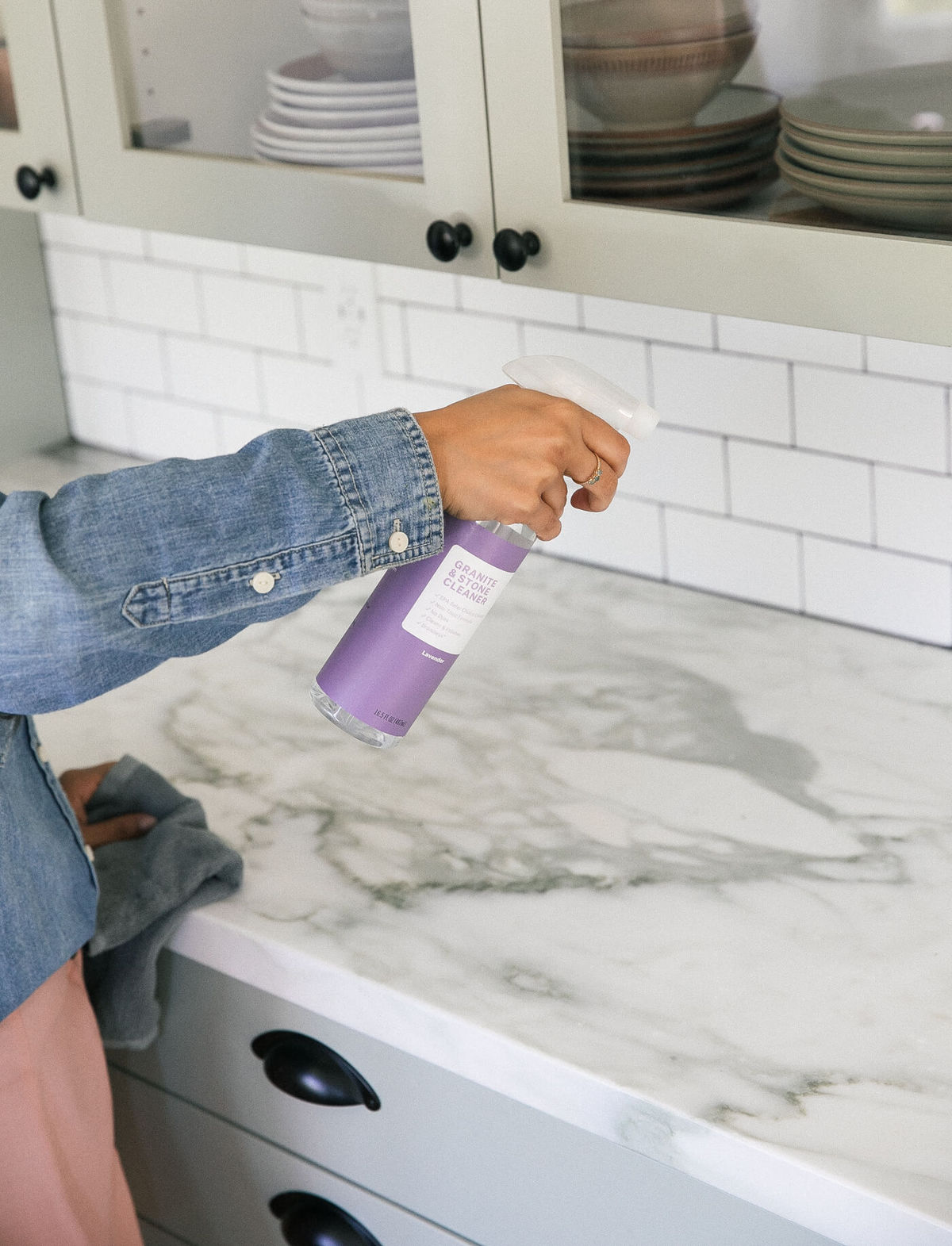 Then I scrubbed down the marble countertops using their Grante & Stone Cleaner. Again, it wasn't super dirty but I did find little crumbs hiding behind the cutting boards and cake stand. Removing every single thing from the counters is key.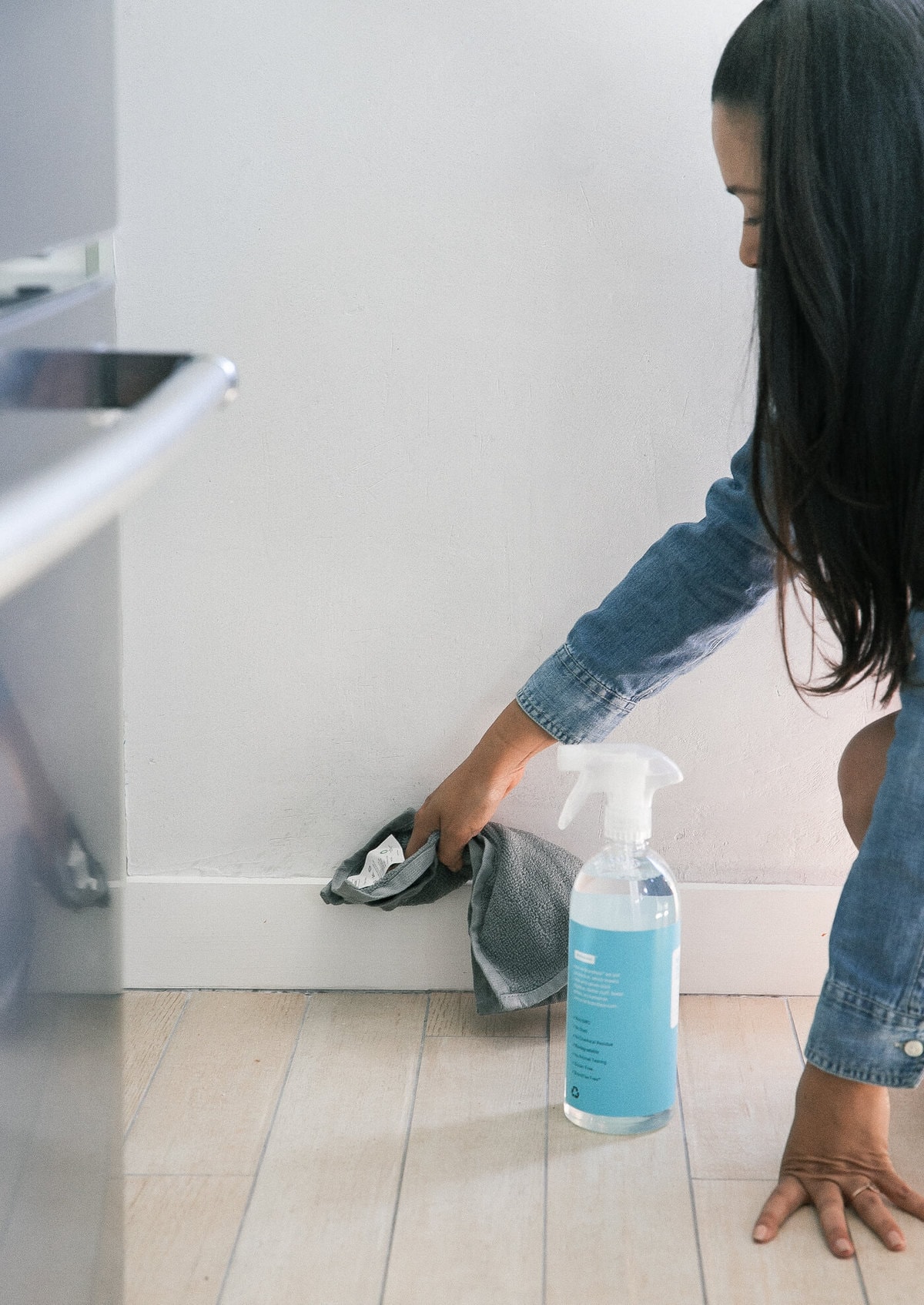 I then wiped down the baseboards and hard-to-reach crevices using their Multi-Surface Cleaner. No surprise but I found powdered sugar on the baseboard near my stand-up mixer. Lol.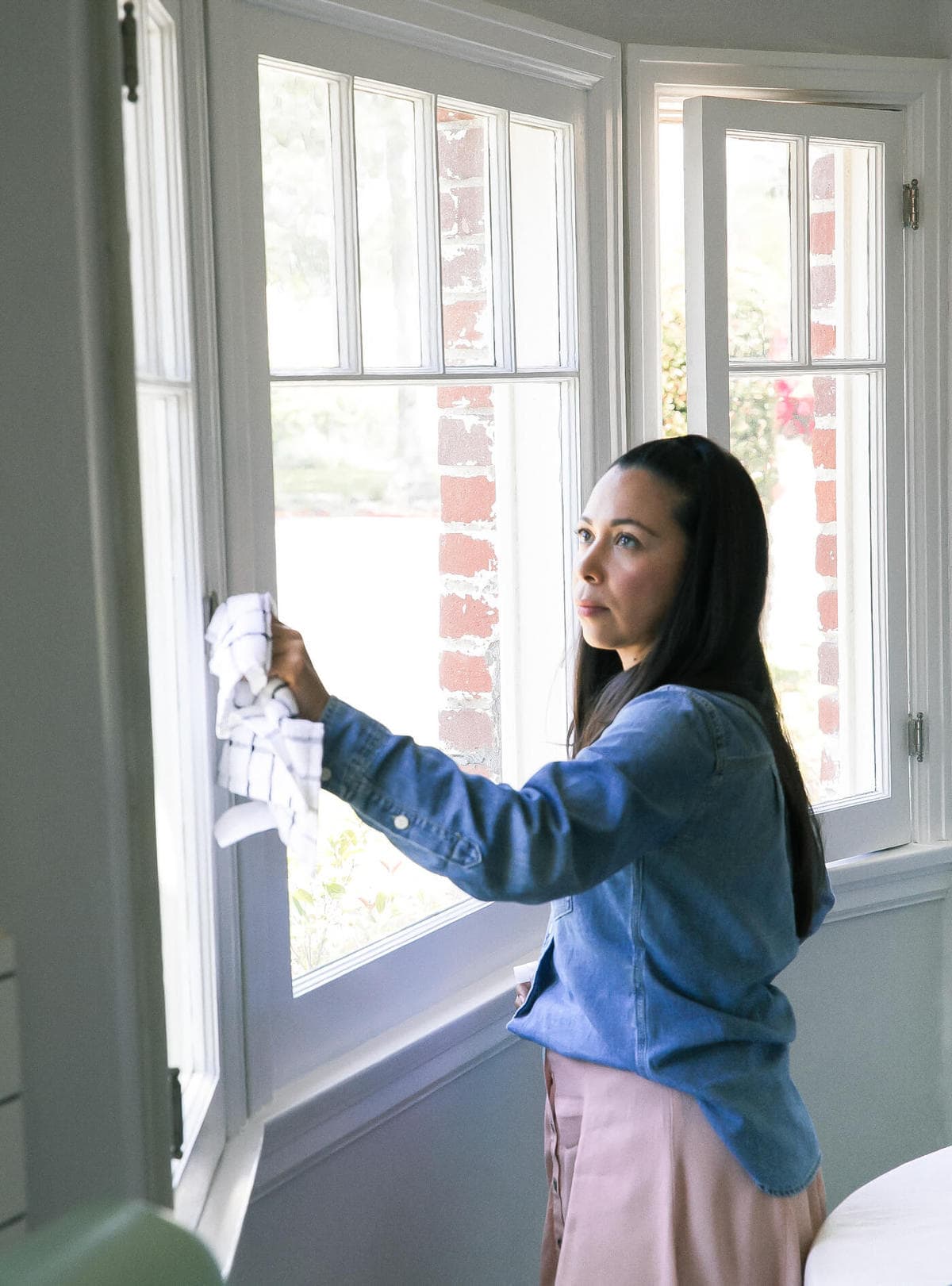 I used their Glass Cleaner and Multi-Surface Cleaner to wipe down the window sills (they were super dusty) and cleaned the windows, inside and out.
I wiped down all the appliances and cleaned out the fridge using their Multi-Surface Cleaner and used their dish soap for the vegetable bins that I washed in the sink.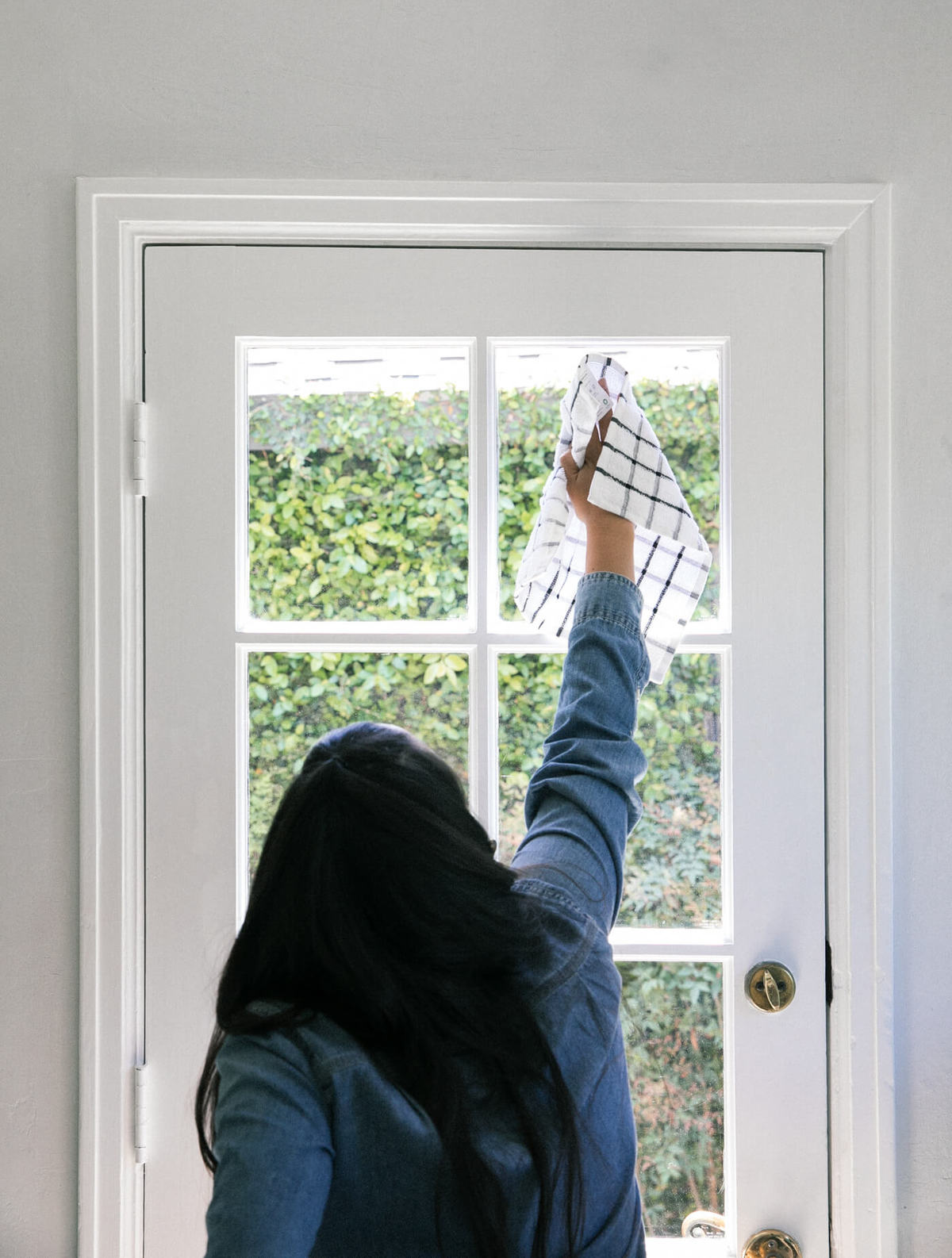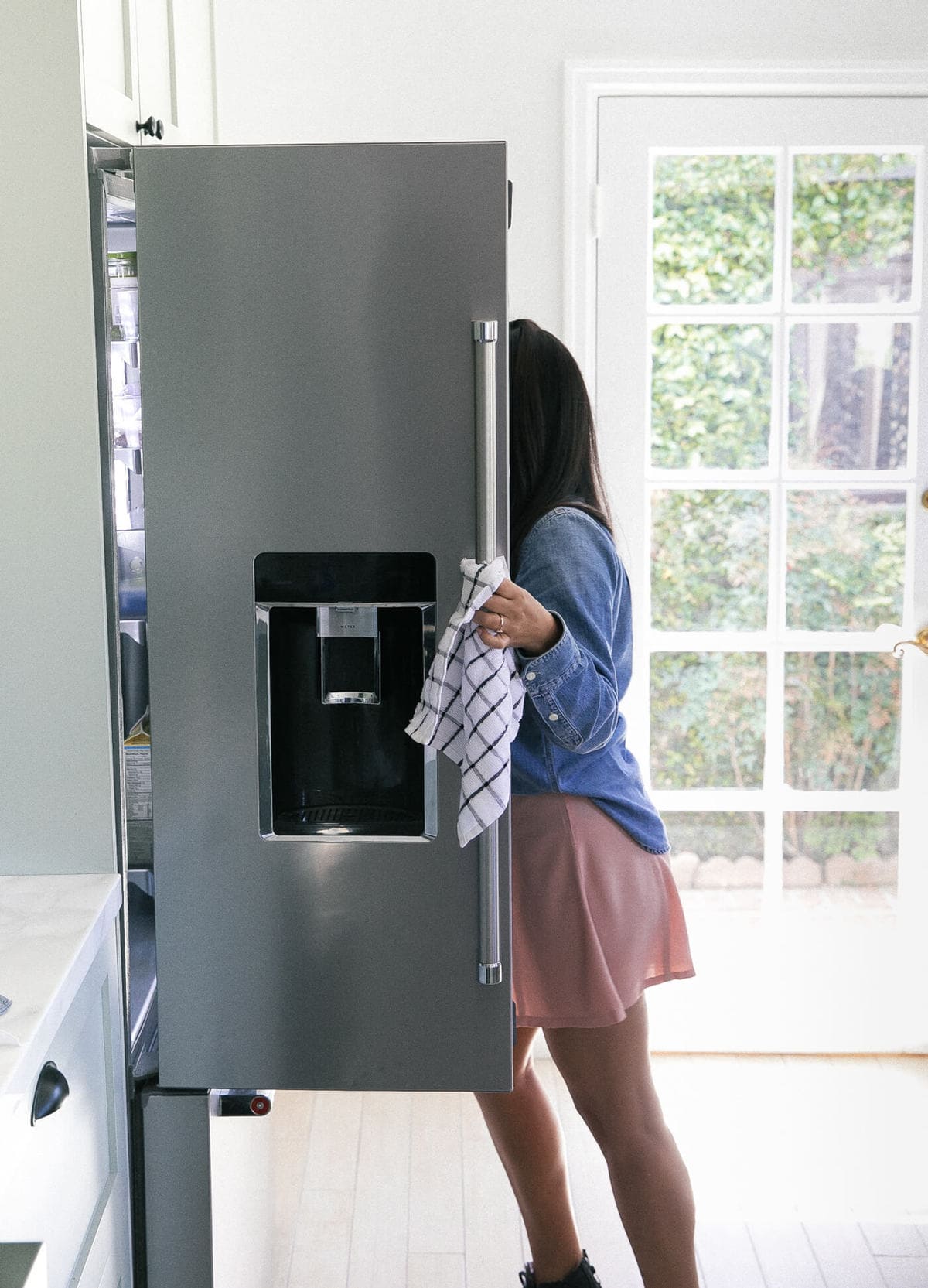 I stocked up on new kitchen towels and threw out old ones that had holes in 'em.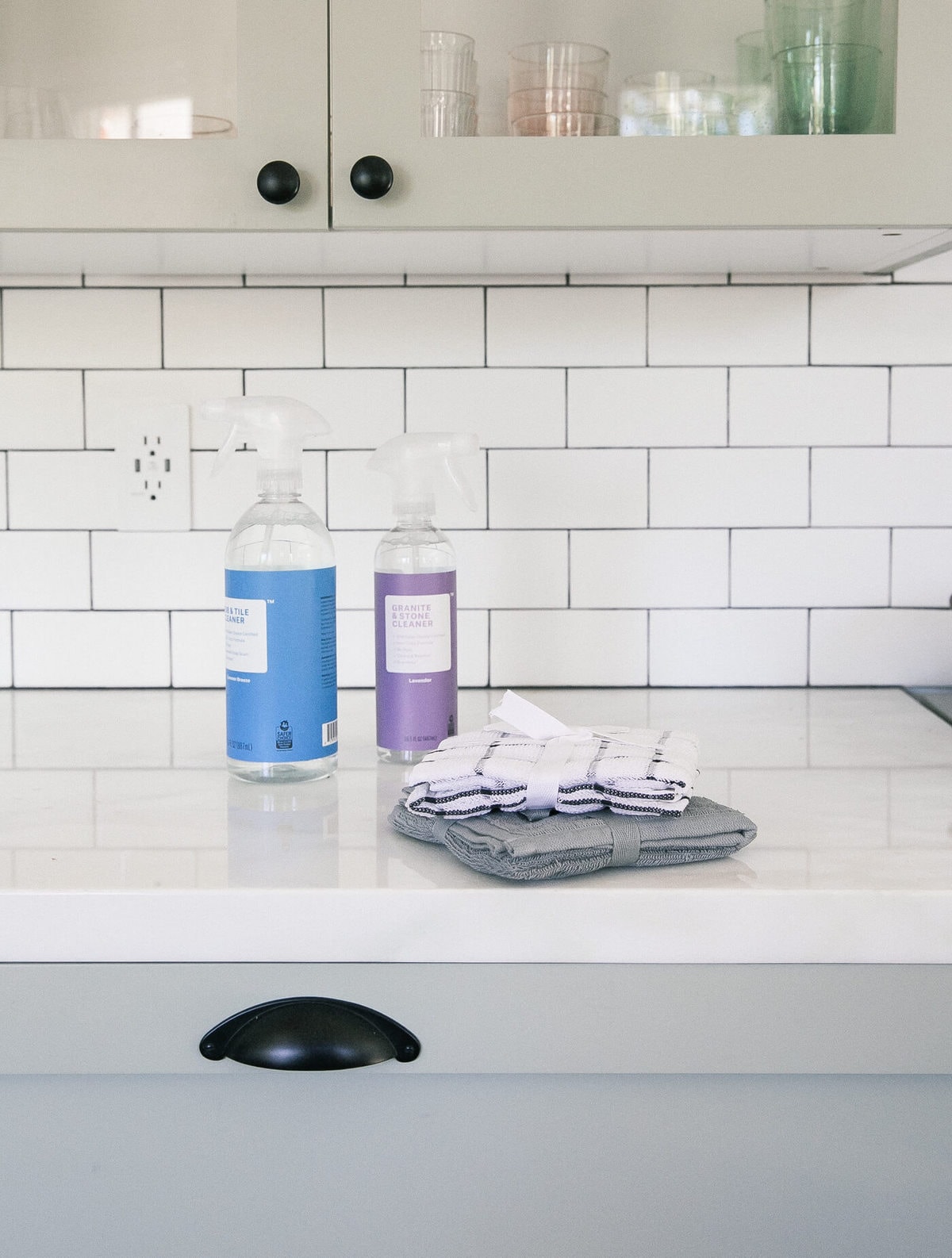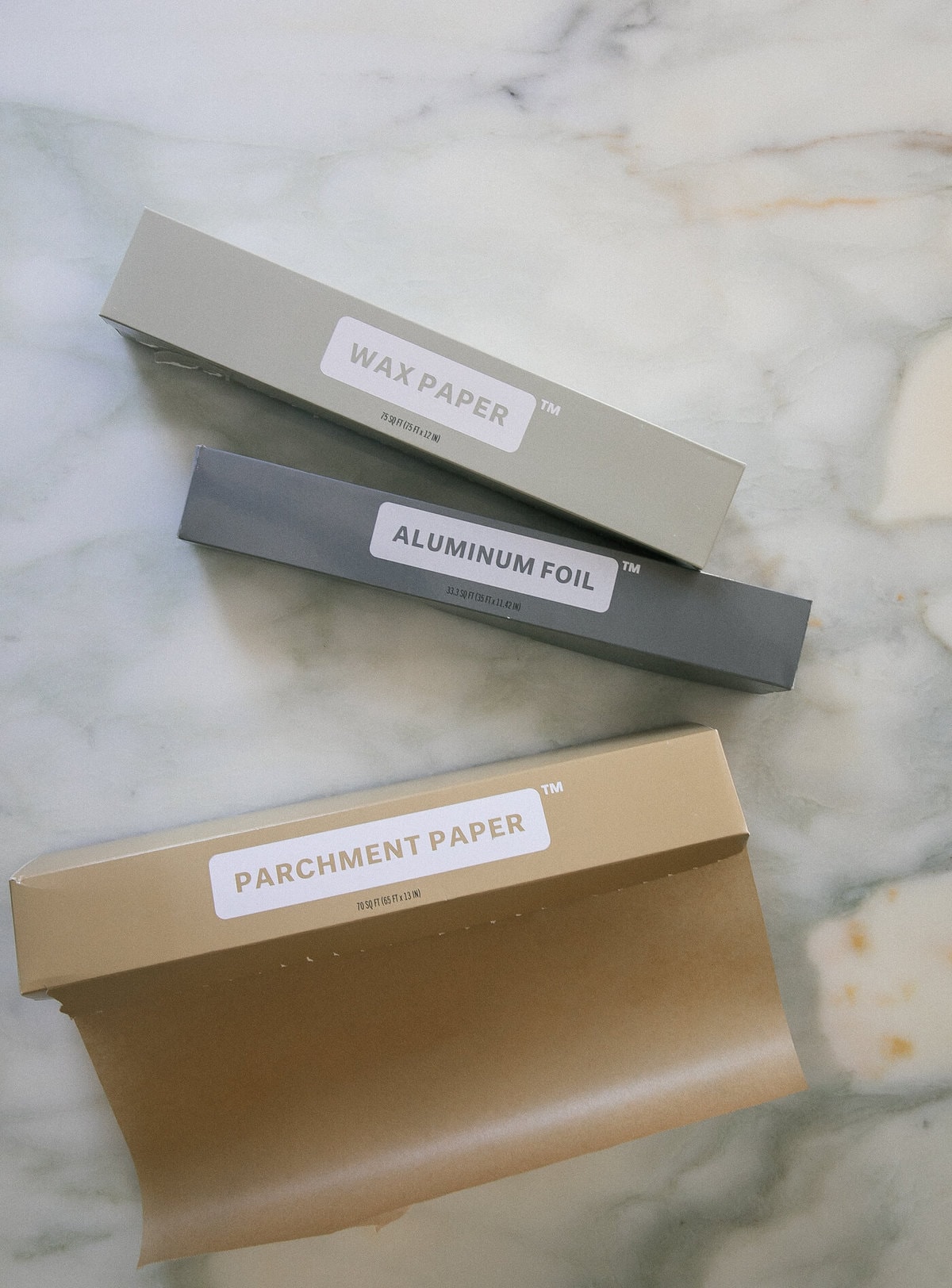 I stocked up on all sorts of things, especially wax paper, parchment and foil.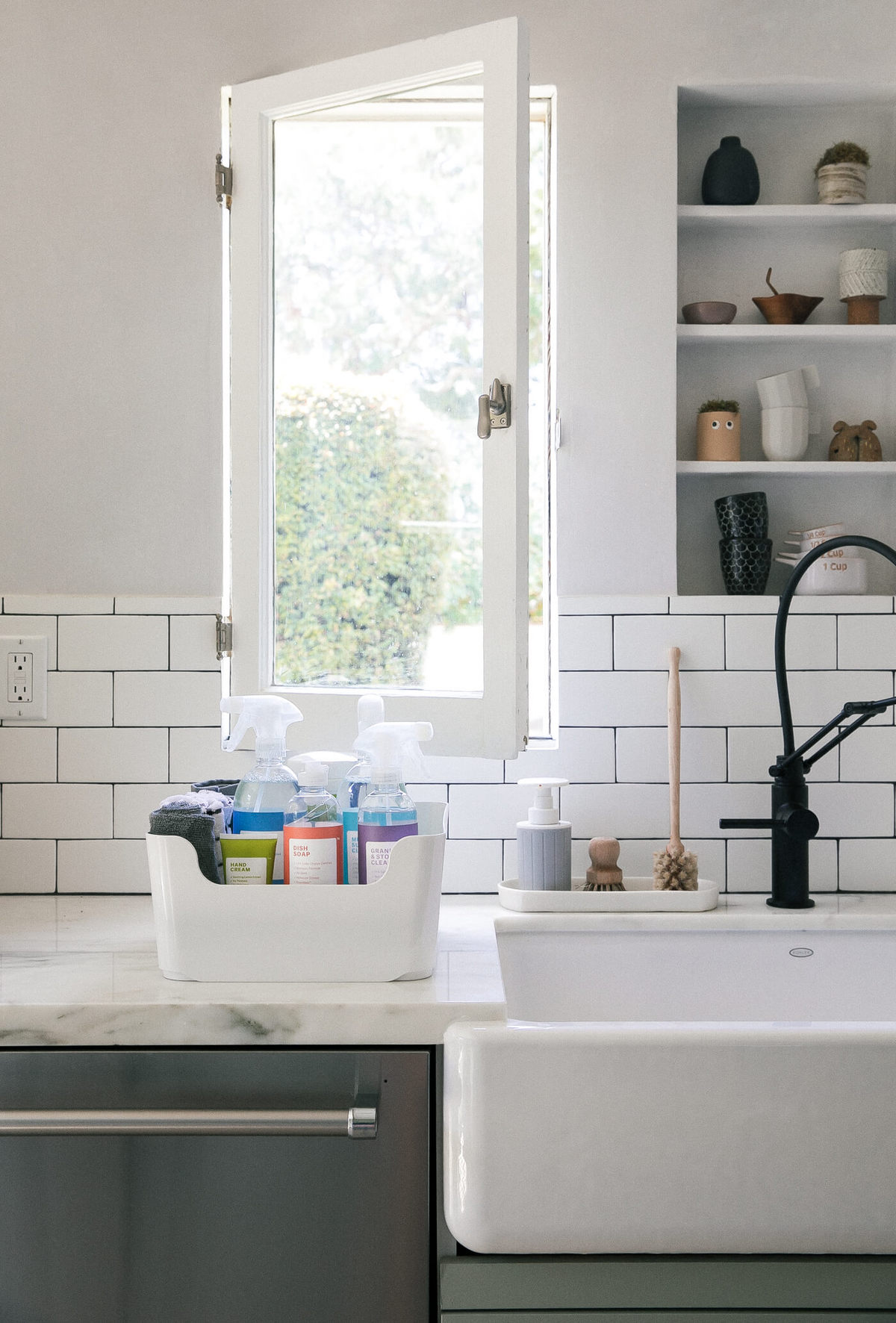 One of the best things I did was put together this cleaning kit so there's truly no excuse for me not to clean (I'm sure I'll find a reason or two tho lol). It has everything I could ever need. It has the following:
Black and White Grid Organic Cotton Napkins
Lavender Granite & Stone Cleaner
Lemon Verbena Moisturizing Hand Cream (for post cleaning, though I recommend to always wear gloves!)
Lemon Verbena Moisturizing Hand Soap
Balsamic Greens & Grapefruit Dish Soap
Summer Breeze Multi-Surface Cleaner
Summer Breeze Tub & Tile Cleaner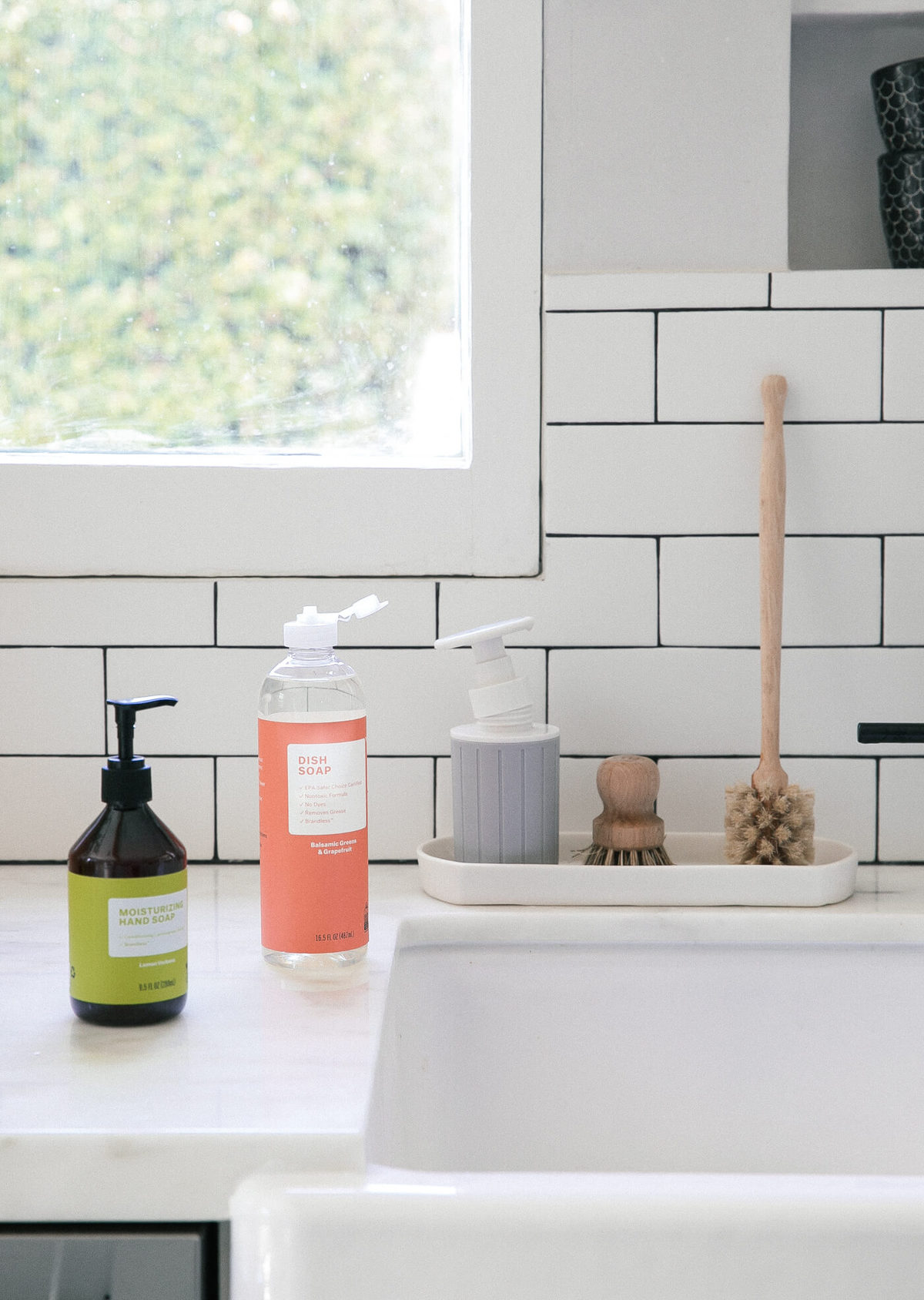 Another thing that I did was put a cleaning system in place for myself. This will obviously be different for everyone depending on how you use your kitchen (or any space for that matter).
For me, cleaning the kitchen on Fridays at 5pm works really well. It sets us up for a nice clean weekend and when the kitchen transitions from workspace to living space we use to cook and chill.
I do the following on Fridays at 5pm:
I mop the floors
I do a quick clean of the fridge
I wash the sink and wipe down the counters
I wipe down the cabinet handles and shaker cabinets
I refill the dish soap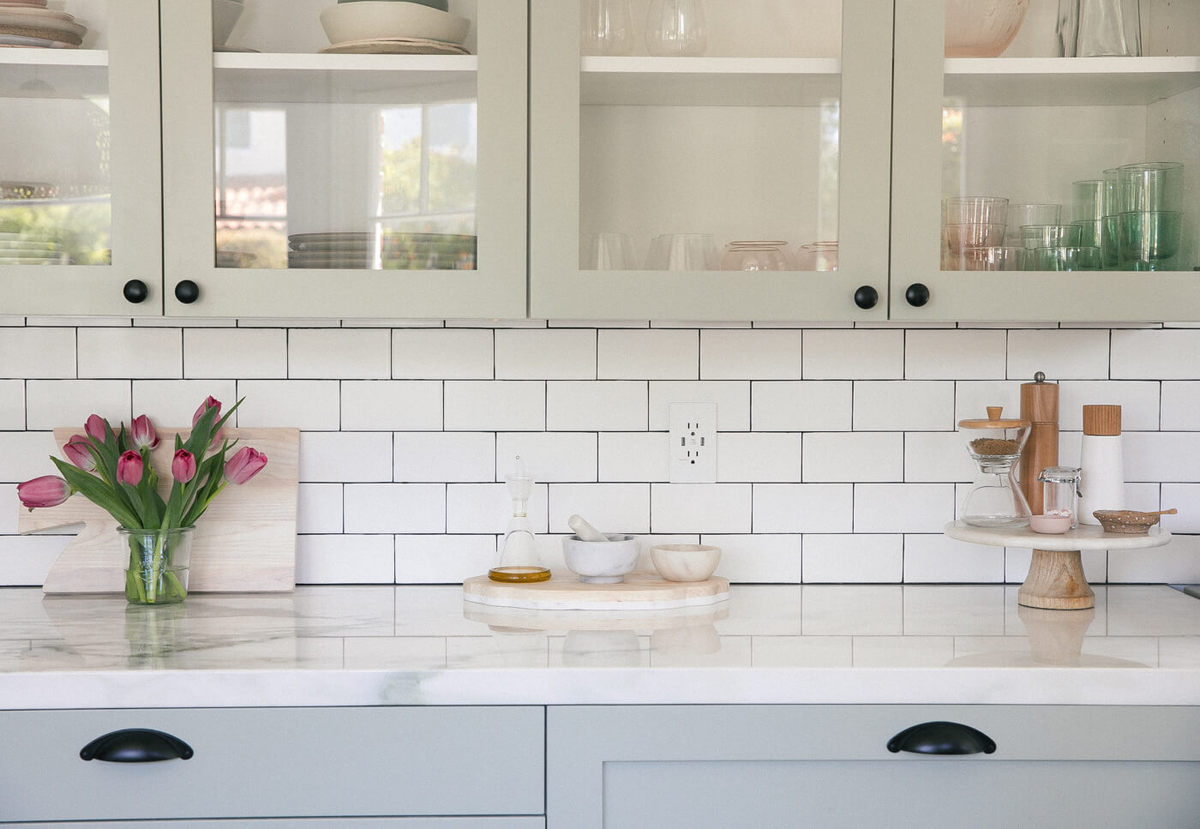 And that's it! It takes about 20 minutes but it makes a world of difference.
For all of the Brandless' cleaning products, click here! And for a nifty downloadable checklist for spring cleaning, click here! (Drag it out onto your desktop and print it out!)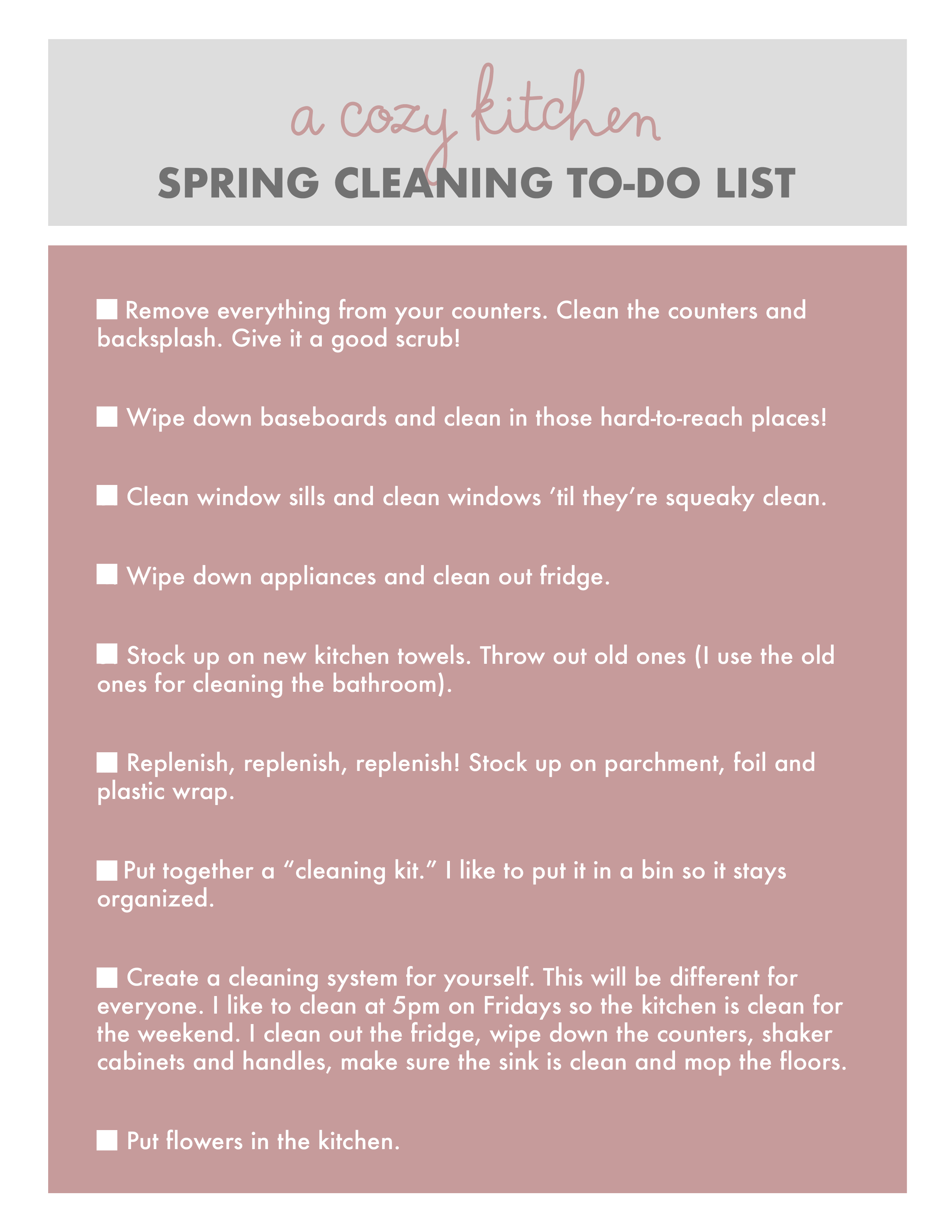 (Thanks so much to Brandless for sponsoring this post. Thank you for supporting the sponsors that keep A Cozy Kitchen cozy.)