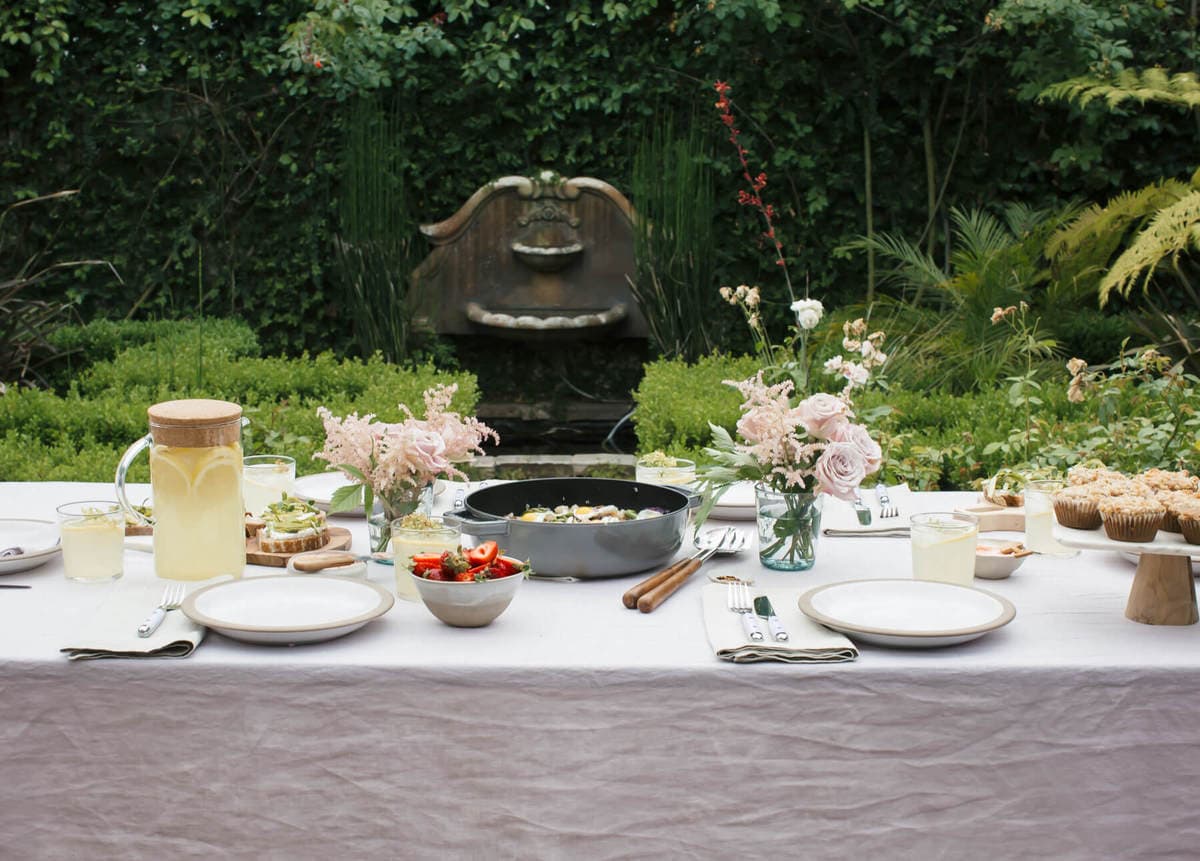 One more month of spring! This entire season has been mostly cloudy with chilly mornings and I've been fully taking advantage before summer hits.
My favorite early morning spring activity has been hitting up Hollywood Farmer's Market because the produce is insanely beautiful and delicious-looking. I usually head in with only like five things I want to buy but end up leaving with SO much more. This past Sunday I went with the intention of buying everything spring-like. I succeeded, grandly. I left with fresh elderflower, beautiful asparagus from Zuckerman's Farm, fava beans, bright purple kale and the cutest most adorable quail eggs.
I've thrown a few spring brunches in the past and I have a few guidelines I always follow.
1. Have one or two dishes that can be made ahead. It's way too much work for one person to make everything the morning of. I made the muffins and lemonade the day before so the day of, all I had to do was throw together the toasts and the hash.
2. The food doesn't have to be ready when people arrive. I always have to remind myself of this. Delegate tasks. If you need the drinks to be filled or potatoes to be diced, ask one of your friends. They'll feel useful!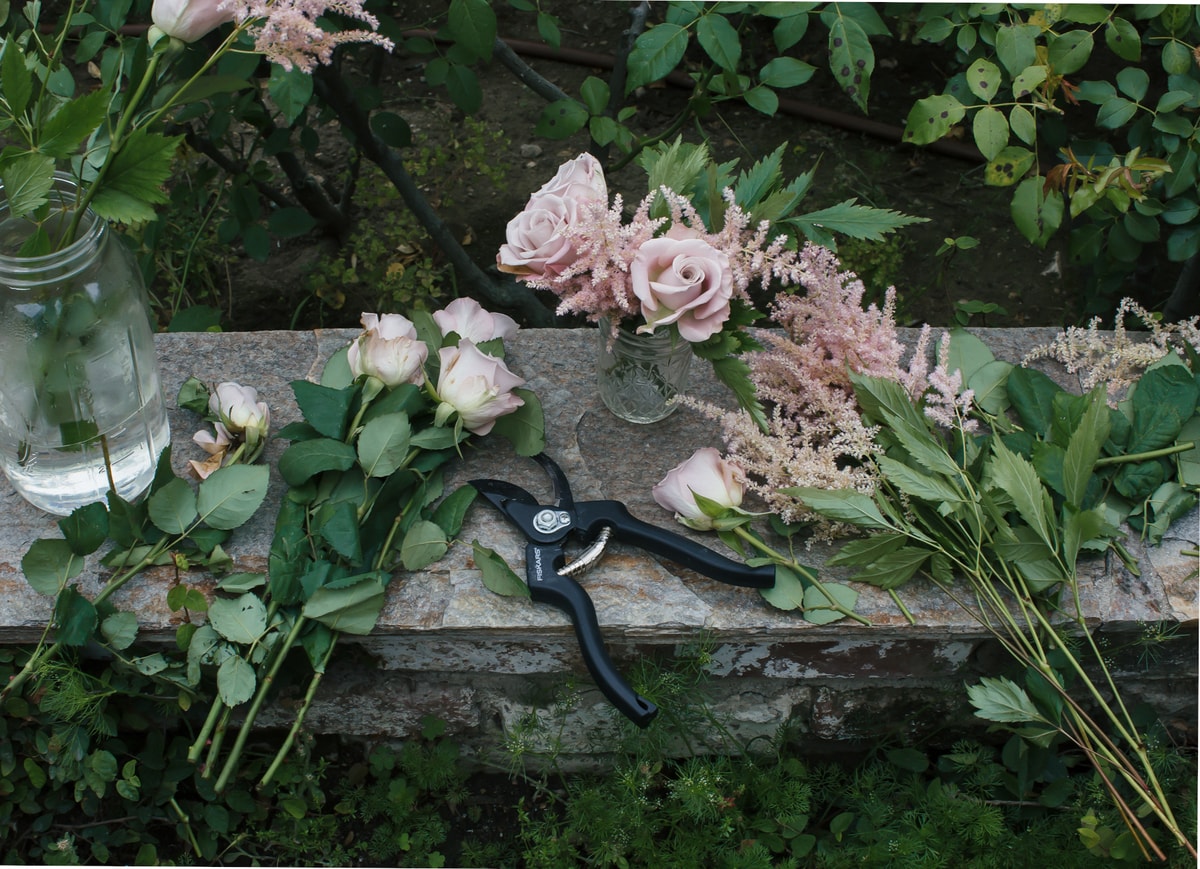 3. Only serve food family-style. No one needs coursed out meals. Make things that can be served in big pots or in large format dishes. It will make your life SO much easier.
4. Play fun music. Play Drake or 90s hip-hop. Basically pick music that will make people almost want to dance but not really. Leave the Radiohead and more serious music for a dinner-time party.
5. Make clean-up easy on yourself. I like these Glad® OdorShield® Gain™ Original Scent with Febreze® trash bags because they smell so fresh! and actually have a 5-day guarantee (no smell!). Nothing is worse than smelly anything. These are actually the trash bags I use all the time (even before this post) because they are super strong. If you've ever had the bottom of a (very full!) trash bag break as you were about to put it in the dumpster, you will understand the scars that go along with that incident. These don't require you to double bag them for the smell or the possibility of breaking. And if you'd like a coupon (because we all love coupons), here's one for $2 off!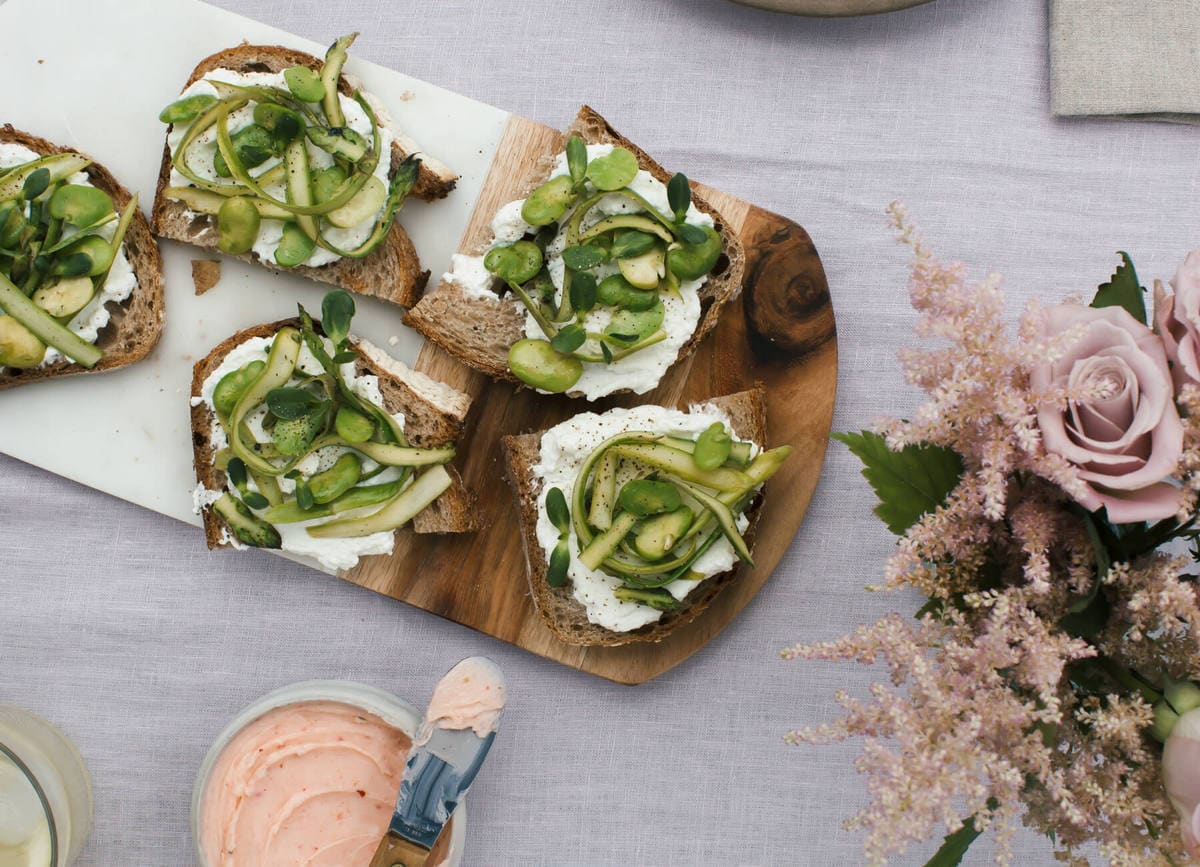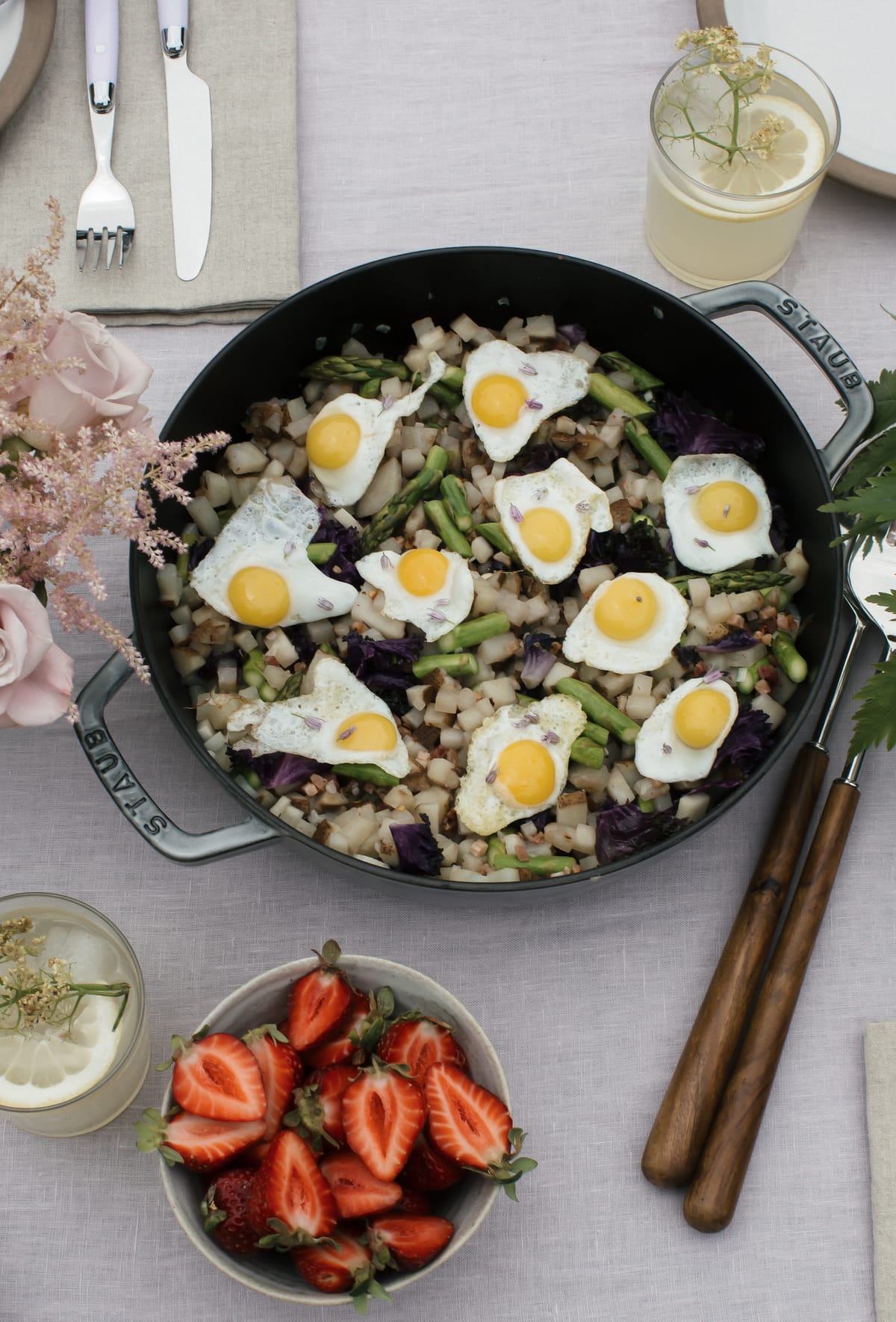 I usually like to get any stragglers at the party to help me consolidate all the dishes, scrape them clean, throw out any trash and then clean when everyone leaves.
For this brunch, I made the rye muffins and elderflower lemonade (posted Monday and Sunday) and then I quickly whipped up a simple spring hash full of beautiful purple kale, asparagus, pancetta and topped with cute quail eggs. While the potatoes cooked, I set the table, clipped some flower arrangements (aren't those roses the most beautiful color evrrrr?!) and prepped the toasts.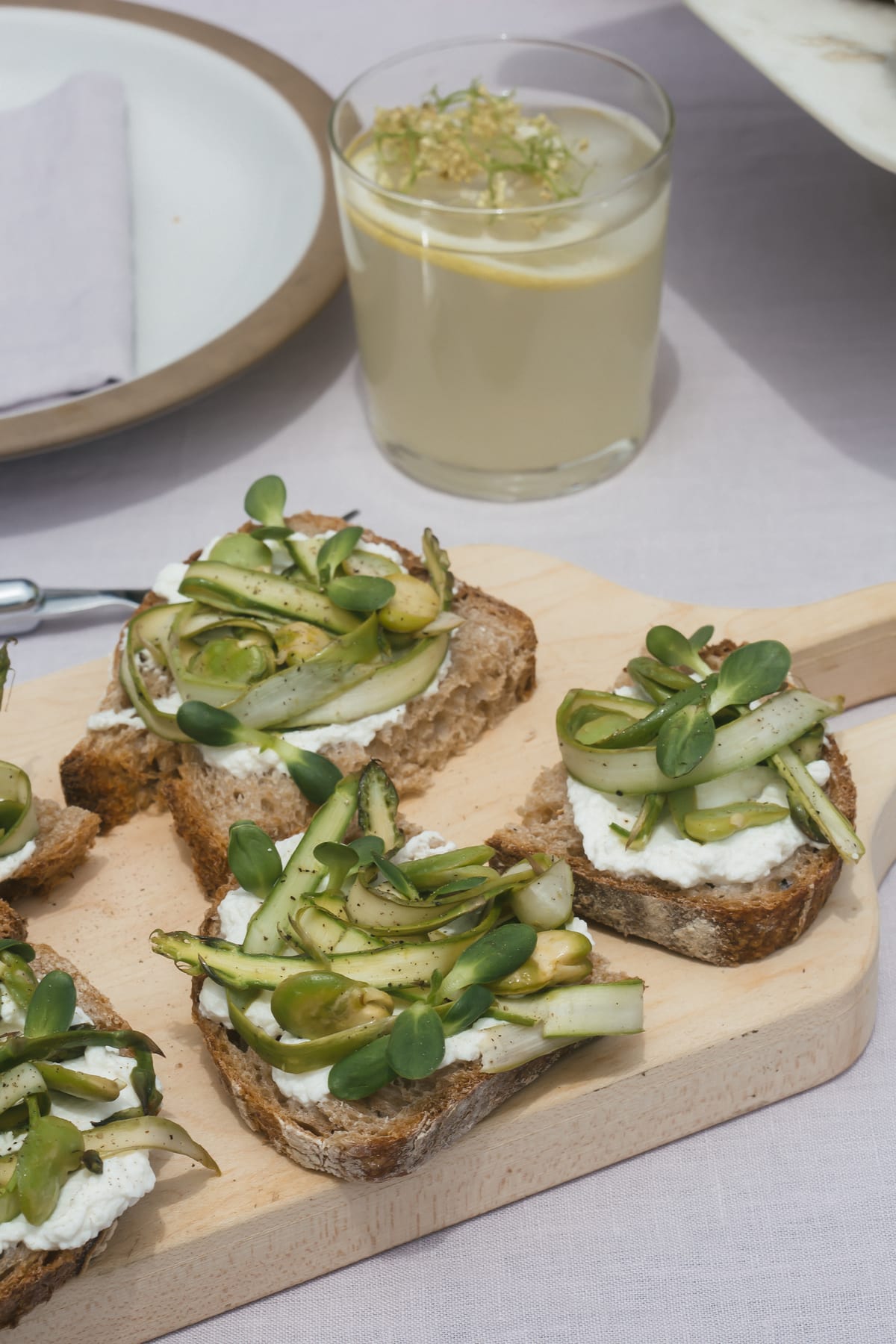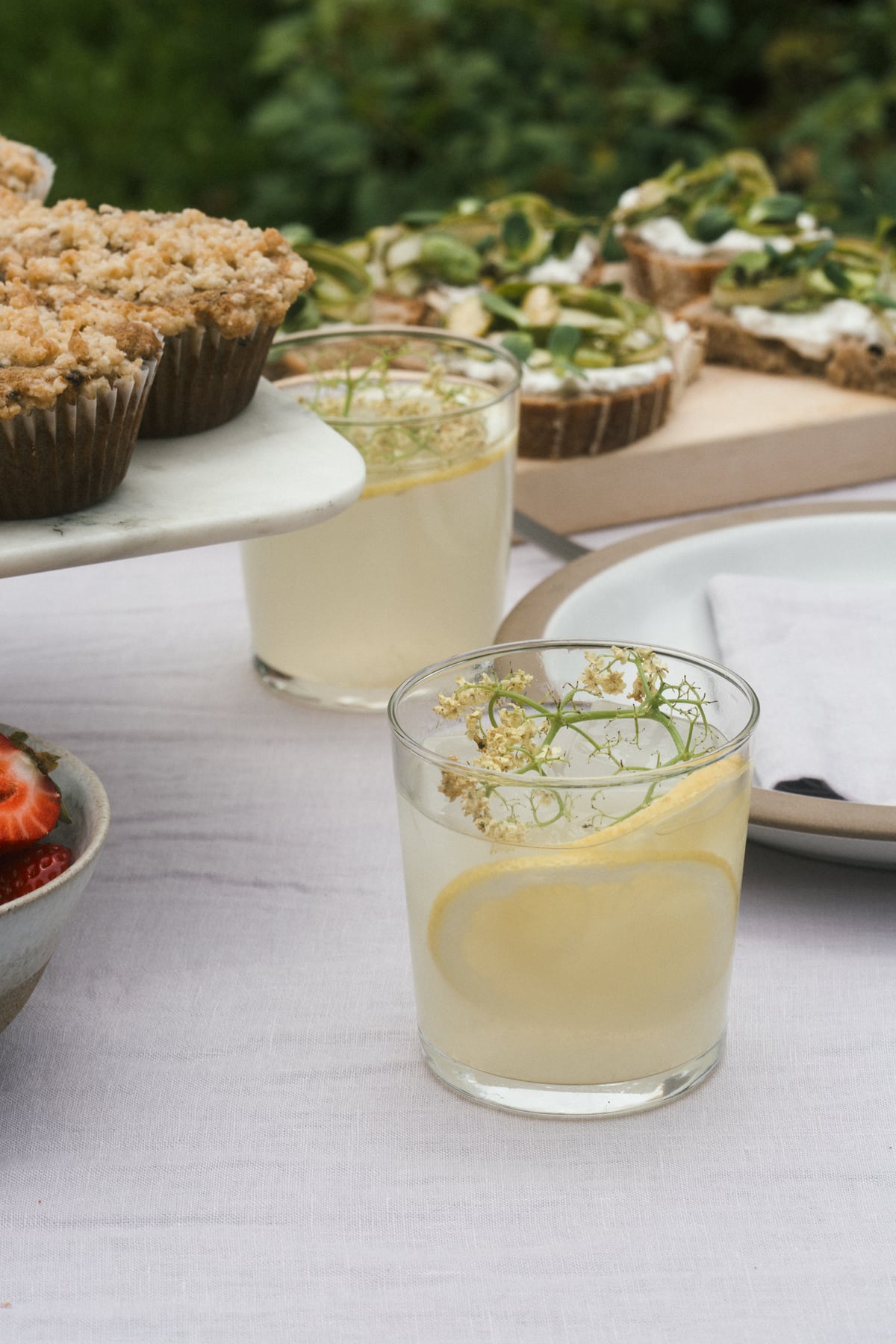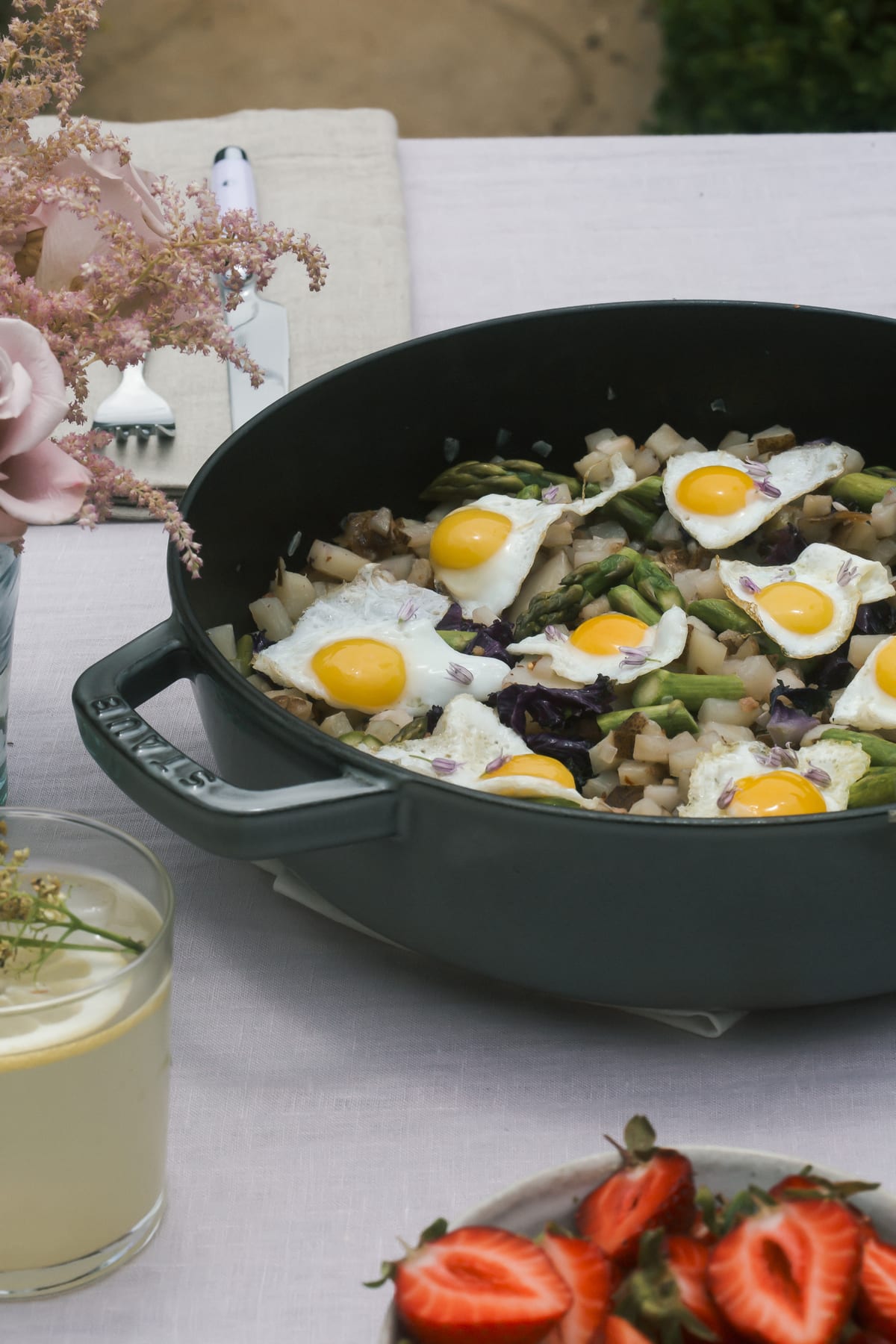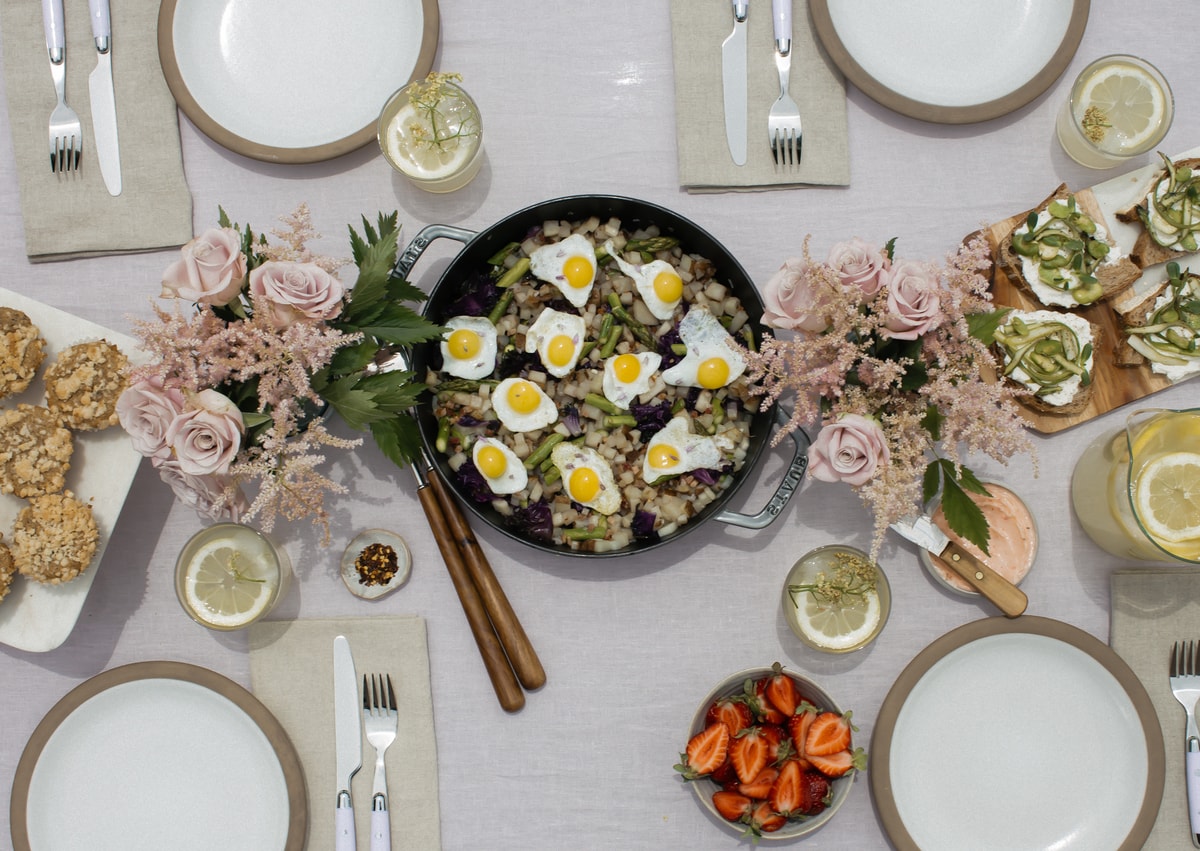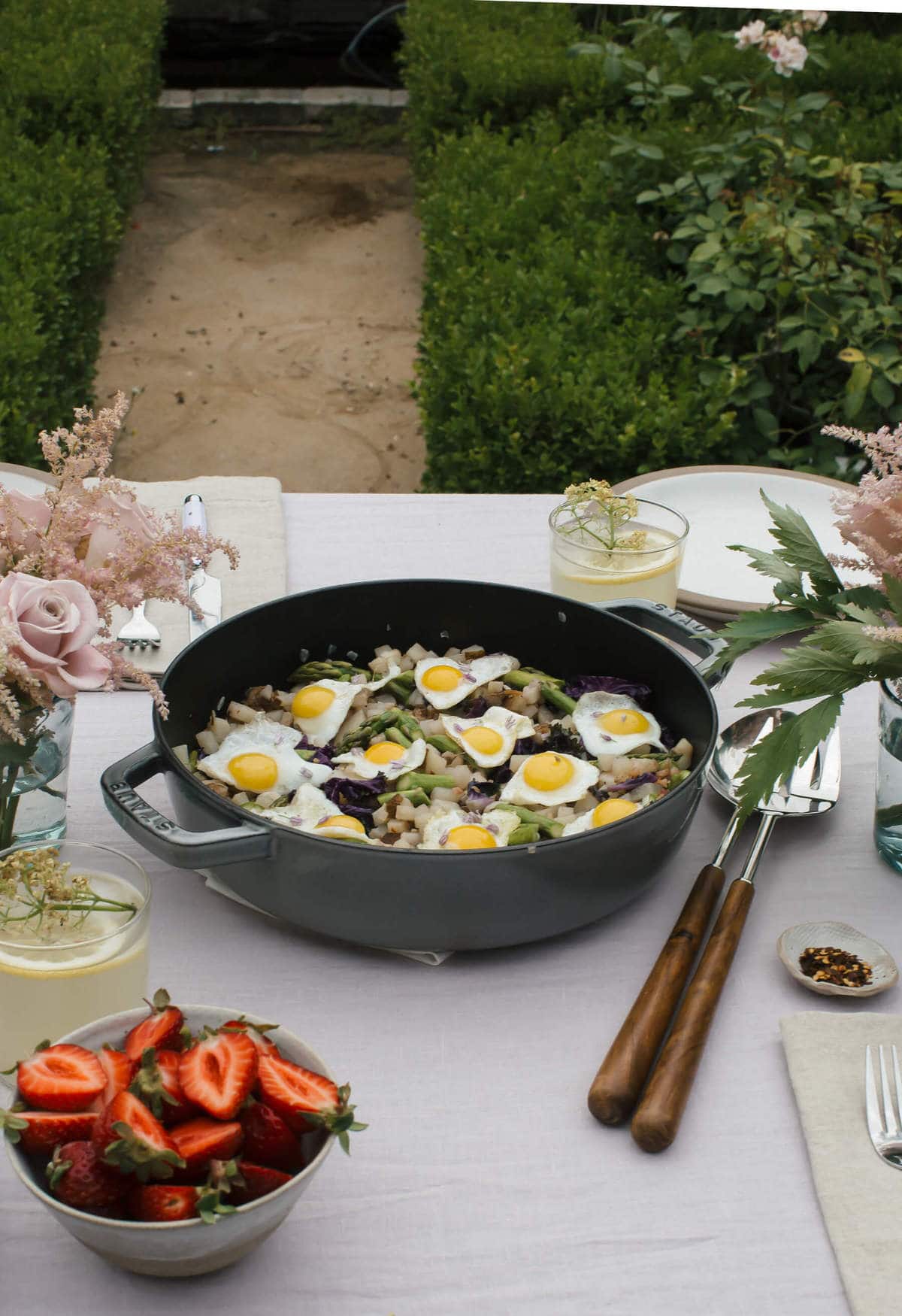 The toasts were simple to throw together, too. Fava beans and shaved asparagus sautéed and then spooned over soft ricotta. So simple and pretty!
And of course, Amelia thought we were doing this all for her.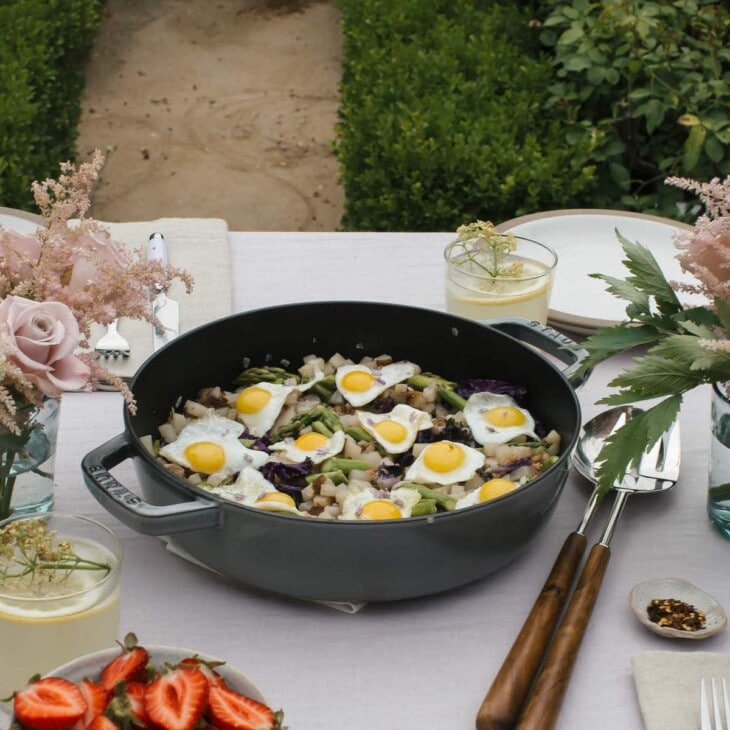 Print Recipe
Quail Breakfast Hash
Ingredients
4

ounces

diced pancetta

Olive oil

4

russet potatoes

diced

2

springs onions or 2 shallots

peeled and diced

2

garlic cloves

peeled and minced

2

cups

chopped kale

I used bright purple kale but regular kale is totally fine!

4 to 5

spears of aparagus

ends trimmed and cut into 1-inch pieces

Salt

Crushed red pepper flakes

10

quail eggs

if you can't find quail eggs, regular chicken eggs are cool

Fresh chives or chive flowers

as garnish
Instructions
In a large skillet, set over medium heat, add the pancetta. Stir frequently, until crispy and cooked, about 5 minutes. Spoon out the pancetta and drain on a paper towel.

Pour in a few teaspoons of olive oil. Add the diced potatoes and cook, covered for 5 to 7 minutes. Mix in the spring onions or shallot, garlic and cover with a lid; cook for 5 to 7 minutes. Sprinkle the potatoes with about 1 teaspoon of salt and a few pinches of crushed red pepper flakes. Cover once more and cook for an additional 5 minutes, until the kale has wilted and the asparagus is bright green. Give the potatoes a taste and cook for a few more minutes if needed. Lastly, mix in the pancetta. Fry up the quail eggs in a non-stick skillet (they take only like a minute). Add the fried quail eggs to the top of the hash. Transfer to the middle of the table and serve.
Print Recipe
Fava Bean & Asparagus Ricotta Toasts
Ingredients
1

cup

ricotta

1/2

lemon

halved and divided

Salt

1

tablespoon

olive oil

10

fava bean pods

*double shucked

5 to 7

thick spears of asparagus

shaved with a vegetable peeler

Black pepper

1/2

loaf of bread

sliced, halved and toasted, if desired

1/2

cup

sunflower sprouts

other types of sprouts will work too!
Instructions
In a medium bowl, whisk the ricotta with a few pinches of salt and 1/4 wedge of lemon. Set aside.

In a medium skillet, warm olive oil. Add the fava beans and sauté for 2 to 3 minutes. Add the asparagus, along with the remaining lemon juice, a few pinches of salt and a few turns of black pepper.

Next, add the shaved asparagus. Toss everything together and cook until bright green, about 2 to 3 minutes.

Smother the slices of bread with a few teaspoons of ricotta. Spoon fava/asparagus mixture over the ricotta. Repeat with all of the toasts. Garnish with sprouts and a few turns of black pepper.
This is a sponsored conversation written by me on behalf of Glad. The opinions and text are all mine. Thank you for supporting the sponsor that keep A Cozy Kitchen cozy.