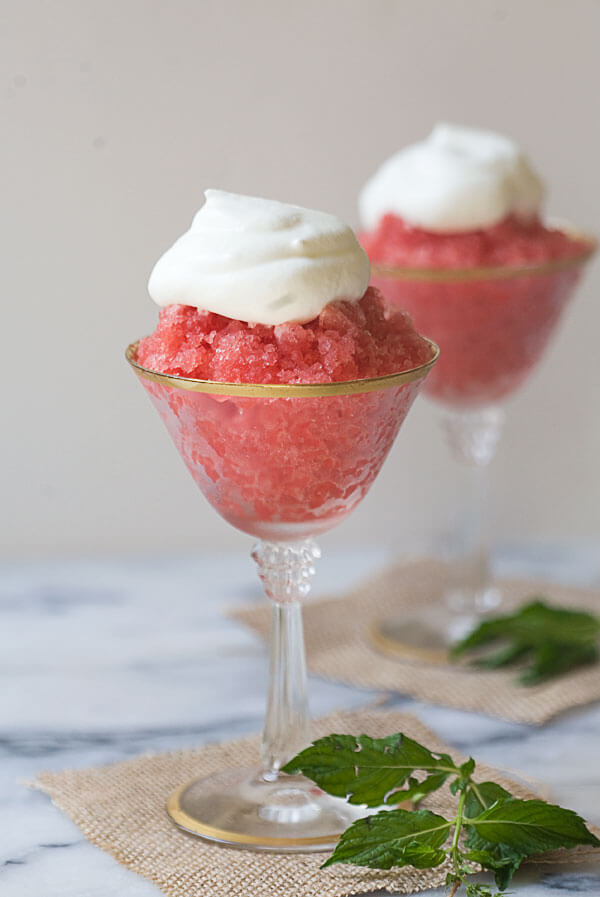 I have lots of random thoughts going on in my brain right now.
Number one: If I could write my blog posts using emojis I would. I probably would've inserted a fire emoji and a smiley face (with the sunglasses on, of course!) next to the title of this post. I wonder when/if Apple is ever gonna put emojis on a keyboard. That'll be the end. I'll be the most annoying person in the world.
Number two: I just realized that Lindsay Lohan's dress (from her interview with the big O) is actually the same shade of yellow/orange as the soup from yesterday. Very matchy-matchy!
Number three: I know I've had a productive day when my feet hurt and my shorts and shirt are stained and all I want to do is sit in bed and eat whatever is in the freezer/fridge. Currently: a small bowl of this Spicy Watermelon Granita. It's the perfect dessert that doesn't really taste like a big dessert. This ain't no cake. It's refreshing and light and the spice is a nice kick.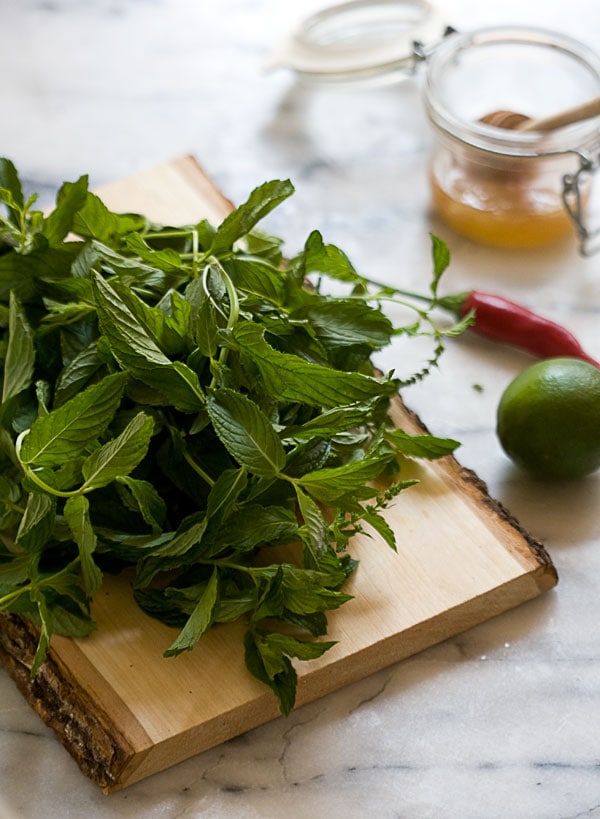 Part of me wishes I could eat watermelon in December. I'll miss it. And they don't sell frozen watermelon. Have you noticed that? Frozen blueberries, berry medleys, mango and strawberries. No frozen watermelon. I don't understand.
I say we still get on the watermelon train while we can. It's good right now. Beautiful, even.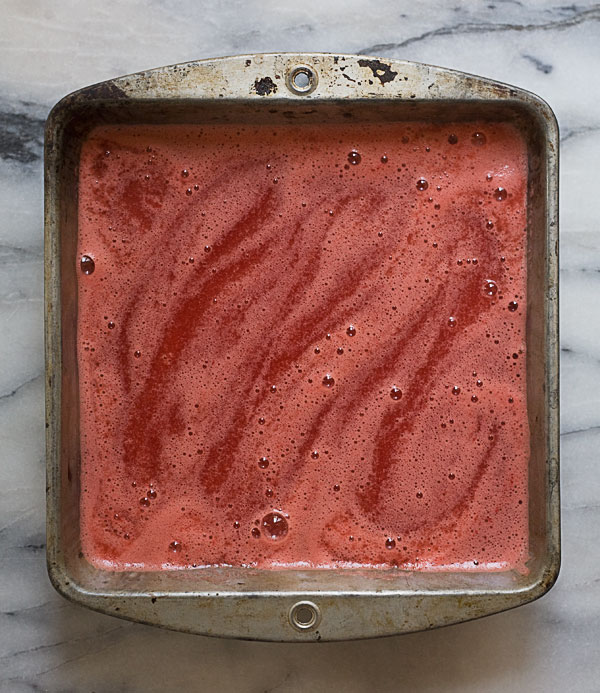 This watermelon granita is given a kick by fresh cayenne pepper. But not a lot! Those things are super spicy. I added a sliver at a time until I got to the point where I liked it. It was at about sliver number three when I stopped.
I don't think this should be super spicy, just a bit of a kick to remind you you're alive.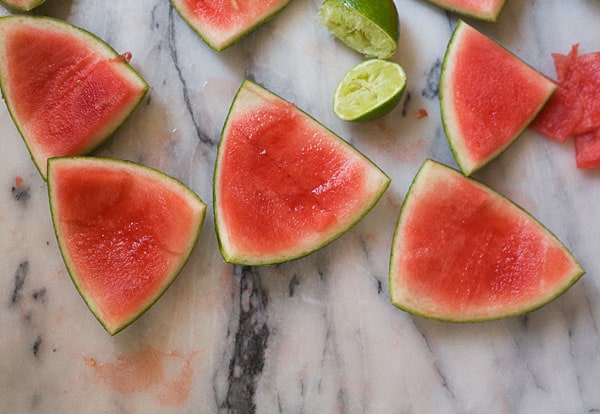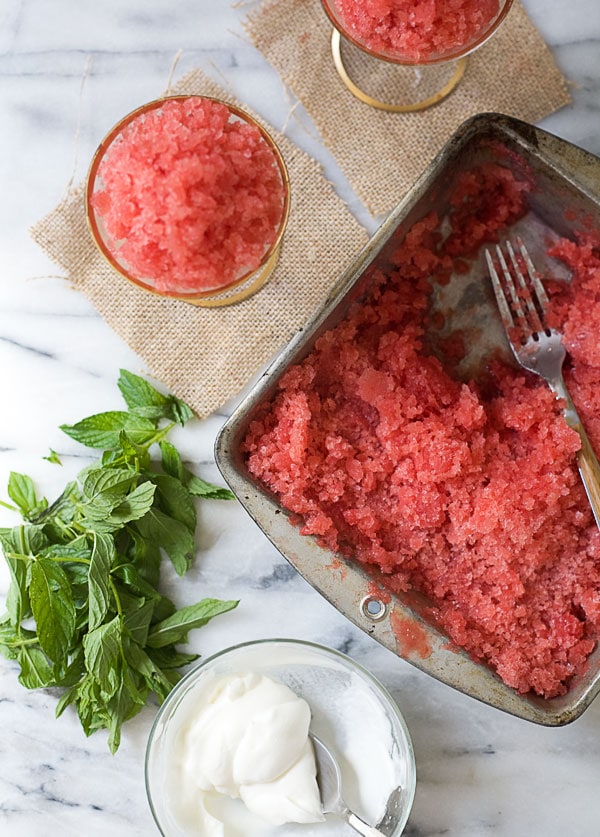 Right now I feel VERY alive because there's tingling on my tongue and a corgi that's doing that crazy thing dogs do when they run from room to room like a lunatic. Do you know what I'm talking about? She's possessed.
Here's to the weekend. And watermelon. And dogs that are possessed!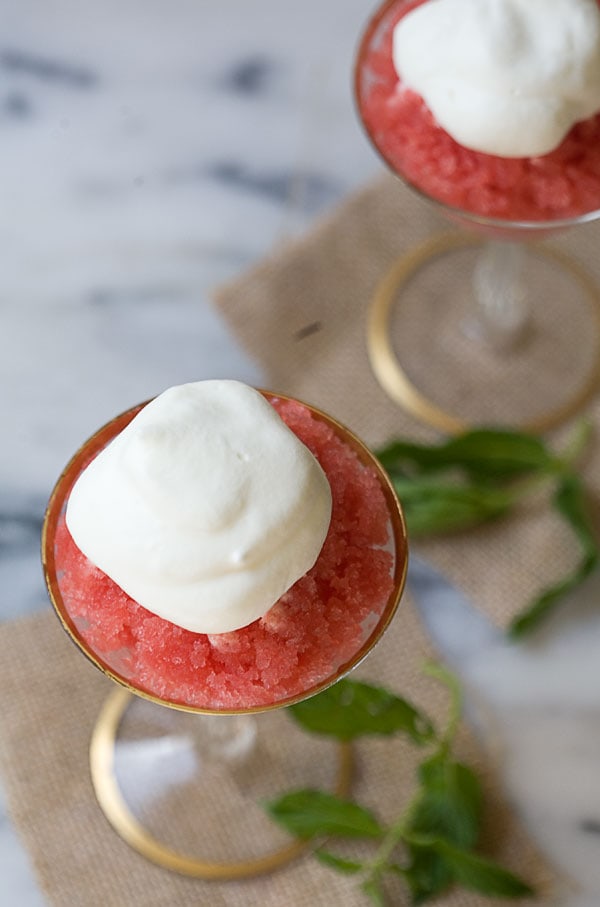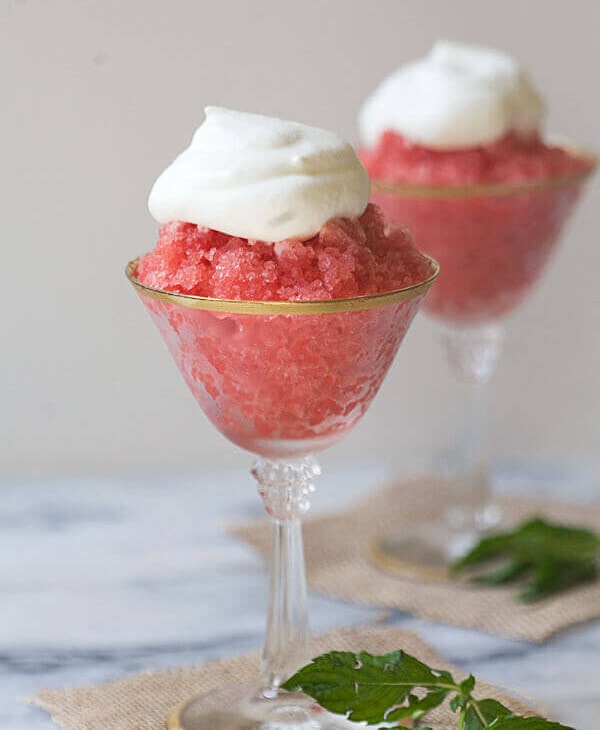 Print Recipe
Spicy Watermelon Granita
Ingredients
1

watermelon seedless

weight: 4 ½ pounds, chopped

2

tablespoons

organic cane sugar

1

lime

Pinch

salt

¼

of a fresh cayenne pepper

or less depending on your spice tolerance

Fresh mint

for garnish

Whipped cream

for garnish
Instructions
To the jar of a blender add the chopped watermelon, sugar, juice from the lime and salt. Blend until thoroughly pureed, about 1 minute. Now comes the spice! I recommend adding 1 teeny sliver of cayenne pepper at a time, tasting and then adding if you'd like more. My batch wasn't super spicy--there was just a bit of kick at the finish. If you don't have a cayenne pepper, other alternatives are ground cayenne pepper, Sriracha or chile paste.

Transfer the watermelon mixture to a 8 x 8 dish (or other casserole-like vessel). Cover with plastic wrap and transfer to the freezer. At the 1 hour-mark, stir the mixture, breaking up the icy bits. At the 2 hour-mark, stir once more. At the 3 hour-mark scrape the entire mixture using a fork until flaky crystals form. Cover tightly and freeze. Just before serving, scrap it one more time. Serve with a dollop of whipped cream (it helps with the heat!) and a sprig of mint.