This is vegan chili: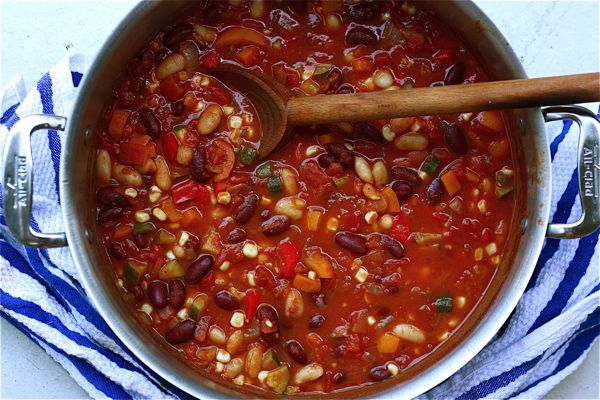 ...This is not: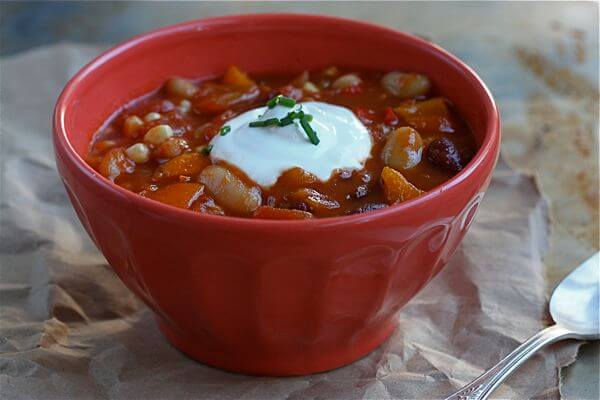 That delicious dollop of sour cream is so powerful!! It changes EVERYTHING!
Chili is like cornbread. Rules exist about chili rights and wrongs. No beans. No this. No that. People are super picky and sentimental about the stuff. And, I mean...I get it. I do.
SO...
Before I begin, let me say this: If you're from Texas, and this chili offends you, I'm sorry. I love everything Texas. I really do.
Friday Night Lights is the best show to ever grace our TV screens. (Yeah, I said it.)
I've been wanting to take a road trip to Marfa and sleep in one of those hipster tee-pees for I dunno how long.
Migas might be one of my favorite breakfast dishes ever...(next to pancakes, obvi).
And despite El Paso being the scariest city in the country, when I drive across Texas, I still pass through.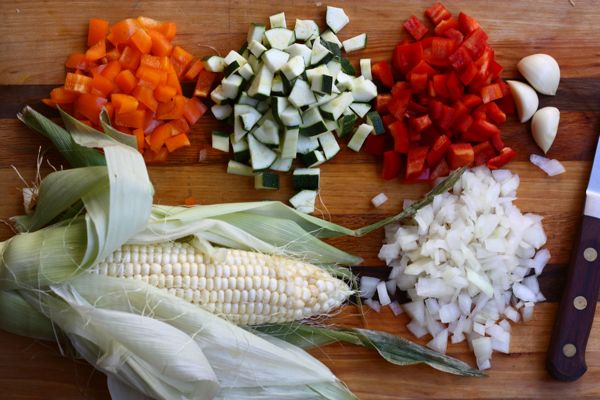 This pot of simmering deliciousness destroys every chili rule in the book.
There's veggies: orange bell peppers, zucchini, red bell peppers, corn and onions and garlic.
And there's beans: cannellini and kidney. Lots of spices. A little jalapeno. Vegetable broth.
There's a little simmer action...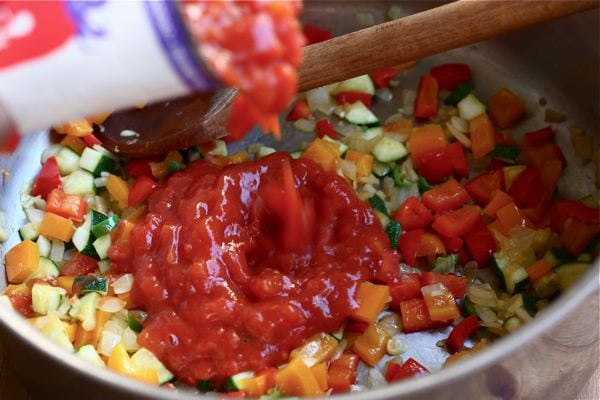 ..And then boom! Flavor central.
This vegan chili packs killer flavor like no other; it's spicy, earthy, hearty...all while not weighing you down.
Totally perfect for those nights when you want something warm and cozy but still healthy and light...
And its springiness comes in handy when you pair it with some cheesy cheddar jalapeno cornbread...
Not to worry! I'll show you that next time!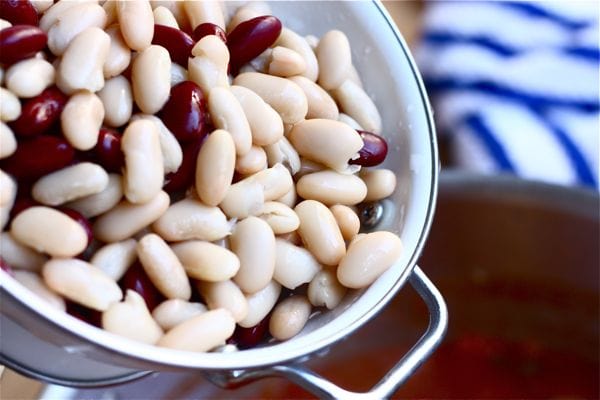 Spicy Vegan Chili
Adapted from Simply Recipes
3 tablespoon olive oil
½ medium yellow onion, diced
1 red bell pepper, diced
1 yellow bell pepper, diced
2 small zucchini, diced
1 jalapeno pepper, diced (I like spiciness so I used 2)
3 garlic cloves, minced
1 28-ounce can crushed tomatoes
1 ½ cup of vegetable stock
2 tablespoons of cumin
1 teaspoon oregano
1 tablespoon paprika
½ teaspoon of cayenne
1 15-ounce can cannellini beans, rinsed
1 15-ounce can kidney beans, rinsed
1 ear of corn
In a large pot, heat olive oil on medium heat. Add the onions and cook until translucent, about 4 minutes. Add the red bell peppers, yellow bell peppers, zucchini, and jalapeño chili peppers. Cook for about 5 more minutes, stirring occasionally. Add the garlic and cook until fragrant, about a minute more.
Add the tomatoes to the pot along with the vegetable stock. Add oregano, paprika, and cumin. Add cayenne to desired heat and cook, at a simmer, for 20 minutes.
Add the white beans and kidney beans. Stir in the corn. Add salt and freshly ground pepper to taste. Simmer for 5 minutes.
Serve with sour cream and some chopped chives.
Serves 4-6