Spicy Sausage Country Gravy with Buttermilk Biscuits…because you're worth it, gurlfrien'.
This is the recipe I want to make/eat/eat/eat before all the stupid juice cleanses, resolutions to be a better human, dog mother and eater begin. This is a good I-don't-give-a-shit-let-me-live meal.
I don't often make country gravy with biscuits; and it's not because I love it, but it's usually just too rich for me. I don't typically go for the butter on top of cream on top of butter stuff. I need bite; I need heat; I need contrast. For me, this meal is simply just too much.
That's why I've made some tweaks that I think make it a bit more interesting. First, there needs to be some spicy Italian sausage all up in it. That means there's little instant notes of fennel, shallot and other stuff going on. Yes.
And then, Dijon mustard. Oh yeh. A bit of Dijon mustard in the gravy gives it just a hint of acid that I think the gravy benefits from. It's not mustardy; I'd say it's almost nearly undetectable. Of course, I ended up going back and adding a bit more and it was awesome, but you could definitely taste the mustard. The recipe below reflects pre-addition. But, add more if you like!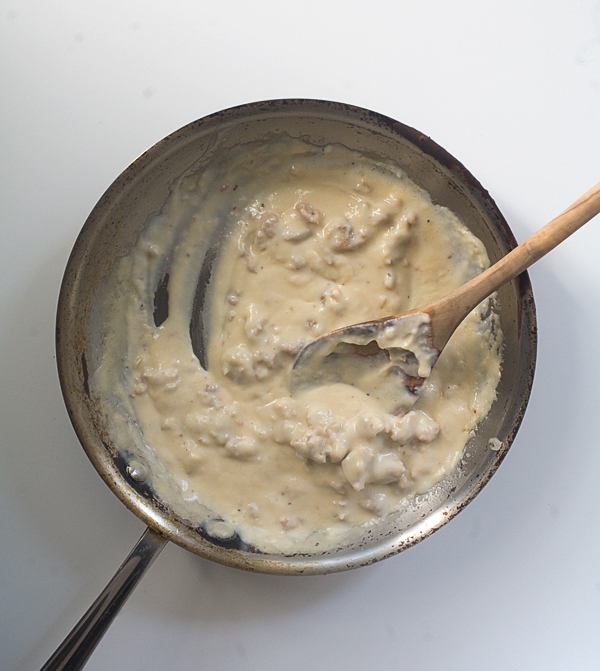 This dish has Christmas breakfast written all over it.
Christmas morning breakfast might go down as my favorite meal all year. ALL YEAR!
Is there any meal that's cozier than Christmas breakfast?!! NO!
This meal is awesome because you can make it the night before, though I do strongly urge the baking of the biscuits to happen the morning of. (There's nothing quite like a warm, just-got-out-of-the-oven biscuit.)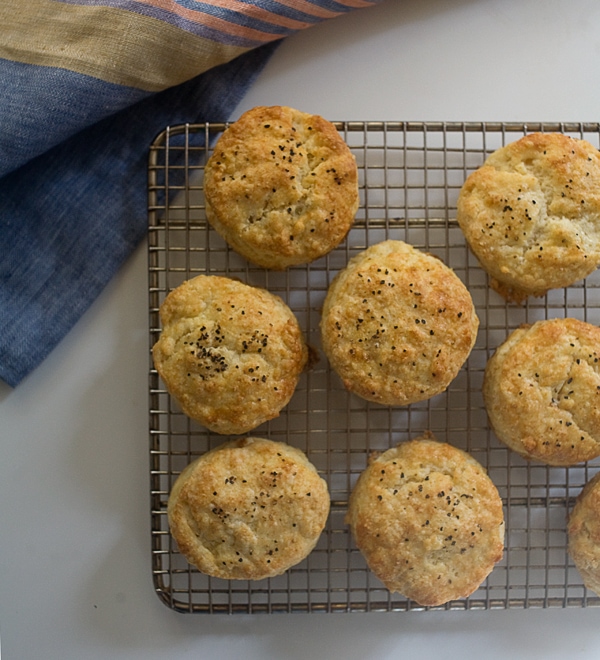 If you want to make this Christmas morning, here's what you do:
1. Make the biscuit dough the night before, cut the biscuits out, put 'em on a baking sheet and stick 'em in the fridge. Bake them off the next morning and you'll be good to go.
2. Make the gravy the night before. To warm it up, add a splash of milk and heat on low. It'll be AWESOME.
And that's it. I did fry up some sage leaves to put on top but it ended up looking dumb for the photo, but do this in real life! I love the little added bit of herbs.
Merry Christmas, my friends!
Tomorrow I'll be back with one more recipe and then I'll be taking some time off. Talk soon.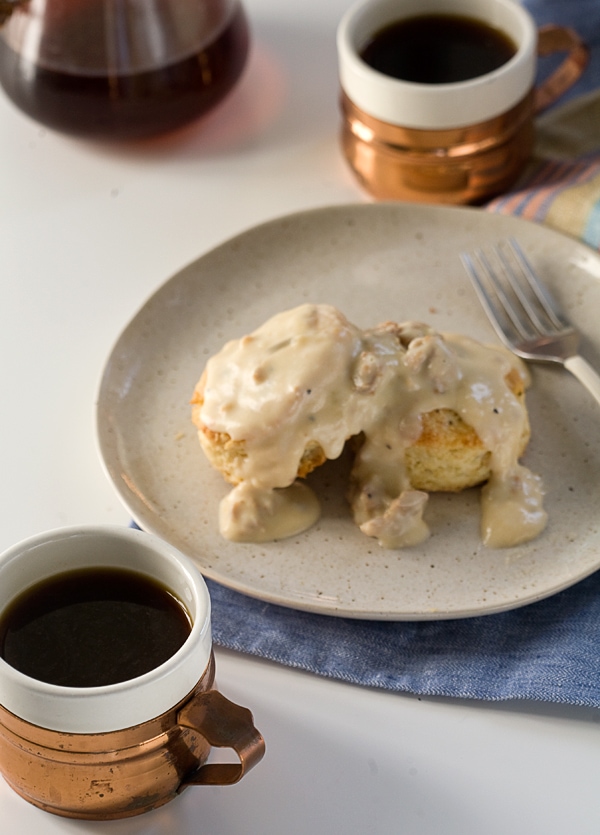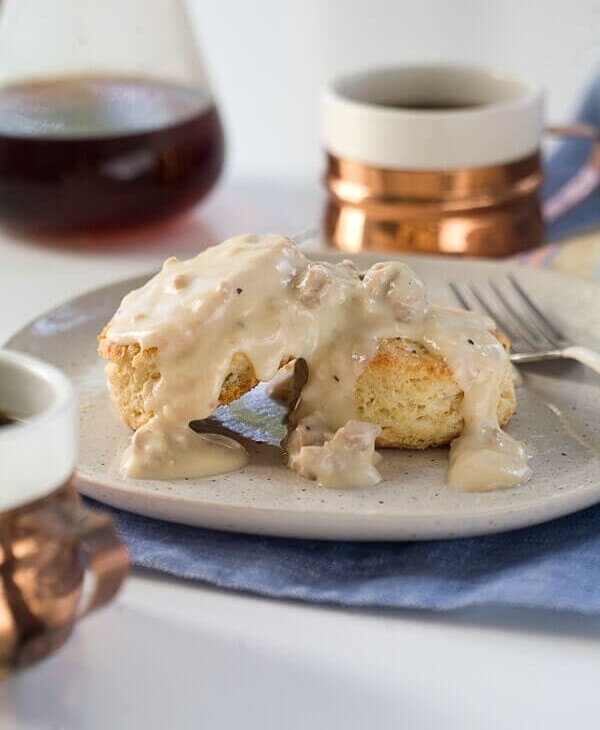 Print Recipe
Spicy Sausage Country Gravy w/ Buttermilk Biscuits
Ingredients
4

tablespoons

unsalted butter

divided

1/4

pound

Italian spicy sausage

1

tablespoon

shallot minced

about 1/2 small shallot

3

tablespoons

all-purpose flour

1

cup

whole milk

1/4

teaspoon

freshly ground pepper

1/4

teaspoon

Dijon mustard

possibly more to taste

Sea salt
Instructions
To a sauté pan, set over medium heat, melt 1 tablespoon of butter. Throw in the minced shallot and Italian sausage. Using a wooden spoon, break up the sausage into crumbles; and cook the sausage for about 5 minutes, until brown in color. Remove the sausage crumbles with a slotted spoon and set them aside. Note: My sausage wasn't particularly greasy--it left about 1 tablespoon of fat in the pan. If for some reason yours expels a large amount, remove some so you have about three tablespoons of fat left.

Add more butter, if needed (I added 3 tablespoon of butter). When the butter has melted, add the flour and mix until combined. Pour in the milk and stir until the gravy has thickened, about 2 to 3 minutes. If the gravy becomes too thick, don't be shy about adding a splash of milk to thin it out a bit. Next, stir in the the pepper and Dijon mustard. Add a bit more mustard or pepper, if you like. And then, salt to taste. I added about 1 1/2 teaspoons of salt.

To serve, divide the biscuits amongst plates and spoon the gravy atop the biscuits. This is good living!

If you'd like to make this the night before, feel free to make it per the instructions and then transfer it to the refrigerator. To reheat, add a splash of milk, place over medium low heat and stir until warmed.