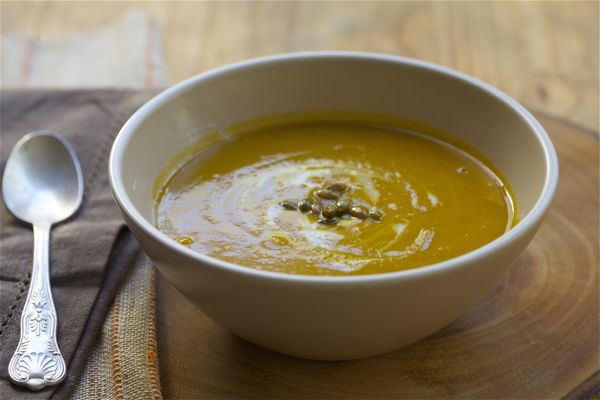 Soup weather is the best weather. Fareal.
Last week we had a very brutal and random heatwave where it decided to be 90˙F(!!!). I had a literal and figurative meltdown that day. It was bad. But now the cold weather is here and I'm back to being stoked on life.
It makes me super grateful that we live in a world where hot weather takes a break–and allows us to stop sweating–and cold air enters. And I'm glad sweaters exists, and dogs with wrinkly faces exist, and, AND soup exists! Rad.
I love punk'n. Are you all punk'n-ed out? Hope not. It's only October, guys. We've got a solid more month of this stuff.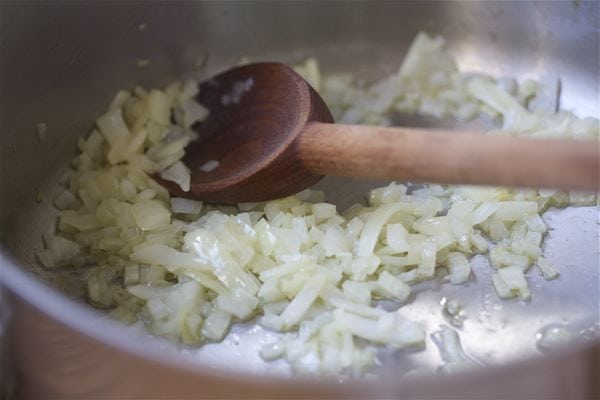 This soup is casual spin on a soup I made last year. Casual!
This spicy and more pumpkiney rendition is just begging to made alongside a roast chicken.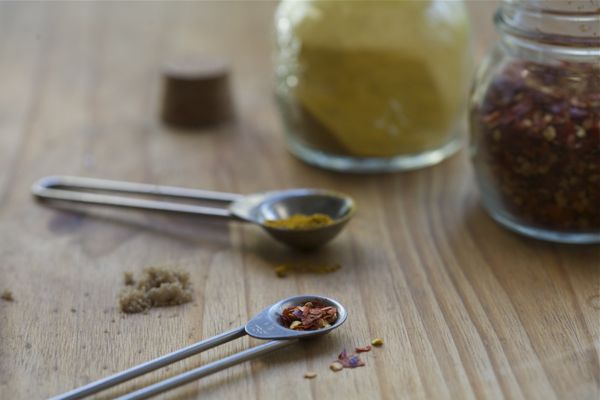 Seriously. Roasting a chicken and making a soup are my two favorite little things to make. They're classics.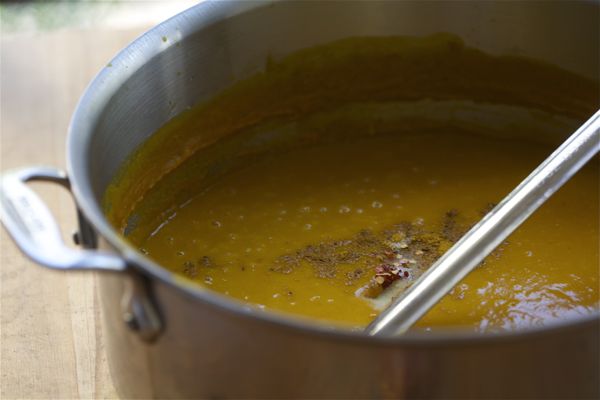 This soup gets its spiciness from a few places. Not just one. There's a little bit of a few things like curry powder, red pepper flakes and a dash of cayenne pepper. None of them are overwhelming. You'll taste just a hint of each.
If you're sensitive to spice, I say start with half of each. Taste. And then add more if you like.
The brown sugar adds a nice touch of sweetness that you'll barely notice. It's good. And the heavy cream isn't overwhelming. I personally have issues with super creamy soups. I'm not a fan of drinking a bowl of milk for dinner.
The toasted pumpkin seeds add a nice little crunch to the whole soup. I love them.
Serve this with a roast chicken (or not). But definitely serve this with some buttery good bread on a coldish night. It'll be a memorable one.
Soup:
2 tablespoons unsalted butter
1 tablespoon good olive oil
1 cup diced yellow onion (1 small onion)
2 cloves garlic, minced
2 (15-ounce) cans pure pumpkin purée
2 3/4 cups chicken stock
2 teaspoons kosher salt, divided
1/2 teaspoon madras curry powder
1/4 teaspoon crushed red pepper
1/8 cayenne pepper
1 teaspoon light or dark brown sugar
1/4 cup heavy cream
Garnish:
1/4 tablespoons pumpkin seeds
1 teaspoon olive oil
Salt
Heavy cream
1. Heat the butter and oil in a heavy-bottomed stockpot, add the onions, and cook over medium-low heat for 10 minutes, or until onions are translucent. Add minced garlic to the top of the onions and cook until fragrant, about 1 minute.
2. Add the pumpkin purée, chicken stock, 1 teaspoon of the salt, and pepper. Cover and simmer over medium-low heat for about 15 minutes. The soup will be mostly smooth (minus the bits of onions). You can leave it as is, if you like, and skip the blender step, though I prefer a smoother soup. Process the mixture, in batches, using a blender. Be sure to let the hot air escape so you don't have an explosions on your hands. Return the mixture to the pot and add the spices: curry powder, crushed red pepper, cayenne pepper, brown sugar, and heavy cream. Cook for an additional 5-10 minutes. Salt to taste. The soup might need the remaining teaspoon of salt, or it might not, depending on the chicken stock you've used.
3. Meanwhile, pre-heat the oven to 350F. Spread the pumpkin seeds on a baking sheet. Toss with the olive oil and sprinkle with salt. Transfer to the oven to toast for 5-7 minutes, or until lightly golden brown.
4. Serve soup hot with the toasted pumpkin seeds in the center and a drizzle of heavy cream on top. Fall is awesome.
Recipe adapted from Acorn Squash Soup