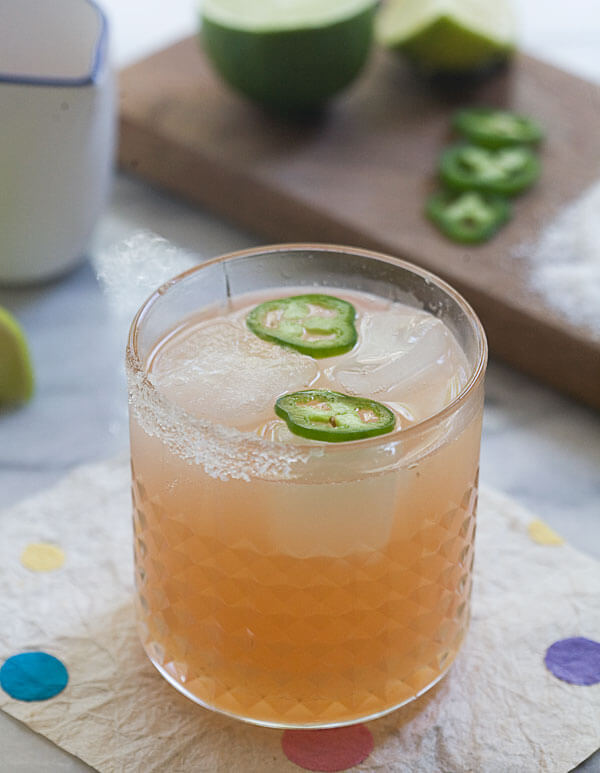 Have you all gone on your summer vacation yet? Are you going on one?
I just got back from Palm Springs where I spent a very short but awesome two days and man, do I miss it. It made me yearn for a real vacation, you know…the ones Europeans go on every year because their jobs support the idea of them three or four weeks off. I want a vacation like THAT. A real one. I'm not complaining, I swear. I'm just a little tired and I'd really like to spend a whole day reading a book, doing absolutely nothing, and drinking. Please, let's have a drink.
I'm not on vacation, and if you aren't either then at least we have some sort of cocktail hour we can make up in place of it. In Palm Springs I was totally making myself cocktails at 11am and it was awesome. I didn't tire of it.
This Paloma is my new jam because while I love Mexican food, I don't luuuuuv Margaritas. This one is all about the fresh grapefruit juice with grapefruit soda. And the spicy simple syrup made with agave is AWESOME. I love it. This is the thing I want to drink constantly while on vacation.
Tell me, what vacation are you planning? If you're not going on one, please complain. (I love to hear complaints–it makes me feel less alone.)
The recipe for this fine-looking specimen is on PBS's blog! Weeee!