I feel like we've earned a cocktail this week, don't you think?
I think we have. That's my vote. I'm going to be frank with you and let you know that I'm not a margarita girl. Not one bit.
I'm more of bourbon on the rocks girl. I'm a fancy (or even cheap) kinda beer girl. I can be a wine girl, sometimes. Definitely a gin and tonic kinda girl. But never a girl who craves margs. But if I am gonna be that girl, the drank has gotta be spicy. I love a spicy margarita...but not too, too spicy either or else I'll be that girl who eats all the chips trying to extinguish the jalapeño fire. I'm complicated.
I drank the last of this while watching this week's Nashville and almost freaked out. If you're not watching this show, you're missing out on so much scandal, big hair, sequins and country music. It really is a dream of a show.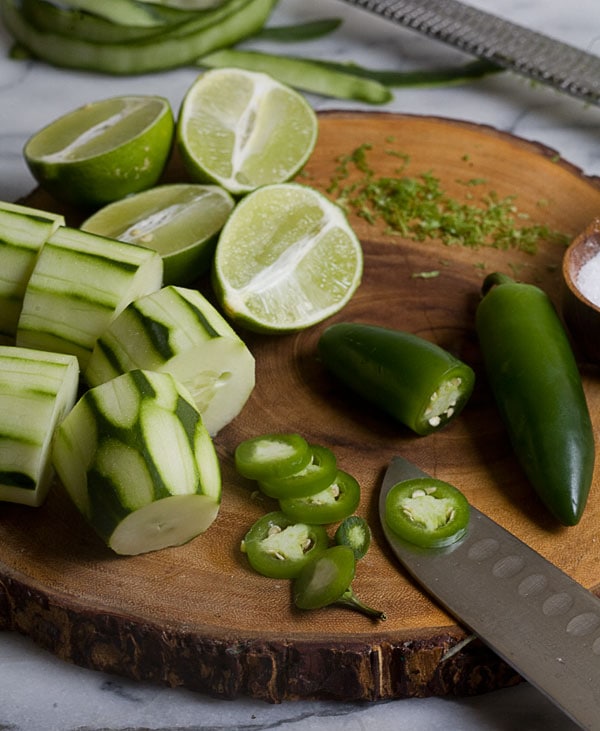 Look at this demon! She's so nosey.
She's also my trusty blogging partner. She usually gets a taste of something (if it's deemed safe). On this day it was a few slices of cucumber. No jalapeño! No tequila! (She's not of age.)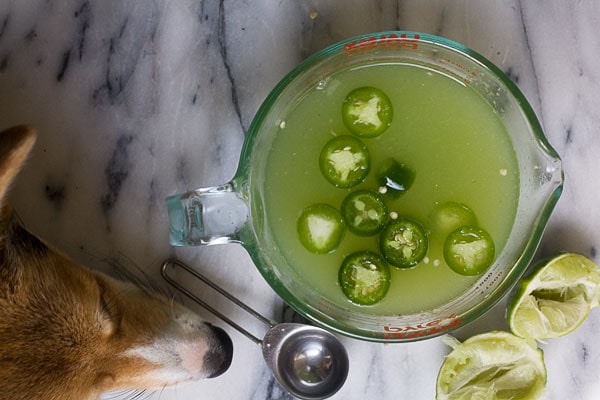 This is perfect for dieciseis de mayo. (Do you see what I did there?) I understand that this margarita probably should've posted around cinco de mayo but seriously who cares. These are perfect for right now.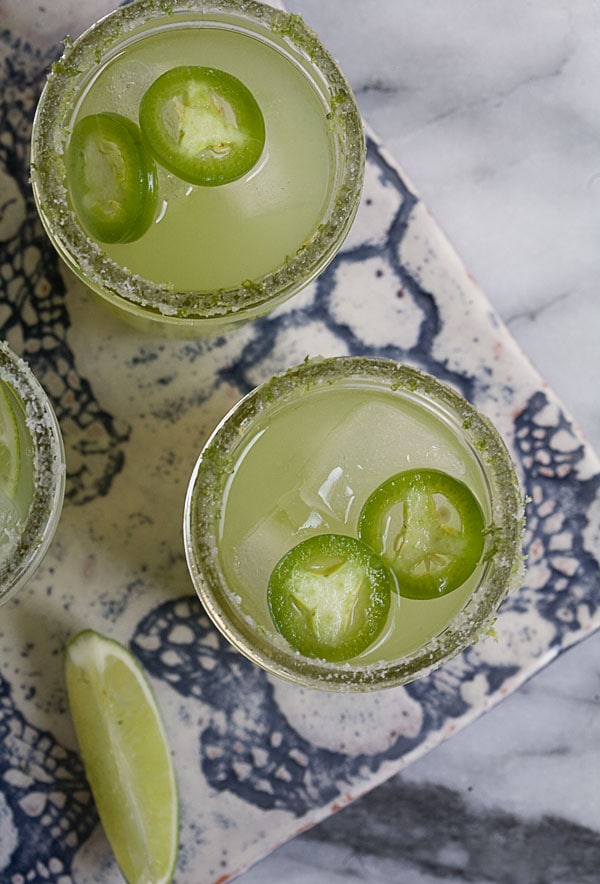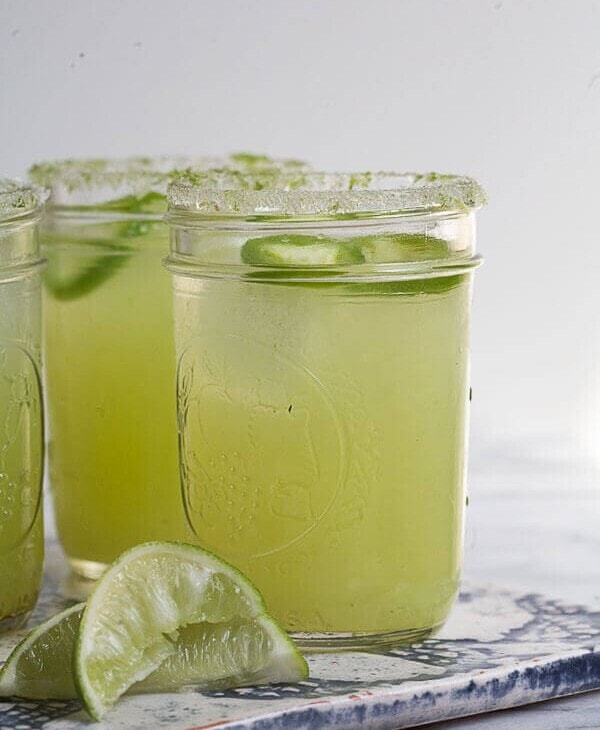 Print Recipe
Spicy Cucumber Margarita
Ingredients
3

cucumbers

peeled and roughly chopped

½

cup

white granulated sugar

½

cup

water

1

cup

tequila

2

tablespoons

triple sec

¼

cup

fresh lime juice

3-4 limes

1

jalapeño

sliced
Glass Rim:
2

tablespoons

Maldon sea salt

2

teaspoons

white granulated sugar

1

teaspoon

fresh lime zest
Instructions
To the jar of a food processor, add the chopped cucumber and pulse until the mixture turns smooth. Run the puree through a sieve, discarding the pulp, and reserving the cucumber juice. You should end up with 1 ½ cup of cucumber juice; set aside.

In a small saucepan, combine the sugar and water. Heat on medium low until the sugar dissolves.

To a pitcher, mix together the cucumber juice, tequila, triple sec, lime juice and jalapeño . Add half of the simple syrup and do a taste test. Adjust according to taste: add more simple syrup if you'd like it to be a bit sweeter.

Transfer to the refrigerator so the jalapeño has time to spice the mixture. Check the mixture every 15-20 minutes and do a taste test. I was happy with the spice level at the 1 hour mark.

On a plate, mix together the salt, sugar and lime zest. Run a lime around the edge of the glasses to moisten; dip the rims in the salt and sugar mixture. Add a few ice cubes to each glass and divide the margarita mixture between the glasses. Garnish with a few slices of jalapeño or lime or even a few slices of cucumber.