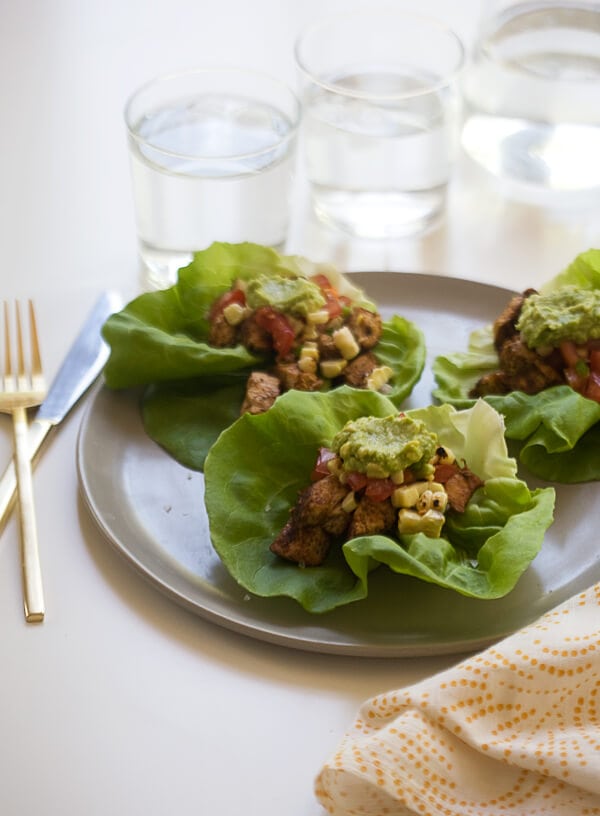 I'm pretty sure this has been the first year where I actually do a big time spring cleaning. Most years I just fantasize about spring cleaning, wishing I was one of those super organized people with a label-maker and the energy to organize everything. But most of the time, organizing overwhelms me. This year, as in this past Saturday, I took action and murdered three of the most disorganized, embarrassing closets I've ever had in my life.
I called them the "death closets" because if you opened them, who knows what could happen. An avalanche of stuff might just pour out, crushing you to death. Death closets.
They're gone, now. They don't exist. The only thing that exists are three very tidy closets, ridden of all of the junk they were holding; junk I didn't need, use or like. UGH, BE GONE.
Have you done any spring cleaning? I swear it's good for your soul.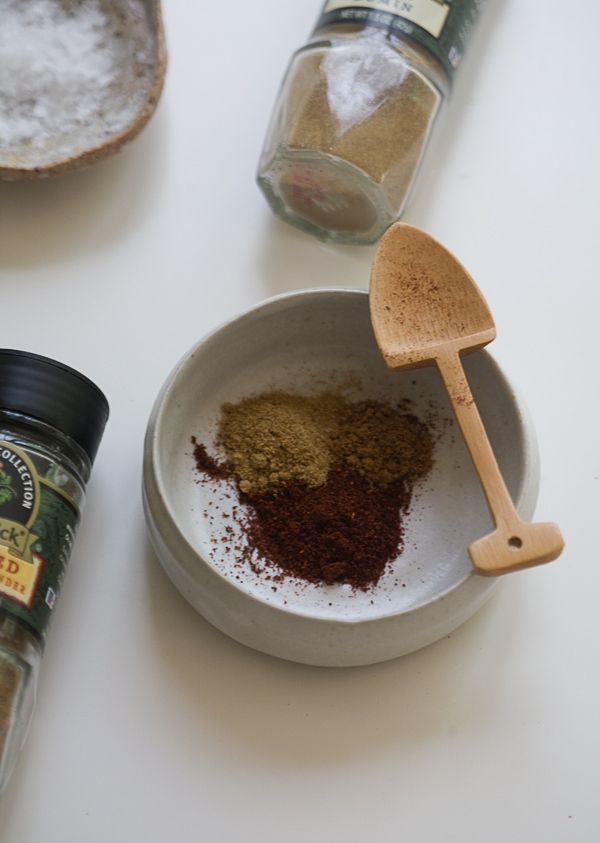 These thing-ies. These lettuce cups are literally what I eat nearly every single night. I know that may seem like an outrageous claim but it's not.
I eat them because they're healthy and delicious and spicy. They're the perfect 15 minute dinner that you can eat by yourself at the end of a warm day. That's not a glamorous picture, but it's a real one.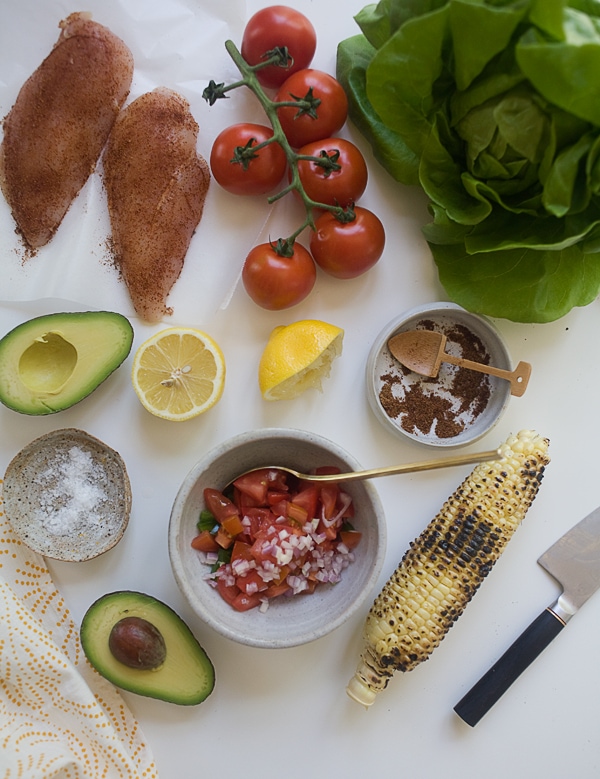 The first step I do is make a rub for the chicken. This is important! A little bit of salt, a good amount of cumin, ancho chile pepper and ground coriander. I rub the chicken with the spice mixture and sear it on both sides. Chop it up and cook it one more time and place it in the lettuce cups.
I have the biggest attitude about skinless, boneless chicken breasts (I'll always go for the dark meat), but I swear these turn out really moist and super delicious. The marinade is what helps for sure.
(Sponsored by McCormick. Thanks for supporting the sponsors that keep A Cozy Kitchen cozy.)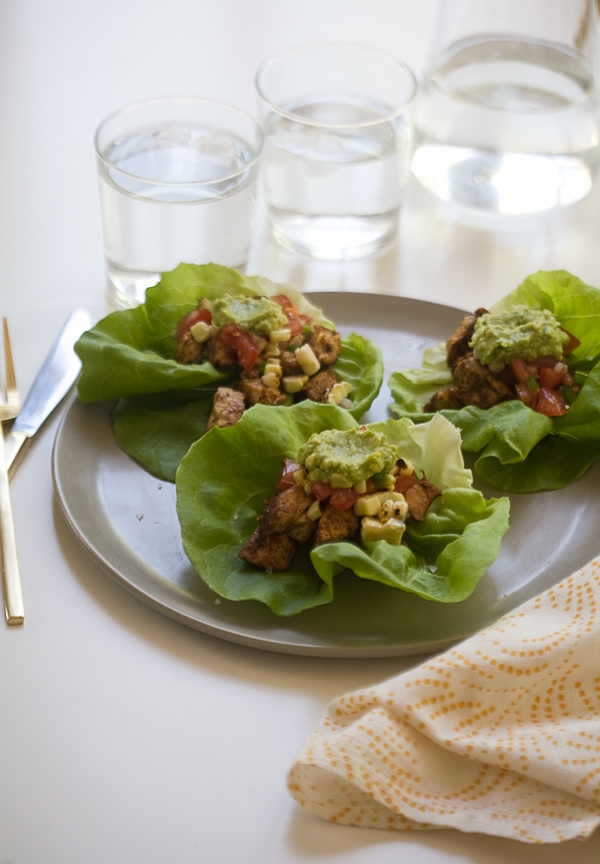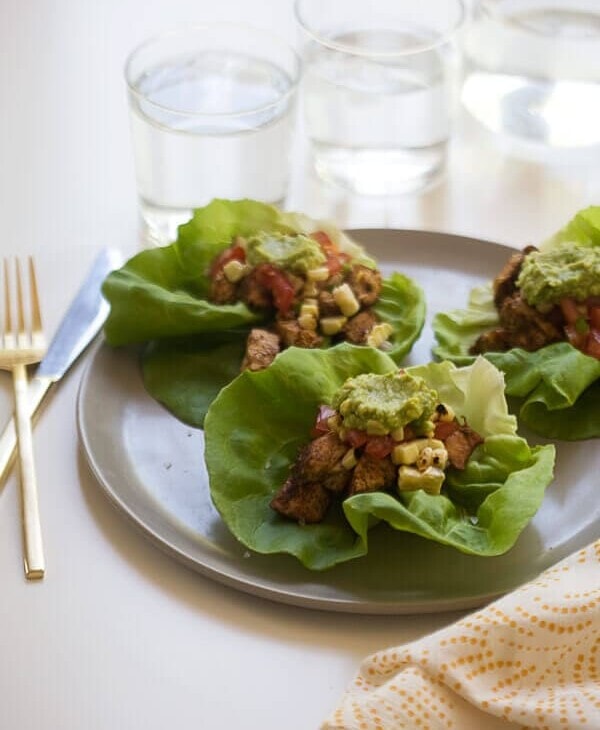 Print Recipe
Spicy Chicken Lettuce Cups
Ingredients
1

tablespoon

McCormick Gourmet ancho chile powder

1 1/2

teaspoons

McCormick Gourmet ground cumin

Salt

1/2

teaspoon

McCormick Gourmet ground coriander

1

pound

of boneless

skinless chicken breasts

1

corn on the cob

2

small vine ripe tomatoes

diced

1

jalapeño

diced

1

small shallot

diced

Juice from 2 lemons

divided

1

avocado

diced

1

head of butter lettuce

you'll use about 6-8 pieces of lettuce
Instructions
In a small bowl, mix together the ancho chile powder, ground cumin, 1 teaspoon sea salt and ground coriander. Sprinkle the chicken's both sides with the mixture and set aside.

Using a grill or the grate of your gas stove, place the corn atop the flame to char for 2 to 3 minutes, rotating it every so often so it gets an even char. Remove from the grate and cut off the kernels.

In a small bowl, mix together the charred corn kernels, diced tomatoes, jalapeño, shallot, juice from 1 lemon and a few pinches of salt. In another small bowl, add the diced avocado and juice from 1 lemon. Mash up with a fork, until smooth, and add a few pinches of salt to taste.

In a medium skillet, set over moderately high heat, add a tablespoon of olive oil. When the oil is hot, add the chicken and cook on the first side for 1 to 2 minutes, until browned; flip the chicken and cook on the opposite side for an additional 2 minutes. Turn the heat down to medium low. Remove the chicken and quickly dice (a pair of tongs in one hand and a knife in the other help make this go very quickly!) it up and return it to the pan, adding more oil if needed. Cook for an additional 2 to 3 minutes. Remove

Divide the pieces of lettuce among plates. To assemble, place a few spoonfuls of chicken into each lettuce cup. Top with a tablespoon of the tomato mixture and a dollop of guacamole.