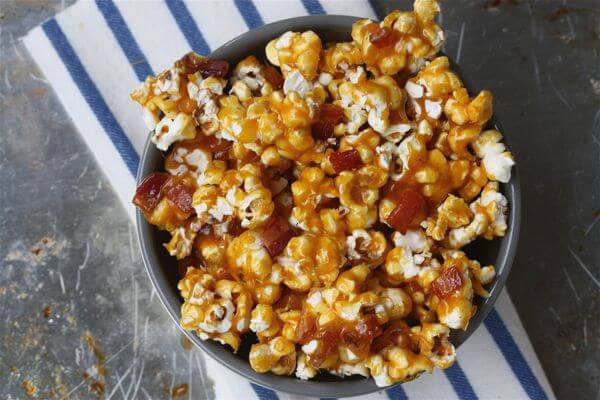 On Monday morning I did something totally crazy.
I reached for my cell, dialed Time Warner and cancelled my cable. This was a desperate measure to take my life back. Sound dramatic? Probably. But last week I called my mom to discuss Bethenny and Jason's marriage, which sort of seems on the rocks (right?!!?). And on Sunday night I was all like, "Whoa Cythia! That orphan comment you said about Kim was craaaazy messed up. KIM, DON'T FORGIVE HER!"
I have to draw the line sometimes, you know? Being invested in TV relationships is just too much for me right now. I can't deal. I'd rather spend my life thinking about other things…like bacon and popcorn, and cookies with brown butter in them.
Also, this means I have more money to spend on shoes. Shoes > Cable. DUH!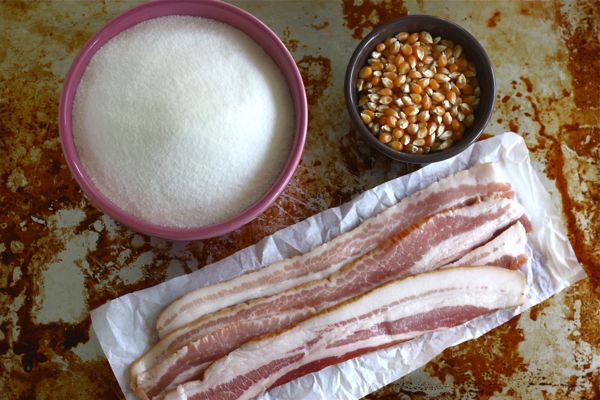 I woke up thinking about popcorn, literally. I dreamed this popcorn situation while laying in bed before my alarm went off.
My first brain-thought when I get up is always coffee. Always.
So, coffee lead to breakfast foods. Breakfast foods lead to bacon. Bacon lead to something sweet…like maple syrup.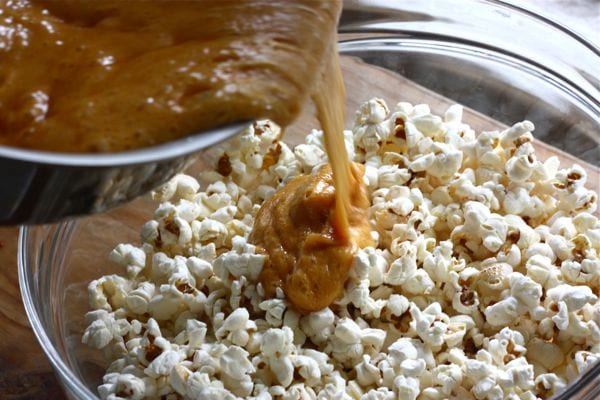 Maple syrup lead to sugar, which then transformed into slightly browned, creamy caramel. And caramel usually leads to salt. And THEN salt lead to popcorn.
(And then I thought to make it spicy while in the shower.)
And then BOOM! Spicy Caramel Bacon Popcorn.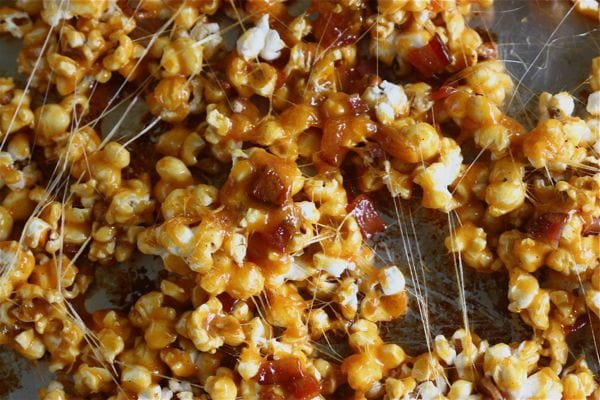 A fun lesson I learned: boiling sugar, checking Instagram, checking Twitter, texting AND taking pictures is totally an accident waiting to happen.
I have a blister on two of my fingers now. No biggie! Just don't do what I did.
This caramel cooks up like a champ–nothing too scary. All you gotta do is work swiftly, so make sure you have all your stuff set-up and ready to go, beforehand.
What I love about this popcorn recipe is that the bacon bits are added to the caramel, so they're coated, too! That mixture is poured over the popcorn. This means the bacon is, like, stuck to the popcorn. AWESOME.
This caramel popcorn has a good punch of heat and the salty bacon works wonders with the caramel.
P.S. Is it bad that I already sorta miss my cable?! The OC Housewives are gonna be on tomorrow and I'm gonna miss it. SADFACE!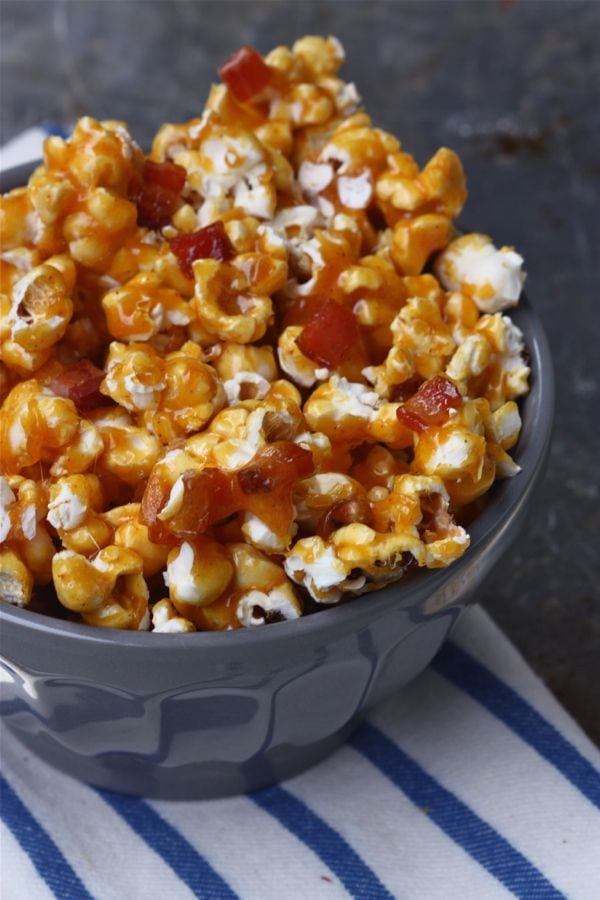 Spicy Caramel Bacon Popcorn
5-6 slices of bacon
Nonstick cooking spray
3 tablespoons vegetable oil
1/2 cup popcorn kernels
1 1/2 teaspoon baking soda
3/4 teaspoon cayenne pepper
3 cups white granulated sugar
3 tablespoons unsalted butter
2 teaspoons fine sea salt
1. Preheat oven to 400 degrees F. Line a baking sheet with parchment and lay bacon side-by-side. Transfer baking sheet to hot oven and cook bacon for 15 minutes, and until crispy and brown. Remove and place on paper towels to drain. When cool, cut into dice-sized pieces.
2. Lightly coat two large heatproof rubber spatulas and a large mixing bowl with nonstick cooking spray. In a large saucepan or pot with a lid, heat the vegetable oil over medium-high heat. Add the popcorn kernels, cover, and keep the saucepan moving until all of the kernels have popped, about 4 minutes. Transfer the popped popcorn to the large prepared bowl, removing any unpopped kernels.
3. In a small bowl, whisk together the baking soda and cayenne pepper. In a medium saucepan, combine the sugar, butter, salt, and 1/2 cup water. Cook over high heat, without stirring, until the mixture becomes a light golden-yellow caramel, about 10 minutes. Remove from the heat and carefully whisk in the baking soda mixture (the mixture will bubble up). Quickly fold in bacon bits. Pour the caramel over the popcorn and toss, like a salad, until all of the popcorn is evenly coated with the caramel.
4. Pour the popcorn onto a large baking pan and quickly flatten and separate it into small pieces while it is still warm. Cool to room temperature, about 15 minutes. Once it is cool, store it in a well-sealed airtight container.
5. Caramel popcorn will keep in an airtight container in the refrigerator for up to 4 days.
Adapted from The Craft of Baking