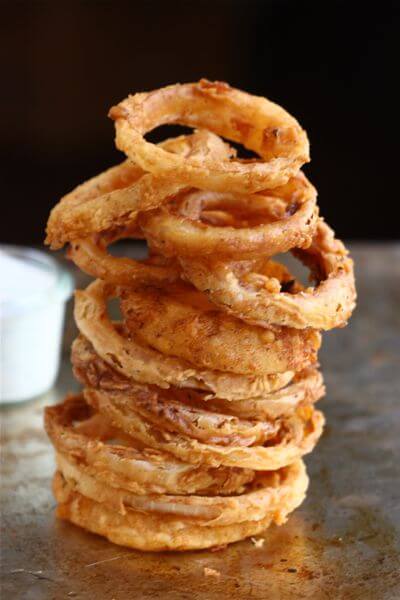 Onion rings remind me of George Clooney. Always. (Such a weird sentence, eh?! Well it's true. They do.)
When I was in college in North Carolina, the film Leatherheads came to shoot in town and Mr. Clooney was the lead. I got a job as a production assistant, filling in only a few days here and there because I was still in school and hated being a production assistant with a very deep passion.
Anewayzzz, on this particular day I had the awesome duty of "watching the door so no one comes through it," so I was there in this random corner of this old building all by myself doing yoga stretches or something. As I was mid-stretch I heard on the walkie that Clooney was about to come upstairs, past me and to his trailer, which was located across the street. I was ordered to stand outside. Why? No idea. I just did what I was told.
So, outcomes Clooney into the real, North Carolina world, being guided by a gigantic bodyguard. Just as he's crossing the street, I spot a woman running full speed toward George! I mean she's trekking it for him. Behind her is her car, which she left in DRIVE going slowly down the street and heading into the middle of the intersection.
I yell on the walkie that we need help...or something...and out comes another PA from a random building. He jumps in her car and slams on the brakes. Phew! He takes a peek behind him into her backseat and sees her 6-month old!! in the backseat. Of the car that she just abandoned.
Of course the bodyguard didn't let her touch Clooney. And set came to a halt as everyone was consumed with the drama that came with a woman abounding her infant child for a chance at touching Clooney. Some people are crayyyy!
An hour or so later I was let off of my PA shift and went to go meet some friends. I guess deep down I was sort of distressed because I straight-up emotionally ate an entire plate of onion rings. So, that's why onion rings always remind me of George Clooney. THE END!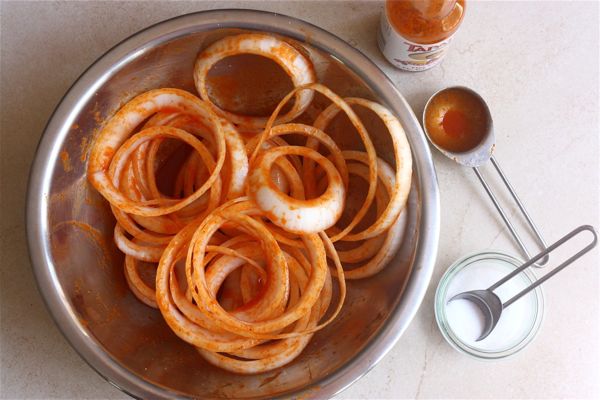 When in Winston-Salem, the place to get onion rings is at the restaurant I used to work at, Foothills Brewery. And in the south everyone, I mean everyone eats everything with ranch dressing.
Chicken Wings? No blue cheese just ranch.
Pizza? Side of ranch dressing.
Ribs? Side of ranch dressing.
Onion rings? Never ketchup just ranch.
It's just the way it works there, which is fine by me because I loooove ranch dressing.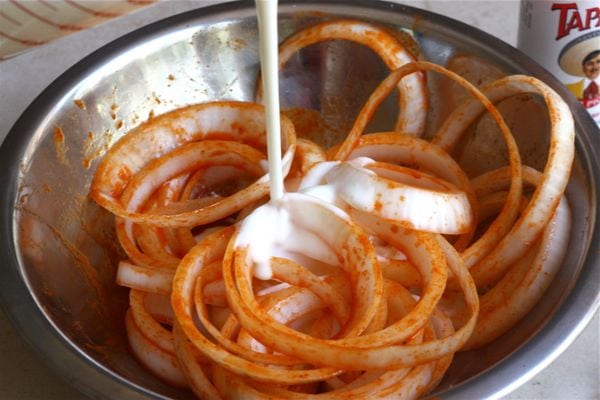 These onion rings are spicy. They have a kick. The ranch dressing is a perfect fit since it cools things down nicely.
The onion rings start by being tossed in salt and hot sauce. My favorite, forever and always is Tapatio. But any of them will work great: Texas Pete, Tobasco, Cholulua and even Sriracha.
Pour in the buttermilk and let the onion rings soak for 15 minutes or so. This is a good time to heat up the oil and make the ranch dressing.
This ranch dressing is made with equal parts Greek yogurt and mayonnaise. There's a good amount of fresh herbs in it too: fresh dill, chives and Italian parsley. A generous amount of salt and pepper and lemon juice.
At the very end, I add in the buttermilk. The recipe below will yield a thicker ranch dressing than what you're probably used to. I did this because I think it's better for dipping. Feel free to make it thinner if you like. No bigs!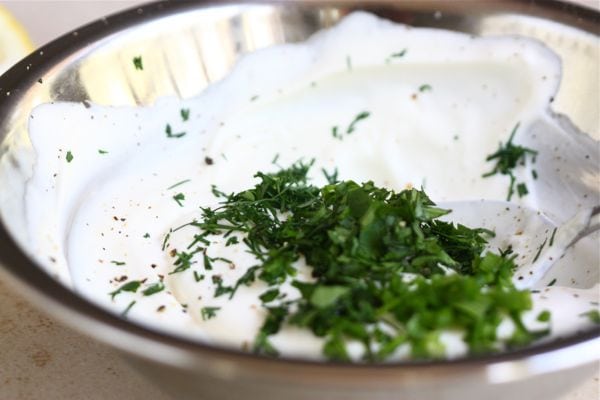 Serve these as an appetizer for you and a few friends.
Make them for yourself and stress eat. Maybe even throw on a George Clooney movie and stare at him. Whatever!
P.S. He's short in person.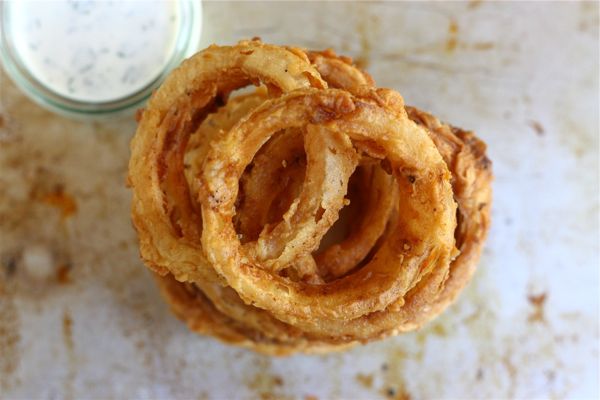 Spicy Buttermilk Onion Rings with Buttermilk Ranch Dressing
Onion Rings:
1 medium sweet onion, cut into ¼-inch rings
1 ½ cups buttermilk
½ teaspoon sea salt
4 tablespoons Tapatio (or another hot sauce)
2 cups all-purpose flour
1 teaspoon sea salt
½ teaspoon garlic powder
½ teaspoon freshly ground pepper
Vegetable Oil
Ranch Dressing:
¼ cup Greek yogurt
¼ cup mayonnaise
1 garlic clove, minced
Pinch salt
Pinch pepper
1 teaspoon lemon juice
1 teaspoon dill, minced
1 teaspoon chives, minced
1 tablespoon Italian parsley, minced
3 tablespoons buttermilk
1. Place the onion slices in a medium bowl and toss with salt and hot sauce. Pour in the buttermilk, submerging the onions in the buttermilk/hot sauce mixture. Allow the onions to soak in the buttermilk for 15 minutes.
2. In another medium bowl, mix together the flour, salt, garlic powder and pepper.
3. Line a baking sheet or large plate with a bed of paper towels. To a cast-iron skillet, add oil until it reaches about 3-inches up the sides. Heat the oil until it reaches 360 degrees F.
4. While the oil is heating up, it's a great time to make the ranch dressing. To a small bowl, add the yogurt, mayonnaise, salt, pepper, lemon juice and herbs. Mix until it's thoroughly combined. Add the buttermilk and stir. Since I was using it as a dipping sauce, I favored a thicker consistency, but feel free to add a tablespoon or two more of buttermilk until you reach your desired consistency. Set aside.
5. When the oil is hot, remove the onions from the buttermilk and transfer them to the flour mixture bowl, dredging them on both sides until coated. Gently place in the hot oil until light brown on both sides, about 3 minutes, and turning them once. Transfer the onion rings to a bed of paper towels. Repeat until you've fried all of the onion rings.
Note: This recipe is great to double. If you're doing a bigger batch, I suggest heating your oven to 200F and transferring the done fried onion rings to the oven to keep warm while you continue to fry up the rest of them.
Yields about 15 onion rings (I'd say that's perfect for an appetizer for 4 people)
Inspiration from Homesick Texan