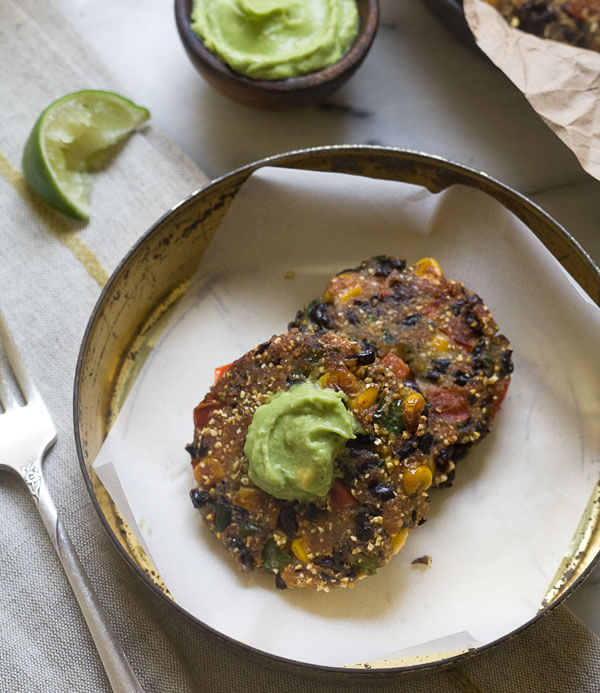 To all of you who entered the giveaway on Tuesday, THANK YOU! I read every single entry (and still reading--it ain't over!).
I LOVED hearing stories about your first cooking experience. Some of your stories were funny, simple, most involved grilled cheese, a lot of them were accounts of utter disaster, and some even involved pancakes! Others were sweet, visceral and really really beautiful. Some of your memories involved grandparents, parents, aunts and uncles who are no longer with us but left such an enormous impact on you and your relationship with cooking and food. Thank you for sharing these super personal stories. I loved reading them. I cherish them. I hold them close.
Today I'm sharing a very savory, non breakfast-ey recipe from the book. Coming up with 72 pancake recipes is a lil' tough, so when I got to the dinner portion, I included all sorts of "pancakes." There are patties, fritters, savory popovers, arepas and huaraches. I love these Spicy Black Bean Cakes. They're really simple to put together, hella flavorful and they're gluten-free! Woohoo! Oh and the Avocado Buttah is delicious.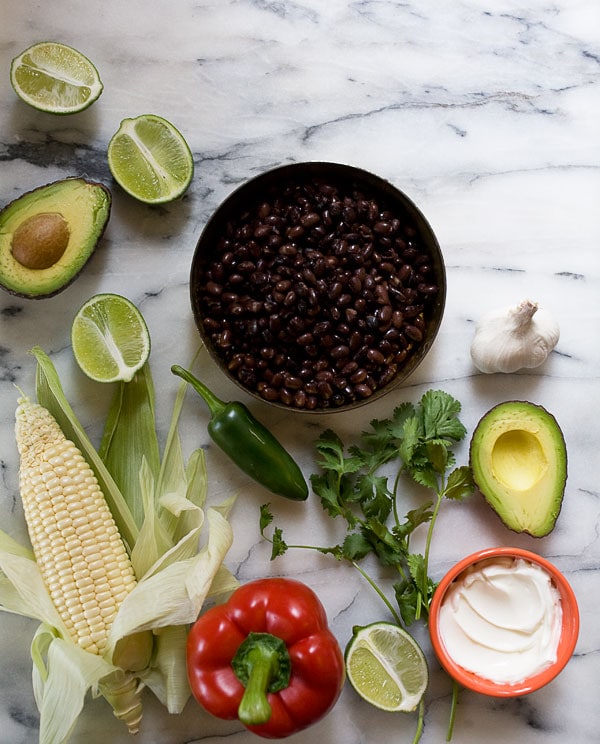 I came up with this recipe for these cakes when I was watching Friday Night Lights. I miss that show. I love that show. I love Nashville but it doesn't compare. It just doesn't.
I'm currently trying to find a new show. It's a very similar feeling when you just finished an awesome book and you're looking for your next word-adventure. There's a feeling of needing to be enthralled in someone else's story, someone else's drama. I think I like being wrapped up in someone's story because I'm really nosey.
For example, I know I'm a nosey person because when I get a cookbook, one of the first things I want to read is the acknowledgements. I want to get all up in the author's life. I wanna know who their friends are, who they thanked, who their agent is, who didn't they thank. I'm nosey. I used to do the same things with CDs (remember when you'd get the jacket?).
If you get your hands on my book, I encourage you to get all nosey up in my acknowledgements. I encourage nosiness!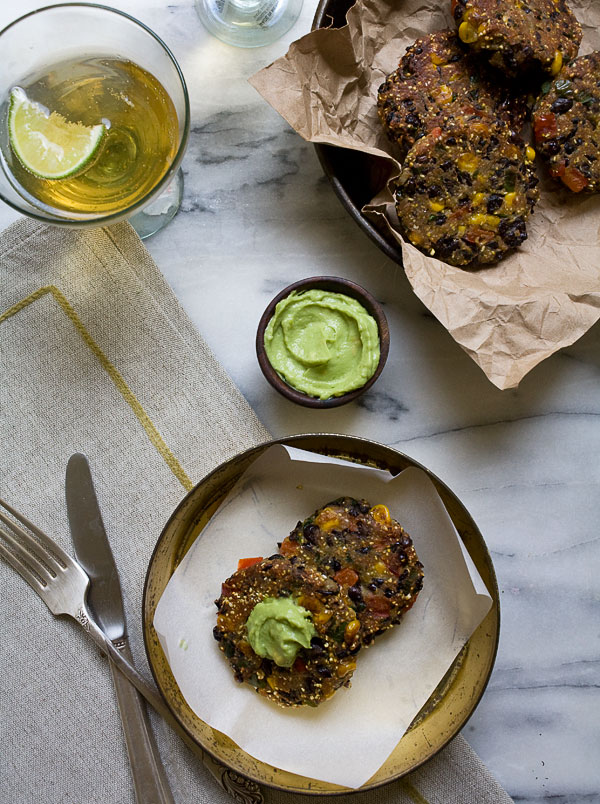 I sometimes catch myself mid-nosey and stop. Another example, last week I was in Michael's looking around for the perfect colored raffia when I heard screaming. So of course, I peeked in the general direction of said screaming. There was a man dressed in head-to-toe fly fisherman gear, screaming at the cashier about not getting the right discount. I watched the entire thing until it was over. I'M NOSEY!
I caught myself and was like, Geez, you really need to work on this nosey behavior.
So yeah, I'm looking for a new show/book...recommendations are welcomed!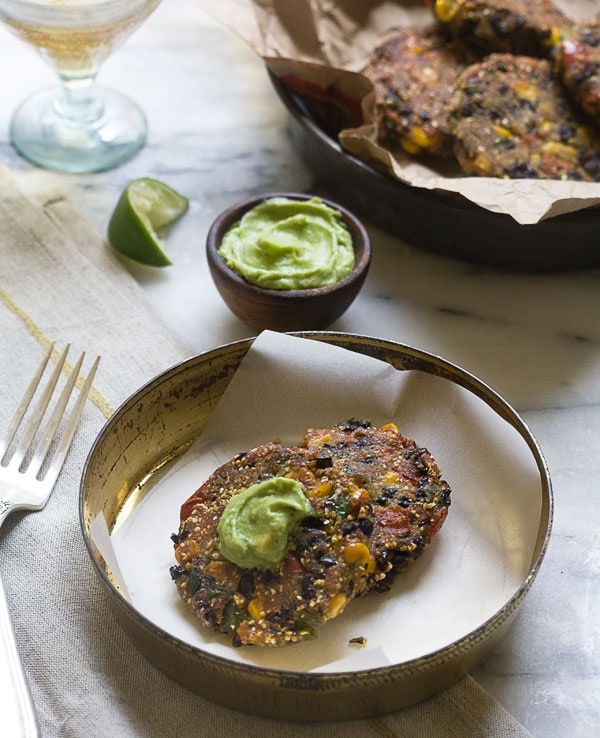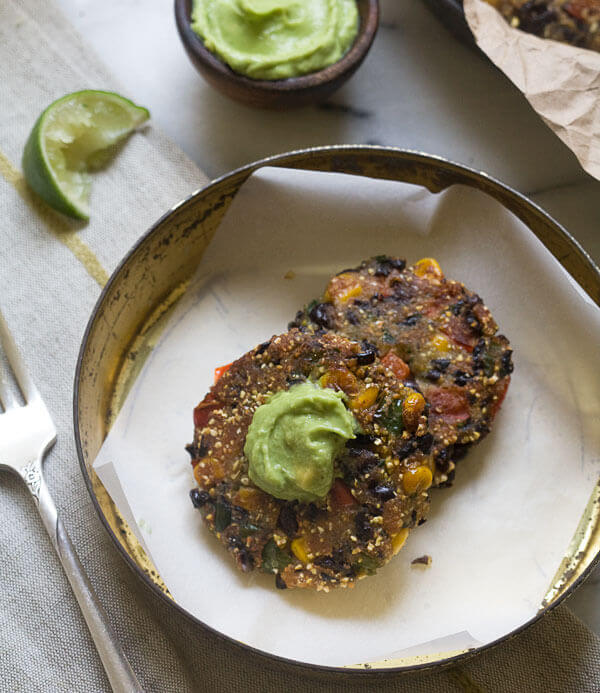 Print Recipe
Spicy Black Bean Cakes with Avocado Butter
Serving Size:
cakes and ¾ cup avocado butter
Ingredients
Spicy Black Bean Cakes
1

tablespoon

olive oil

¼

cup

red bell pepper

seeded and diced

½

cup

yellow corn kernels

canned, frozen, or fresh

1

jalapeño pepper

seeded and minced

2

teaspoons

ground cumin

1

garlic clove

minced

One 15-ounce can black beans

rinsed and drained well

½

cup

cornmeal

1

large egg

lightly beaten

2

tablespoons

fresh cilantro

minced

2

teaspoons

hot sauce

¾

teaspoon

salt
**Vegetable oil, for the skillet
Avocado Butter
4

ripe Haas avocadoes

½

cup

sour cream

¼

cup

freshly squeezed lime juice

½

teaspoon

finely grated lime zest

¼

teaspoon

ground cumin

Salt and freshly ground black pepper
Instructions
In a medium skillet over moderately high heat, heat the olive oil. When the oil is hot, add the bell pepper, corn kernels, jalapeño, and cumin and mix together. Cook for 2 to 3 minutes until the vegetables become translucent. Add the garlic on top of vegetable mixture and cook until fragrant, about 1 minute more.

In a medium bowl, using a fork, smash the black beans. Add the warm vegetable mixture, cornmeal, egg, cilantro, hot sauce, and salt, and mix until thoroughly combined. Cover with plastic wrap and refrigerate for 30 minutes.

Scoop ¼ cup of the black bean mixture onto the palm of your hand. Form into a patty that is 3 inches in diameter and about 1 inch thick. Continue to make patties with the remaining mixture.

Place a skillet over medium-high heat, and pour in vegetable oil until it reaches ¼ inch up the sides. Once the oil is hot, carefully add the patties, being sure not to overcrowd the pan. Cook for 2 to 3 minutes until golden brown. Gently flip and cook on the opposite sides for a minute or two. Transfer to paper towels to drain and then place them in a preheated 200F oven to keep warm. Repeat the process to cook the remaining cakes. Serve immediately.
Avocado Butter:
To the bowl of a food processor, add the avocado, sour cream, lime juice, lime zest, and cumin. Pulse until smooth. Add salt and pepper to taste. Serve immediately.
Recipes from PANCAKES: 72 Sweet and Savory Recipes for the Perfect Stack