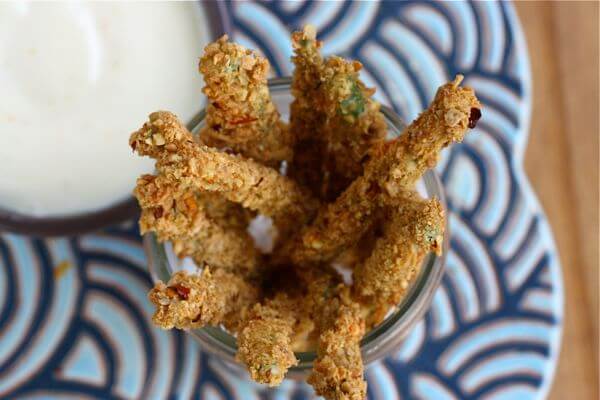 We gotta talk about what you're doing this weekend. I need to hear what you're making, and who you're rooting for…blah blah, we'll get to it. Before we delve in, I need you watch this video. It's important. Do me a solid and watch it, please.
It's going to make you laugh. It might even make your day. And it's totally going to make you fall in love with Kristen Bell.
I'm sort of obsessed with her reaction to meeting a baby sloth. I dunno. I think it might the funniest, most endearing thing I've ever seen. And I'll be honest, it also sorta scares me. That's not a normal person's reaction, you know? But I dig it. I dig her craziness. Baby sloths can make someone crazy. I get it.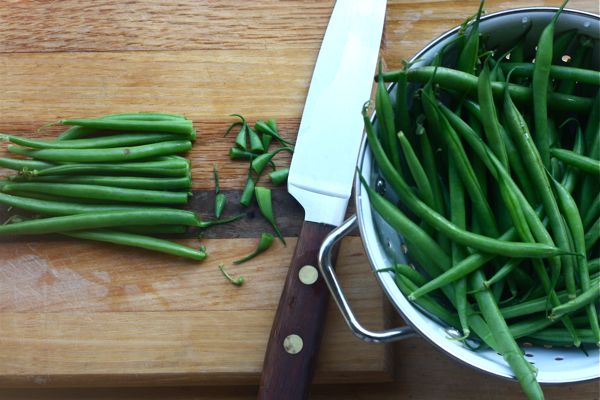 There's nothing crazy about baked green bean fries. These are the opposite of baby sloths.
They're healthy, snappy, crunchy.
They're a little healthier since I opted to use multi-grain crackers, instead of bread crumbs.
You can do either, if you like. They'll be delicious either way.
After I ran the crackers through a food processor, I spread the mixture out on to a plate, added a little salt and a good amount of crushed red pepper. Whenever I go healthy, I always up the spice. It's a must.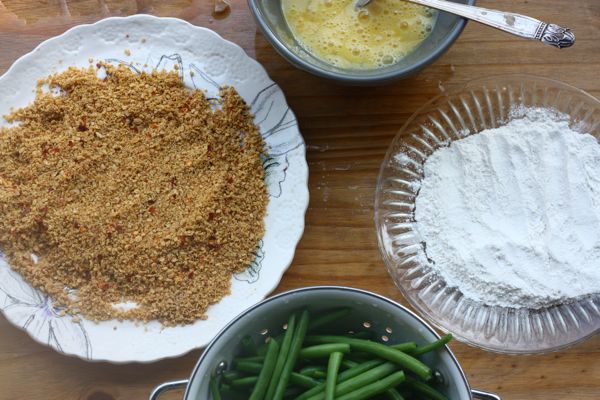 Like the typical vegetable fry, they went from flour to egg to crumbs.
On a baking sheet and in the oven.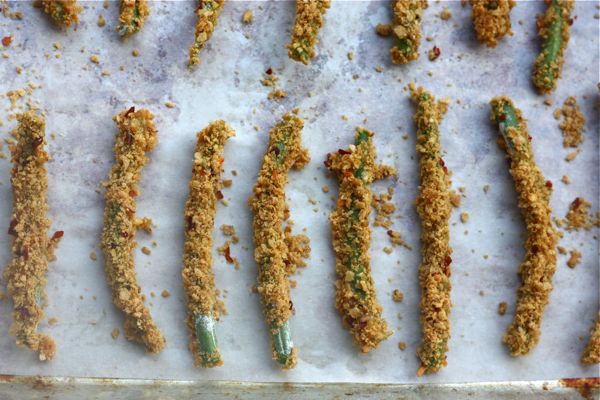 While they were going at it in the oven, I made the meyer lemon aioli.
Whoa. This stuff…I don't have any close-up shots of the aioli itself, but the zest is pretty amazing. It's bright and shiny…and not so healthy, but delicious. I recommend.
If you're still stuck as to what you should make for the Super Bowl, might I recommend some Soft Pretzel Tots, Spicy Vegan Chili, Cheddar Jalapeño Cornbread, Zucchini Fries or Tater Tots!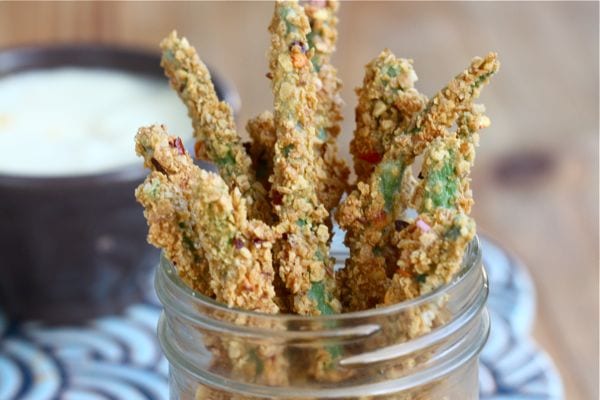 Spicy Baked Green Bean Fries (with Meyer Lemon Aioli)
Fries:
2 cups bread crumbs (or Pepperidge Farm Baked Natural crackers crushed)
1 teaspoon crushed red pepper flakes
1/2 teaspoon kosher salt
1/2 pound French green beans, cleaned and trimmed
1/2 cup all-purpose flour
2 large eggs, beaten
Aioli:
1 meyer lemon, juiced and zested
1/2 shallot, minced
1 large egg yolk
1/4 teaspoon kosher salt
1/2 cup canola oil
1. Preheat oven to 375F. On a plate, mix bread crumbs with red pepper flakes and kosher salt. Dip green beans in flour, egg and then transfer to bread crumb mixture and coat evenly.
2. Place coated green beans on a baking sheet and bake for 15 minutes or until green beans are lightly golden brown.
3. Meanwhile, add meyer lemon juice and zest, shallot, egg yolk and salt to a blender. As blender is running, slowly drizzle canola oil into the mixture. It will thicken as it emulsifies. Salt to taste and transfer to a ramekin.
*Heads up: Pepperidge Farm kindly gave me a stipend to make this recipe.