I've made the executive decision (in life) that A Christmas Story is the least cozy, most scary and creepy Christmas movie to have ever been produced. Between the father with the weird leg-lamp fetish, the obsession about Turkey dinner to Ralphie's mom actually punishing them with a gigantic bar of soap? WEIRD.
Then, why do I insist on catching it on TBS every.single.year, you ask? Well, maybe it's because their Christmas isn't that idyllic, unreachable type of image Pinterest vomits at you. Instead, it's real life, in a I-live-in-Indiana-in-the-40s kind of way.
I appreciate the Christmas realness, man.
But if I'm being frank, I hope your Christmas morning looks nothing like the one straight out of A Christmas Story. That's just scary.
Rather, I hope it's somewhere between Ralphie's scary Christmas morning and the one Martha Stewart makes happen in her Connecticut home.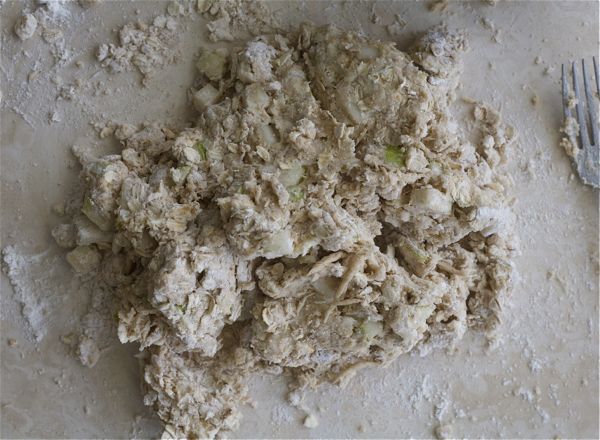 These scones deserve a place to be a part of said morning (or any morning when slowness flourishes) because they're ridiculously good…AND because they're probably the last "spiced" thing I'm going to be consuming for a lil' bit.
The dough is loaded with rolled oats, crunchy pears (that when baked turn into the perfect amount of tender), spices like cinnamon, nutmeg and ginger.
I love dhese things!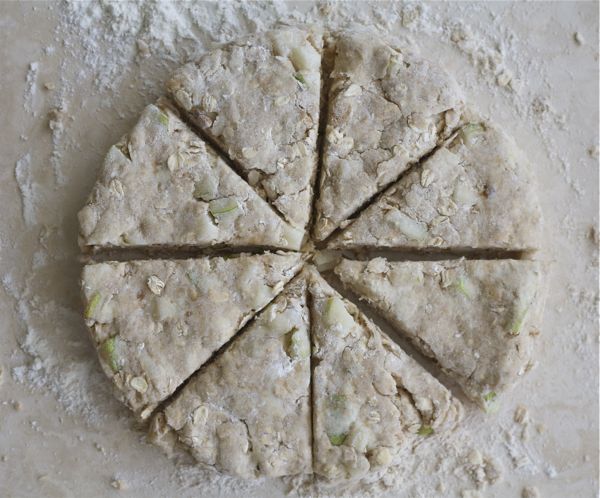 When I egg washed (currently my fav verb), I took advantage and topped them off with a heavily sprinkling of rolled oats and turbinado sugar.
I recommend this.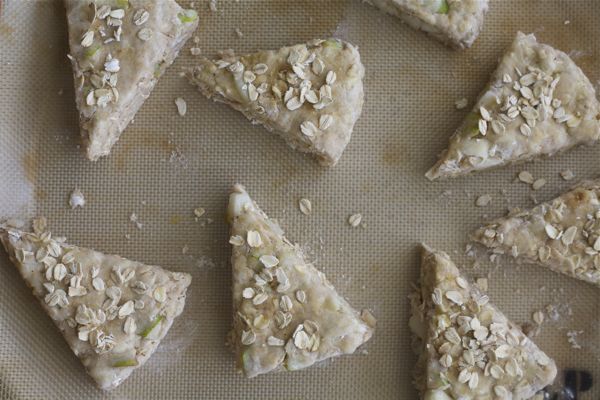 Happy Christmas, my friends!!
I hope it's merry, food-filled, family-filled and peaceful.
xo
Adrianna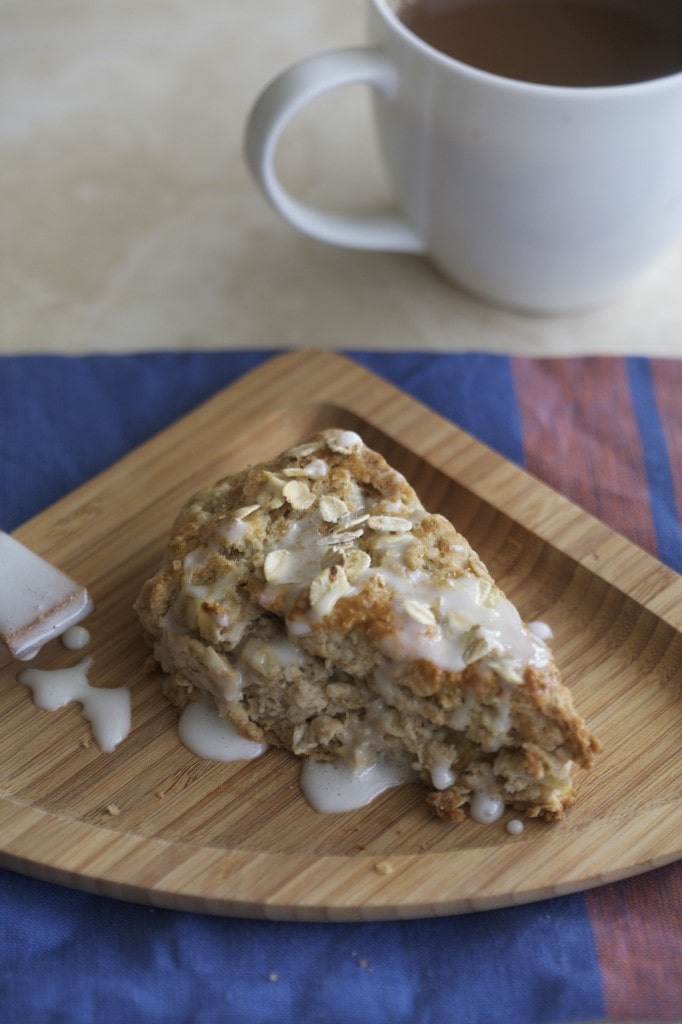 Spiced Pear and Oat Cream Scones
1 1/2 cups all-purpose flour
3/4 cups old fashioned rolled oats, plus more for topping
1/4 cup light brown sugar
1 tablespoon baking powder
1/2 teaspoon baking soda
1 teaspoon ground cinnamon
1/2 teaspoon freshly grated nutmeg
1/4 teaspoon ground ginger
3/4 teaspoon fine sea salt
5 tablespoons (or 2.5 ounces) unsalted butter, cold
1 cups diced bartlett (or any firm) pears (about 1 pear)
1/2 cup cold sour cream
1 large egg
1 teaspoon vanilla extract
Egg wash:
1 large egg
Splash of whole milk or water
Topping:
Rolled oats
Turbinado sugar
1. Adjust oven rack to middle position and preheat oven to 400 degrees F.
2. Place flour, rolled oats, light brown sugar, baking powder, baking soda, cinnamon, nutmeg, ginger and salt in large bowl. Whisk together until thoroughly combined.
3. In a small bowl, combine the sour cream, large egg and vanilla extract.
4. Using a box grater, grate the cold butter into the flour mixture. Working quickly, and using your hands, mix the butter into the flour mixture until it resembles a coarse meal. Gently stir in diced pears, being sure to coat them in the flour mixture.
5. Pour the sour cream mixture into the dough and mix until the dough begins to form, about 30 seconds.
6. Transfer dough and all dry, floury bits to a liberally floured countertop and knead dough by hand just until it comes together into a rough, slightly sticky ball, 5 to 10 seconds. Pat the scones flat to a 1-inch thickness. You can cut the scones into 8 wedges or you can use a biscuit cutter. I did the former and ended up with 8 triangular scones. Place the scones on a parchment-lined baking sheet. Beat an egg with a tablespoon of milk together and brush the tops' of the scones with the egg wash. Top scones with a sprinkling of rolled oats and turbinado sugar.
7. Transfer the baking sheet to the hot oven and bake until scones are light brown, 12 to 15 minutes. To make the glaze, mix the confectioner's sugar together with the milk until smooth. Drizzle atop the warm scones.
Yields 8 scones