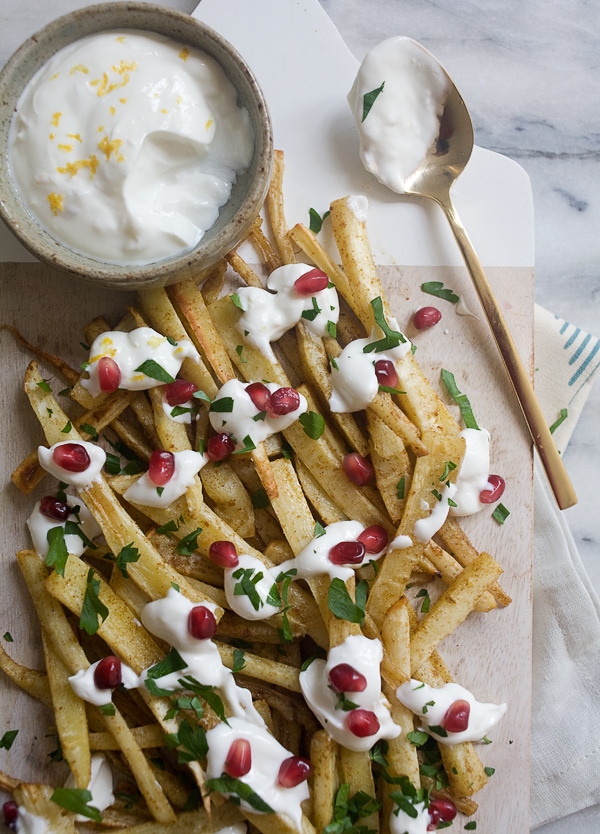 So I'm on this sort of diet thing. It's not a diet, exactly. It's more of a don't-eat-everything-you-want-which-includes-two-doughnuts-in-a-row kind of thing. I'm basically just trying to eat a bit healthier, though tomorrow I'm totally sharing something fun with you.
In the nature of this blog, which is a reflection of what I'm eating and obsessing over, there might be some more healthier recipes popping in and out over the next few months. This will never be a healthy-type blog; I simply love butter too much, but I am almost relearning how to cook and eat in a way. My default is always to finish things with a bit of butter. Bolognese? Finish it with butter. Sear a steak? Top it with a bit of butter? I'm learning how to not cook with so much fat.
I always know I feel better when I work out but it definitely takes effort to get in your car and drive somewhere to work out. I tend to make so many excuses. But right now I'm into it so I'm riding the wave. Also, if all this healthy/workout talk is boring, I'm sorry. Tomorrow I have pop tarts, ok? POP TARTS!
But today, fries that aren't fries. They're frauds. Delicious little frauds topped with lemony, garlicky yogurt, Italian parsley and sweet pomegranate seeds.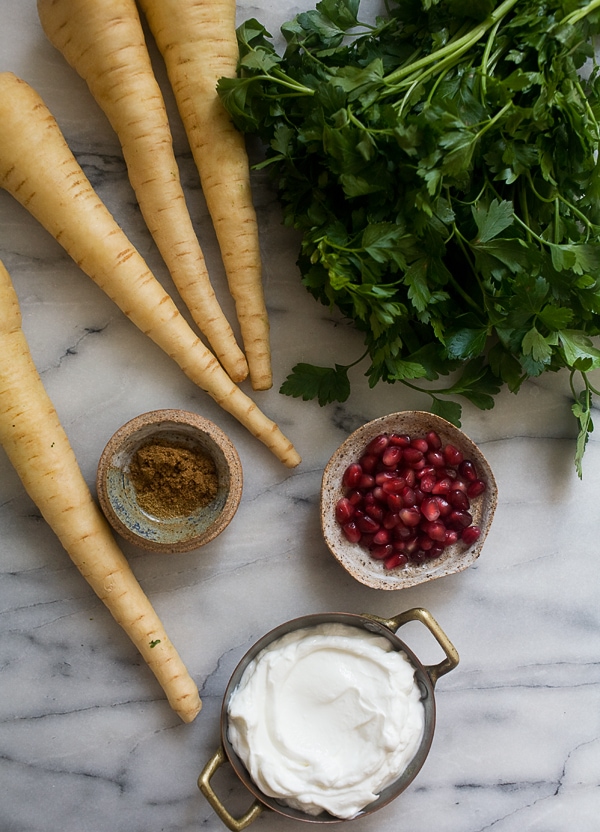 Pomegranate seeds are sort of out of season, but I often times buy them already deseeded at Trader Joe's, right by the berries. I've been putting them in my morning yogurt.
So, here's the thing with parsnips. They need to be cut up a certain way. The center is waaaay too fibrous. That shiz needs to be removed. Here's a bit of a step-by-step; hopefully it's a lil' helpful.
Step 1: Trim off the ends.
Step 2: Slice it in half, lengthwise.
Step 3: Slice the halves into quarters, lengthwise.
Step 4: Carefully slice off the pointed center. Then slice those quarters into sticks. These don't need to be perfect "fries."

That's it! Fairly easy, but pretty important. Especially when what I really want are real fries.
The sauce is yogurt, mixed with a roasted garlic clove, a bit of lemon juice and lemon zest. It's refreshing and couldn't be more easy to throw together.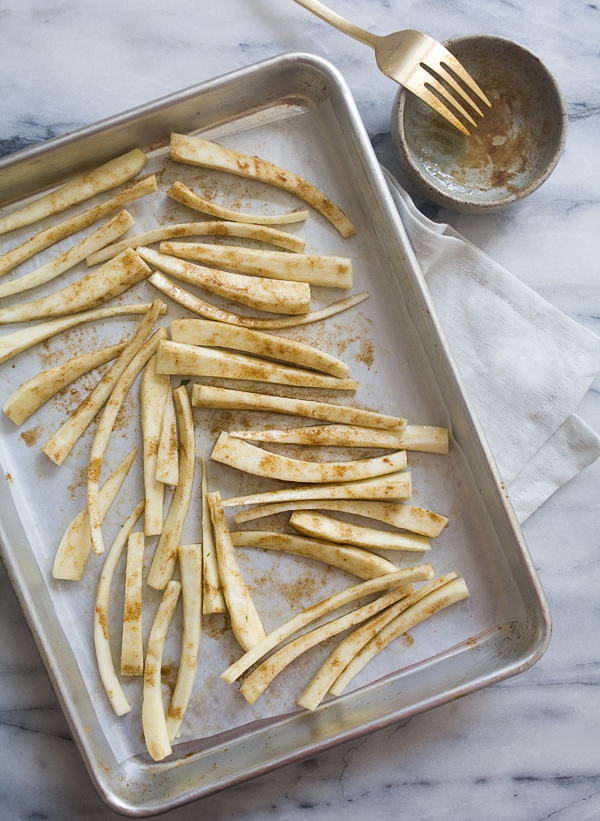 In other fun(ish) news, all of these little bowls are made my moi! Ceramics class is paying off. I'm making all sorts of fun stuff, even if they're totally wonky and mis-shaped.
I like that I'm making little things that are somewhat useful. That's cool.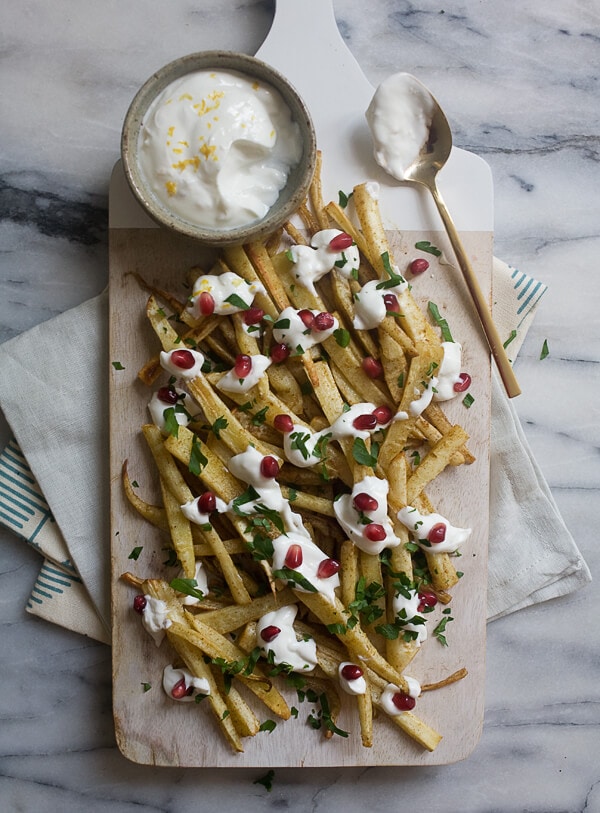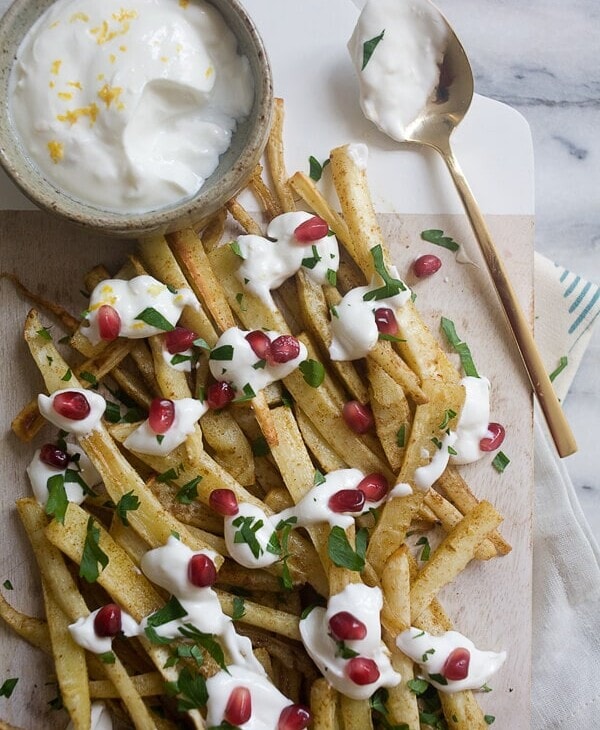 Print Recipe
Spiced Parsnip Fries with Roasted Garlic Yogurt
Ingredients
3

tablespoons

olive oil

2

teaspoons

ground cumin

2

teaspoons

ground coriander

Pepper

Salt

3 to 4

parsnips

trimmed, centers removed (see above for picture) and cut into 3x1/2-inch sticks

1

garlic clove

not peeled

1/2

cup

Greek-style yogurt

Juice and zest from 1/2 lemon

Handful of Italian parsley

chopped (for garnish)

Handful of pomegranate seeds

for garnish
Instructions
Preheat oven to 400 degrees F. In a small bowl, whisk together the olive oil, cumin, coriander, a few pinches of salt and pepper. Spread the sliced parsnips onto a parchment-lined baking sheet. Drizzle with the olive oil mixture and toss until the parsnips are evenly coated. Place a garlic clove on the corner of the baking sheet (we'll use this for the sauce!).

Transfer to the oven to bake for 20 minutes, tossing them at the 10 minute mark to ensure even cooking.

Meanwhile, make the dipping sauce! In a medium bowl, mix together the yogurt, lemon zest, lemon juice and a few pinches of salt. When the parsnips are done, remove the garlic clove and slice off the tip, pushing out the roasted garlic clove. Mash with the back of a knife so it forms a paste. Add to the yogurt mixture and mix until smooth.

Top the parsnip fries with a few dollops of yogurt sauce (or serve on the side), a sprinkling of chopped Italian parsley and a handful of pomegranate seeds.