I've been in New York this week on a trip that's been mostly vacation, with a few meetings sprinkled throughout, and it's been crazy amazing. While roaming around the city and eating all sorts of awesome things have been great, sleeping in has been the highlight. I never sleep in, and it's not because I'm a super responsible, productive person, it's because I have an animal that wakes me up way too early. It's been a glorious week.
While I was writing PANCAKES, there were a lot of recipes that hit the cutting room floor. This was one of them. Not because it wasn't worthy of being in print (it was!), it simply had to do with redundant. The Apple Pie Pancakes had already won its place within the book and there simply wasn't room for a second apple pancake recipe. But I haven't forgot about these apple ring pancakes. I've just been waiting for the right time to share 'em.
The ratio is a bit different. There's more apple than pancakes, which is awesome if you like apples. I love apples, though I'm not a huge fan of overcooked apples, which is one of the reasons why I love this recipe. The apples are just slightly cooked. They have just the right amount of give--but definitely aren't soggy.
The batter is thinner than I'd normally be into but it's way appropriate for this dipping. You want the batter to be able to drip off a bit. And just a heads up, these pancakes are best eaten right away. You can keep them warm in the oven but really are best right off of the pan.
I'm back to Los Angeles tomorrow morning and I'm excited to hug Amelia. I hope she acts like a psycho and runs around the house like a lunatic. I'll be disappointed if she doesn't. Maybe I'll even feed her a pancake.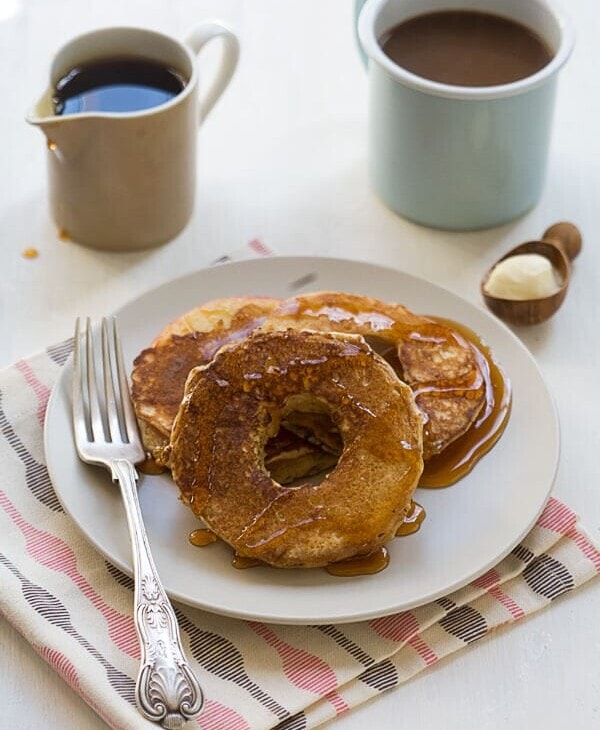 Print Recipe
Spiced Apple Ring Pancakes
Slices of apple are dipped in a classic pancake batter and then cooked on the pan to create delicious Apple Ring Pancakes.
Serving Size:
TO 10 apple ring pancakes.
Ingredients
Dry mix:

1

cup

all-purpose flour

1

tablespoon

brown sugar

2

teaspoons

baking powder

1

teaspoon

ground cinnamon

¼

teaspoon

freshly grated nutmeg

½

teaspoon

salt

Wet mix:

1

cup

whole milk

1

large egg

2

tablespoons

unsalted butter

melted and cooled

1

teaspoon

vanilla extract

Apples:

2

Gala apples

cored and cut into ¼-inch slices
Instructions
1. In a medium bowl, mix together the flour, sugar, baking powder, cinnamon, nutmeg and salt. To a measuring cup, measure out the milk, add the egg and melted butter; beat until thoroughly combined.

2. All at once, add the wet ingredients to the dry and mix until just combined. The batter should have some small to medium lumps.

3. Preheat your skillet over medium heat and brush with 1 ½ teaspoon of butter or a teaspoon of vegetable oil. Dip each apple slice into the pancake batter, allowing the runoff to fall back into the bowl and then placing it onto the skillet. Cook for 1 to 2 minutes until small bubbles form on the surface of the batter, and then flip. Reduce the heat to medium-low and cook on the opposite side for about 1 minute, or until golden brown.

4. Transfer the cooked apple rings to a baking sheet and place in a preheated 200 degree F oven to keep warm. Repeat the process with the remaining batter, adding more butter or vegetable oil to the skillet when needed. Serve with warm maple syrup and a dollop of butter.