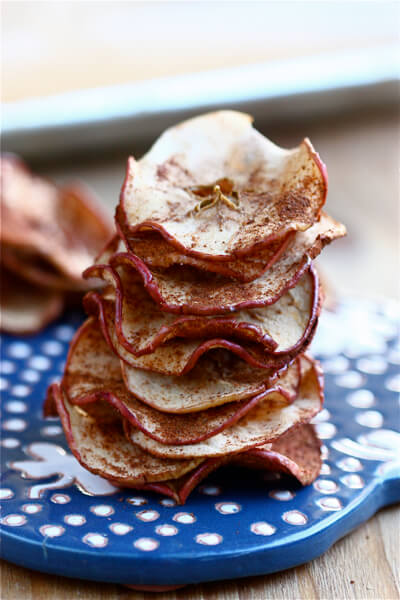 BIRTHDAY ALERT!!!
This post is totally not supposed to be about me eating forty apple chips in one sitting. That wasn't my intention when I went to the store on Friday.
I was there to buy seven-layer-gradient-glitter-birthday-cake ingredients. (I was dreaming up a cake that matched my nails.) Instead I left with a big brown bag of apples.
I think it was a subconcious move to avoid my birthday. Typically, I'm totally not a good birthday person. I don't like to throw myself parties, or bake myself cakes, or even let most people know it's my big day.
The whole thing usually just gives me an anxiety attack and makes my face red and arms sweat. But this year I decided to shake the bad birthday attitude, man-up and celebrate. So here I am…
Just making myself some Apple Chips.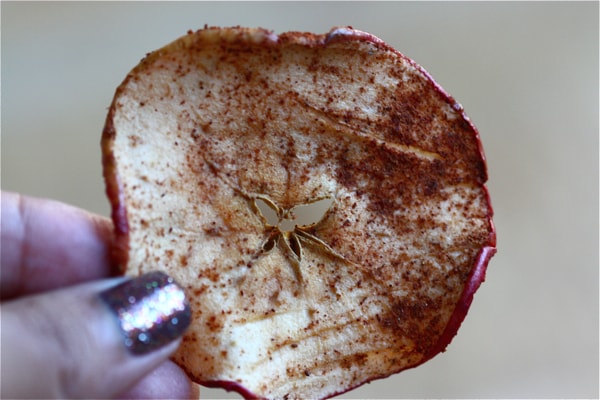 These chips are about thirty steps less than what it takes to bake up a birthday cake. There's no sifting of dry ingredients, dusting of pans, frosting making, decorating…none of that.
Just some apple slicing, tossing with spices…and baking. Can't get much easier.
They're crispy, cinnamon-ey…
Think snappy bites of apple pie.
As I ate these bites of apple-pie-awesomness, I started to think about why birthdays give me rashes.
I think birthdays can serve as reminders of, you know, where you are in your life, where you want to be…and where you're not. This year, though, I'm flipping this whole thing around. I'm looking at the good stuff.
Because this past year I've made some good moves, had a few lucky breaks, overcome some things that made sad, and am inching my way closer to things that make me happy. So instead of being all glum about turning a year older, I've vowed to enjoy myself…and I'm telling myself:
"Happy Birthday, Adrianna. You look pretty cute today."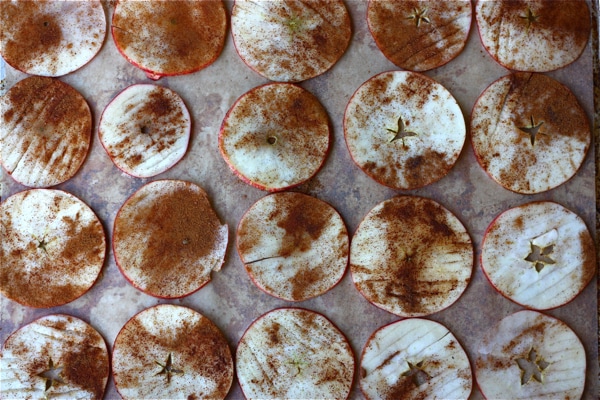 Spiced Apple Chips
1 1/2 tablespoon of cinnamon
1/4 teaspoon cardamon
1/4 teaspoon nutmeg
1/4 teaspoon kosher salt
3 Gala Apples (other flavorful varieties would be great, too!)
Preheat oven to 200F. Line two baking sheets with parchment.
In a medium bowl, mix together spices and salt.
Crosswise, cut off both ends of each of the apples. There's no need to core the apples. Using a mandoline (or sharp knife), slice the apples as thin as possible. (Approximately 1/16″ inch). Remove and discard any seeds from the apple slices. Add the apple slices to the bowl and toss with the spice mixture.
Transfer the apple slices to the baking sheets, in a single layer, being sure they do not overlap. Bake in the oven for about 30 minutes, then flip them over. Bake for another 30-45 minutes, or until crispy in appearance. Total baking time: 1 hour and 15 minutes.
They'll become crispier after they cool.
Yields about 50 chips.