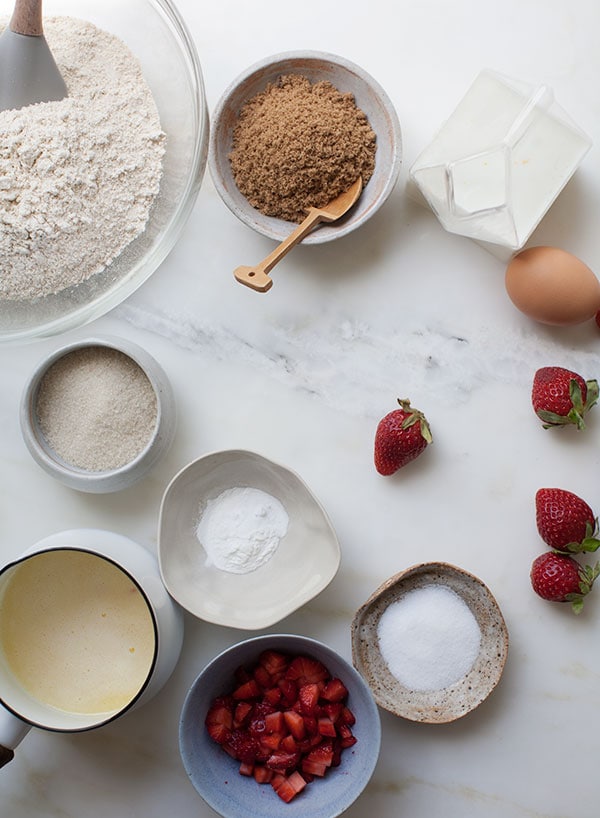 I'm dropping in from Taos, New Mexico. Currently, I'm at this brewery, sitting outside, looking out a bunch of snow-capped mountains. The DJ is playing a trumpet to a Fly Lo song and it's weird and funny and awesome. It's beautiful here. I knew it would be beautiful, but it's like a million times more beautiful than I expected.
These muffins were from last week, when I was wanting to make something for breakfast that I could shove in my purse for my flight. I'm a grandma. I've also been working with a freelance client on some recipes and she's really into spelt flour. I wasn't super duper familiar but I really love its nutty flavor. It's grown on me big time.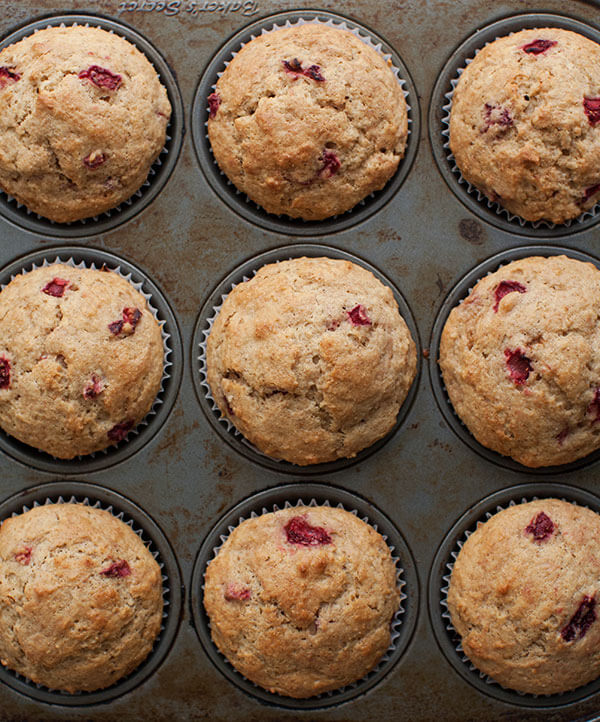 There are a few things that I did differently with these muffins. For one, I always find that strawberries are kinda soggy in muffins. ME NO LIKEE. So, I did this thing where I dehydrate them in the oven for about 15 minutes. Feel free to skip this step if you're strapped for time or are feeling sort of lazy. Whatever, the muffins will still be awesome.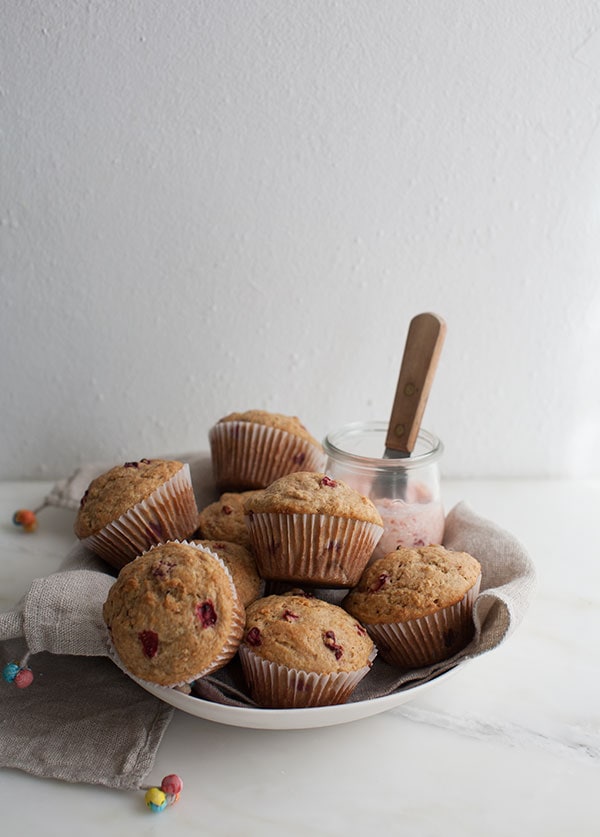 I also did a little halfsies situation with the spelt and all-purpose. The all-purpose ensures that super fluffy muffin situation. Full spelt I find to be a bit too dense and heavy. This batter is super similar to pancake batter. I bet if you added it to a skillet, it'd fry up awesomely and you'd be met with a fluffy stack of spelt strawberry pancakes.
Oh and the rhubarb butter. You make a lil' compote and then beat it into some softened butter. Add salt, always. SO GOOD!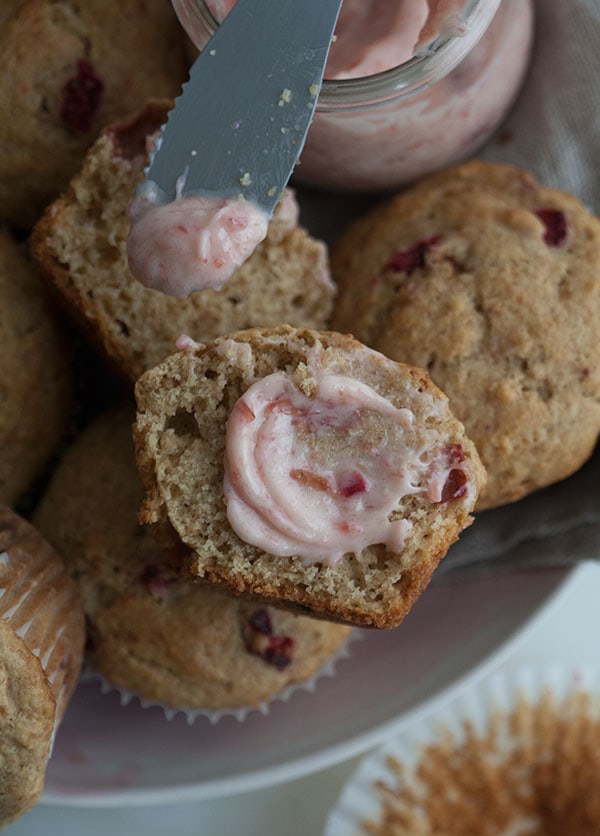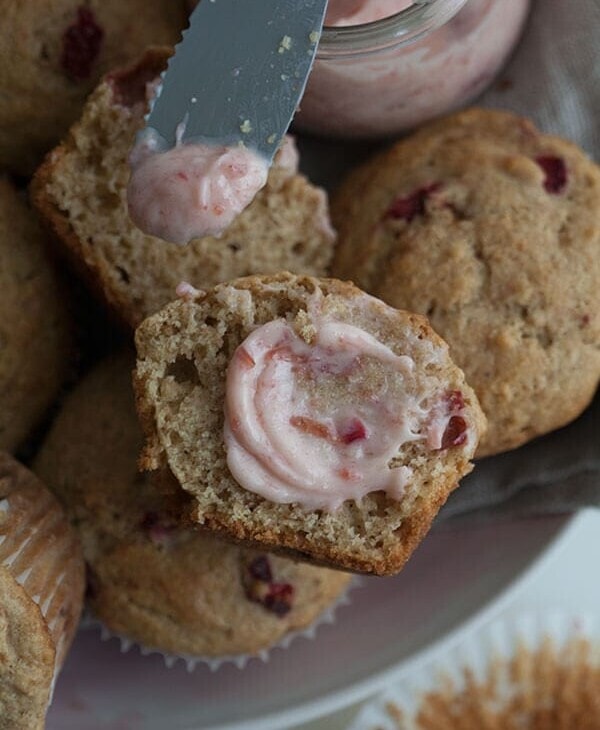 Print Recipe
Spelt Strawberry Muffins with Rhubarb Butter
Serving Size:
muffins and 1/2 cup of rhubarb butter
Ingredients
Spelt Muffins:
1/2

cup

diced strawberries

about 1/2 pound

1 1/4

cup

spelt flour

1

cup

all-purpose

1/4

cup

brown sugar

1/4

cup

white sugar

1

teaspoon

baking powder

1/4

tsp

baking soda

1

teaspoon

salt

3

ounces

unsalted butter

melted and cooled

1

cup

whole milk

1

large egg

1/2

teaspoon

vanilla extract
Rhubarb Butter:
1

stalk rhubarb

ends trimmed and cut into 1/2-inch pieces

Juice from 1/4 of an orange

alternatively you could use a half lemon or lime

3

tablespoons

pure cane or white granulated sugar

Salt

1/2

cup

unsalted butter

at room temperature
Instructions
Preheat your oven to 200 degrees F. Place 9 muffin liners in your muffin pan. Line a baking sheet with parchment. Spread the diced strawberries out onto the baking sheet and transfer to the oven to dehydrate slightly, about 15 minutes. They'll be juicy when they come out but they'll have released some of their juices. We doing this so we don't have super soggy muffins. Set aside.

Increase the oven's temperature to 350 degrees F. To a large bowl, whisk together the spelt flour, all-purpose, brown sugar, white sugar, baking powder, baking soda and salt. In a 2 cup measuring cup or medium bowl, whisk together the milk, melted butter, egg and vanilla extract. Create a well in the dry ingredients and in one batch, pour the milk and egg mixture. Mix just until you no longer see any flecks of flour. Be sure to not overmix (this will overdevelop the gluten and create tough muffins). Set aside a small handful of diced strawberries (we'll use these to garnish the tops) and fold in the remaining strawberries in the batter. Fill the 9 muffin liners, to the top, with batter. Divide the handful of diced strawberries amongst muffin tops. (Obviously this step is optional but I did this for added cuteness.)

Transfer to the oven to bake for about 15 to 20 minutes, rotating them at the 7-minute mark, until a skewer when inserted into the centers comes out clean. Cool the muffins in their tin for 5 minutes and then transfer them to a cooling rack.

To make the rhubarb butter, add the rhubarb, juice from 1/4 of an orange, sugar and pinch of salt to a small saucepan, set over medium-low heat. Cook until the rhubarb has softened and released its juices, about 10 minutes. Take a spatula and smash the rhubarb so it looks more like a compote. Transfer it to a small bowl and stick it in the fridge to cool. (We don't want to add warm rhubarb compote to softened butter—it'll turn into a big ol' mess.)

To a small bowl, combine the softened butter and rhubarb and whisk until the two are completely married together. Give it a taste and adjust the salt, if you like. (I always add more salt.) Serve alongside the muffins. They're perfect with each other.