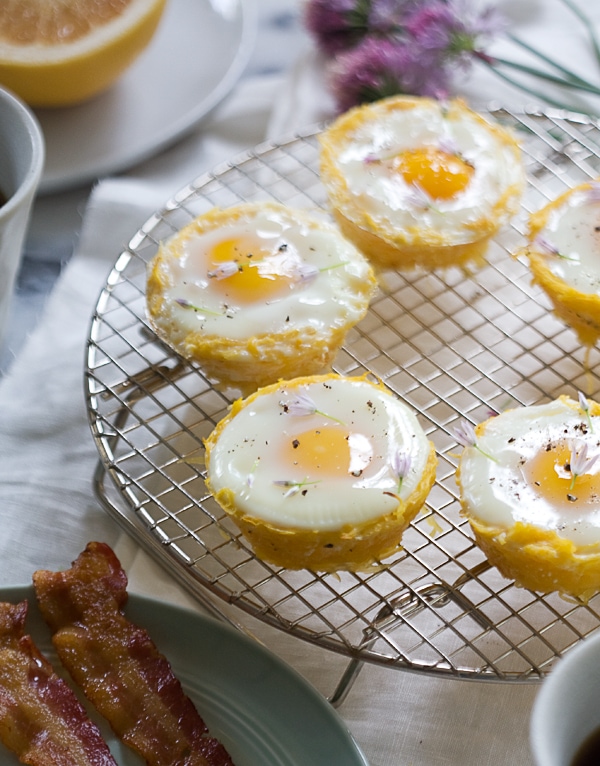 Last night I "slept" with rage in my heart and a pillow tightly pressed against my ear. Somewhere in the abyss, also known as the mini forest thingy right outside my bedroom window, was a dog that clearly was not happy about being put outside. So he or she barked. And then barked and barked for a solid four hours straight, maybe longer. At first I didn't hear it but then it was ALL I could hear.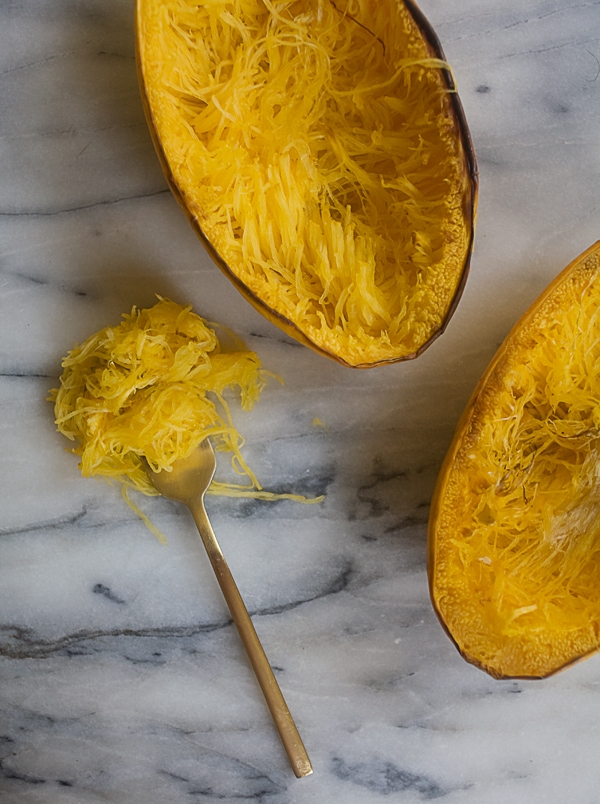 After hour one of said dog's incessant barking, realizing it wasn't going to end, I started to run down scenarios in my head.
Do I drive my car to the house and knock on the owner's door at 3am?
Will they murder me? Do I call the police?
Do police even care about dogs barking?
Or do I just get ear plus because knocking on a stranger's door at 3am sounds like a murder waiting to happen? Probably get ear plugs. Who likes confrontation? Not me. Poor dog.
If it happens again tonight I have no idea what I'll do….ahh! What should I do?!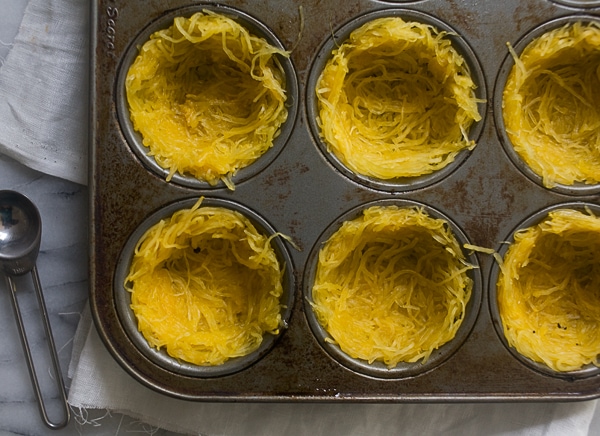 These spaghetti squash egg baskets are a rendition of these hash brown nests I posted years ago. I looove those little things. This is a healthier, lighter version and super easy with less ingredients.
They're perfect for…wait for it…brunch. Yes. Easter brunch or Mother's Day brunch or a brunch because who doesn't love brunching.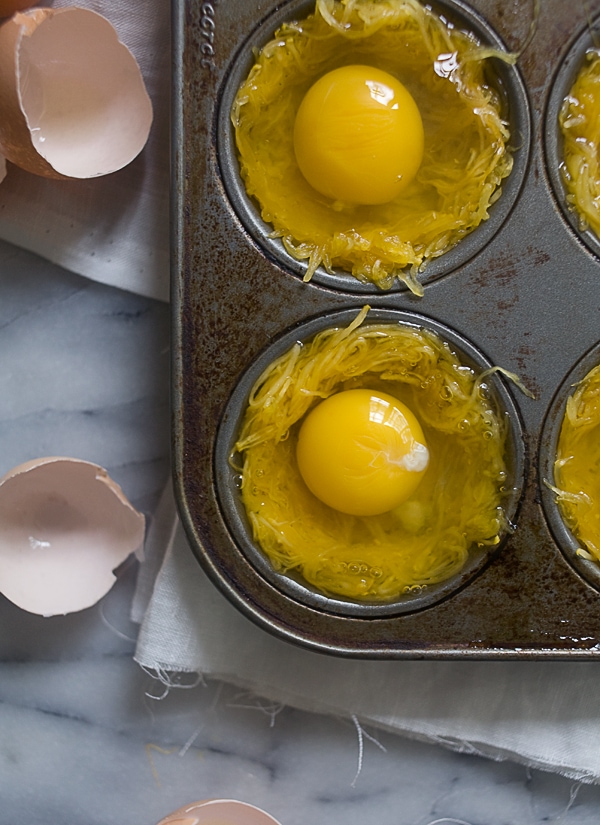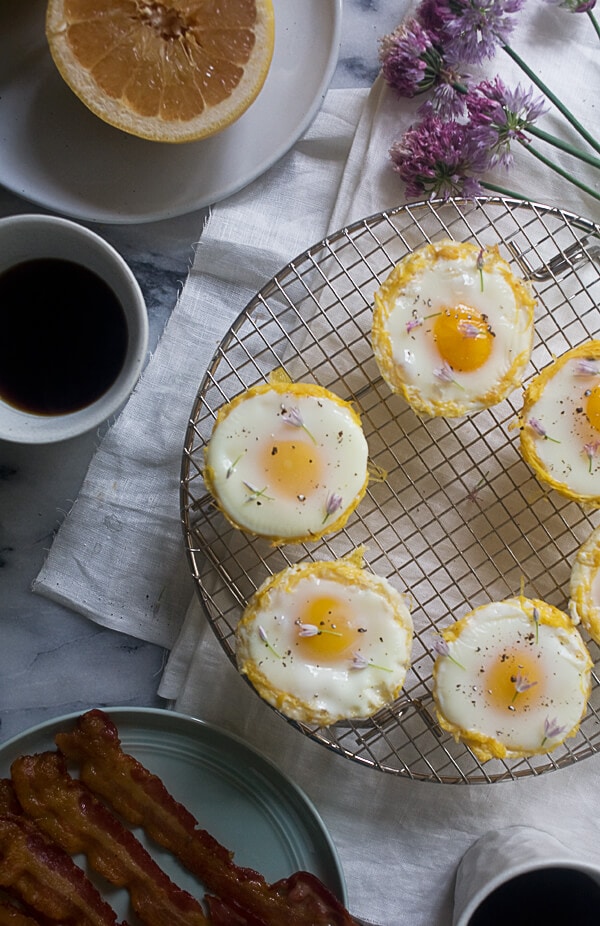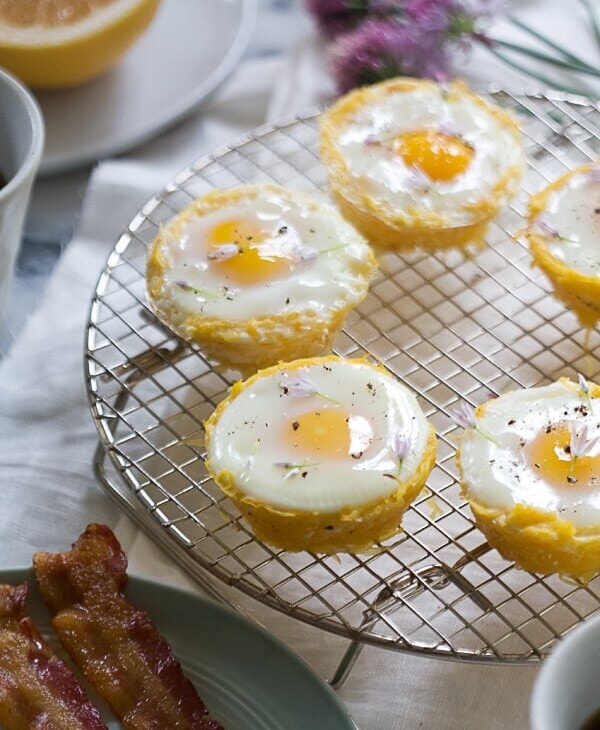 Print Recipe
Spaghetti Squash Egg Baskets
Ingredients
2

pound

spaghetti squash

halved1 garlic clove, zested

Salt

Pinch

of pepper

6 to 8

medium or large eggs

if you can find medium eggs, use them!

Small handful of chives or chive flowers

diced
Instructions
Preheat your oven to 350 degrees F. Line your baking sheet with parchment and lay the two spaghetti squash halves cut side down. Transfer to the oven to roast for 20 to 25 minutes.

Remove and allow to cool for a few minutes. When cool enough to handle, scoop out the seeds and discard. Using the tines of a fork, scrape the strands of spaghetti squash flesh and transfer them to a bowl. Repeat with the other half. Mix in the zested garlic clove, ½ teaspoon salt and pinch of pepper.

Generously grease a muffin tin, by using spray or rubbing each cup with an olive oil-dipped paper towel, and set aside.

Spoon about 2 tablespoons of butternut squash strands into each muffin cup, being sure to line the bottom and the sides. I found it helpful to use a small spoon to press the bottom and sides; you definitely want the spaghetti squash tightly packed. Crack an egg into each muffin cup. (Note: I found large eggs to have about a teaspoon too much of egg white so I cracked the egg in but didn't put in all of the egg white. This helped with the look of them.)

Transfer the muffin tin to the oven and bake for 10 to 12 minutes, until the whites are set, but yolks still appear soft. Allow the egg baskets to cool in the pan for 2 minutes. Run a sharp paring knife around the edges of each basket and gently remove it. Top with a few pinches of pepper, salt and some chives or chive flowers.