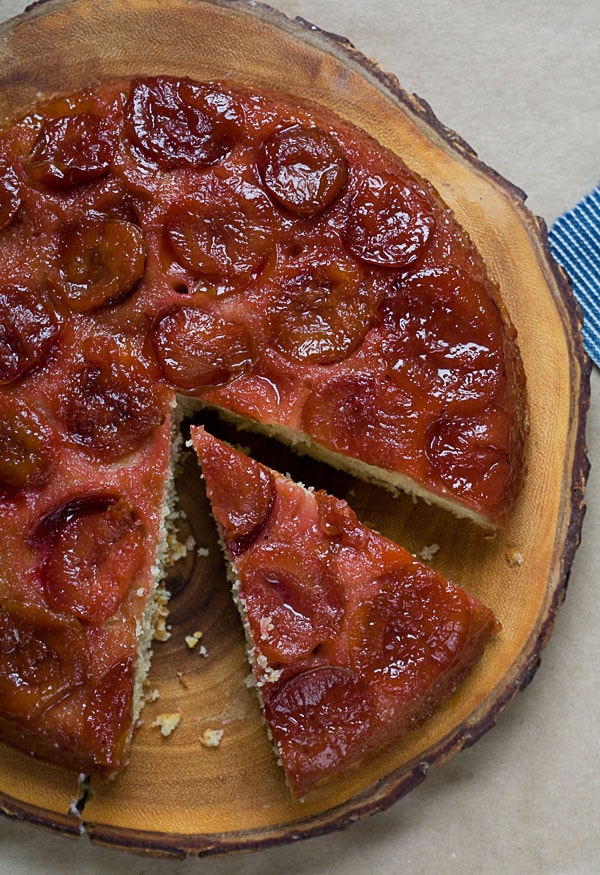 You guys, I usually hate summer. Hate. Sitting by the fire, wearing scarves and loving autumn leaves is more my thing. This blog is called a cozy kitchen, after all. There's not a lot of coziness going on in the summer time, unless you include turning the AC on blast–which I don't have, unfortunately–to 50 degrees and piling on the blankets. I dream of this.
But this year I'm not minding summer. Maybe it's the bbqs with friends or the summer dresses from Target that I'm loving or the summer fruit. I feel like all that stuff combined has made sweating a-ok. (Kinda.) These sour plums were a gift from my dude. He doesn't give me jewelry; he gives me fun produce. I don't mind one bit.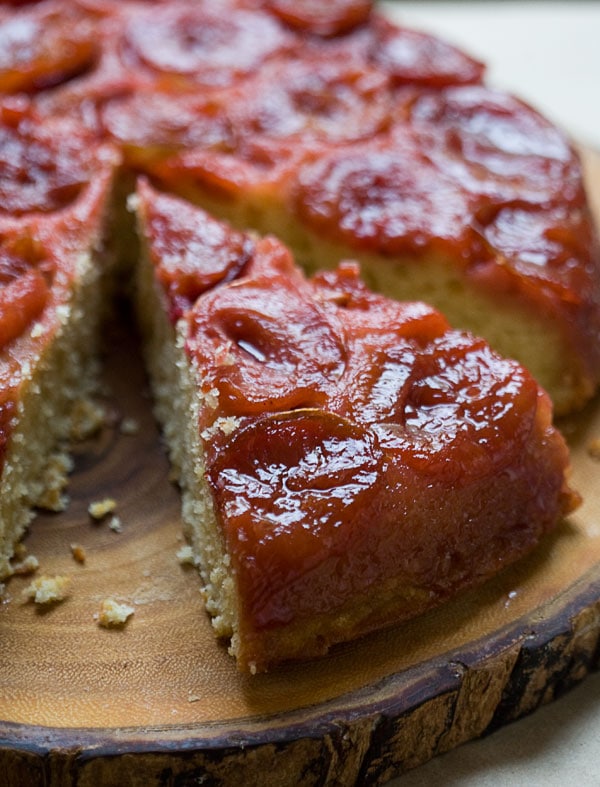 These sour plums are tart. Phew. So good and tart.
Big gigantic note: these are not to be confused with sour green plums. The sour plums used in this cake are a lot less tart than sour green plums. Sour green plums will make your face contort in unattractive ways. I've had a few in my day and man, they're so tart they're borderline unenjoyable. These sour plums are almost the same color as regular ol' plums and about half the size.
Bonus: this recipe will totally work with regular ol' plums, too. I'd just recommend going with very firm plums. This way they'll keep their shape in the oven through the baking process.
My favorite part about this whole dang cake is how the sweet, nutty brown butter coats the plums. It's a dreamy cake that's even better served with a big dollop of whipped cream or ice cream.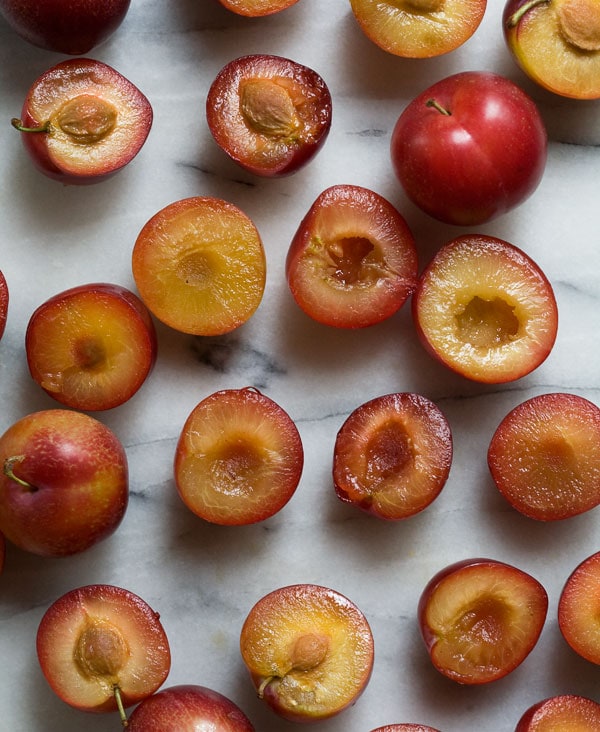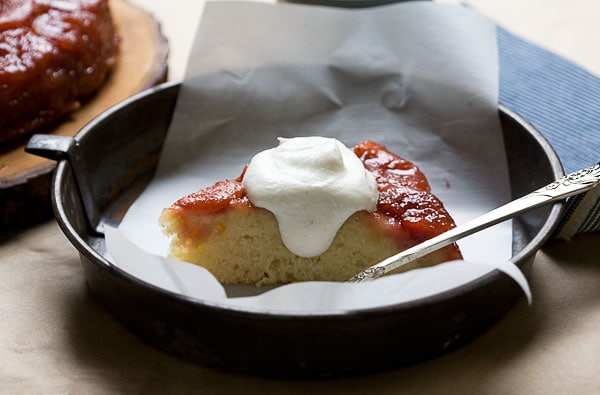 Ok…I'm going to talk about something boring right now! Are you ready?! As many of you know, Google Reader shut its doors today. This is so very sad, especially since so many of you read this blog via Google Reader.
I ended up transferring my Google Reader to Feedily. I think the layout is absolutely beautiful. I recommend it.
You can also follow me on Bloglovin, too. OR via email subscription. (To sign up, enter your email in the right hand column.)
And of course, there's Twitter, Facebook and/or Instagram. I always update my posts on those lil' things.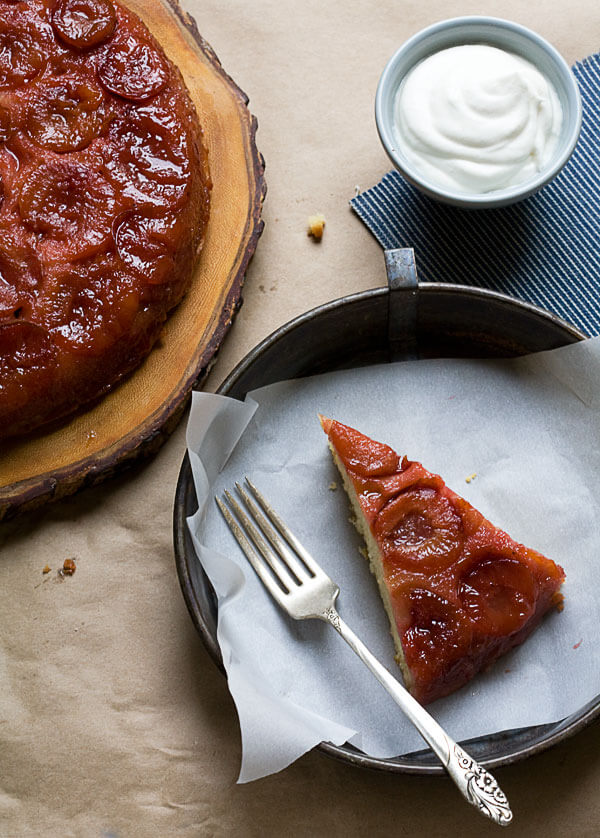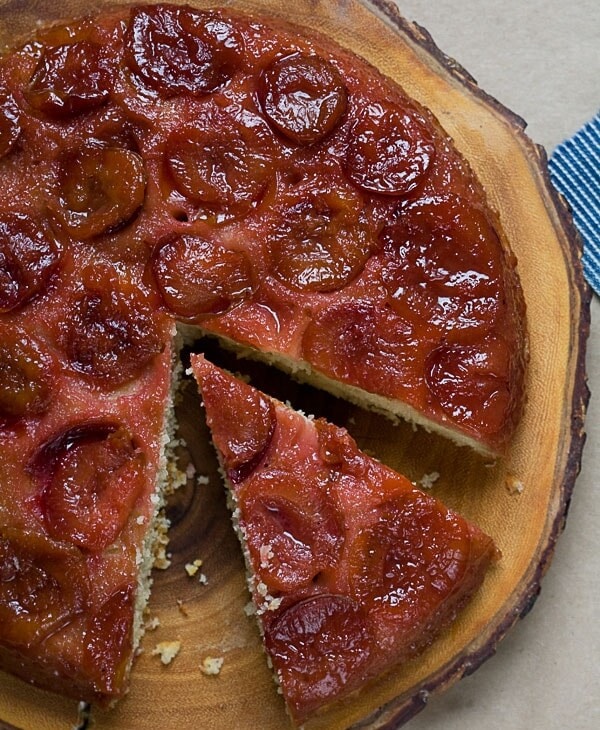 Print Recipe
Sour Plum Brown Butter Upside Down Cake
Serving Size:
twelve-inch cake
Ingredients
Cake:
2

cups

all-purpose flour

1 3/4

teaspoon

baking powder

1/2

teaspoon

ground cinnamon

1/8

teaspoon

freshly grated nutmeg

1/2

teaspoon

fine-grain sea salt

4

ounces

1 stick unsalted butter, room temperature

1/2

white granulated sugar

2

large eggs

1

teaspoon

pure vanilla extract

3/4

cups

whole milk
Sour Plum Topping:
5

tablespoons

unsalted butter

1/2

cup

dark brown sugar

1/4

teaspoon

fine-grain sea salt

1/4

teaspoon

ground cardamom

1/8

teaspoon

freshly grated nutmeg

2

pounds

sour plums

about 10 plums, halved and pitted
Instructions
Preheat the oven to 350 degrees F.

In a small to medium bowl, mix together the flour, baking powder, cinnamon, nutmeg and salt. Next, in a medium bowl, cream together the butter and sugar until light and fluffy. Add the eggs and vanilla; and then mix until the mixture is smooth.

To the butter and sugar mixture, mix in half of the flour mixture and the milk. Then, mix in the remaining flour mixture, being sure not to over mix.

In a 12-inch cast iron skillet (*see note below about alternative vessels), melt the butter over medium heat. Cook the butter for 2-3 minutes, until it begins to turn a light brown color. Using a spatula, coat the sides of the cast iron skillet with the butter--this will ensure the cake won't stick. Mix in the brown sugar, salt, cardamom, and nutmeg until the sugar begins to bubble, about 1 minute. Turn off the heat and let stand for a few minutes to cool slightly. Next, arrange the plums to your liking. Just be sure to put as many as you can fit, and pack them tight--the plums shrink as they bake.

Pour the batter over the plums, and spread the batter gently so it's nice and even. Transfer the cast iron skillet to the oven and bake for 35-45 minutes or until a skewer comes out clean.

Remove the cake from the oven and allow to cool for 5-10 minutes. To invert the cake, run a butter knife alongside the outside of the cake and place a (large enough) plate on top of the cast iron skillet and turn both of them over; lift up the cast iron skillet and voila! Your cake!
I like to serve this cake slightly warm with a dollop of whipped cream, but ice cream is a good move too.
Notes
If you don't have a 12-inch cast iron, you can surely use a 10-inch cast iron skillet or a 10-inch cake pan. If you use a 10-inch cast iron skillet you may have a bit of batter leftover and the cake part will be thicker. No biggie! If you use a 10-inch cake pan, you'll need to do step #4 in a skillet and then pour the caramel mixture into the cake pan.