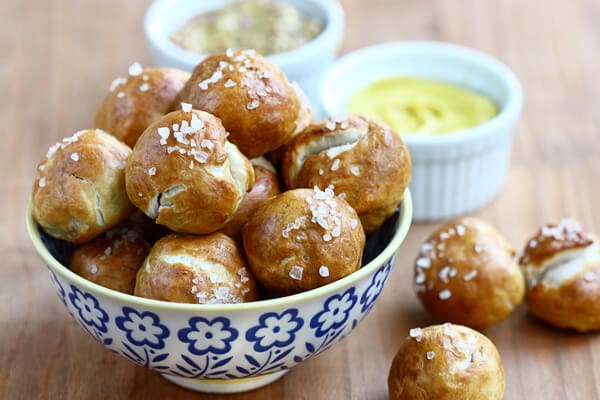 There's this game…not sure if you've heard of it…but it seriously is all consuming. Like, it swallows people for like 4 months out of the year. They join fantasy leagues. (We'll get back to that in a second…) They scream at the television. Become depressed if their teams loses. Wear pieces of cheese on their heads. Stand in negative 30-degree temperatures…
It's called football. You're familiar with this, right?!
And fantasy leagues…really, boyz?! Really?! When I finally had the mental energy to pay attention to the explanation I got one of my dude friends, I was totally disappointed. I mean, statistics…off of how players play. UGH! Snoozefest, USA.
I do like boyz, though. And boyz like football so I guess by proxy I like football, too.
And I dig football food, obvi. Wings and celery and cheese sticks and nacho cheese and chips and snacks!! I can get down.
Enter…pretzel tots…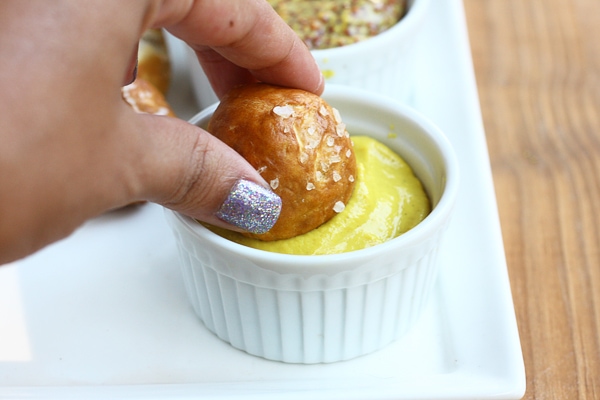 HOLD THE PHONE!! Are soft pretzels baseball food?! Ugh…don't answer that…whatevsies…let's just go with it.
These pretzel tots are pretty awesome. Remember when I made Churro Tots?! These are the savory version. Sorta.
They start from a pretty simple dough with some yeast and flour and butter and a little sugar and salt. There are two rises. Typical dough behavior.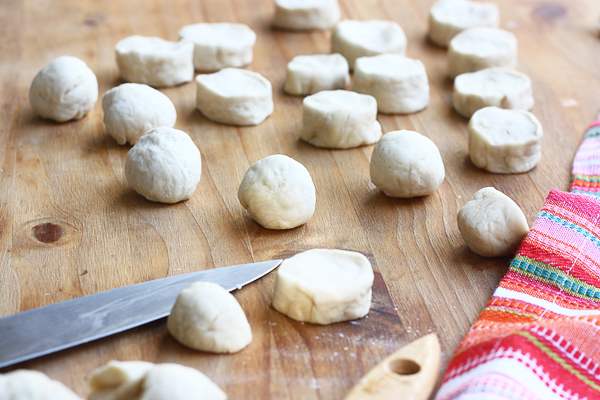 I rolled out the dough into a long 22-inch tube. And then I cut 1-inch pieces. And since I wanted them to be round, I simply rolled the dough into (NOT) perfect circles, dropped them into some boiling water and then brushed 'em with some egg wash and sprinkled big salt on each of them.
Oven. Out. In some mustard.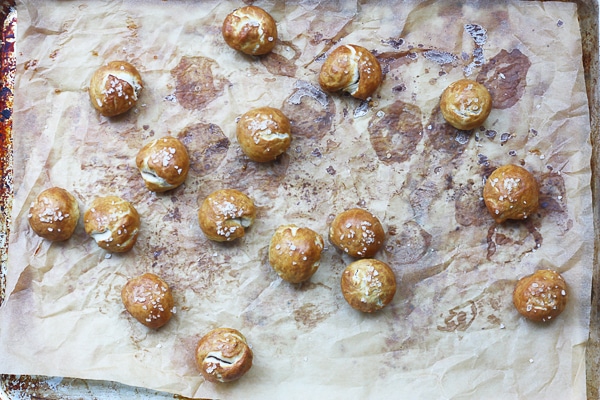 They're everything a prezel should be: soft and chewy on the inside and salty with a delightful crust on the outside.
Next time I'm gonna play around with different dipping sauces. Maybe mix some harissa with some mustard. Or toss a little curry powder in some mustard. I dunno. But it's gonna get crazy.
POLL TIME: Are my nails really unicorn/Lisa Frank?! That's what Teri said. I think maybe they are. I got a little crazy with the nail polish layers at the salon the other day. 🙁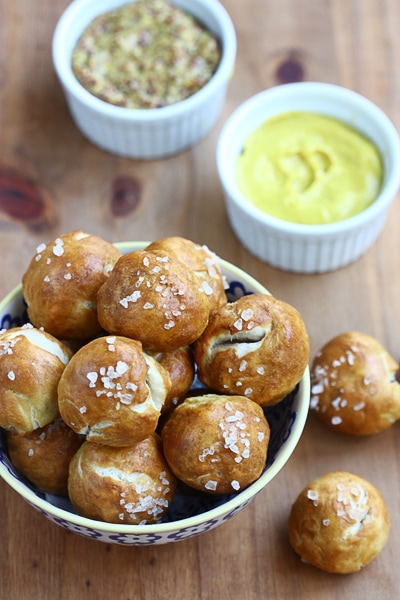 Soft Pretzel Tots
Recipe tweaked from Alton Brown
1 1/2 cups warm (110 to 115 degrees F) water
1 tablespoon sugar
1 1/2 teaspoons kosher salt
1 package active dry yeast
4 1/2 cups all-purpose flour
2 ounces unsalted butter, melted
Vegetable oil, for pan
10 cups water
2/3 cup baking soda
1 large egg yolk beaten with 1 tablespoon water
Pretzel salt or coarse Sea Salt
Combine the water, sugar and kosher salt in the bowl of a stand mixer and sprinkle the yeast on top. Allow to sit for 5 minutes or until the mixture begins to foam. Add the flour and butter and, using the dough hook attachment, mix on low speed until well combined. Change to medium speed and knead until the dough is smooth and pulls away from the side of the bowl, approximately 4 to 5 minutes. Remove the dough from the bowl, clean the bowl and then oil it well with vegetable oil. Return the dough to the bowl, cover with plastic wrap and sit in a warm place for approximately 50 to 55 minutes or until the dough has doubled in size.
Preheat the oven to 450 degrees F. Line 2 half-sheet pans with parchment paper and lightly brush with the vegetable oil. Set aside.
Bring the 10 cups of water and the baking soda to a rolling boil in an 8-quart saucepan or roasting pan.
In the meantime, turn the dough out onto a slightly oiled work surface and divide into 4 equal pieces. Roll out each piece of dough into a 22-inch rope. Cut the dough into 1-inch pieces; using your two hands, one-by-one, roll them into circles. Place the balls (or tots) onto the parchment-lined half sheet pan.
Place the pretzels tots into the boiling water, 1 by 1, for 30 seconds. Remove them from the water using a large flat spatula. Return to the half sheet pan, brush the top of each pretzel tot with the beaten egg yolk and water mixture and sprinkle with the pretzel salt (or coarse sea salt). Bake until dark golden brown in color, approximately 12 to 14 minutes. Transfer to a cooling rack for at least 5 minutes before serving.