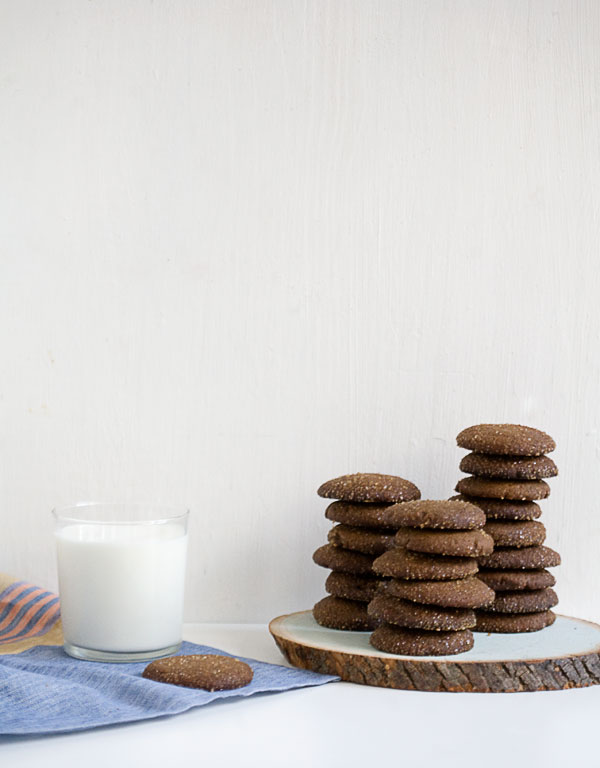 Hey giiiirl…do you hate gingersnaps like the rest of the world? Be honest…
The internet in the past week has taught me that EVERYONE hates gingersnaps. Maybe it's a crunchy cookie thing or maybe people dislike the combo of gingerbread and the texture of the snap. I'm not totally sure. I do, however, know that when I asked what kind of cookies should appear during cookie week, a soft tender lil' gingerbread cookie was suggested at least a dozen times.
And so I was off…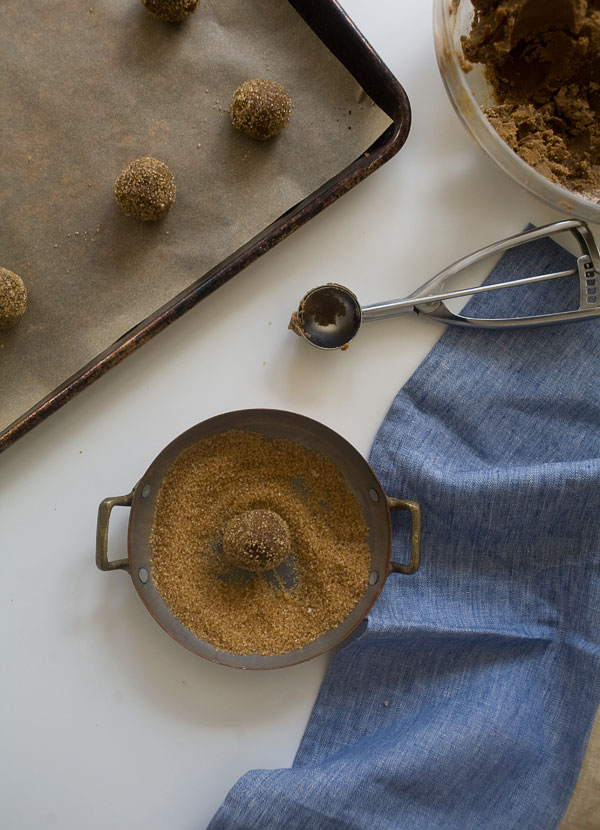 For the record, I don't really hate gingersnaps. They're sort of just whatevs to me. I'd take 'em or leave 'em. I usually like my cookies soft because I like the life option of putting a scoop of ice cream in the middle. And this is even during colder months.
A scoop of vanilla in between two of these cookies. Hello!
I like the option of having an impromptu ice cream sammich.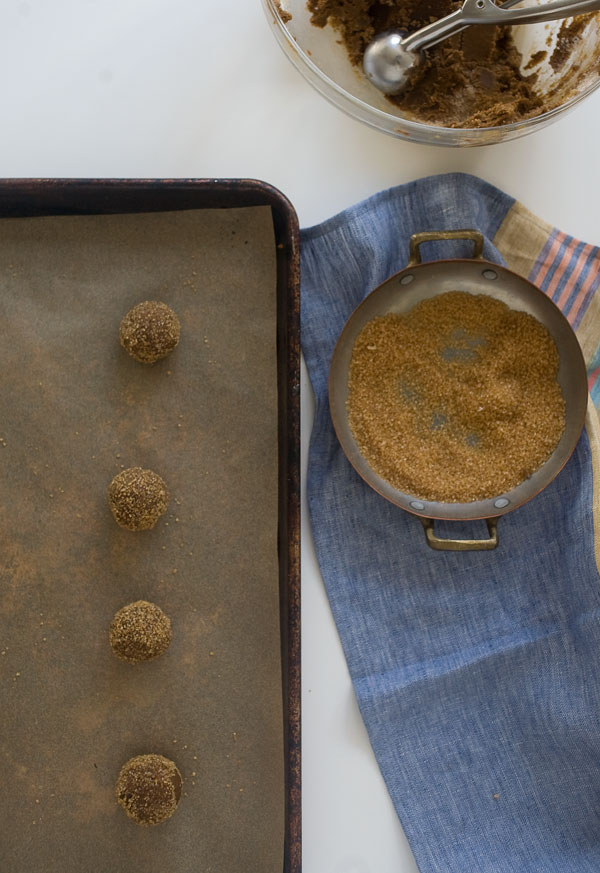 My favorite part of making these cookies was the repeated action of scooping, rolling 'em in sugar, transferring them to the baking sheet and then flattening them.
I could do it a million times, totally zone out and think about what life would be like if I had two more corgis and cat with an attitude. Probably a lot crazier. Maybe cozier.
This is where my brain goes to when I'm in the zone.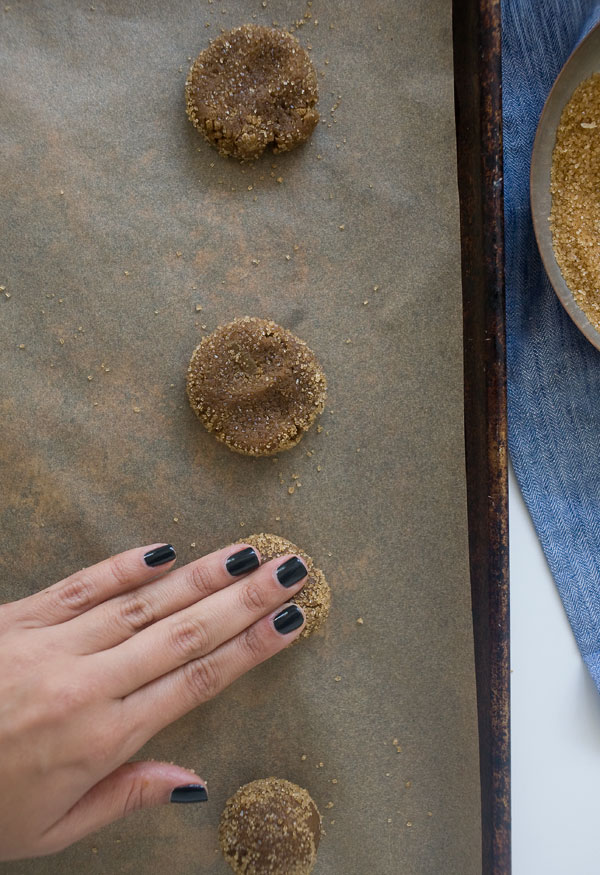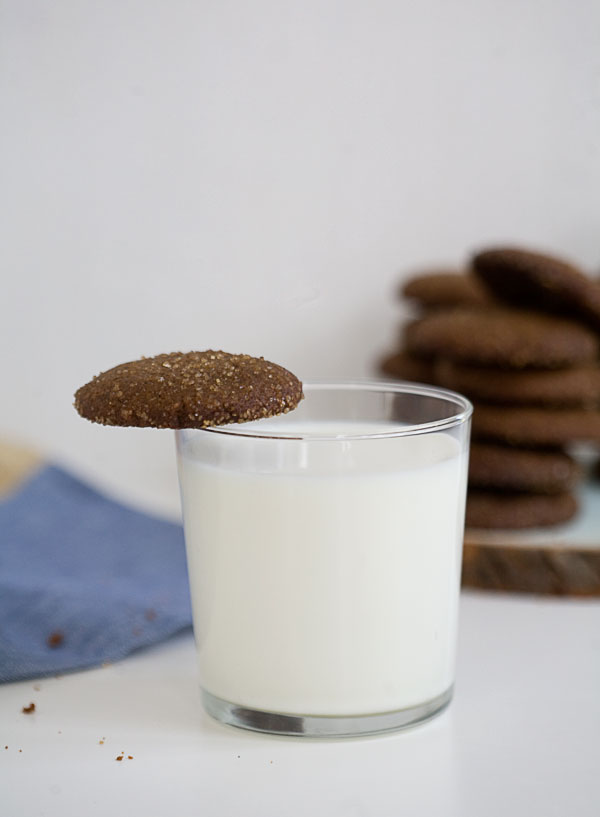 Oh my favorite part of these cookies is baking them a bit shy of done. I know that sounds weird but I like a crisp outside and a moist inside. Some might think they look raw inside (they'll be a darker brown than the exterior) but I think that's a sign of a good moist cookie.
The crystalized ginger is an absolute MUST! (Unless you think it's too spicy, then skip it.) I know for some, crystalized ginger can kinda be expensive, so I recommend going to Trader Joe's (I think a big bag is like $5) or heading to the bulk bin at Whole Foods where you'd literally spend like $1 for this recipe.
Happy Holidays and I hope you're enjoying cookie week as muuuch as me. xo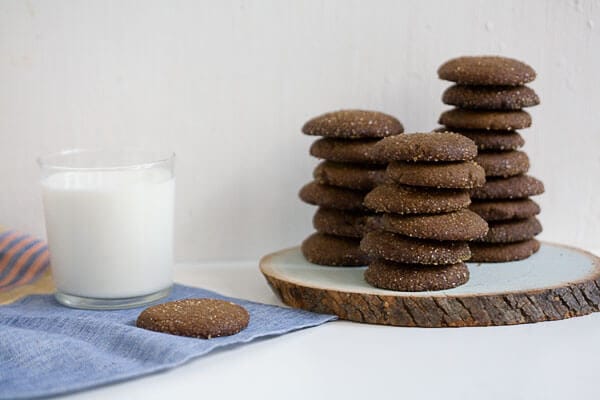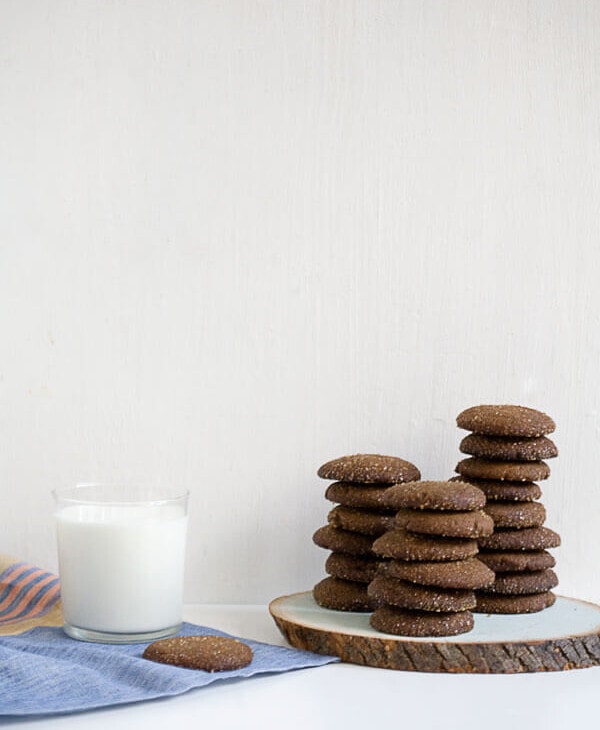 Print Recipe
Soft Gingerbread Gingery Cookies
Ingredients
Dry ingredients:
2 1/2

cups

all-purpose flour

1

teaspoon

baking soda

1

tablespoon

ground cinnamon

1 1/2

teaspoon

ground ginger

3/4

teaspoon

ground cloves

3/4

teaspoon

kosher salt

1/4

teaspoon

ground nutmeg

1/2

teaspoon

ground all-spice
Wet ingredients:
1

cup

unsalted butter

2 sticks, room temperature

1

cup

light or dark brown sugar

1

large egg

4

tablespoons

unsulfured molasses
Mix-ins:
1/3

cup

diced crystalized ginger
Topping:
2

tablespoons

turbinado sugar
Instructions
In a medium bowl, sift together the all-purpose flour, baking soda, cinnamon, ginger, cloves, salt, nutmeg and all-spice.

To a large bowl, add the room temperature butter and brown sugar. Using a stand-up mixer with the paddle attachment, cream the two together until the butter is light and fluffy, about 5 minutes. Add the egg and molasses and beat until combined, an additional minute.

In two batches, add the dry ingredients to the wet ingredients, combining in between batches. When you see no traces of flour, fold in the crystalized ginger, making sure it's evenly distributed throughout the dough (you might need to use your fingers because the ginger might stick together). Cover the bowl with plastic wrap and transfer to the refrigerator to chill for 1 hour.

Preheat your oven to 350 degrees F.

Pour the turbinado sugar into a shallow plate. Using a 2-ounce ice cream scoop or 2 teaspoons, scoop out a ball of dough and roll it between your palms until it's an even 1 1/2-inch circle. Roll the ball of dough in the turbinado, coating it evenly and then transfer to a parchment-lined baking sheet. Flatten the ball lightly with your fingers. (If you like, you can sprinkle a bit of additional sugar atop the cookie.) Repeat until you've gone through all of the dough (you may need to bake them in few batches). Bake for 11 minutes, until the edges are set but the center remains soft. Allow to cool on the baking sheet for an additional minute or so and then transfer to a rack to cool.