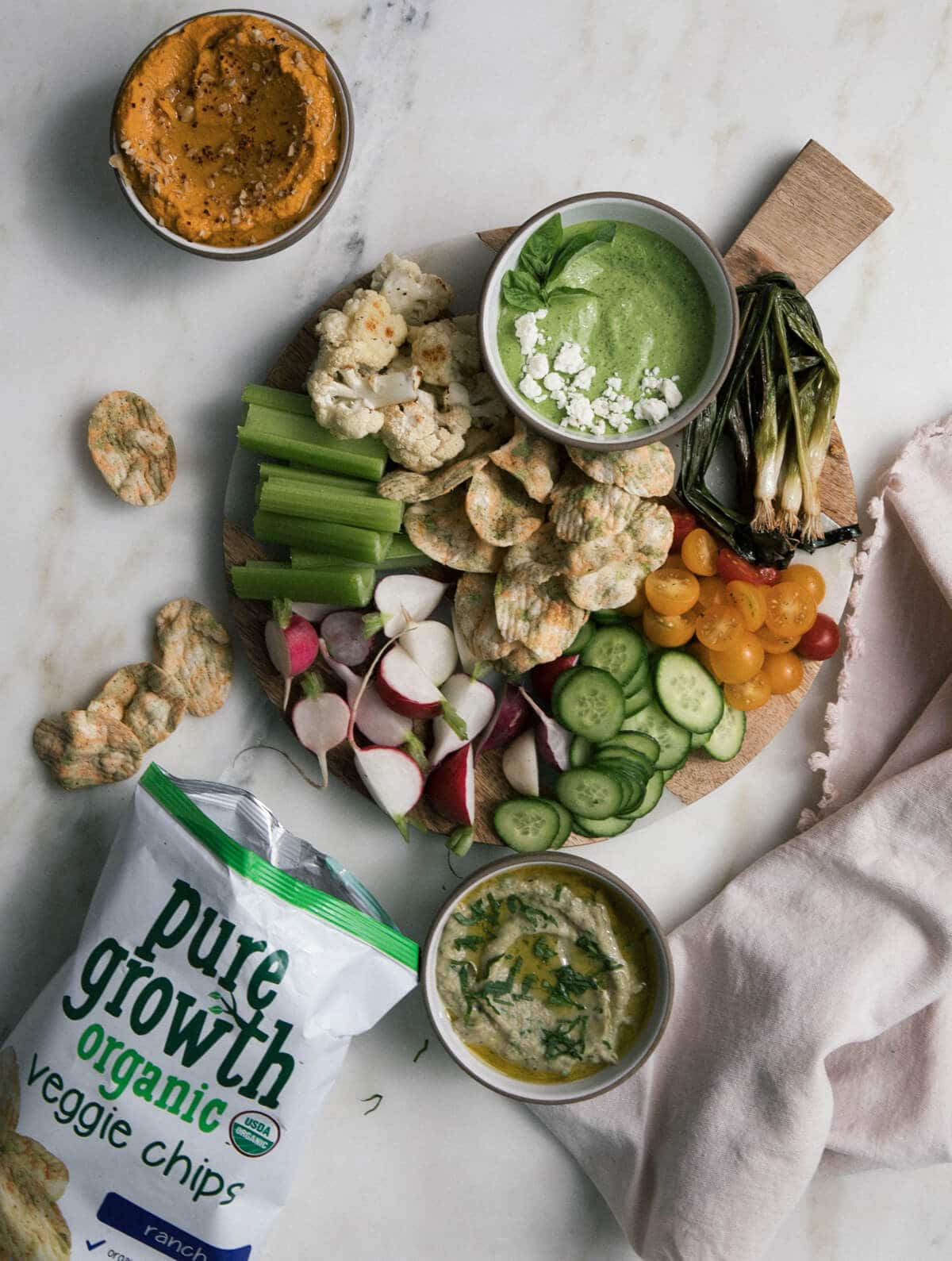 Appetizers for Dinner has always been a favorite of mine. I think it started with an episode of My-So-Called-Life when Rayanne's mother threw some frozen dumplings in the microwave and Rayanne was super bummed about not being cooked "a real dinner."
Since my mom was always, like, super healthy and demanded we have a very full/healthy cooked dinner, an appetizer-driven dinner always sounded like heaven to me.
I like to think that this snacking board is the best of both worlds because it's healthy AND filling enough where you can totally eat it, be full and not feel bad about it one bit! It's kidlike but totally appropriate for us grown-ups.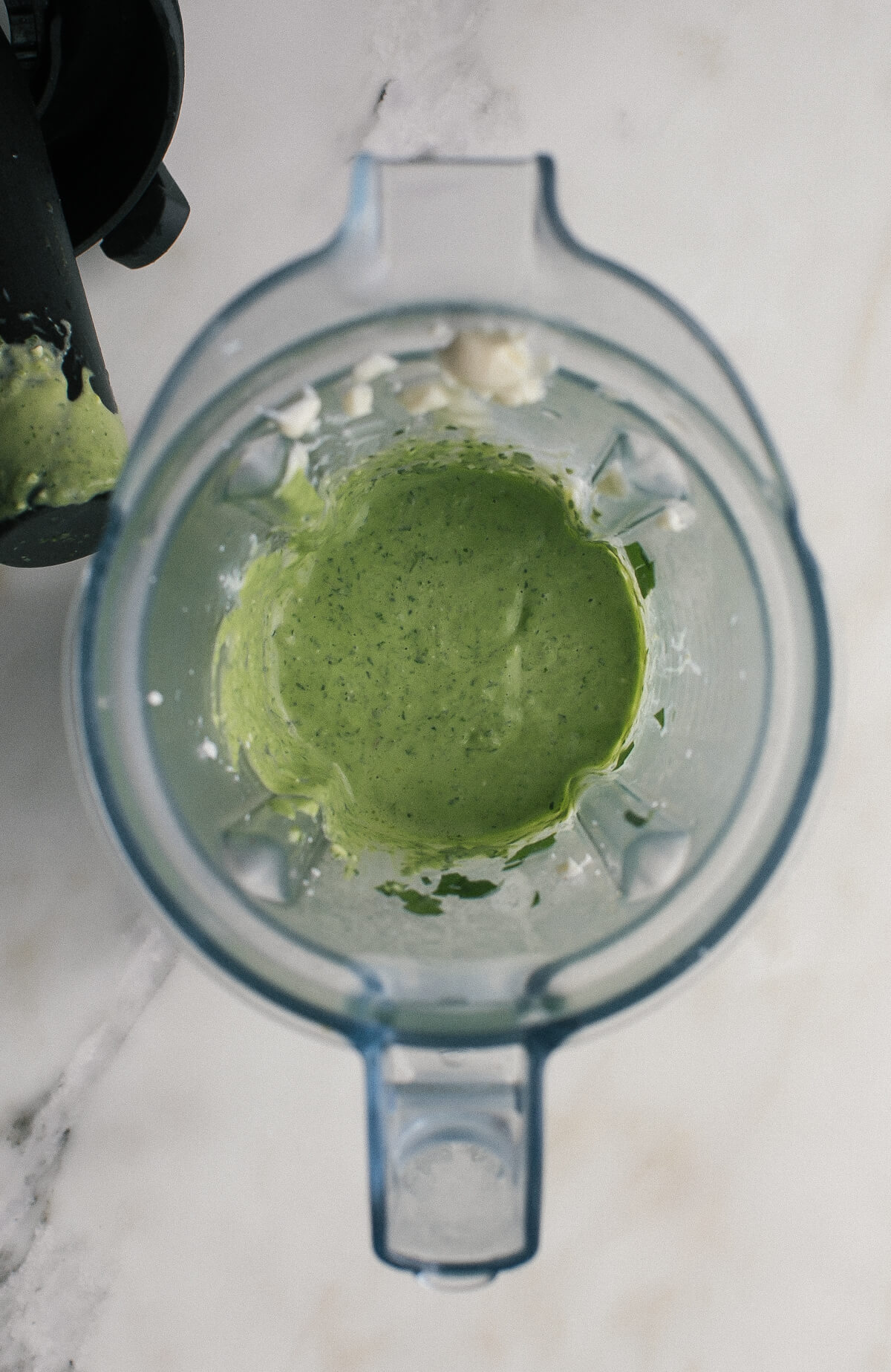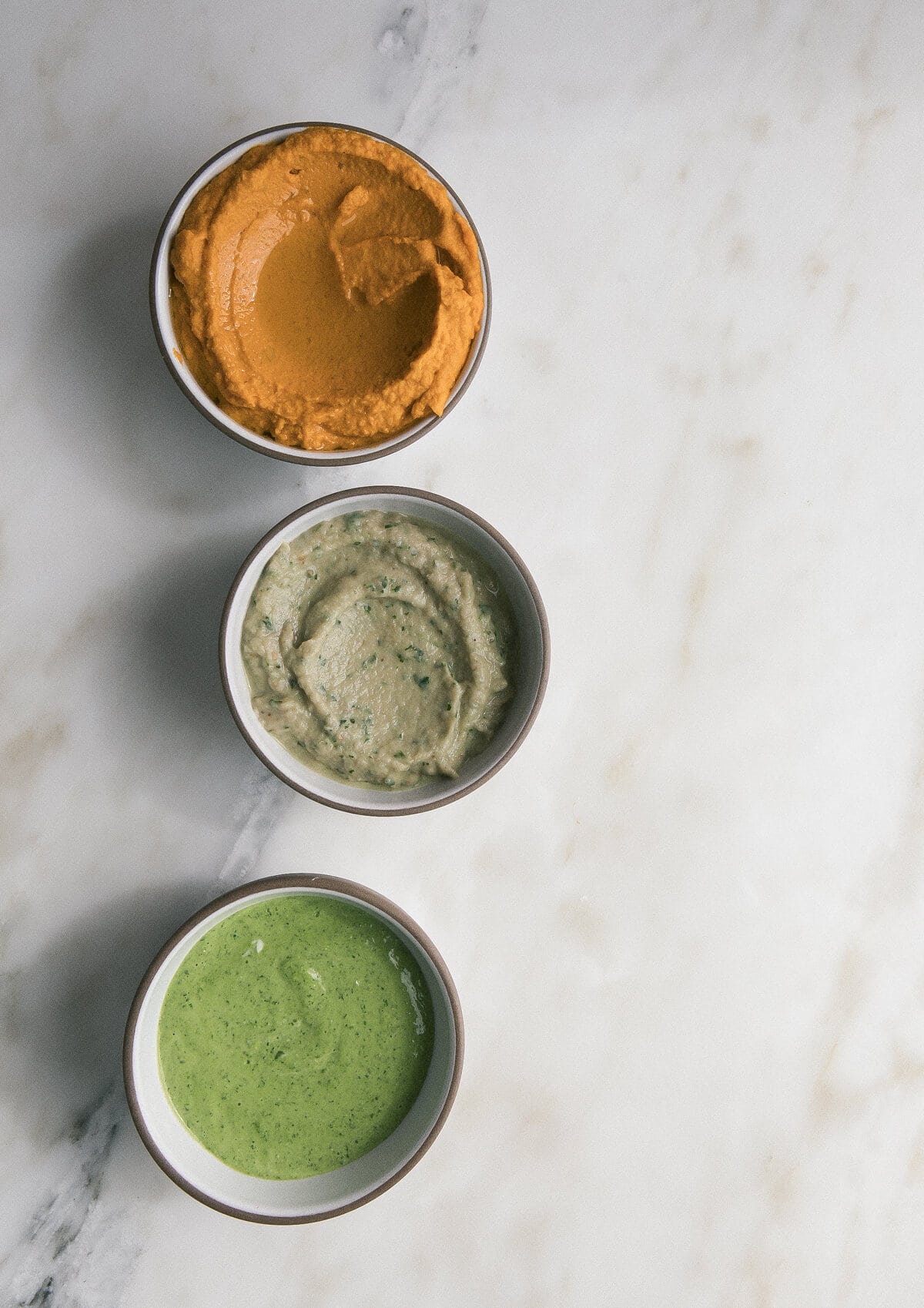 For this post I teamed up with my favorite, new-to-me vegetable ranch-flavored chips from Pure Growth Organic! You can find them at places like Amazon.com where they're super affordable and healthy and delicious.
They're super light; they almost remind me a bit of a rice cracker but a million times better and more flavorful.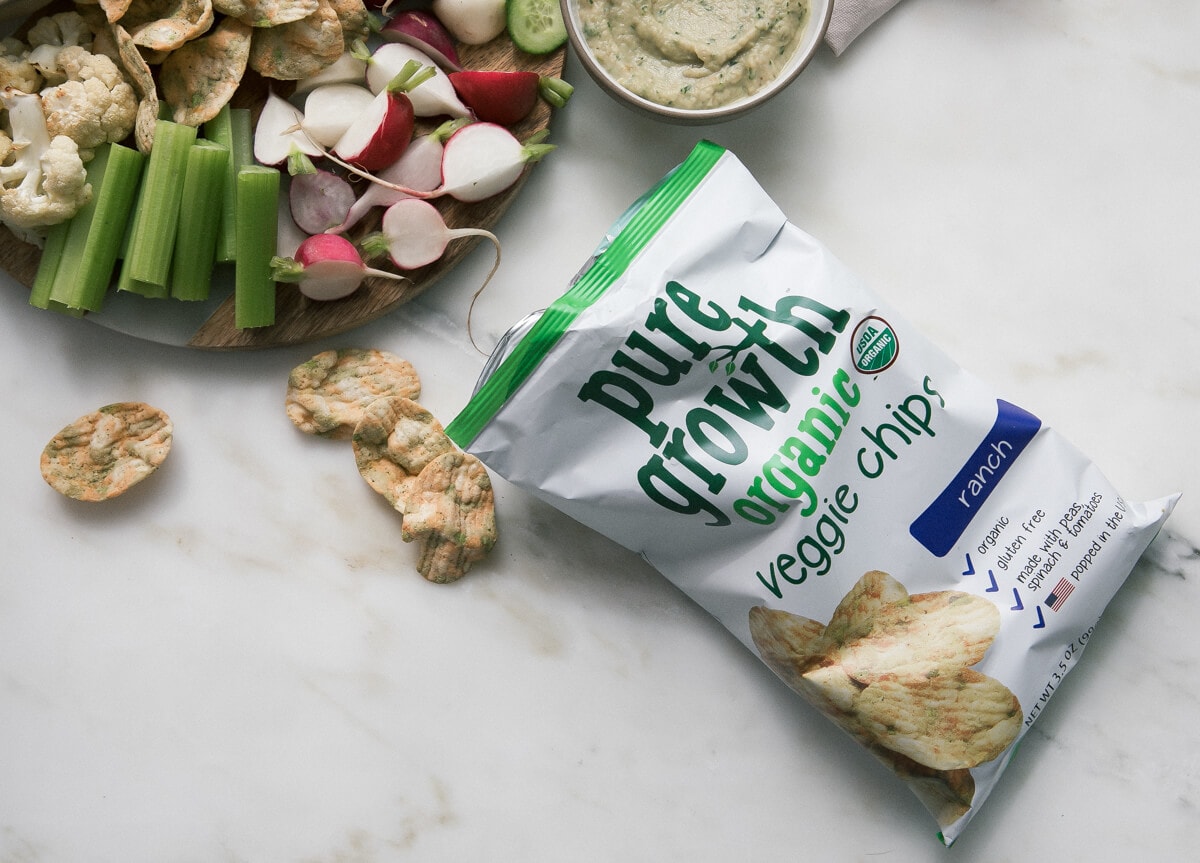 The carrot harissa dip might've been my favorite because I had never ever made a dip made of carrots before. I was a bit skeptical when I went through the testing process but the texture was amazing; I mean, I ended up adding walnuts because it was borderline too smooth.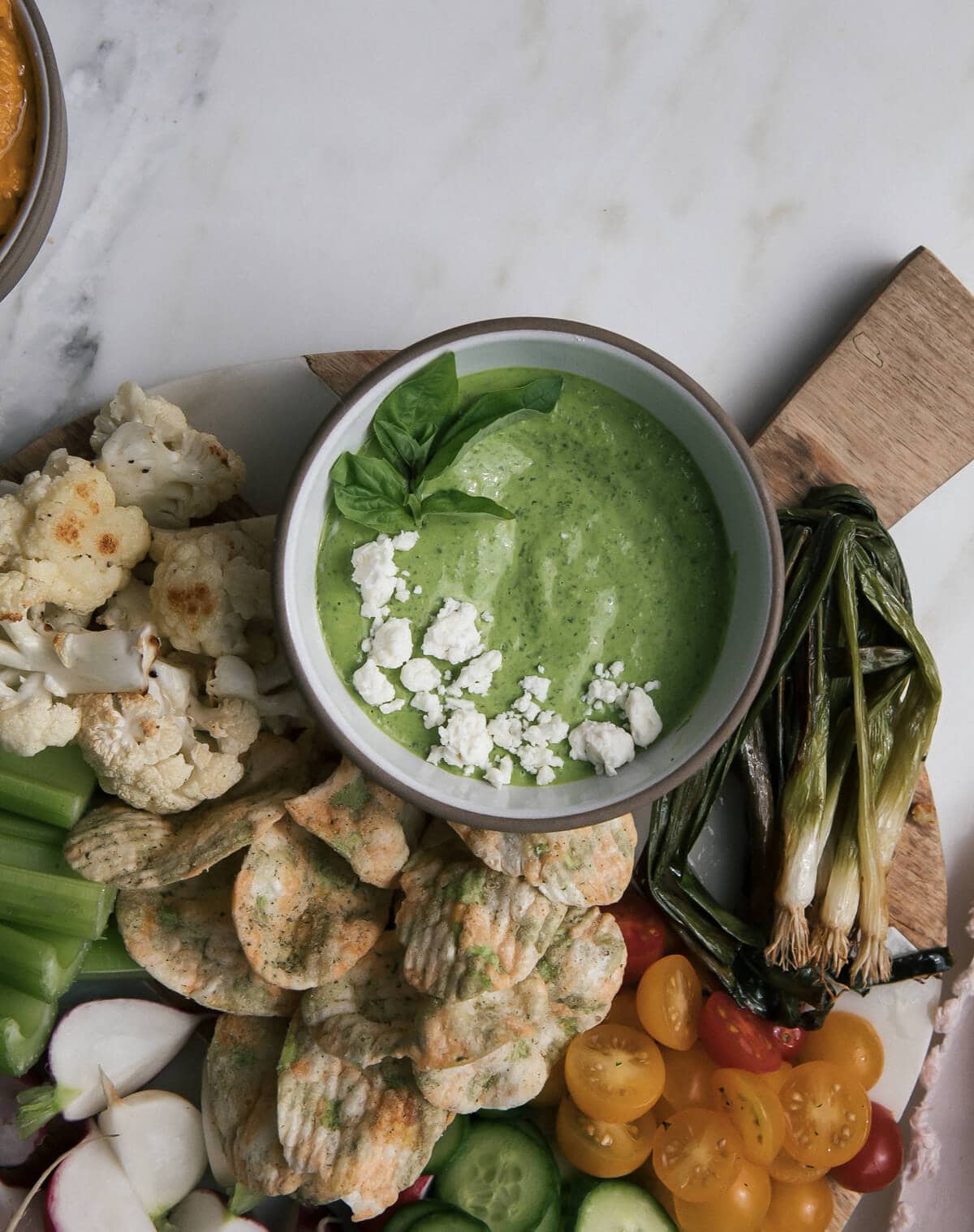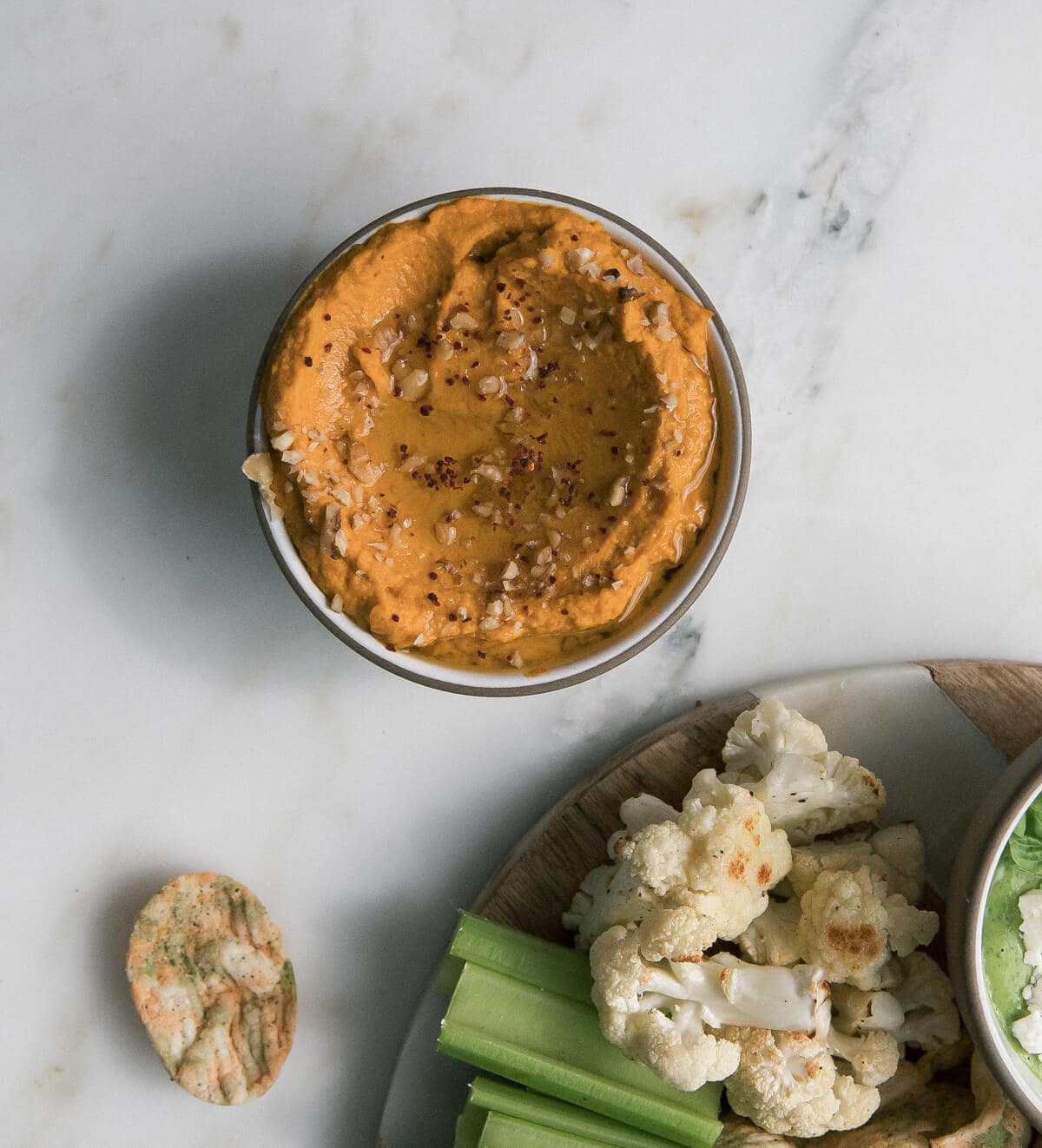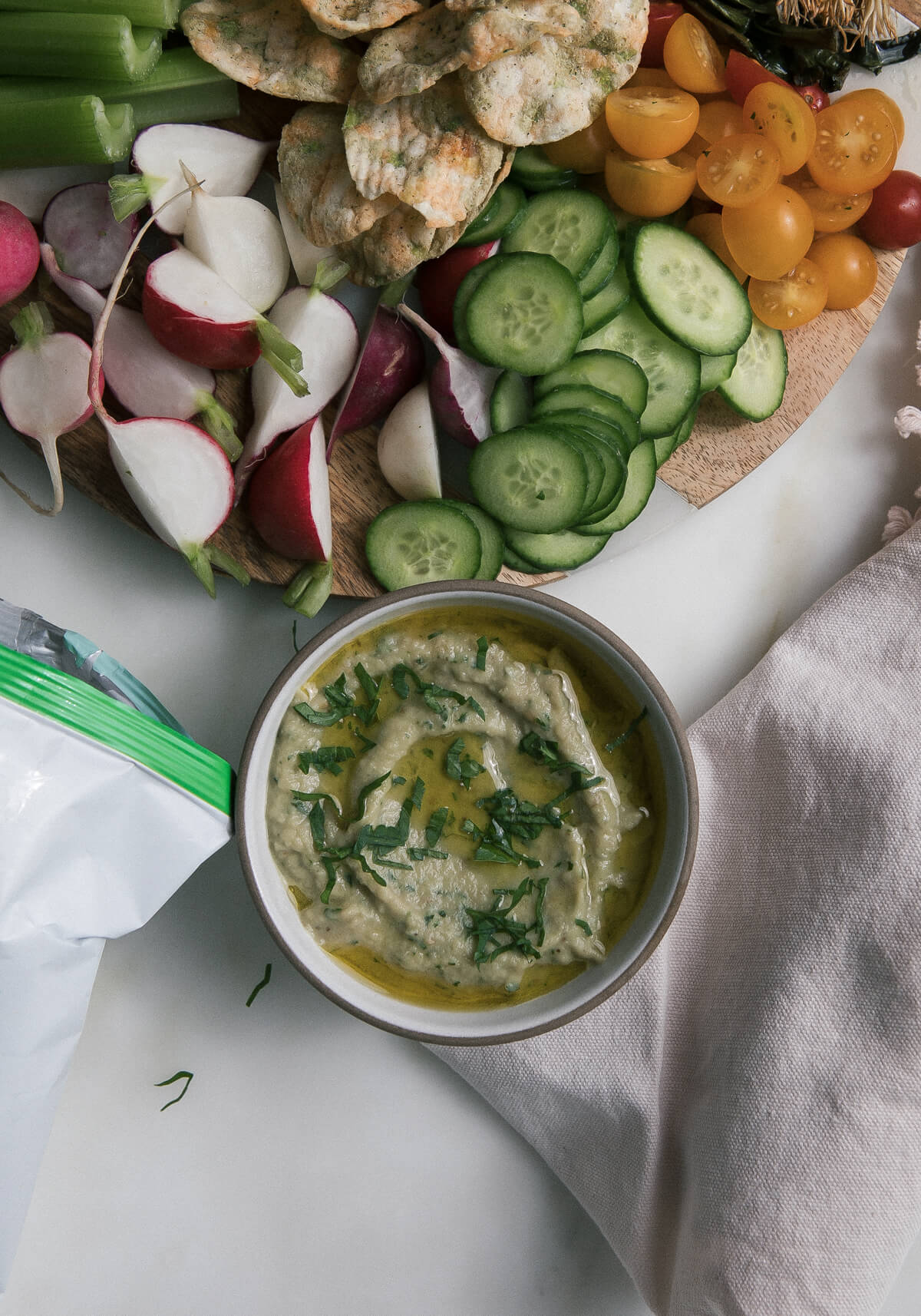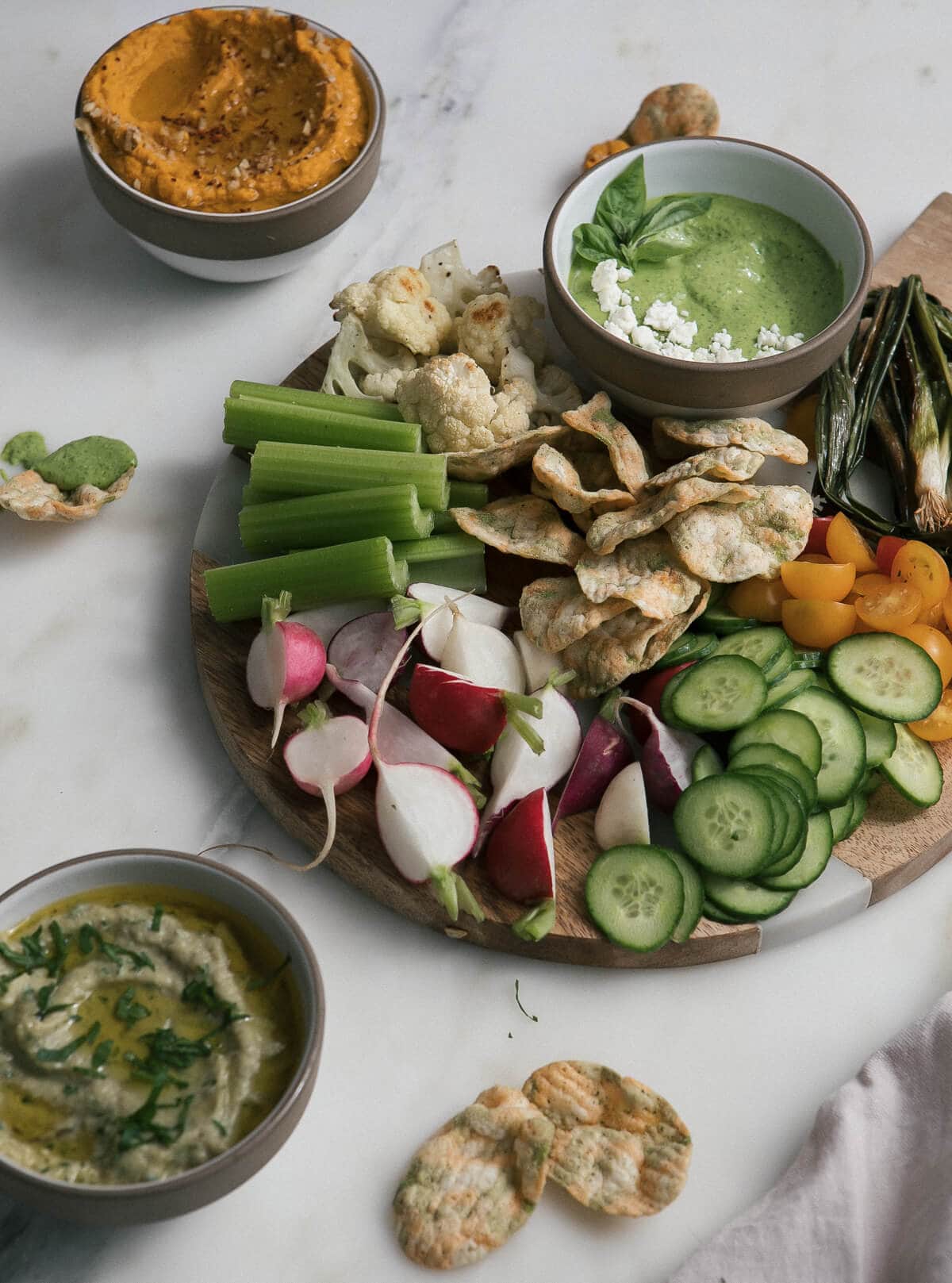 The eggplant dip is very similar to baba ganoush, though I added sesame oil which added a nice flavor to it!
And the feta green goddess, oh man it was so good when paired with the chips. I had to take it away because it was so creamy and rich and fresh-tasting.
Yay for dips and snacking!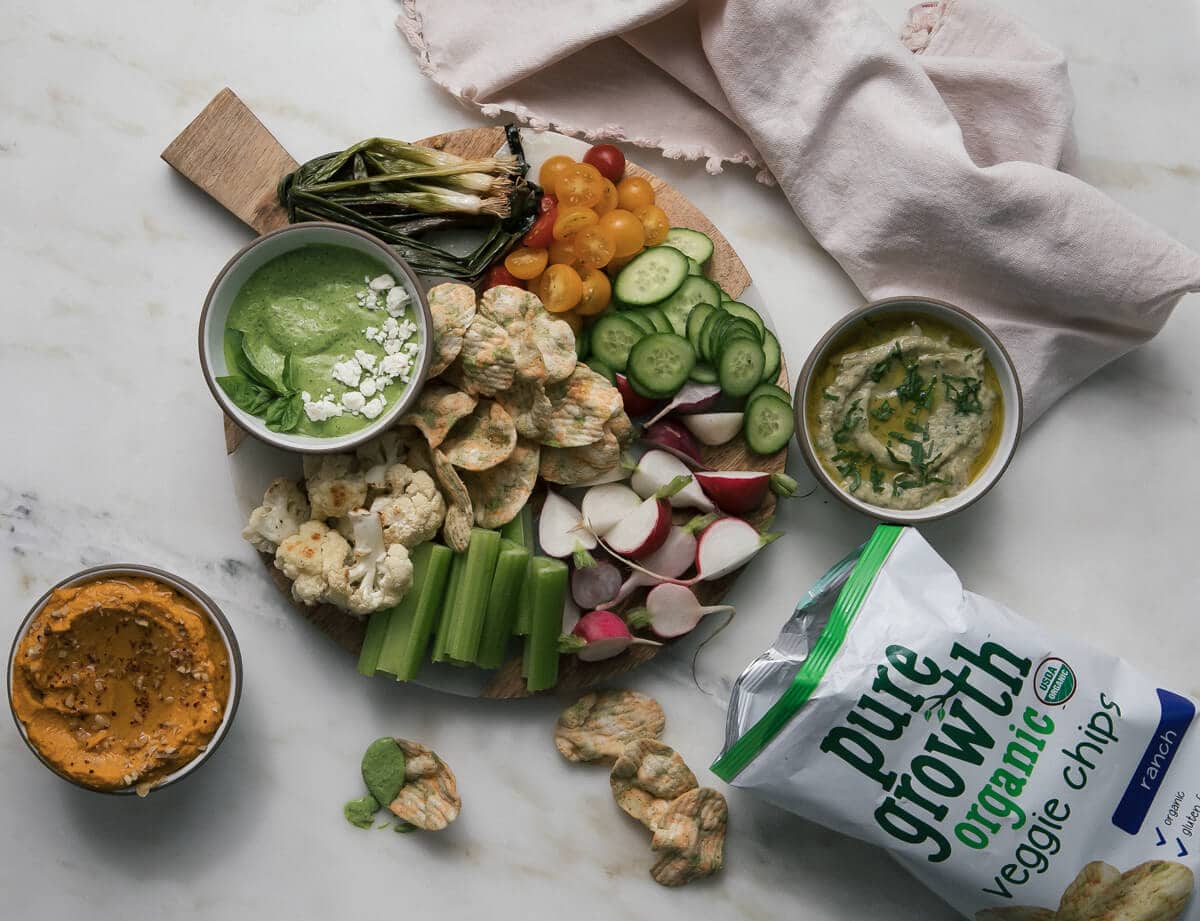 Ingredients
Carrot Harissa Dip: 

Salt 
1 1/2 pound carrots, peeled and thinly sliced 
1 roasted cloves of garlic 
1 teaspoon of ground cumin
1 teaspoon ground coriander
Juice of a lemon 
1 to 2 tablespoons harissa paste (depending on how spicy you like it) 
3 tablespoons olive oil, plus more as garnish 
2 tablespoons walnuts, plus more as garnish
Sumac, as garnish (optional) 

Eggplant Dip: 

2 Italian eggplants
1 head of garlic (we'll use the other cloves in the other two dip recipes) 
2 tablespoons minced Italian parsley, plus more as garnish
1 tablespoon sesame oil or olive oil, plus more as garnish
1 tablespoon tahini paste 
Juice from 1/2 lemon
Salt, mostly to taste

Feta Green Goddess Dressing: 

1/2 cup Greek yogurt or mayonnaise
1/2 cup crumbled feta cheese, plus more for garnish
1 cup basil leaves, plus more as garnish 
1/2 cup Italian parsley leaves
1/4 cup mint leaves 
1 roasted garlic clove
Juice from 1 lemon
2 tablespoon olive oil 

To Serve: 

Pure Organic Vegetable Ranch Chips
Celery sticks 
Sliced Persian cucumbers
Halved cherry tomatoes
Charred green onions
Quartered radishes
Directions
To make the Carrot Harissa:

Bring a medium saucepan with salted water to a boil. Drop in the carrots and cook until very softened, about 10 to 15 minutes. Drain and set aside to cool slightly. 
To a blender or food processor (if you don't have a high-powered blender, you may want to use a food processor), add the roasted garlic cloves, ground cumin, coriander, juice from one lemon, harissa paste, olive oil, walnuts and cooked carrots. Pulse until very smooth, scraping down the sides as needed. Give it a taste and adjust the salt to your liking; I added about 1 teaspoon. Garnish with a drizzle of olive oil, chopped walnuts and sumac. 

To make the Eggplant Dip:

Preheat oven to 375 degrees F. Line a baking sheet with parchment. Place eggplants side by side, along with the head of garlic and roast in the oven for 1 hour. Let cool for about 10 minutes and then slice the eggplants in half. Scoop out the flesh and transfer to a blender or food processor, along with 2 cloves of roasted garlic, Italian parsley, tahini paste, lemon juice and a few liberal pinches of salt. Blend until smooth. Give it a taste and adjust the salt to taste. Garnish with a drizzle of olive oil and Italian parsley. 
To make the Feta Green Goddess Dressing:
To a blender, add the mayonnaise, feta, basil leaves, Italian parsley, mint, garlic clove, lemon juice and olive oil; pulse until very smooth, scraping down the sides as needed. Garnish with a few basil leaves and a tablespoon of crumbled feta. 
https://www.acozykitchen.com/snack-board-with-three-dips/
(This post is sponsored by Pure Growth Organic. You can find these tasty and affordable chips at all sorts of places, including Amazon! Thanks for supporting the sponsors that keep A Cozy Kitchen cozy.) 
This is a sponsored conversation written by me on behalf of Pure Growth Organics. The opinions and text are all mine.