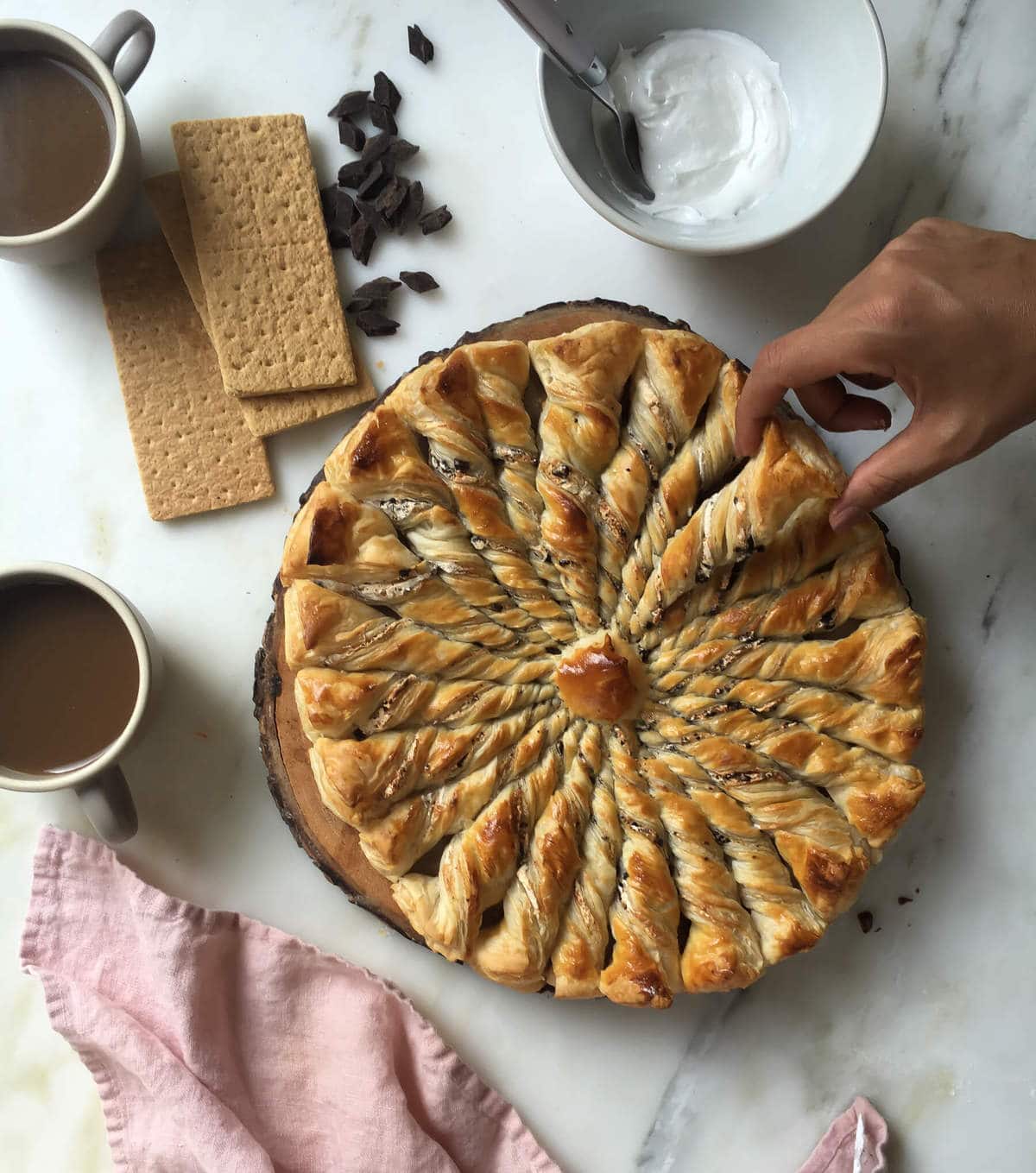 Remember when I made these pumpkin twists? Those were tite. But that was a different time; the air was crisp, fall spices were in the air, everything was cozy…it was fall.
Right now it's the opposite. It's all about bbqs and outdoors and picnics and mosquitos. It's summahtime. I feel like every year I have the urge to push myself to make some different iteration of s'mores. I basically want s'mores in everything. I want to eat all the s'mores.
This year I decided to take on the French tarte de soleil and turn it into the most American summertime dessert ever.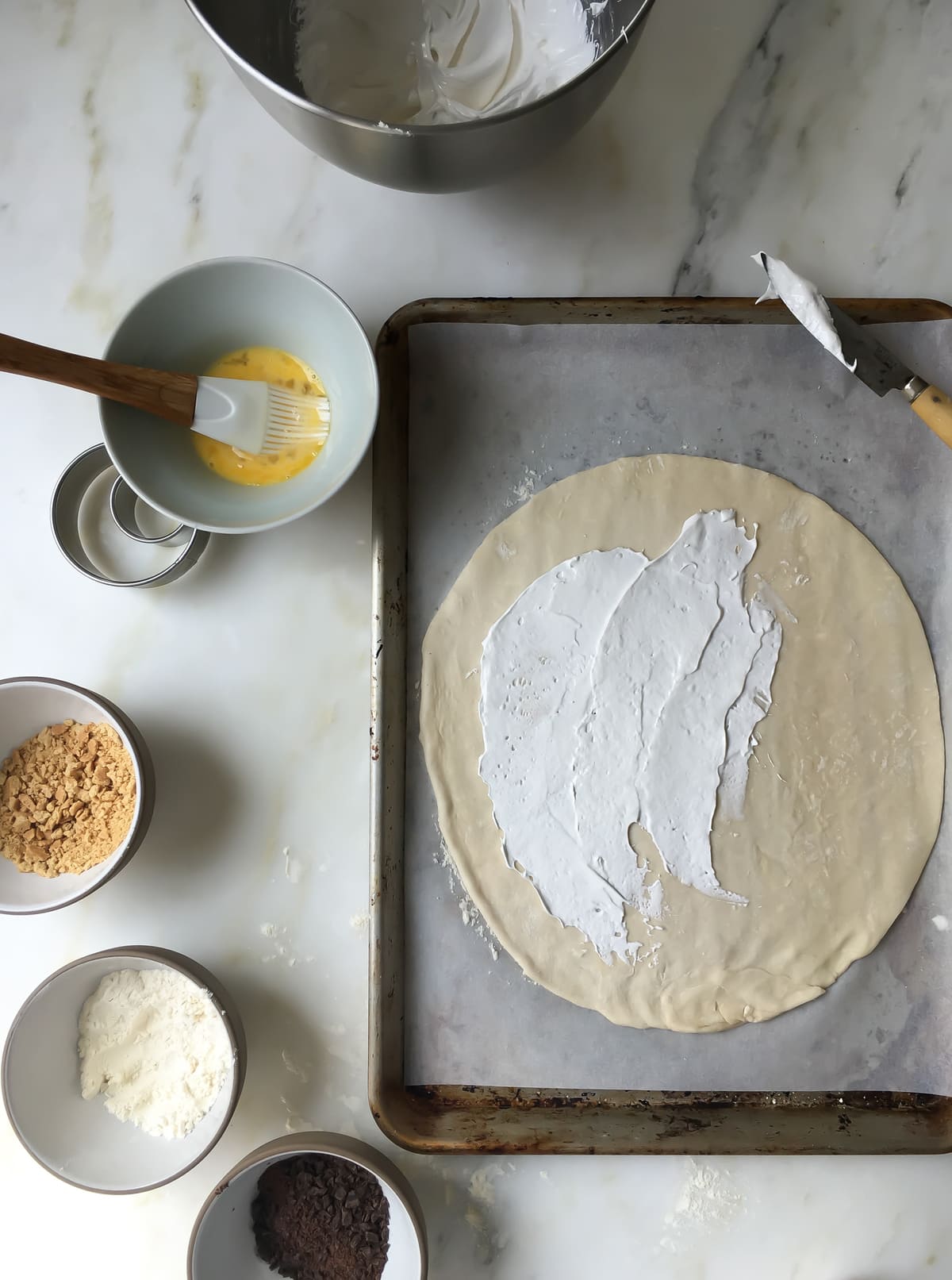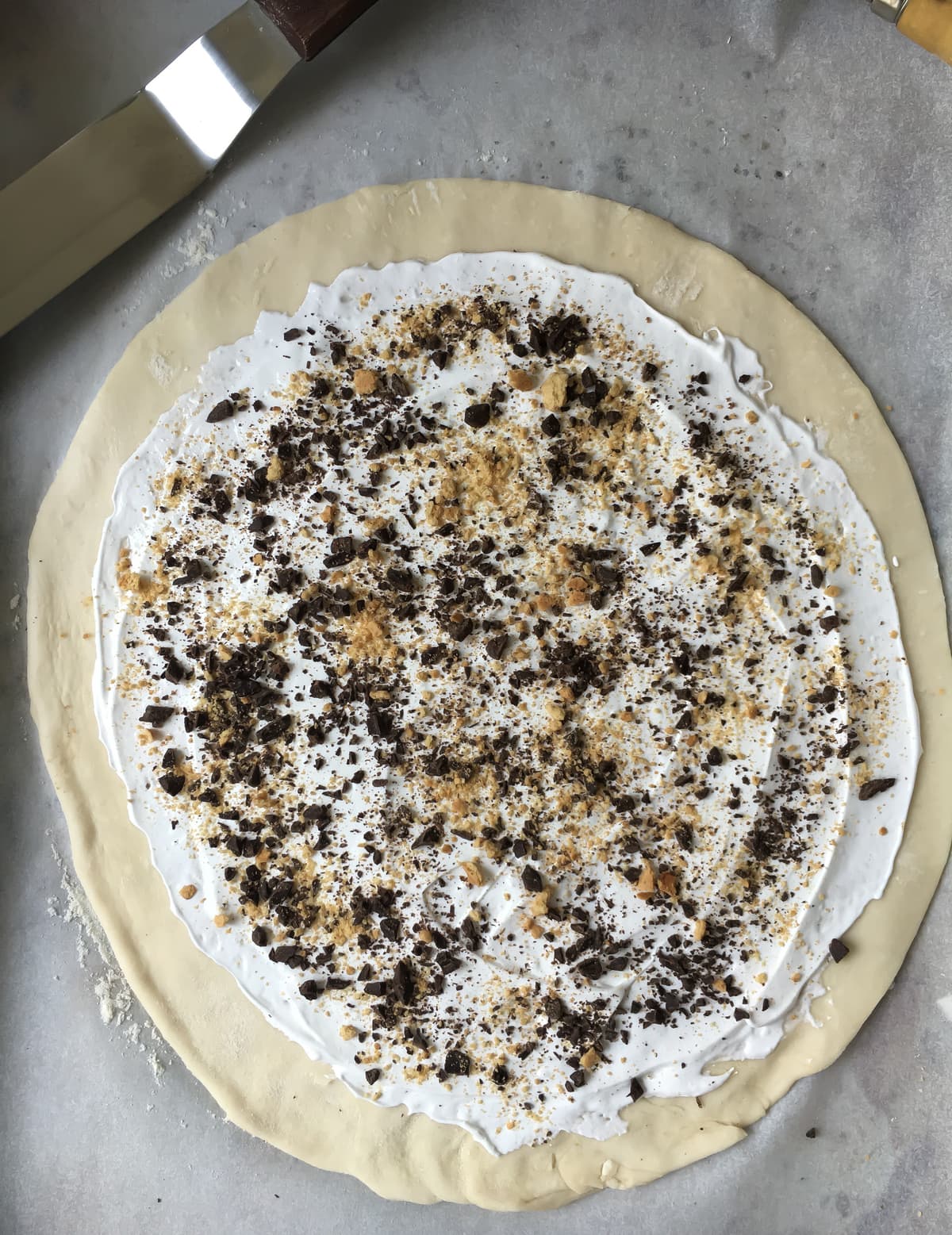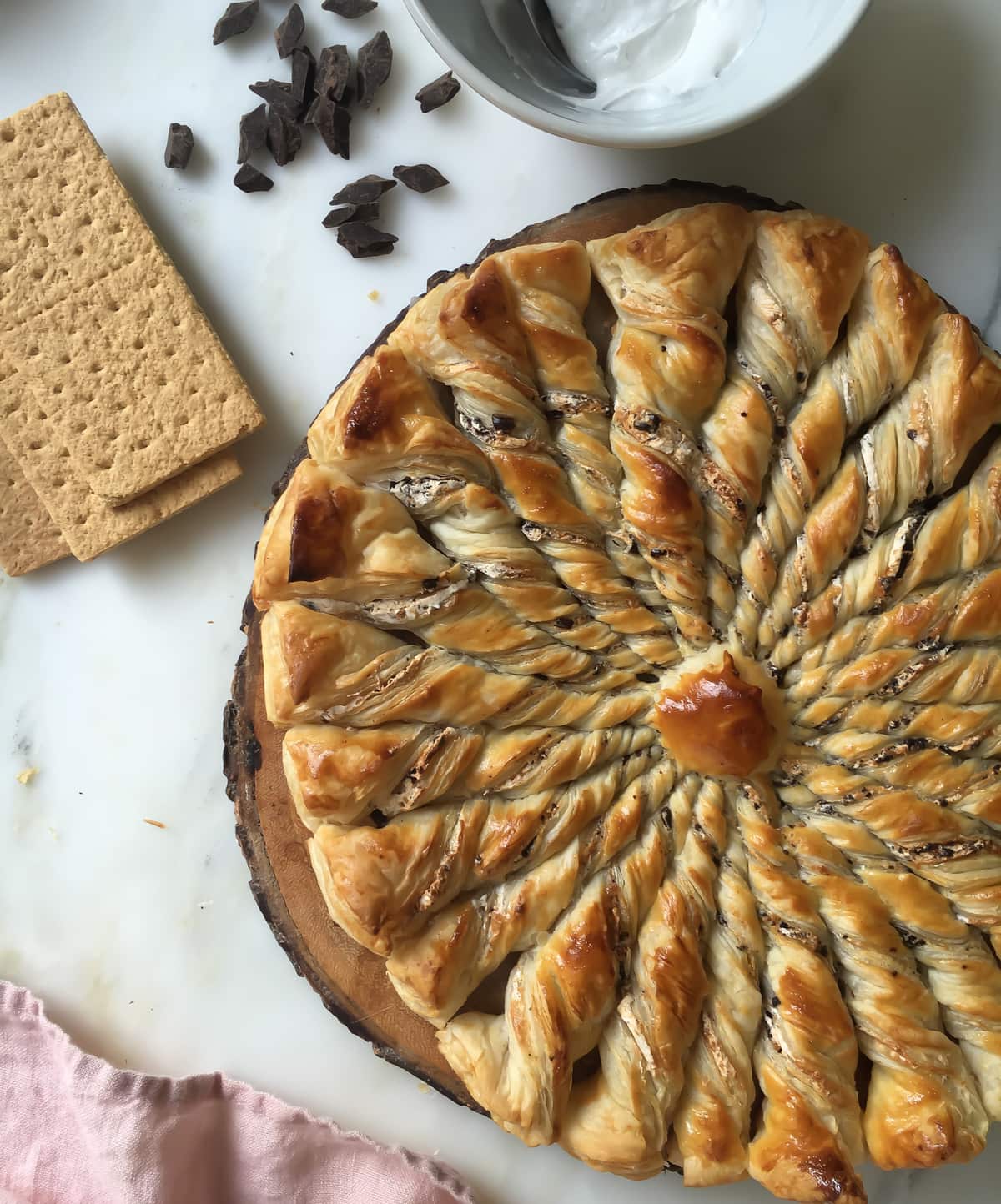 It couldn't be simpler. The first step is making a marshmallow fluff and spreading it all over the inside of a sheet of round puff pastry. Then chopped chocolate, graham cracker crumbs and then another sheet of puff pastry. The slits are made and the twisting begins.
The entire thing tastes like a s'mores croissant because that's basically what it is. It's easy, it's tasty, it's surprisingly light and it makes you want lay on your backs in the middle of a grassy field and watch all the fireworks.
Happy summer.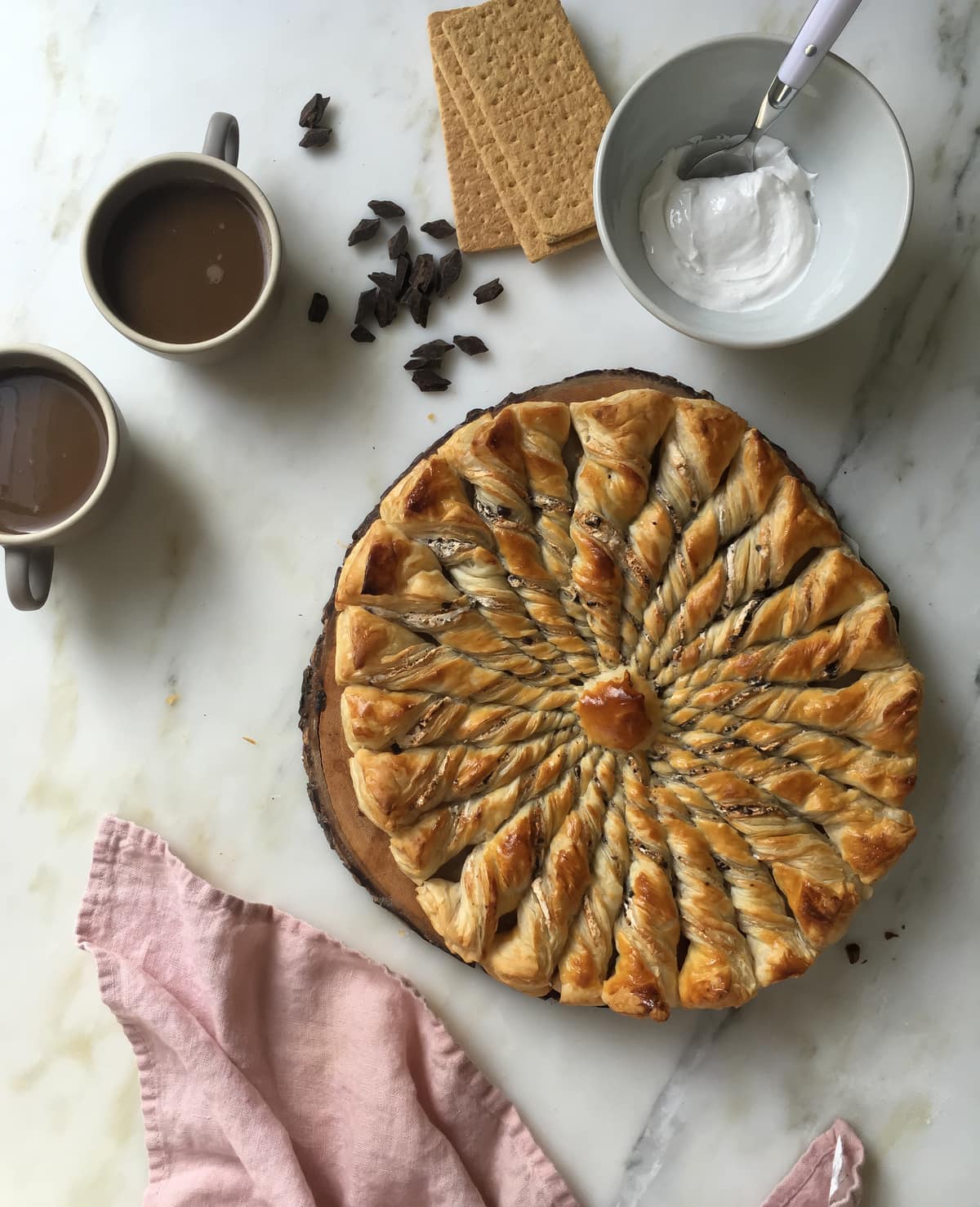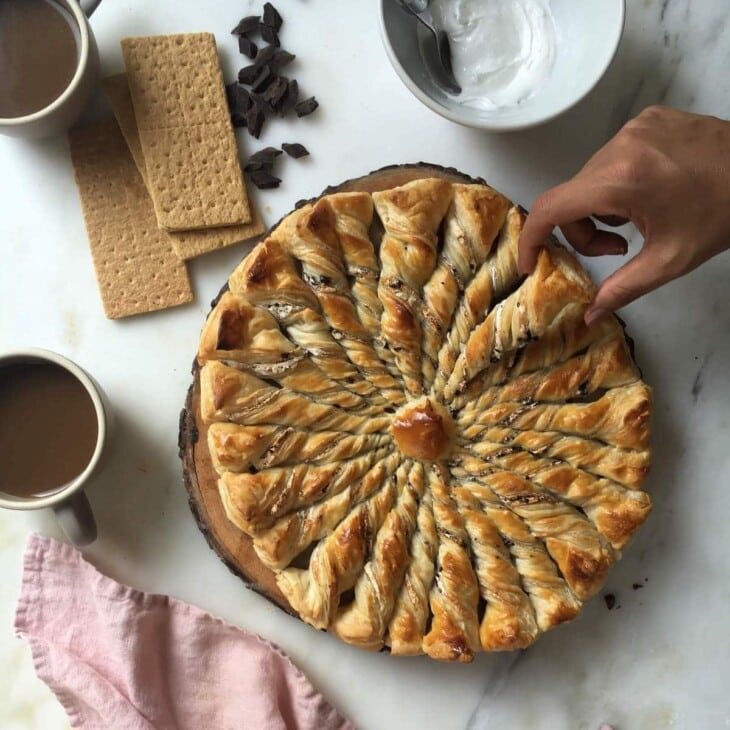 Print Recipe
S'mores Twists
Serving Size:
round tarte de soleil
Ingredients
1

tablespoon

water

1/3

cup

white granulated sugar

1

large egg white

Pinch

of salt

1/4

teaspoon

pure vanilla extract

2

round sheets of round puff pastry

defrosted in the fridge

1

ounce

dark chocolate chips or chunks or from a chocolate bar

finely chopped

Crumbs from 1 graham cracker.
Instructions
To Make the 7-Minute Frosting:
In the bowl of a stand-up mixer, whisk together the water, sugar, egg white and salt. Set bowl over a small saucepan of barely simmering water. Gently stir and heat until the sugar has dissolved. Place the bowl on the stand-up mixer and beat until mixture holds stiff peaks, about 5 to 7 minutes. Beat in the vanilla and set aside.
To Assemble:
Preheat your oven to 400 degrees F. Line a baking sheet with parchment. Unroll the first piece of puff pastry and lay it on the piece of parchment. Spread a few tablespoons of the marshmallow fluff onto the round of puff pastry, stopping about 1/2-inch from the edges. Sprinkle with chocolate and graham crackers. Place the second round of puff pastry on top, pressing it down slightly, pushing out any air bubbles.

Transfer to the freezer for 5 minutes (this will make it easier to cut_. Set a small drinking glad in the center of the puff pastry circle and start by cutting the pastry in 4, Then slice each quarter into 2. And then cut each eighth into 3. You should end up with about 24 twists, but really you'll be ok as long as you don't make the twists too big.

Twist each strip gently, starting at the center and then working your way outward, giving the twist support the entire time, to avoid breakage. I gave each strip about 5 to 6 turns. Repeat with the remaining strips. If the ends are jagged, feel free to take a sharp paring knife and trim the ends. Remove the glass and brush the entire thing with egg wash and transfer to the freezer to chill for 10 minutes. Then bake for 15 to 20 minutes, until evenly golden brown.